Arturo Gonzalez victory lap? Getting on with business
Discovery with Arturo J. González
Published in 2019 Northern California Super Lawyers magazine on July 3, 2019
Updated on July 15, 2019
If you were in my office, you'd … see a picture of me and Cesar Chavez. He came to speak at Harvard Law School during my third year, in 1985. I was torn about whether to work in public interest or at a large law firm. His response gave me goosebumps: "If you can, go to one of the large firms where there are no Latino lawyers … and be the best lawyer at that firm." 
When I was a newbie lawyer I … traveled the country taking
and defending depositions.
The lawyer I most admire is … Thurgood Marshall, who left his home and tried important civil rights cases in a hostile environment. I can relate to that. I have tried 10 civil rights cases, most of them in the Central Valley.
The quality I most like in a lawyer is … courage.
My pre-trial routine is … to review every trial exhibit. 
When I started, I wish I knew … that "business development" mattered.
When I win a case, I celebrate by … moving on to my next case.
My real-life hero is … Spartacus.
On weekends I … go mountain biking, and work.
On my best day I … get a call from a new client with a big problem.
On my worst day I … get a call from my client telling me, "We settled."
The movie line I quote most often is … "When a man who makes $400 an hour wants to tell you something for free, you should listen." (The War of the Roses)
Nothing cheers me up like … my cocker spaniel.
The most annoying thing about my job is … client conflicts. A client comes to me with a great case, but I have to turn it down because we do a small amount of work for the party they want to sue.
If I won the lottery, I'd … give away more scholarships to low-income students.
My courtroom walk-up music would be … "Bad to the Bone."
My advice for young lawyers is … find time for yourself, and especially your family. Judge [William] Alsup once said to me, "When you're on your deathbed, you'll never wish you had spent more time in the office."
Other Featured Articles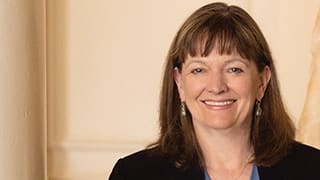 'A True Advocate'
Whether uncovering appealable flaws or improving life for foster children, Marcy Hogan Greer infuses her work with passion Featuring Marcy Hogan Greer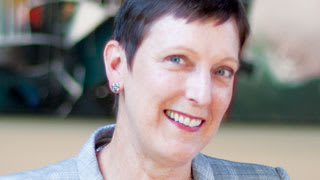 A Civil Defense
Don't underestimate the cordial Nancy Sheehan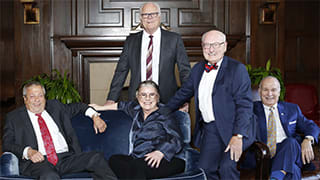 Law & Practice
Six pillars of the legal community look back on three decades of law Featuring Nancy Zalusky Berg, Michael V. Ciresi, Joseph S. Friedberg, Earl P. Gray, Kathleen M. Newman, Lewis A. Remele, Jr.