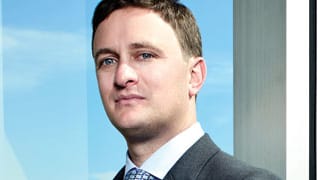 Photo by: Dustin Snipes
Billion-Dollar Man
Commercial real estate lawyer Stuart Graiwer navigates the global financial meltdown
Published in 2012 Southern California Rising Stars magazine
By Joe Mullich on June 8, 2012
Transactional attorneys generally aren't pinned to the wall at cocktail parties by people eager to talk about their work, and, for most of his career, Stuart Graiwer, a partner at Stroock & Stroock & Lavan, was no exception. Then the bottom fell out of the economy. Suddenly the type of transactions he handles became sexier in Los Angeles than weekend movie grosses.
"Real estate used to feel niche, but since the global financial meltdown it's a topic of conversation everywhere," says Graiwer. "When people find out what I do, they always want to know if they should refinance their mortgages, or they ask what it means if someone in their neighborhood is being foreclosed."
In the past year, Graiwer has advised and served as lead transactional attorney for more than $1 billion in commercial real estate deals on behalf of J.P. Morgan Asset Management and other investment groups. He currently represents the ownership of 2000 Avenue of the Stars—which serves as headquarters for Creative Artists Agency—in connection with real estate transaction matters. The building is across the street from his law office in Century City. "Daddy worked on the donut building," his 4-year-old son says when they drive past it.
Graiwer's specialty is large, complex deals. "Some of the most successful deals in the last couple of years were where a client bought the note for a property, entered into a sort of consensual foreclosure with the borrower, was able to take control of the asset that way, and put money into the distressed deal," he says. "Then a year or a year and a half later, when the market was looking stronger, they were able to make huge profits in a very short period of time."
In one case, for example, investors used this approach to buy and modernize a large industrial distribution building in Long Beach. The improvements enabled them to sign a long-term lease with one of the country's largest beer distributors. As a result, the investors walked after two years with a $10-15 million profit on their $20-$25 million investment.
Which can buy you a lot of donuts.
Graiwer was born into a family of lawyers—his father, grandfather and uncle were all attorneys, handling a mix of criminal defense, family law and workers' compensation cases. The house where he grew up in Los Angeles was filled with discussions about the law.
"When you are from a family of lawyers, you have to support your thoughts and stand up for what you believe," he says.
Graiwer continues this tradition with his two young children. "They negotiate everything, because I negotiate everything with them," he says. "If you can negotiate with an irrational 4- and 7-year-old over how much time they get to spend on Daddy's iPad, you can negotiate anything."
He majored in rhetoric at the University of California, Berkeley, then graduated from Harvard Law School in 2000. "Based on my personality, everyone expected I'd be a litigator," he says. Instead, as an associate at Covington & Burling in New York, he was drawn to transactional law.
"When you're doing litigation for large law firms," he says, "you typically don't see the inside of the courtroom until much later in your career. … In transactional law, you have more of an opportunity early in your career to have a direct impact on the transaction."
He specialized in real estate in part because he found it more interesting and diverse than the general corporate setting.
"Early in my career, I dealt with venture capital, and when you're buying stock in a company, it almost doesn't matter what the company makes—the issues are over control and the ability to replace board members," he says. "In real estate, the underlying assets drive the deal, and there are different tax considerations for each deal. Hotels, for example, are not technically generating rent from property, which, for a tax-exempt investor, is a bad thing; but office buildings are."
Office buildings, hotels, multifamily projects: Each brings up different issues that must be considered in terms of buying, selling and managing the property.
"He understands real estate as well as anyone I know," says client Amachie Ackah, managing partner of Argosy Real Estate Partners. "He's one of those attorneys who is also a businessperson. He understands the kind of operational issues that you don't learn in law school.
"He's incredibly good at communicating," Ackah adds. "He can boil down a complex situation to its essence. He's a Harvard guy but he's not in an ivory tower. He's someone I'm comfortable putting in front of my investors."
"Sometimes, people will over-lawyer," says Rick Stinehart, a partner at Allen Matkins, who has worked on several projects with Graiwer. "He realizes you can be a tough negotiator and still find a middle ground that works for everybody."
That's important in an industry like commercial real estate, which is a small, tight-knit community.
"At the institutional investor level, you see the same people on the other side of the table again and again," Graiwer says. "The same investors, the same lawyers."
With a mergers-and-acquisition deal, the buyer and seller usually have no interactions after the M&A is completed. In commercial real estate, Graiwer can represent the seller in a deal, and 12 months later he's representing the same client, now purchasing property from the same entity to which he'd sold it.
"If I take an extreme position one way or the other to advance my client's causes, I have to be prepared for the people on the other side of the table to make the same argument the next time around, because so many institutions are buying, selling and trading to each other on a regular basis," he says. "That drives me to be thoughtful and reasonable, but ultimately to be fair about where the market is. If the market at that point is X, we don't push for Y to get a better deal, because next time they'll hold you over the coals."
Two years ago, Graiwer represented J.P. Morgan Asset Management in its bid to purchase two Seattle office towers, including the 668,000-square-foot building where Amazon.com is the lead tenant, from developer Schnitzer West, for approximately $430 million. The deal was written up in The Wall Street Journal, and it ranked No. 8 on Real Estate Alert's Top 50 Office Sales of 2011 report.
"One reason the seller came to my client and told him he was thinking of selling was the experience the two shared in a large transaction the year before," Graiwer says. "The few-hundred-million-dollar acquisition was smooth and positive."
Graiwer has expertise in complex joint ventures, with complicated arrangements for how money comes into the deal, how it goes out, who has control and how one side can exit. In addition to being the lead negotiator in these transactions, Graiwer has played a critical role in reshaping the way his clients view joint ventures and partnership agreements. He notes that before the downturn, the real estate market was so hot that people were willing to sacrifice certain protections in order to make deals. "Now we're starting to think critically about what needs to be in the document," he says.
Historically, joint venture deals have included "the nuclear option": a buy-sell provision in which, if there are problems, either partner can trigger a process to buy out or sell to the other side for a set price; but this is complex and often ends in litigation. "We rarely put buy-sells in deals anymore and have done other types of exit strategies," Graiwer says, "like the ability to force a sale of the property subject to a right of first offer in favor of the other partner, so at least the client knows that it is getting market value."
As for one of those questions he gets asked at cocktail parties? All trends in real estate point upward, Graiwer says.
"In 2010, we started to see a turnaround," he says. "The larger institutions that had spent 2008 and 2009 consolidating cash and dealing with a nervous investor base had worked through that issue and had capital they were willing to deploy."
The return began with lower-risk investments: high-quality, multifamily buildings and class-A office buildings in leading markets like New York, Los Angeles, San Francisco and Chicago. "In 2008 and 2009, there was a struggle to find financing due to the implosion of the securitization market, except for high-quality, class-A multifamily and office assets in premier locations," he says. "But in the last couple of years, we've seen a number of opportunistic investors form debt funds to provide financing for other kinds of assets and in other markets, in particular, lease-up and development deals that may not have had access to the limited financing base that existed or the premier market products."
The last half of 2011 was busier for his firm than the first half. "January 2012 has been as busy a month as we've had in a long time," he says. "We are seeing more sellers willing to come to the market because they sense that institutional capital is competing for deals."
Graiwer himself won't be investing, though, and there's a story behind that.
Graiwer and his wife sold their apartment in New York in 2004 for a tidy profit, planning to rent for a year in Los Angeles before deciding where to settle.
"In 2005, we went to look and got sticker shock at the prices," he says. "And we were from Manhattan. I told my wife, 'Trust me, these prices are not sustainable. If we wait another 12 months, the prices will be down 20 percent.'"
After another year, housing prices had gone up 20 percent.
"I told her, 'I guarantee this can't last. If we rent another year, prices will be down 25 percent.'"
Prices rose 15 percent.
In 2010, five years after they first went looking, they finally bought a house in Cheviot Hills, just a few minutes from his firm. "It took me four years of being wrong before I was right," he says. "There's a reason that businesspeople are businesspeople and lawyers are lawyers. I don't know if I'd have the stomach to be a real estate investor."
Search attorney feature articles