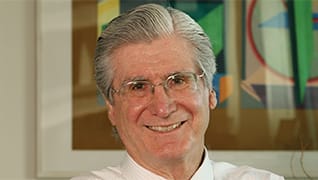 Photo by: Larry Marcus
Bingham's Nuclear Weapon
How Marshall Grossman parlayed a $5 overcharge into a powerhouse career
Published in 2010 Southern California Super Lawyers magazine
By Stan Sinberg on January 26, 2010
There are few things Marshall Grossman, lawyer, loves more than settling.
"It's in everyone's best interest to settle cases consensually. You accomplish more of the client's objectives than you ever can in a verdict," says Grossman the lawyer, who has favorably settled civil cases involving Al Davis and the Los Angeles Raiders, Grupo Televisa S.A.B., Packard Bell and many others. His method? "I try to identify the critical points of leverage early on, and squeeze as hard as I can, to inflict the greatest amount of desire for the other side to resolve the case."
In one of his landmark victories from the '80s, Guess Jeans sued Jordache for fraud and "ground them to dust." Grossman says the dispute between the parties was so heated that settlement was impossible until five years of litigation in California, Delaware and Hong Kong had exhausted them. His clients in the "high-end shmatte business" skipped out on paying his agreed-upon bonus. (Grossman sued and eventually got paid.)
But when it comes to his personal life, Grossman the person might take issue with settling an upset stomach. He knows just what he wants, and he usually gets it.
That tendency might be genetic. His parents moved from Omaha, Neb., to California when Grossman was 4, when his father Lee was named director of the Hollywood USO during World War II. "We found an apartment in the Park La Brea complex, but they wouldn't rent to us because we were Jewish." Rather than settle for somewhere else, Lee called a higher-up in Washington, D.C., and complained that he was sent here to serve his country and they'd better do something. The Grossmans moved in.
Still, this display of anti-Semitism had a profound impact on young Marshall. "It's one of the first things I remember," he says.
Partly on account of his parents remaining active with the Omaha Friendship Club, Grossman says he grew up with Midwestern values, which he describes as "A person's word being their bond, promises you can take to the bank, a lack of necessity of confirming everything in writing, and dealing with people on a neighborly basis unless they prove unworthy of it."
Grossman knew he was "meant" to be a lawyer. His uncle Irvin Stalmaster, after all, was the youngest person ever to serve on the Nebraska Supreme Court, when he received an interim appointment from the governor at 29, and Marshall grew up with a respect for the law's majesty. So after two and a half years at UCLA, he applied to USC, which had an accelerated "2/4" program—allowing students to enter a four-year law school program after only two years as an undergrad. Grossman admittedly wasn't qualified due to his middling grade-point average and his "poor experience" on the LSAT, so he visited USC's dean and convinced him to admit him.
Starting in his second year at UCLA, Grossman spent the summers selling encyclopedias for Collier's door-to-door. He was one of the top salesmen in the company, averaging $1,000 per week. He enjoyed it, he says, despite "warnings" on doors like "We shoot every third door-to-door salesman and the second one just left." Within one year he was supervising sales groups in Nevada, Southern California and Utah.
After completing his first year of law school, Collier's asked him to take a full-time position "running" Northern California. Grossman agreed to take off a year and do it.
But after the summer, two weeks into the fall semester, the regional vice president asked him to take over Vancouver, Canada. Grossman declined. Instead, he called the chairman of the board to tell him he was returning to law school. The chairman asked Grossman to meet him in St. Louis, because "from now on, you're on my personal payroll."
Grossman was promptly put in charge of New York state, and rented apartments in Greenwich Village and Buffalo. While living in Greenwich Village, family friends gave Grossman the phone number of their niece in Los Angeles. When he returned West months later, he called. He married Marlene in 1962. And while Grossman-person may not settle, he settles in. "I've basically had one law firm, one wife and one house my entire adult life," he quips. But two offspring.
As his year commitment ended, Collier's asked him to stay on. Instead, Grossman went to Europe and Russia for six weeks, before returning to law school.
Midway through his final year at USC, Collier's called again, and offered him a permanent position. In exchange for running the western one-third of their U.S. offices, they'd pay him $150,000. Against a commission. In 1961 dollars. To a 22-year-old.
Committed to law, he turned it down.
Not that he had another job lined up. During his third year of law school, he looked for a suitable law firm position but back then the major law firms in Los Angeles weren't hiring Jews. And the predominantly Jewish law firms were too large for Grossman's taste. "They all had 15 to 20 lawyers, and I felt I'd be lost there."
Grossman's requirements were a wee bit specific: "I wanted a small firm with a quality practice with lawyers of great reputation with a litigation capacity where I'd be mentored and end up leading the firm." He found a perfect fit with a Beverly Hills firm with about half a dozen attorneys—except for one problem. "They told me they had no work [for an additional lawyer]." So Grossman employed the same strategy that had talked him into law school. "I told them, 'You have to plan for the future. You won't make a mistake if you hire me.'" Grossman was employed, but had nothing to do. Since part of his plan included being mentored, he tucked himself under the wing of the firm's star litigator, Daniel Weber, following him to depositions and trials. "I watched, I listened, I absorbed." Unfortunately Weber left after a year. Suddenly, Grossman found himself in charge of the litigation department, but there wasn't much litigation.
He had to figure out how to create business.
Grossman found his client one day while looking in the mirror. A couple of years earlier, back in Chicago, he'd signed up for a lifetime membership in the Playboy Club for $25 (that's not a misprint). Included in that membership was entry into the forthcoming Los Angeles facility. Now he received a notice that members could no longer put charges on their Playboy card unless they paid an annual $5 account maintenance charge (not a misprint, either). After the letter he wrote asking Playboy to reconsider the change failed, Grossman figured that many of the Playboy Club's almost half-million members would be similarly outraged, so he went to his firm's other attorneys, and asked if they would object to his filing a class action. At the time, California didn't generally recognize consumer class actions but attorneys gave him permission to pursue the matter on his own time. "As long as it doesn't interfere with the business we don't have," Grossman jokes. His suit charged Playboy with a violation of the California Corporate Securities Law, on the grounds that his $25 was being used to finance the building of the LA club. While the settlement might seem modest—all members of the Playboy Club received an $8 credit and the $5 charge was abolished, Grossman points out that it amounted to "100 percent recovery." More significantly, it was the first successful consumer class action in California to reach a verdict or settlement. Newsweek profiled Grossman and the case, citing Grossman as a "hustling 29-year-old lawyer," and class actions started flooding into the office.
One class action case that came in was one of the most notorious securities fraud cases of the '70s. Equity Funding Corporation of America was a financial services company with a life insurance subsidiary that resold its policies to reinsurers. Amazingly, most of those resold policies were fraudulent, created out of whole cloth. When the scandal broke in April '73, more than 100 class action lawsuits were filed. Eventually they were all consolidated, and Grossman was named lead counsel. The result was the largest civil securities fraud settlement in history: more than $60 million in cash in class actions, $100 million in stock in reorganization proceedings, and the liquidation of the insurance subsidiary.
For other 36-year-old attorneys, this would be something to build a career around. But Grossman decided he didn't want to file class actions anymore. Henceforth, he would represent defendants. That he has, representing Arthur Andersen, American International Group Inc., Apple, Blockbuster, and many more.
During this time, Grossman learned the advantages of keeping his legal team small. Because he considers taking depositions so critical, he tries to personally conduct every significant deposition on cases he's handling. That allows him to envision the trial from the very beginning—and helps him attain the leverage he seeks to gain a favorable settlement.            
On his trip to the Soviet Union in 1961, Grossman befriended an engineer named Joseph, who warned him of the dire situation for Jews under the Soviet regime. Later, back in the U.S., the attorney read about an "engineer named Joseph" who was executed for consorting with foreigners. "I don't know if it's the same person, but that seared in my mind the need to do something." Grossman and Marlene returned to Russia in 1976, and met with Soviet refuseniks. During that period he also co-founded an organization, Concerned Citizens for Soviet Jewry. In 1984, he accompanied Jane Fonda to Russia, who'd taken up the cause of Ida Nudel, the most prominent woman protesting the plight of Soviet Jews, who was held in internal exile. Nudel was eventually released.
On a related front, Grossman is involved working pro bono to help Agudas Chasidei Chabad—an Orthodox Jewish organization—recover religious texts dating back to the 1700s that were seized during the Bolshevik Revolution and Second World War by the Russian Federation.
Grossman's had his share of celebrity cases as well, counseling J.K. Rowling, Steven Spielberg, Clint Eastwood, Mariah Carey and Larry King. Before the O.J. Simpson murder trial, a confidant of Simpson asked Grossman to handle expert witness work. He declined, but recommended a lawyer who should handle the entire case: Johnnie Cochran.
One early celebrity case involved Liberace and his long-time chauffeur/lover Scott Thorson. When the couple split, Thorson sued for half of Liberace's assets. "It was really the first gay palimony lawsuit," Grossman says. As Liberace hadn't officially "come out," Grossman didn't want to put him on the stand. Instead, during the deposition, he asked Thorson, "Is it your testimony that in exchange for sex, Liberace promised to give you half his assets?" Thorson responded, "Yes." Grossman then won a summary judgment for dismissal on the grounds that it was an illegal contract for prostitution.
A "ripped from today's Web gossip" client is Erin Andrews, the ESPN sidelines sportscaster whose surreptitiously taken nude video in her hotel room was, for several days, the most searched for item on the Internet. Grossman has been involved in tracking down the perpetrator and barring hundreds of Web sites from displaying the video. "This could happen to anyone. People think she was complicit. We're working to protect her reputation and career, as well as legally," Grossman says. Her stalker has since been arrested and faced trial in January 2010.
Environmentalism is another passion, and during the '80s he served as a commissioner of the California Coastal Commission. "I stood between James Watt and Ronald Reagan and off-shore oil drilling in the state because I tied them up in knots when they wanted to open up the entire California coast. I'm very proud of that."
By the early 1980s, Grossman was indeed leading his firm, Alschuler Grossman, as he had predicted and in 2007, just as unpredictable as ever, it combined with Bingham McCutchen.  "I acquired 950 lawyers but we kept the Bingham name. They just don't know that." Then, getting serious, he says, "It was time. It helps ensure the success for our next generation of lawyers."
Part of ensuring that success is mentoring his junior members. "I tell them that it's most important to get their health and finances in order. Once you take care of yourself, you can focus your energies on helping your clients."
Grossman says that despite the economy, Bingham is thriving. "We're poised for our best year ever."
Since the merger, Grossman says he's working harder than ever but enjoying it more. Three years ago he took up yoga, and now has a yoga mat in his office. A yoga trainer comes to his office or house two or three times weekly. He also reheated his swimming pool for the first time in a decade and has resumed swimming on a daily basis. "I'm having a great time and want to stick around another 50 years."
That's something both Marshall Grossmans will settle for.
Search attorney feature articles
Helpful links
Other featured articles
Kathleen Bogas has been part of employment discrimination cases since the foundation of the law
Organizations like The Trevor Project are confronting legislation that prevents trans students from joining teams that align with their gender identity
How Iris Eytan and Dru Nielsen create magic—and not-guilty verdicts
View more articles featuring lawyers
Find top lawyers with confidence
The Super Lawyers patented selection process is peer influenced and research driven, selecting the top 5% of attorneys to the Super Lawyers lists each year. We know lawyers and make it easy to connect with them.
Find a lawyer near you