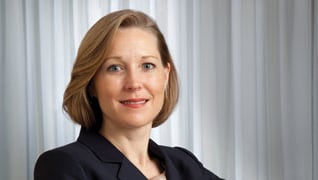 Photo by: Felix Sanchez
Bleeding Dodger Blue
Recent Texas transplant Victoria Cook has already made a splash in the McCourt divorce case
Published in 2011 Southern California Rising Stars magazine
By Joe Mullich on June 10, 2011
For the closing arguments of McCourt v. McCourt, the epic divorce case that attempted to determine the ownership of the Los Angeles Dodgers, the legal team representing Frank McCourt in proceedings against his ex-wife, Jamie, employed an unusual strategy.
Two name-partner heavyweights, Steve Susman (of Susman Godfrey) and Sorrell Trope (of Trope and Trope), addressed key technical issues about family and contract law that, while obviously important to the case, didn't make it into many reporters' notebooks. It was the third attorney, Victoria L. Cook, also of Susman Godfrey, who captured most of the headlines with her spirited denunciation of Jamie McCourt's contention that, despite her J.D., she had not understood the marital property agreement.
"Justice may be blind," Cook declared, "but justice does not reward those who refuse to see. … If a woman this highly educated, who is a lawyer, is not bound by a contract she signed, who would be?"
LA Weekly, the most thorough chronicler of the trial, said her closing argument "was enough to make you think Cook should have cross-examined Jamie instead of Susman."
In fact, Susman did want Cook to perform that vital cross-examination as well.
This might surprise some people. Before the McCourt case landed at Susman Godfrey last year, Cook had worked in the firm's Los Angeles office for less than two years, had never been to a Dodgers game, and initially thought the client was the other Frank McCourt—the author of Angela's Ashes.
"The only thing I knew about either of the McCourts was an article about Jamie McCourt that I read in some business magazine," Cook says. "I was impressed that she had become a high-ranking woman in baseball, which is not an easy thing to do. But I only even remembered reading the article in hindsight after the case."
Her tenure in Los Angeles may have been limited, but her career wasn't. She's already tried to verdict three statewide class actions involving tens of thousands of class members—one each in California, Pennsylvania and Minnesota—with Neal Manne, a partner in Susman Godfrey's Houston office and Cook's mentor. Since 2005, she's spent 40 weeks in trial. "There are senior litigators who are major partners ending 40-year careers who haven't been in court that many days," Manne says.
Cook grew up in Clear Lake, Texas, near the Johnson Space Center, in a global community of engineers that left her no hint of a Texas twang. Her mother was a teacher who eventually owned three different schools. Her father was a rocket scientist who kept a garage full of beakers and soldering irons.
Why the law? "My mom had a friend who was an officer at a bank, who had a law degree," Cook recalls. "She approved the loan for my first car. During our conversation, she pushed the idea of getting a law degree because it was good preparation for going into business and doing a lot of other things. Later, in college, I wrote a paper on Abraham Lincoln's war powers for a class, and the professor told me, 'You think like a lawyer.'"
After graduating from The University of Texas School of Law and clerking for a federal district judge for a year, she joined Susman Godfrey on, she says, "September 16, 2002"—she tends to be specific about dates and details—and within months was arguing an important summary judgment motion about the insurance liability for asbestos exposure at a large smelting plant.
"It was sink or swim," she says. "If you write a big summary judgment [as an associate at Susman Godfrey], you will go to court and argue part of it."
Manne has a habit, at the end of a young associate's first witness examination, of giving the associate a report card on a sheet of yellow legal paper. Cook's grade was one he'd never given before: an A+. 
"She was totally comfortable on her feet, not halting or nervous, and not too reliant on a script," Manne says. "She was able to keep the witnesses on track and not be thrown off-balance by objections, which is one of the hardest things for any lawyer, young or old."
Cook immediately impressed her bosses with her agreeable manner. "When she does a cross-examination," Manne says, "she has a natural style that doesn't seem scripted. She's really comfortable on her feet, which puts the witness at ease. Then she comes in for the kill. It's fun to sit back in the courtroom and watch her lay a trap and spring it on someone."
She also has an ability to master millions of documents in complicated cases for Wal-Mart Stores Inc., Amazon.com Inc., and other important clients. "In her very first case, when the trial team had a question about a technical point, or disputed some point in the documents, Victoria always knew the answer," Manne says. "The first time they were surprised; the second time they were amused; and by the third time they just looked at her before she even gave the answer. It's fun to see that reaction from juries and judges, too, because she looks even younger than she is."
She came to Los Angeles in 2008, lured, in part, by the sunshine (she'd spent the previous winter in Minnesota), and by the idea of working at one of the firm's smaller offices. "I didn't want to be in an office that was so big that I didn't know the names of all the other attorneys and staff," she says. She promptly settled in Manhattan Beach, along with the springer spaniels she had adopted while in law school.
Before the McCourt case, the only divorce she'd been involved in was her own—an amicable parting from a first husband she'd met in college. "We just divided things up," she says. "There was no courtroom fighting. It was as relatively painless as a divorce can be." She later married a lawyer at Susman Godfrey in a ceremony presided over by Manne, who became a minister to do so.
Cook describes Frank McCourt as an ideal client. She'd been working on his case for a month when he came into the office on a Friday, a day the partners buy lunch for staff, and sat down in the conference room and chatted about baseball with workers over pizza. "Not many clients get to know the staff, but he made a point of getting to know everyone," she says.
"He's very rational and doesn't jump to conclusions," she adds. "On a personal level, this had to be a hard thing to deal with, but he remained amazingly level-headed."
Cook's words on Frank McCourt sound similar to colleagues' descriptions of her. "She has a great characteristic for a lawyer: She never gets mad, and nothing ever rattles her," Susman says. "A lot of trial lawyers have a temper, and they get mad and lose their effectiveness. She's very practical, smart as can be, level as can be."
The McCourt case had its share of rattling moments, too. The trial centered on the marital property agreement (MPA) the couple signed in 2004, which Frank McCourt's side says purported to confirm his ownership of the team, but which Jamie McCourt's lawyers, in a footnote in an April filing, hinted was inauthentic. "When Frank read that, he told Steve Susman they should submit the documents to a forensic examination and have it all cleared up," Cook says. "He was sort of offended."
Thus, on July 13, 2010, lawyers gathered, as two forensic examiners chosen by each side went into an adjoining room to look over the documents that had been kept in secure storage for six years. "They looked at the first copy and said, 'Everything's perfect,'" Cook says. "They looked at the second and said, 'Everything's great.' So was the third. When they looked at the fourth one, they came out and said, 'Hmm. Something's different about this one page. But we don't know what.' They just knew something was off with the pages.
"At the time it wasn't an 'Oh my god' moment," she says. "It was just puzzling."
It went beyond puzzling. These copies of the marital agreement all listed the Dodgers as Frank McCourt's assets. However, three of the copies had a signature indentation and three didn't. The lawyers realized the three that didn't were copies that were added to the contracts later, so they searched the offices of the Massachusetts lawyer who drafted the contract and found the originals, with indentations, but now with the Dodgers excluded from Frank McCourt's property, which made it unclear what should be done with this most valuable property.
"We saw it as an explainable clerical error, but they took a different focus," Cook says. "We saw it was going to be a focus of the trial and something we had to deal with."
Once the trial got underway, she realized it was going to be different than the trials she was used to. Photographers were running backward trying not to trip over each other. "I had been working closely with Frank and just saw him as a normal guy," she says. "He wasn't like a celebrity who ran around with bodyguards. It didn't feel like a celebrity case, but it certainly got celebrity media attention at the courthouse."
Cook quickly became versed in the ways reporters ask questions. Some tried to befriend her; others rattled off a series of queries to throw her off. "Halfway through the trial, the media didn't even go to David Boies," Manne says, referring to the famed attorney representing Jamie McCourt. "They went to Victoria, because she's really good at distilling complex issues into terms everyday people can understand."
Cook was responsible for preparing Larry Silverstein, the Massachusetts lawyer who drafted the various versions of the MPA. Under relentless questioning by Boies, Silverstein, who had been kept away from the trial because of an unspecified medical condition, "often seemed confused and forgetful, sometimes claiming to forget things that happened just last month," LA Weekly reported. "At one point, he said he didn't know what year it was."
"I think Larry was looking forward to explain how the mistake happened," Cook says. "I thought he did a good job, because it's a difficult position to be questioned by David Boies. David is a wordsmith who is very good at taking what a witness said, changing the question, and using the witness's own language to counterpunch. That's his technique."
Early in her career, Cook was on the same side of a case with Boies. "He's a very good lawyer," she says. "Even being opposite him is very interesting. He has a good sense of humor and never seems to be curt or short with people. He doesn't have the same level of stress some courtroom lawyers do. They perform in the court, but they're awfully short and intense when they're not on stage. I've never seen that in him."
Susman wanted Cook to handle the crucial cross-examination of Jamie McCourt. "I thought it would be more effective to have a woman cross a woman," he says. "I thought I would look like I was beating up on her, and Victoria was a much better choice, but the client wanted me to do it." (During that cross-examination, Jamie McCourt, who said legal issues were "boring" and "over my head" during the deposition, claimed she couldn't grasp concepts of California divorce law, even after they were patiently explained to her.)
In the end, the judge invalidated the MPA, but did not make a ruling on who owned the team. Cook says, "As legal matter, you could see how he got to the resolution he did. As factual matter, it's hard to see that the legal resolution makes sense with the facts. Putting on my lawyer brain, I can see the logic and I respect the judge, but I disagree with the end result."
Of course that wasn't the end result. On April 20, Baseball Commissioner Bud Selig,  expressing "deep concerns regarding [the Dodgers'] finances and operations," seized financial control of the team for Major League Baseball. McCourt contends his financial problems would be solved if Selig approved a  $3-billion extension of the Dodgers TV contract with Fox. Instead, the commissioner is studying the team's complex finances, which reportedly divide the Dodgers, the stadium and the surrounding parking lots into separate business entities, with loans against each entity repaid largely with revenue generated by the Dodgers.
"It's always sad when you see a good person, like Frank, going through a tough patch," Cook says. "I'm not personally involved in the MLB situation, but hope it gets resolved in Frank's favor soon."
At this point, though, with talk of more legal action, a timetable for a resolution may recall the old Brooklyn Dodgers slogan: Wait till next year.
Meanwhile, Cook has been tackling her list of things to do to feel at home in Los Angeles: visiting the Hollywood sign, seeing a Lakers game, attending the opera downtown.
She relishes the beach but not the fact that dogs are banned on them in LA County. "If my dogs could run on the sand, they would love it," Cook says, adding about the rule, "Seems odd to me."
Then she laughs in a good-natured way, as if deciding to set aside the lawyer in her for a moment. She does this with rental car agreements, too, which she doesn't bother to read. "They're not going to change them anyway," she says, "and you have to not pay attention to some things. … Otherwise, I would be thinking, 'This is terrible, I have to redline everything.' Sometimes you have to ignore some of that and just be a regular person."
Search attorney feature articles
Helpful links
Other featured articles
The real estate attorney helps guide Portland through its growing pains
Before April Hollingsworth fought for employees' rights, she was an adventurer with no clear path in sight
The lessons Matthew Draper learned in Japan influence his arbitration practice
View more articles featuring lawyers
Find top lawyers with confidence
The Super Lawyers patented selection process is peer influenced and research driven, selecting the top 5% of attorneys to the Super Lawyers lists each year. We know lawyers and make it easy to connect with them.
Find a lawyer near you