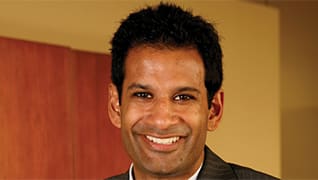 Photo by: Larry Marcus
Class Act(ion)
Rahul Ravipudi digs in for consumers and wins on a huge scale
Published in 2010 Southern California Rising Stars magazine
By Stan Sinberg on June 9, 2010
Rahul Ravipudi has no patience for people who blast plaintiff class action attorneys. "I guarantee you that no matter whatever amount goes to plaintiff's attorneys, defense attorneys get more," says the 36-year-old class action attorney with the Los Angeles firm Panish Shea & Boyle.
Plus, "some of these cases are so black-and-white, it's remarkable that companies won't take responsibility for what's right and prefer to invest that money in legal fees."
He works on huge cases and it was a huge snowstorm, the historic Great Lakes Blizzard of 1977 in Buffalo, N.Y., that made Ravipudi's father uproot the Ravipudis a couple years later to sunny Pasadena, where 7-year-old Rahul acclimated nicely. A self-described "rambunctious" kid, he was drawn to law because he liked arguing. In fact, the reason he didn't go into environmental law, following in the steps of his mother, an environmental engineer (Ravipudi claims to be the "least educated" member of his family), was that he realized that there "wouldn't be enough arguing" in courtroom trials.
In the summer of his second year at Loyola, he took a job with Greene, Broillet, Taylor, Wheeler & Panish and continued working there part-time until he passed the bar. After graduation, he joined Engstrom, Lipscomb & Lack, where he began working on class action suits, as well as the second phase of the Erin Brockovich mass tort case against PG&E, which numbered some 1,600 plaintiffs and resulted in a settlement in excess of $300 million.
That was a prelude to an even bigger case, against Sempra Energy and El Paso Natural Gas Corp., which were charged with conspiring to hinder the construction of pipelines and to constrict the flow of gas, which led to the California energy crisis of 2000. The resulting $3.5 billion settlement was at the time the largest anti-trust settlement in American history. A separate case against Reliant Energy and Sempra charged natural gas traders with conspiring to artificially increase demand and inflate prices even more.
The crisis precipitated the recall of Gov. Gray Davis—in part for making a horrific deal with Sempra that locked California into paying grossly inflated energy prices.
"The poor guy," Ravipudi says of Schwartzenegger's predecessor. "He didn't know about the fix. No one would've known."
These days Ravipudi spends half his time on class actions and half representing individual parties in cases involving wrongful death, catastrophic injury, employment issues and products liability.
A recent case involved four journalists suing Hewlett-Packard for invasion of privacy for "pretexting," i.e., investigators for the company illegally obtained the work, home and cell phone records of the reporters by pretending to be them. Ravipudi says the case was successfully resolved, though the terms are confidential.
Ravipudi prides himself on his calm demeanor and good relations with opposing counsel. "I have confidence in my case and my arguments and therefore I'll get what I'm entitled to, so that takes the 'table-pounding' out of it."
He also has faith in jurors, and says that often, by the end of opening arguments, "you've either won or lost the case.
"I love being on the 'injured party' side. I get to pick my clients and I believe in their cases. Helping them is what makes me feel good at the end of the night."
Search attorney feature articles