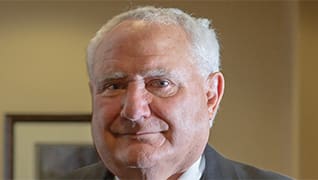 Photo by: Gregory Conley
Close to Home
Dan Baradat has won millions of dollars in jury verdicts for blue-collar workers like the ones he grew up with
Published in 2019 Northern California Super Lawyers magazine
By John M. Glionna on July 3, 2019
Dan Baradat, the son of an immigrant laundryman, is a plain-spoken product of Tulare, a Central Valley farm town that in his boyhood, he likes to say, had more cows than people.
The veteran plaintiff's attorney pokes gentle fun at his agrarian hometown with its dairy farms—as a place "you can smell before you can see"—but he stays in touch with his working-class roots. He spends his days championing blue-collar families in medical malpractice and products liability cases at Baradat & Paboojian in Fresno, just an hour from his childhood home.
Indeed, early in his career, Baradat passed up opportunities to practice in bigger cities. "I wanted to go home," he says. "Having grown up among the lower economic class in the San Joaquin Valley, I felt I could help people as both a legal advocate and a neighbor."
"This isn't a guy born with any silver spoon in his mouth," says Mike Kelly, managing partner at Walkup, Melodia, Kelly & Schoenberger in San Francisco, who has worked on cases with Baradat. "Not even a wooden one. He's very self-made. He goes pedal-to-the-metal, 100 miles an hour. Whether it's for $1,000 or a million, you get the same guy—someone who's mindful of where he came from."
In 43 years, Baradat has taken more than 100 cases before juries. He has won about a dozen jury verdicts of more than $1 million, most of them in the San Joaquin Valley, where hefty amounts don't always come easy for plaintiffs. Not to mention that victories are limited by the state's $250,000 medical malpractice cap on pain and suffering, passed in 1975, which Baradat criticizes as often only scratching the surface of what is truly needed.
"I once represented a boy who lost both legs at age 3," he says. "There was clear liability, but all he received [in addition to economic damages] was $250,000 for the rest of his life's pain and suffering. I don't think justice was done."
Other verdicts include $1 million in 2017 for two young girls whose mother was run down in a crosswalk in rural Dos Palos, and $3.25 million in 2003 in Alameda County for a man who developed lifelong pain after his foot was run over at an auto auction.
A case that gave him special satisfaction was a $1.3 million verdict in 1990 in Visalia, on behalf of a Tulare County woman who suffered brain damage after an anesthesiologist mistakenly inserted a tube in her esophagus rather than her trachea.
"She was in a wheelchair and didn't have access to a proper shower facility in her home," he says. "When I met her, she'd only had sponge baths for the past 2 ½ years. She bought a house with some of the money—one with a roll-in shower."
As Baradat sees it, a lawyer should always be ready to go to trial. His rationale is all practicality: "If you try cases, you're going to get better settlements. Insurance companies know which lawyers are going to fold their tent."
Preserving jury trials is a major concern for Baradat, who served in 2016 as president of an organization dedicated to that cause: the International Society of Barristers. "The Seventh Amendment guarantees us a trial by a jury of our peers," he says, "but the small print in many contracts these days forces you into arbitration."
Baradat says justice requires facing up to one's mistakes. And plaintiff's work has taught him one thing: Anyone can make them. "You could be Mario Andretti, but you blow the stop sign, you're at fault," he says. "And you can be the best doctor. But screw up and you're liable."
At age 69, Baradat is a man who measures his words and loves a good joke, especially at his own expense. His gruff façade and political convictions have led friends to compare him to Bernie Sanders—with a dash of Larry David, his favorite comedian. Baradat calls himself "an old hippie" who stands out in the conservative Central Valley, home of GOP Congressman Devin Nunes. Baradat's personal heroes include Franklin D. Roosevelt, Martin Luther King Jr. and Barack Obama.
A more local role model is Rick Watters, a plaintiff's personal injury attorney with Miles, Sears & Eanni in Fresno, who had been practicing for four years when Baradat came back to the valley with his law degree. Both hailed from similar economic backgrounds.
"I think a lot of Dan," says Watters. "He has ethics. He has follow-through. He has tenacity. He's the opposite of self-aggrandizement."
Life was not easy in Baradat's childhood home. His mother abandoned the family when he was 11, leaving him to be raised by three older brothers—mostly. His father, Leon Pierre, was a hardworking French immigrant with a seventh-grade education who, at 23, came from the Basque country in 1930 to work in an uncle's laundry in Oxnard. He settled in Tulare, where he ran his own laundry before going to work in the laundry room of the local hospital. Half the year, he also worked full-time at a nearby winery—a schedule that kept him mostly away from home.
Still, Baradat counts him as a major influence—not that they always agreed. When Baradat applied for scholarships to Saint Mary's College in the Bay Area, his father was nonplussed. His brothers had worked their way through state colleges. "People like us don't go to schools like that," he told his son.
Baradat found a way to make it happen. "Receiving scholarships to go to Saint Mary's was the biggest break of my life," he says. It was the turbulent late '60s, and the liberal politics on campus further melded his world view. When he graduated from the University of San Francisco School of Law, Baradat planned to become a public defender, but accepted an offer from Canelo, Walker and Hansen, a Merced-based firm that handled mostly personal injury cases.
Early on, to get courtroom experience, he volunteered to handle criminal cases. They helped develop his aggressive, down-to-earth style. A personal tragedy also influenced his commitment as a plaintiff's lawyer. His son Gabe, born when Baradat was in law school, had a birth defect requiring his lower right leg to be amputated on his first birthday. With his parents' encouragement, Gabe went on to become a swimmer and water-polo player.
"Seeing the challenges faced by a child who was an amputee, I think, helped set Dan on the path to becoming a compassionate plaintiff's attorney," says Warren Paboojian, Baradat's law partner. "It helped shape him into the lawyer he is today." He and Baradat met when Baradat represented Paboojian's wife in a car accident case in 1990. They became law partners in 2008.
In his spare time, Baradat hangs out with buddies from high school and college athletics programs. He played football, baseball and basketball in high school; rugby and football in college. "I just gravitate to the guys I grew up with, and a few of them happen to be lawyers," he says. Every Sunday morning, Baradat meets with friends to play basketball at an outdoor court. He describes himself as a "slow, overweight guard," reduced to half-court games.
Baradat also spends time helping farmworker families. His friend, local physician Jose Luis Bautista, sponsors a variety of charitable events during the year, from a golf tournament to free meals for the needy to Navidad en el Barrio, which provides Christmas gifts for children.
"He's always there to help," Bautista says, "and he never asks for any thank-yous."
In nearby Biola, the local chapter of Veterans of Foreign Wars also sponsors a holiday event for the less fortunate, where Baradat has become known as "Secret Santa." In addition to donating for gifts, he shows up in blue jeans and work shirt to labor behind the scenes, along with his wife, Sharon Ferrer-Baradat, and their grown children, Claire, Matt and Gabe. They load food baskets, scrub pots and pans, and pick up trash after the events.
"Some people write their check and say, 'Here's my money, it's all I have to do,' but not Dan," says Fresno attorney Robert Cervantes, who also works on the charity events. "He does it for his community, not his ego. He knows what it's like to be without."
Says Baradat, "I always saw the difference between the lives of the haves and have-nots. I wanted to represent the have-nots." 
---
Finding the Way
For Dan Baradat, community extends to his father's native Basque region. Along with his wife, Sharon, son Matt and nephew Ray, Baradat joined a dozen of his French and Basque cousins in the summer of 2014 to hike parts of the famed Camino de Santiago, or Way of St. James. The network of routes for Christian pilgrims during the Middle Ages is now a UNESCO World Heritage Site. Baradat's group trekked across southwestern France's Basque Country into northern Spain.
Walking more than 100 miles of the 500-mile route, he encountered not only walkers but people on bicycles and even horseback. Baradat's hiking team helped one man in a wheelchair ford a stream. He spent a night in Pamplona, Spain, home of the annual running of the bulls; and took selfies in the Santiago de Compostela cathedral in Galicia.
Search attorney feature articles
Helpful links
Other featured articles
As outside counsel to the Mormon church, Von G. Keetch has been called every name in the book
Jack Swerling is less fearsome than his courtroom moniker 'Mr. Murder'
The first Hispanic justice on the state's high court set out to be more Grisham than gavel-wielder
View more articles featuring lawyers
Find top lawyers with confidence
The Super Lawyers patented selection process is peer influenced and research driven, selecting the top 5% of attorneys to the Super Lawyers lists each year. We know lawyers and make it easy to connect with them.
Find a lawyer near you