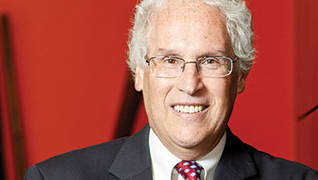 Photo by: Gregory Cowley
Comfortable in Sacramento
Gary L. Bradus brokers 9-figure deals, but at heart he's a 'small-town' kind of guy
Published in 2014 Northern California Super Lawyers magazine
By Larry Rosen on July 3, 2014
If life is about choices that make you happy, Gary Bradus wins. He's a man who knows himself, knows his business and knows his place. The man is a shareholder at Weintraub Tobin Chediak Coleman Grodin; the business is corporate law; the place, without a doubt, is Sacramento.
Bradus is a man who, early in his career, traded a future with the prospect of high pressure and long commutes for a return to his low-key hometown, where he's carved out a niche as one of the capital city's most prominent business lawyers. He's devoted to family, charity and Sacramento's future.
Save for the first six months of his life and a stint that took him to UC Berkeley, UCLA, then three years of practice in San Francisco, Bradus has spent all his life in California's capital.
"I just feel comfortable here," he says.
Sacramento is comfortable with him, too. "His roots in the community go way back," says Christopher Chediak, a fellow shareholder at the firm (then known as Weintraub, Genshlea, Hardy, Erich & Brown). Bradus joined in 1990. "And he's very loyal. There's a lot of trust in him. That cements him as an influencer in the long term."
Bradus' fingerprints are all over the Sacramento business landscape. His practice focuses on transactions, corporate governance, shareholder issues, mergers and acquisitions and banking. He represents one of the area's major employers, The Morning Star Co., the world's largest tomato-ingredient processor. Recently, he shepherded Morning Star through a deal to provide $260 million of financing. He also represented Wells Fargo in loans to Sierra Nevada Brewing Co., another Sacramento-area institution, as well as Java City.
Brokering eight- and nine-figure deals is routine for Bradus. There was a $100 million stock sale in which he represented the 50 percent owner of auto parts dealer Pick-n-Pull; another one involving $100 million of construction industry loans; and an $80 million pharmaceutical industry stock sale.
But he also cherishes his smaller clients, like Greg Bauer, president and CEO of Rack N Road. In 22 years, Bradus has seen Bauer through the founding and growth of three Sacramento-area companies.
"That's one of the great things about working in Sacramento," Bradus says. "You have these family-owned businesses. You start with a client, help them form their company and, next thing you know, it takes off."
Helping clients close deals is part of his role. Sticking around for the long term is the rest. "I almost act as general counsel for these companies," he says. "That's the way I want it to be; why I work for a large firm. If something's outside my area of expertise, I can get them in touch with the appropriate people."
Bradus likes to say he "knows just enough to be dangerous." Ask him about acting as de-facto general counsel for longtime clients and he'll say, "I know just enough to be dangerous." He's known Sacramento Mayor Kevin Johnson, a former NBA star, since they matched up at a three-on-three basketball tourney in college. He was on the mayor's transition team in 2008 and enthusiastically supports his approach—including riverfront, downtown and Kings—to Sacramento growth. Bradus is a ubiquitous volunteer, so much so that longtime client Bauer quips, "Every time I go to an event, Gary's there." This year, Bradus assumed the chairmanship at SACTO, the Sacramento Area Commerce & Trade Organization.
It is through this 12-year affiliation that Bradus has expanded his impact on Sacramento business beyond brokering multimillion-dollar deals. "[He's] helped guide us and influence everything we do strategically," says Barbara Hayes, SACTO president and CEO. Recently, that's meant encouraging a string of international companies to move their U.S. operations to the Greater Sacramento area. Last October, it was Shinmei Co., a food producer from Japan; before that, it was Bayer CropScience, a division of German chemical company Bayer AG, moving its U.S. research and development.
Right now it means a major new project, but one Hayes prefers not to name. "[Gary] is intimately involved," she says. "It was initiated by one of his contacts."
Perhaps Bradus was destined for his role as a dealbroker from birth; what he wasn't necessarily destined to be was a lawyer.
He went to college thinking he might become an accountant. The son of a doctor, he wasn't eager to enter the family business; nor did the family think he would. Accomplished in sports at a young age—Bradus played baseball, basketball and water polo in high school—he was considered something of a lightweight academically by some of his relatives. "My brother and sister [eight and five years older, respectively] are both doctors," he recalls. "One day, I came home from school with an award for social sciences. My extended family was baffled: 'Wait; he's smart, too?'"
Left out of their anatomy-heavy dinner table conversations, Bradus knew a career in medicine was not in his future. So he entered UC Berkeley and signed up for finance classes.
"Law was always in the back of my mind," he says, recalling his college-era career search and a high school visit to law firms at 555 Capitol Mall for Sacramento County Annual Law Day. The visit left an impression. "I think part of it was just coming down to a high-rise building in downtown Sacramento," he says. "[And] the way all the lawyers were dressed, and just the way they handled themselves."
Late in his undergraduate stint, Bradus took a business law class; law moved to the front of his mind. He entered law school at UCLA but still had a few zigzags before determining his path in life.
"I started law school thinking I wanted to be a tax lawyer," he says. "I took a couple of classes and changed my mind. I'm not sure how that morphed into doing the banking work I'm doing, though."
While working in Century City during law school, then San Francisco after graduation, he faced the reality of building a life in the city: commutes, cost of living, noise.
So he came home, signed up with Weintraub Tobin, served as managing partner from 2007 to 2009 (and married a former firm IT worker), and set about making his mark.
The reason Bradus steered away from the "litigation" table and toward the "transaction" table seems simple. As he puts it: "I wanted to do something constructive."
"In litigation," he explains, "nobody's happy to be there. Everyone's looking at spending a ton of money, and what do they get in the end? Nobody's happy."
It was this desire to do something beneficial that led Bradus to his career working things out between buyers and sellers. It's also what makes him one of, he supposes, "10 or so" Sacramento lawyers who work the majority of high-profile businesses cases.
Bradus recalls no one more than hyper-constructive Seattle Seahawks coach Pete Carroll: wide-open eyes, glorious head of white hair, eager posture. His office is a vibrant place, a living scrapbook devoted to his children—two daughters and a son from his wife's prior marriage—his clients, his firm and his charitable efforts for St. Hope Academy and the American Cancer Society. When someone speaks, Bradus listens; when someone asks a question, he thinks for a moment before responding. He is high-powered, there is no doubt, but his demeanor is open and comfortable.
Which is good, he says, because his job is dependent on managing the fears, worries and egos of very successful people, clients to whom he cannot always deliver good news.
"One of the first things I tell my clients is to expect 95 percent of our conversations to be about things that can go wrong," he says. "Even with the smoothest deals, there's going to be a last-minute bomb that goes off."
Bradus' job is to stay calm and give good advice. He understands the amateur psychologist element of the law.
"[He's] not a 'my way or the highway' guy," Bauer says. "Whenever we have a conflict, it ends up positive. And you have to have that with a lawyer. If he told me everything I wanted to hear, he wouldn't be my lawyer. … Gary looks at anybody and everybody as an equal."
"He understands the community," offers Chediak. "You can have people who are players but aren't liked. Gary's a player, and he's liked. He has all the right values and he does things because he believes [they're] right."
Adds Hayes, "At its core, Sacramento is a small town. People grow up with each other, they do business with each other. It's a relationship town. Having grown up here and raised his family here, Gary has a level of pride and knowledge and connectivity."
Bradus has dreams for his city. He'd like to see a downtown basketball arena and a riverfront that looks something like San Antonio's River Walk. He'd like, through his work with SACTO, to help the city diversify its industry base, but without too much increased congestion. He's an everyman in California's capital city, with one major distinction: This everyman can make almost anything happen.
Search attorney feature articles