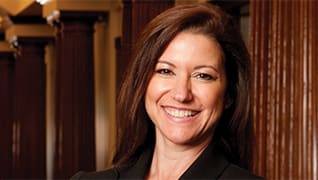 Photo by: Raffi Alexander
Compassion for the Client
Amy Fisch Solomon takes on Bayer, Disney and the 'learned intermediary defense'
Published in 2011 Southern California Super Lawyers magazine
By Joan Hennessy on January 20, 2011
On Sept. 22, 2000, 4-year-old Brandon Zucker fell from the Roger Rabbit Car Toon Spin ride at Disneyland. 
Trapped beneath the car for 10 minutes, the child's 45-pound body was folded in half. His traumatic injuries, according to news accounts, included a ruptured diaphragm, brain damage and a fractured pelvis. The ride had no doors, newspapers reported that its safety bar wasn't properly fastened, and bystanders criticized the time it took the park to respond. But the bottom line was that a small boy would never be the same.
By the time personal injury attorney Amy Fisch Solomon encountered Brandon, he was in a pediatric rehab facility, paralyzed and still on a ventilator. The family was pursuing legal action against Disney and Solomon's boss had assigned her to the case. "I was to meet the parents," Solomon says. "I got there early."
Hesitant to enter the room before the arrival of the parents, Solomon stood in the doorway and watched the child. "I couldn't get over how beautiful of a boy he was and how utterly broken down he was. As I stared at him, the family came around the corner and his 6-year-old brother came running around and shouted 'Brandon!' You could just see the light behind [Brandon's] eyes at his brother's voice. My heart just broke."
At the time she thought: "His soul is firmly intact, but it's trapped inside this broken, useless body." 
Years later, Solomon, now 51 and a partner at Girardi Keese in Los Angeles, remembers the experience precisely. "That moment gave me such resolve to work so hard for that family."
Solomon is known for throwing herself into cases this way. 
"She has a wonderful relationship with and compassion for her clients," says one of Solomon's opponents, Richard Harris, a defense attorney with Patterson, Lockwood, Harris & Jurich in Glendale. "She's sharp," he says. "There are no tricks you are going to pull. … Nothing is going to be slipped by her."
Born in Palo Alto and raised in Los Angeles, Solomon graduated high school determined to pursue her primary passion: dance.
She studied ballet seriously and danced professionally with companies in Los Angeles and Sarasota, Fla. Her favorite ballet is Coppélia, the story of a man who falls in love with a life-size doll. "It was such a touching piece," she says, "I just loved performing it."
But after an ankle injury took her out of the profession, she signed up at California State University, Northridge. She was 20. At school, she says, "I did feel like a fish out of water. I was a few years older. I also had much more purpose and direction. … I was there to study."
She majored in speech communication, known for its flexibility, with a legal career in mind. Her mother, a press agent and staffer for various politicians, had campaigned for John F. Kennedy and Bobby Kennedy. "I knew political folks had a law underpinning," she says. "That played some role in directing me toward law."
Loyola Law School, Los Angeles, was a natural next step. "In hindsight, Loyola offered exceptional clinical programs," she says. "You are practicing law and getting experience in practical programs."
From the start she saw herself as a trial lawyer. "Body language is huge in communicating your story to a jury," she says. "I had taken that body language; I'd learned through years and years of ballet."
Her dance training had been in the Cecchetti method, named for Enrico Cecchetti, an early 20th-century ballet master. "My teachers had us understand and master each of the foundational layers before moving on. At the same time it wasn't just about steps or technique. It was also the art involved in movement and music interpretation. There was a study of body movement and kinesiology, anatomy. It was a sophisticated, detailed process, a reasoned, logical approach."
Not unlike the way lawyers build a case, she says. "You have to have a solid foundation and keep building your arguments on the foundation below it. The trial aspect is the art."
Initially criminal defense appealed to her. But during her first summer of law school, she spent time with a defense attorney and remembers how depressing it was going into the lockup to talk with clients.  She thought: I can't do this every day. So she turned to the civil arena. "I knew I wanted to represent people who needed a voice," she says.
The big firms interviewed students on campus back then. But getting a job with a powerhouse didn't appeal to her. Frustrated, she picked up a Martindale-Hubbell directory and literally flipped pages until she came across Girardi Keese. "The principals were all Loyola grads. I thought, wow, that looks like everything I could do."
She started as a law clerk. Tom Girardi, founder of the firm, still remembers the day he met her. "In our law clerk program, we get to see somebody," he says. "We get to know their integrity, how hard they work and their insight."
He wasn't disappointed. "I bet you cannot find a bad story about Amy," he says.
An intense woman, Solomon's sentences are slow and precise. "She's massively persuasive," Girardi says, "but in the end nobody thinks anything badly about her."
The Brandon Zucker case may have tested her reserve. It pitted her against Disney and its team of lawyers.
"I was up against seasoned defense counsel. At one point early on in the litigation I was asking for various documents," she remembers. "They didn't want to give them to me."
One of the defense attorneys told Solomon she would have to do things his way. "I chuckled and said, 'I didn't just fall off the turnip truck. I know what I'm entitled to.'"
He then suggested that she get back on her turnip truck and go away. Solomon didn't back down. "We finally got 30 bankers' boxes of documents in no particular order dumped on us. I and one of my new associates … sat up until all hours of the night going through these documents."
They found what they wanted. There was no door on the Roger Rabbit Car Toon Spin at the time of Brandon's accident, but, she says, "One of the documents that we found was the design plan that had included a door."
The $43 million settlement, which came about a year and a half after the accident, didn't require Disney to assume blame but allowed the family to take care of Brandon at home, with 24-hour nursing care.
The park shut down the ride for months while alterations were made. Indeed, she says, the settlement changed the way the park was run in a host of ways. "A paramedic group was established on the park site, which will enable quicker emergency response," she says. "The ride itself was changed to make it far safer. And it carried over to other areas and in regard to training the employees. Greater care was given."
In another case, an 11-year-old girl suffered brain damage when a light fixture in a grocery store parking lot fell on her head. "Upon investigation, it appeared the base had been corroding over years," Solomon says. "Instead of fixing the base of the pole, they just put a few coats of Rust-Oleum and paint over it." The case settled for $35 million.
Though trial lawyers yearn for court, Solomon says she enjoys mediating cases, too. "I think it is a very different skills set and mindset. I think there are cases where my client's interests are better served in a mediation setting, and I do derive greater satisfaction in some cases working through a negotiated settlement without all the risks and gambles of a trial."
Currently she's involved in a case against Bayer Pharmaceutical over its birth control pill, Yaz, whose commercials feature beautiful young women going about active lives. The ads warn that the pill can raise potassium levels, with side effects including stroke, heart attack and blood clots.
"Young, healthy women are having horrible events," says Solomon. "Some are having strokes because of a clot. There have been some deaths, tremendous problems. This is litigation in California as well as federal multidistrict. I'm involved in both."
Like Disney, the pharmaceutical company presents a formidable opposition. "They've got 20 million documents. We're fighting to get all of what we think we're entitled to," she says. "It's going to be a long, hotly contested battle."
She's clearly a rainmaker but wouldn't mind a little less precipitation. Businesses, she says, should work "from the perspective of what is best and safest as opposed to lawyers having to enforce that after someone is horribly injured."
Beyond that, if she could, she'd make one change to the way these cases are handled in California.
"Pharmaceutical companies have the right to advertise directly to the consumer. We see on television these advertisements from the drug maker. Take this birth control. Take this for depression or diabetes. It hypes the drug so that the consumer looks at it and says, 'I really need to take this.' And the doctor says, 'We'll give it a shot.'"
When the drug proves defective, California allows drug companies to say it wasn't their fault—the doctor shouldn't have prescribed it. It is called the "learned intermediary defense," Solomon says, adding that, in her opinion, "If drug companies are directly marketing to a consumer, they can't then say that it's not their fault."
In 2008, as president of the Consumer Attorneys Association of Los Angeles, the nation's largest local association of plaintiff's attorneys, Solomon became a valued mentor. "She was primarily focused on reaching out to younger lawyers and encouraging women to participate," says Stuart Zanville, executive director of the group.
She sees law as a profession, not just a job, says Victor J. Gold, dean, professor of law and William M. Rains Fellow at Loyola Law School, Los Angeles. "As a profession you owe something to society," he says. "You owe something to people who give you this monopoly called a license to practice law. When the state gives you that license, you owe back."
Besides, he adds, "A lot of people in our business are taken with themselves. They have egos that need constant gardening. She's not one of those people. She's not full of herself, notwithstanding her accomplishments and abilities."
"I'm a big believer that what we do is hard but it's invaluable," Solomon says. "We have to do it in order to maintain some fairness in society. I want young people to know more about what we do."
Brandon lived for eight years after his accident. When he died in January 2009, at the age of 13, Solomon went to the funeral.
A photograph of Brandon hangs on the wall of her office. "It is a beautiful picture of him and his mom gave it to me," Solomon says. "It is a huge inspiration to me every day."
Search attorney feature articles