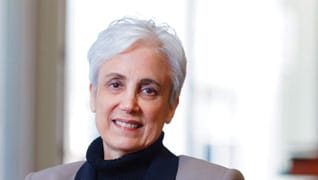 Photo by: Gregory Cowley
Detail Person
To Susan Popik, insurance law is riveting stuff
Published in 2011 Northern California Super Lawyers magazine
By Rose Nisker on July 11, 2011
In the early 1980s, a series of powerful rainstorms swept through California, bringing heavy floods, mudflows and landslides. As homeowners across the state assessed the damage, a wave of litigation hit California courtrooms. State Farm Insurance called on attorney Susan Popik to handle the onslaught.
"Basically, I spent an entire decade dealing with one small paragraph of State Farm's homeowners insurance policy," Popik says. It might sound tedious to most, but she's not complaining. "I'm convinced that those of us who do coverage work have a little quirk in our brain that makes it fun to wrestle endlessly with arcane policy language."
The quirk that kept Popik grappling with that paragraph translated into a decade of successful litigation for State Farm, as evidenced most famously in Garvey v. State Farm Fire & Casualty Co. There were two causes of the damage to the Garveys' property: one covered by their insurance and one not. The California Supreme Court ruled that the major cause—in this case, not covered—is the one that counts. That landmark win for State Farm continues to carry considerable weight with regard to bad faith insurance disputes.
Popik has spent the last 30 years taking apart the convoluted and abstruse language of insurance coverage and bad faith litigation. A founding partner at Chapman, Popik & White, she has worked with both insurers and policyholders on hundreds of claims disputes. She may be a leading attorney in a practice area some consider dry, but Popik's style is far from stuffy. A retro-design poster declaring "Tequila: Helping Women Lower Their Standards for Years!" is on prominent display in her city-view office. "It's what I have up instead of diplomas—a good litmus test for clients," she says.
Popik is playful and unabashed when it comes to the nerd factor inherent in her field. The attorney describes working as a co-author on the "bible" of California insurance litigation, The Rutter Group's California Practice Guide: Insurance Litigation, updated annually: "It's a total hoot. My co-authors and I get together several weekends leading up to production, sit around for hours speaking 'insurance geek' to each other and getting all excited about it."
The discussions often get heated. In one instance she and a co-author spent three years arguing over a certain nuance of California bad faith law. "He finally caved this year," Popik says with a grin, "but only after I spent hours collecting any and all cases I could find that would support my argument."
Growing up in the Bay Area, Popik was set on becoming a high school English teacher, but when she graduated in 1969 with her bachelor's from the University of California, Santa Barbara, the teaching jobs in California had dried up. As Popik pondered her next step, she remembered her father telling her what every good parent of a future lawyer says at one point or another: "You argue so much, why not become a lawyer?"
So Popik attended the University of California Hastings College of the Law and found the first year almost unbearable. "Actually, my father had to bribe me so I would stay," she recalls. At the time, she was enamored of grandfather clocks, so Popik's father promised her one if she stuck it out.
By the second year, the law student no longer needed a bribe. She served as editor-in-chief of the Hastings Law Journal. "During my third year," she confesses, "I spent all of my time in the journal office rather than going to my classes."
Graduating in 1975, Popik joined Pettit & Martin, later leaving in 1981, along with 11 others, to form Rogers, Joseph, O'Donnell & Quinn (now Rogers Joseph O'Donnell). In 1993, Popik and two other attorneys who had been at both firms, Bill Chapman and Mark White, decided to go out on their own. "I think we made the decision over too much wine at lunch," Popik says.
Starting her own firm was not in Popik's original plan. She intended to practice for a few years before transitioning into teaching. But insurance coverage work was compelling and satisfied her intellectual bent. "At the time, California was really the state where the concepts in insurance bad faith law were being developed and shaped," she says. Furthermore, insurance coverage interpretation gave Popik ample opportunity to wrestle with and write about legal issues. "It was almost like doing appeals at the trial level—instead of a dispute of the facts, it was all about digging into policy language."
Popik's work for State Farm in the California rainstorms solidified her interest in the practice area. She spent years dissecting the earth-movement exclusion in State Farm's homeowner policy and analyzing the causes of the storm's aftermath.
More than a decade later, State Farm turned to Popik once again in another series of high-profile cases, this time involving Hurricane Katrina. The attorney used her expertise to prepare Louisiana trial attorneys and write briefings for In Re: Katrina Canal Breaches Litigation, the umbrella for several cases brought by New Orleans homeowners concerning post-Katrina damages in which insurers faced potential liability in the billions of dollars.
Working with a national team of lawyers, Popik demonstrated how the water-damage exclusion in State Farm's homeowner policy applied to both natural and human-caused flooding, and thus barred coverage for damage caused when levees failed. In 2007, the case reached the 5th U.S. Circuit Court of Appeals, which held that a "flood" is a "flood," regardless of whether human negligence may have contributed to it, and that State Farm was correct in denying coverage for the damage to plaintiffs' homes and property.
Though insurance companies are often demonized, Popik says that, in her experience, insurers try to do the right thing for their policyholders. "These are not people who wake up in the morning and say, 'How can I screw my policyholders today?'" Popik says. "[But] it doesn't help to take an approach to policy interpretation that benefits one individual in the short run but becomes a major problem for everyone else in the long run."
Even with her intimate knowledge of all the possible disasters and damages that could affect a house, Popik says her own homeowners insurance policy is "nothing special." She's lived in the same Redwood City home for years, raising two daughters (now 27 and 32) with her husband, Steven Leonard. If the house weren't on bedrock, she would consider earthquake insurance, but as it is, Popik says she feels fine without it. In fact, the attorney recalls walking into her younger daughter's bedroom just after the 1989 Loma Prieta earthquake and being unable to discern if the mess had anything to do with the quake. "I decided it was just a messy room."
The former inhabitant of that room, Becca, is now an executive communications manager at McAfee. Popik's older daughter, Jenica, is a lawyer herself, working as a district attorney in Sonoma County. "She was completely bored when she did insurance coverage litigation," Popik says. "But she likes being in the courtroom."
Popik, on the other hand, says, "There's a reason why I work with some of the best trial attorneys around." When she recently worked on a case involving damage to a retaining wall in a condominium complex, she sat at the counsel table, wrote the briefings and motions, but "the jury never saw me open my mouth. They probably wondered, 'Who's this person sitting there like a potted plant?'"
She much prefers appellate work and takes on cases in a variety of areas because of her passion for research and writing. She's currently working on a child custody case: "Suddenly I'm in the world of family law."
But Popik will always be partial to the mind-bending complexities of insurance litigation and the subtle nuances of bad faith legal matters. Even after 30-plus years of practice, she finds the issues fascinating. "Insurance is so much a part of the fabric of our lives, and the concepts are continually evolving. I just love it."
As for that grandfather clock her father promised her? Her graduation wish evolved into something more practical: a beautiful, leather-topped desk, which graced her office for years.
Search attorney feature articles
Helpful links
Other featured articles
Why Jessica Heltsley moved out of courtrooms and into divorce coaching
Samuel Himmelstein's tenants rights practice includes the NYC landmark
The Tallahassee attorney for the families of Michael Brown and Trayvon Martin has one goal: proving that black lives matter
View more articles featuring lawyers
Find top lawyers with confidence
The Super Lawyers patented selection process is peer influenced and research driven, selecting the top 5% of attorneys to the Super Lawyers lists each year. We know lawyers and make it easy to connect with them.
Find a lawyer near you