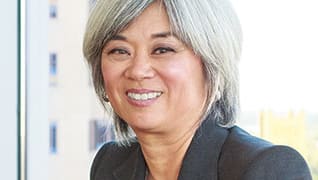 Photo by: Gregory Cowley
Details, Details
How Kathryn Doi's penchant for wading through regulations helped save dental coverage for millions of Californians
Published in 2015 Northern California Super Lawyers magazine
By Rose Nisker on June 29, 2015
When budget-strapped California lawmakers yanked most dental benefits provided through Medicaid for the state's lowest-income adults in 2009, a group of clinics that service the poor struck back: They asked Kathryn Doi to turn things around.
The health care litigator, who once worked in the highest ranks of state government, was an ideal candidate to wade through layers of state and federal Medicaid and Medicare rules, searching for a way to restore reimbursement for adult dental, podiatry and chiropractic services for rural and federally qualified health clinics. Doi's team claimed the reductions at such clinics were illegal under the federal Medicaid Act, while the state claimed the services were optional under the same federal act. It became a case of statutory interpretation. Though Doi and co-counselors Regina M. Boyle and Doug Cummings were unsuccessful in district court, they appealed to the 9th Circuit.
The question at the heart of the case, says Boyle, with the Law Offices of Regina Boyle in Sacramento, was precisely what services were mandated for reimbursement by Medicaid under a law passed in 1977. The question had essentially been unresolved since then. "I'd been working on the issue for more than 10 years without success," says Boyle, former director of legal affairs at the California Primary Care Association, who tried to get the state to define the mandatory services. "Kathryn made all the difference, cutting through complicated issues, inconsistent and often erroneous regulatory guidance, and focusing on the most significant issues."
Doi describes her oral argument in front of the 9th Circuit. "It was definitely nerve-wracking," says the Sacramento attorney, now with Hanson Bridgett. "Even though it was a maze, it was always so clear to me that B followed A; C followed B, and so on; and if you just logically went through all the layers, it seemed there was really only one result." Which was that non-emergency dental, podiatric and chiropractic care should be included. Doi adds with a laugh, "But whether other people agreed with me was another story."
The 9th Circuit did agree, and it was a windfall for millions of impoverished Californians and their community clinics and health centers.
"They've been restored, but we're still fighting in state court over payment of the ones that weren't paid while we were fighting it in court," Doi notes.
In 2013, the case earned Doi and her co-counselors a Hero Award from the California Primary Care Association.
Doi, a UC Davis School of Law graduate who represents health care providers, typically handles disputes with the California Department of Health Care Services or private health plans. Her cases involve a complex array of governing statutes and regulations.
"I call this law for nerds," Doi says. "It's kind of like tax code. You're looking at Medicare and Medicaid laws and their regulations, along with the Health and Safety Code, and maybe some other state codes and their regulations, and then figuring out how all of that fits together with a contract that has allegedly been breached. It's exercise for the brain.
"I love it." She pauses. "And it keeps me up at night."
The stylishly dressed, petite Doi has an easy, down-to-earth manner that belies her tenacity when it comes to dissecting government regulations. Sitting in the bright conference room at Hanson Bridgett's Sacramento office, she seems at home and calm, especially for someone who moved her entire practice to this firm just a few months earlier, after working at Murphy Austin Adams Schoenfeld since 2007. "It was hard for me to leave Murphy Austin," Doi says. "That's where I really focused in on health care law, and I was really happy there. But I was also ready for a larger platform to expand my work in this arena."
Doi is the daughter of two UC Davis professors: Roy Doi (microbiology), a second-generation American whose immigrant parents worked as farmers in Placerville; and Joyce Takahashi (organic chemistry), a third-generation American whose father was an optometrist and whose mother was a nurse.
During World War II, while Doi's parents were children, both sides of her family were sent to internment camps. She says the topic wasn't talked about much in her home—as was the case in many Japanese-American families—until the movement toward reparation took hold. "I think that brought a lot more openness and alleviated the sense of shame," Doi says. "I'm happy that now the Japanese-American community is out there as a voice to remind people that this can't happen again."
Doi believes the internment camp experience influenced her father's involvement in the civil rights movement—as a professor at Syracuse University, he demonstrated against the destruction of low-income housing—and, through her parents, her own values. She's a longtime supporter of the Asian Women's Shelter in San Francisco and also of My Sister's House, a battered-women's shelter in Sacramento. She was president of the Asian Pacific American Law Students Association at UC Davis, and later active with the National Asian Pacific American Bar Association.
Though the "family business" was academic science, Doi studied economics as an undergrad at Stanford. Between her junior and senior years, however, she interned for U.S. Rep. Norman Mineta, later the U.S. secretary of transportation. Doi encountered lawyers working as legislators, staff and lobbyists. "I saw how the law was really the foundation for how our society operates, and that the law was a tool that could be used to impact policy," she says. At the time, Doi says, she was "a bit of an activist" in the anti-nuclear movement, so it fit her desire to be part of change.
At UC Davis law school, Doi finished in the top 10 percent of her class, an achievement that led to a clerkship with Judge Jane A. Restani of the U.S. Court of International Trade in New York.
After her clerkship, Doi joined the litigation and public finance departments at Orrick, Herrington & Sutcliffe in San Francisco, where she spent several years learning from partners Jeffrey White and Steve Brick, both of whom went on to become judges; Bill Abrams; and Jon Streeter, who later served as president of the state Bar. They gave Doi plenty of courtroom practice.
 "The first time I went to federal court in 1986, I was aware that I was the only woman and the only person of color of all the attorneys in the room," she recalls. "For better or for worse, you can't help but think, 'I'd better do a good job or people are going to think that Asian women can't be good attorneys.' It's hard not to put that pressure on yourself."
In 1994, Doi went to work for the state, serving with the Commission on Judicial Performance. "That job really opened my eyes to just how hard it is to be a judge, because everyone was always complaining," Doi says with a chuckle. "To do a good job at the commission, everybody had to be dissatisfied with your result—the people who complained felt like it wasn't hard enough, and the judges felt like it was too hard." A few cases were clear-cut. One judge was removed from office after misrepresenting himself on his judicial application and claiming in the courtroom that he had been awarded a Purple Heart. "The ironic thing," she recalls, "was that people thought his performance as a judge was good."
Doi's career path took another turn after she had lunch with her former contracts professor, Floyd Shimomura, then serving as chief counsel for the Department of Finance for Gov. Gray Davis. She mentioned that attorneys she had worked with at Orrick now held positions in the administration, and he said more lawyers were needed. So Doi submitted an application and was promptly appointed chief counsel for the Trade and Commerce Agency in 2000.
Three years later, she was snatched away by the governor's legal affairs office. Superior Court Judge Shelleyanne Chang had just been appointed to the bench and was leaving her post as chief deputy legal affairs secretary. The office was looking for someone to handle Indian gaming-compact negotiations, which had been part of Chang's duties. "Ms. Doi was our first and only choice," recalls Chang. "She was extremely bright, hard-working and, most importantly, had the right temperament and professionalism needed for such a demanding position."
After the Davis recall in 2003, Doi returned to private practice, joining the government group at Livingston & Mattesich. "It was a great fit, coming right out of government," Doi says. "Gene Livingston and Jim Mattesich really knew government, and I learned a lot about how to take what I learned from working in the legal affairs office into private practice."
After Livingston & Mattesich merged with international powerhouse Greenberg Traurig, Doi moved in 2007 to the smaller Murphy Austin Adams Schoenfeld, joining attorney Frank Fedor as he expanded the firm's health-care litigation group.
She found homing in on health care law "incredibly fulfilling." For one thing, she says, it taps into that "legal nerd brain." For another, it focuses on an essential issue. "It's such a basic need that people have, and there's such a cost to society when we don't address it at a fundamental level," Doi says. "Any system that's going to increase the primary care so that there are fewer emergency room visits is going to be good."
She knows all about the high cost of emergency care from years of working with providers. In one high-profile case, Doi represented some air-ambulance companies that were challenging a reduction in payments from workers' compensation insurers. The state and federal courts said they lacked jurisdiction, so Doi filed hundreds of claims directly through the workers' compensation board. It finally decided to exempt air-ambulance companies from the new fee schedule.
"Kathryn is a quick study with a special capacity to grasp complex issues and reduce them to writing in a way that is very understandable," says Livingston, at Greenberg Traurig. He recalls a case they worked on together years ago involving disability-income insurance. "She prepared a settlement agreement that is still being used today by the parties."
Doi says she's always enjoyed following a non-linear path. "I never decided firmly that I was going to end up in one particular place," she says. "That approach has worked out quite well for me."
As she expands her practice at Hanson Bridgett, Doi is finding the firm to be a good fit. "I've been a bit like Goldilocks with law firms: Greenberg Traurig was too big, Murphy Austin was too small, and Hanson Bridgett is just right," she says.
Search attorney feature articles