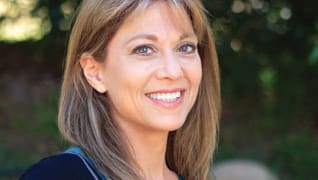 Photo by: Gregory Cowley
Extraordinary Abilities
Julie Pearl leads Pearl Law Group's pro bono charge on immigration cases
Published in 2013 Northern California Super Lawyers magazine
By Joe Mullich on July 8, 2013
The day after Christmas, Katherine Rivera opened her front door and saw what looked like a SWAT team on her stoop—a group of officers from U.S. Immigration and Customs Enforcement. The officers handcuffed her husband, Miguel, saying he would be deported to El Salvador. The problem? She was a U.S. citizen; they had been married for 14 years, owned a home and paid taxes; and two years before their marriage, an attorney had filed papers securing his political asylum. The Riveras had done everything on the up and up.
The attorney who had handled his asylum was deceased, though, and it turned out he had failed to properly handle the case almost two decades before. The only thing keeping Miguel in America was his lack of a valid passport. U.S. officials "asked Miguel to sign papers to allow him to be deported," Rivera says. "An attorney I had contacted through my church told me we couldn't win, and it wasn't worth spending the money to fight it."
Shaken, Rivera reached out to Julie Pearl, a former deputy attorney general in California and managing partner of the Pearl Law Group, who took the case pro bono. "I told him not to sign," Pearl recalls. "If he signs, they could turn him around in a day. And once he was out of the country, it could take years to get him back."
She argued that deporting Miguel would cause harm to U.S. citizens—his wife and two children, both of whom suffered from immune system disorders. "They only found him when he was laid off and filed for unemployment," she recalls. "And because he had been laid off, he was spending even more time at home with the kids and bonding with them."
The federal government stayed the deportation, allowing Miguel to file for adjustment of status in hopes of attaining permanent residency, based on his marriage to a U.S. citizen.
Pearl's interest in immigration law started when she attended Stanford University and received the second worst draw for student housing. The international student house was exempt, and she qualified for entrance because of her dual Canadian-American citizenship.
"The international students were working with the best and brightest despite not using their native languages," she remembers. "I never realized how nervous they were about being able to stay on in the United States after graduation. I wished I knew what they needed to know."
In 1995, she founded the Pearl Law Group with Alan Nelson, former commissioner of the U.S. Immigration and Naturalization Service (now USCIS). The firm is devoted exclusively to the field of employment-based immigration law—including I-9 visas and e-Verify work—and related global mobility guidance. It has nine full-time attorneys and 42 total staff members. One-third of the employees has had direct personal experience immigrating to the U.S. or other countries.
On average, the firm's attorneys handle 50 to 60 pro bono cases a year—about eight matters apiece. The only cases the firm won't accept are ones in which the potential client has committed a violent criminal act.
"We're well paid by the corporate market, and we feel we owe something back to the people who can't afford to pay us," Pearl says. "In our line of work, if you're an outgoing person and go anywhere, you'll find someone who needs your help."
The pro bono cases sometimes find their way to the firm in offbeat ways. Pearl once obtained a visitor visa for an elderly Chinese woman who had twice been denied, preventing her from seeing her grandchild in the United States. "I found out about the case through my acupuncturist," Pearl says. "If someone has needles in your back, you listen."
Pearl proved that, although the woman had lawful ways of seeking permanent status in the U.S., if that were her intention, she had enough ties and resources to stay long term in China.
One of the firm's partners is now helping a woman with the HIV virus lawfully remain in the United States to care for her two minor children. The virus was not a factor in permitting her to stay. "We didn't even legally bring it up," Pearl says. "We didn't invoke humanitarian reasons."
Finding justification to allow someone to enter or stay in the country under the complex immigration laws requires a lot of probing. "We don't bill by the hour," she says. "The clients are not holding back on telling me anything I need to know. You start from the beginning and say, 'tell me your whole life story and don't keep the good parts.'"
In the case of the woman with HIV, Pearl discovered she had, in the terminology of immigration law, "extraordinary ability," which means that a person is shown to have an unusual ability, affirmed through such things as awards in their field, press reports or scholarly papers. "There are 10 possible criteria, and in my experience you usually need five of them," she says. In this case, the woman had renown as part of a family that was known internationally in sports.
The firm is also helping an Indian spiritual guide and healer to secure a visa to enter the U.S. to conduct healing workshops and spiritual lectures around the country. "There were two ways we went about this for him," says firm partner Sameer Khedekar. "We certainly went down the O-1 extraordinary ability route. He's a spiritual healer, so [his job can be] an art or a science, depending on how you look at it. It's not really accepted as mainstream science, at least by today's Western society. Petitioning for him under the sciences was not feasible, but we characterized him as an extraordinary ability in the arts, the healing arts, just like in the martial arts, for example."
Last August, in the wake of a presidential memo establishing the Deferred Action for Childhood Arrivals, the Pearl Law Group created a program to help certain undocumented immigrants under age 31 who entered the United States before age 16 to defer removal from the country and obtain temporary employment authorization. The cry for pro bono work could swell even more if Congress passes proposed comprehensive immigration reform, which would benefit the estimated 11 million undocumented aliens currently living in the United States.
"When DACA was passed, we knew too many people either couldn't afford legal advice, or would be afraid to come forward," says firm attorney Addie Hogan. "Our goal was to set up an informal program where individuals would feel safe in asking any questions and have a reliable legal team. We recently obtained an Employment Authorization Document for an individual who has opened her own clothing store in Menlo Park."
The firm is a founding member of the by-invitation-only Alliance of Business Immigration Lawyers, which is composed of more than 40 top immigration law firms around the globe. "Julie is one of the best lawyers in the U.S. in immigration law," says Charles H. Kuck, an Atlanta attorney and president of ABIL. "A lot of people have the misconception immigration law is just paperwork. Julie has a brilliant mind for forward thinking on where the practice is going in the future."
For example, within three years of its founding, the Pearl Law Group developed ImmigrationTracker, an immigration management system that's used by over 70 percent of top immigration law firms that purchase case management software.
When Pearl and her team work on cases, they often seek out guidance from lawyers at other immigration firms. "The immigration field has a lot less competition for clients, and more congeniality than other areas of law because we share a common opponent," Kuck says. "And the field doesn't lack for pro bono cases because of a dichotomy: It is one of the poorest populations facing the most complicated federal law."
In fact, Kuck provided Pearl with encouragement to pursue the Rivera case after other attorneys told her it was hopeless. "I sent out a Hail Mary pass and even the people who are normally optimistic told me I didn't have a prayer," Pearl says.
"Very few things in immigration are hopeless," Kuck says. "You just need someone who is willing to put their reputation on the line and go outside their comfort zone. Julie does business immigration, and it takes a lot of guts to step outside your practice area."
Katherine Rivera is glad she did. Rivera will never forget visiting her husband while he was locked up by U.S. Immigration Services while facing deportation. She was separated from him by a thick pane of glass, while other families, who did not have legal representation, were saying quick goodbyes "and talking about things like selling the car and packing up their lives in 20 minutes before one of them was deported." She says the many people without attorneys were "blind in the dark."
Which is apt, because the lawyers at Pearl Law Group like to help people clearly see what they're facing. "I love seeing the relief in someone's eyes when I tell them this is the best way for you to get into the country legally," Pearl says. "When they know you know what you're talking about, even if it's not the answer they wanted, you see people breathing that sigh."
Search attorney feature articles