Fighting For a Green World
Truth and beauty, says Jesse Chavez, are all he knows and all he needs to know
Published in 2009 Southern California Rising Stars magazine on June 12, 2009
Updated on June 16, 2009
Jesse Chavez has a knack for being in the middle of the latest and hottest trends. Take his eye for art. He had always been interested in street art, and when he started his practice he began buying from an artist whose work he particularly fancied. The guy was a relative unknown, and Chavez bought prints from him weekly. Then along came Barack Obama—and the iconic, multicolored Obama portrait done by artist Shepard Fairey, the very artist Chavez had been collecting for years. Suddenly, Chavez's collection shot up in value.
And when it came time to pick a specialty, he ended up in what is becoming the hottest specialty around: green law. An environmental litigator at Bingham McCutchen in Los Angeles, Chavez says much of his work deals with the cleanup of contaminated properties.
The environment, however, was not the spark that got Chavez, 37, into law. It was L.A. Law that did the trick. Like many of his generation, he watched the show as a teen. "There were any number of different lawyers that I looked up to, or at least aspired to be, but there was one Hispanic character, Victor Sifuentes," Chavez says. "I remember thinking I wanted to be a lawyer, and that has pretty much stuck with me from high school all the way through."
The idea stuck with him through college at UCLA, two years in Japan and law school at the University of Southern California. More than anything, he knew he wanted to be a litigator. So when he interviewed with his firm—then called McCutchen, Doyle, Brown & Enersen—during law school, he told them he didn't care where they put him, as long as he could be a litigator.
Fortunately for him, he says, he ended up in the firm's environmental group. "The environmental practice here is top-notch. It's consistently ranked in the top one or two in the nation and always way up there in California," notes Chavez. 
The learning curve was steep at first; as a junior attorney, Chavez would often have to run back to his office to consult the environmental acronym book (yes, there's actually a book) to figure out exactly what people were talking about. But one of his first major cases, a three-year-long Superfund case, helped him get up to speed.
Today, a large variety of casework keeps Chavez on his toes. "It runs the gamut: It could be water, it could be air, it could be contaminated properties, endangered species; it just really depends on what comes through the door," he says. While much of his work deals with enforcement actions and cost recovery for contaminated properties, he'll also get pulled into things like a recent water-rights case involving Camp Pendleton—his first case to go to trial in 10 years of work, since most cases settle.
But a decade at Bingham McCutchen has exposed Chavez to more than just the nuances of environmental law. It also introduced him to the Heart of Los Angeles (HOLA) program, which helps at-risk city kids. In 2007, the firm teamed up with HOLA to start a 10-week-long summer mock trial program. Chavez is one of the lead instructors of the program, which enters its third cycle this summer. It's a great intro to law, he says, and preps the kids to argue a fictional case in front of a judge and jury.
And this isn't just any judge and jury. The case is argued in a federal courthouse in front of Senior U.S. District Judge Consuelo Marshall and a "who's who" of juries: people like former Los Angeles mayor Richard Riordan and staff from NBC and Disney. "Because we're in a civil courthouse, it's kind of grand," says Chavez. "Many of the kids had never seen a courthouse. They hadn't had any experience with attorneys or professionals in general, and so this is a chance for them to get exposed to that. And that is, I think, the most important part."
Chavez enjoys getting to know the kids, most of whom are just a couple of years older than his own sons, who are 7 and 10. "You look at them at the beginning and think, 'Well, this person's really quiet; are they going to be able to actually get up there and speak?' and invariably they tend to be the most vocal of the people," he says. "Even if there's a mistake made, it's still fun to see them trying. They come away and they're always a little embarrassed, but you can tell they're actually really proud of what they've done."
Chavez is excited that people are starting to recognize the importance of environmental laws. "There's a selfish aspect to it—the job security aspect," he admits. "But it's also nice to see that properties that would otherwise lie dormant because they were contaminated are now being revitalized, and people care about greenhouse gases, and states are making the effort to try to change things. I think that's great; that's something we need to do."
Other Featured Articles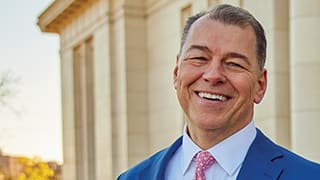 Providence Over Coincidence
Paul Sinclair's life and practice are guided by his LDS church principles Featuring Paul Sinclair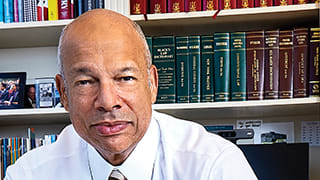 The Public Service Call
Jeh Johnson keeps giving back to his country Featuring Jeh C. Johnson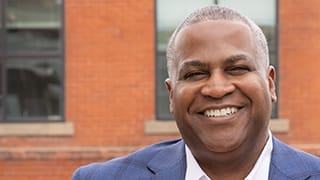 A Desire to Serve
Brian Newby has worked in the governor's office, spent three decades at his law firm, and retired from the Air Force with two stars