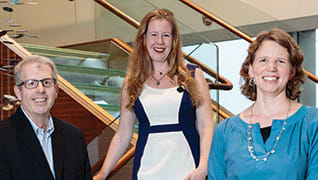 Photo by: Gregory Cowley
Firm Values
For Morrison & Foerster, pro bono work is more than just a priority
Published in 2014 Northern California Super Lawyers magazine
By Joe Mullich on July 3, 2014
When Diana Kruze attended law school, she never imagined her attorney duties would someday include purchasing wedding rings for a pro bono client who had nearly been beaten to death by a jeering mob because of who she loved. But these were no usual clients. Kruze and three colleagues were representing a lesbian couple from Cameroon—where gay people are routinely persecuted and imprisoned—in an asylum case.
One half of the couple, Gertrude, was stranded in the U.S. while promoting a documentary in which she appeared about the country's secretive gay community. After the film was publicized, her partner, Carine, was savagely beaten in the streets in Cameroon. 
Kruze, an associate at Morrison & Foerster, had recently returned from maternity leave, and she was eager to get involved in her firm's pro bono efforts. She felt a strong connection with the couple, who had a 9-month-old daughter. "Gertrude would sit in my office crying, and I would cry too," Kruze says. "And then I would go home and hold my little girl."
Morrison & Foerster, a full-service, 1,000-plus attorney firm headquartered in San Francisco, does extensive pro bono work. It doesn't cap pro bono hours, and all pro bono work counts toward lawyers' billable hours. The firm's U.S. offices billed an average of 93 pro bono hours per attorney in 2013.
"Pro bono work is a core value of our firm," says Rachel Williams, one of the firm's three full-time pro bono counsel. "Everyone, from a new lawyer to a senior partner, is expected to contribute."
Williams regularly meets with firm attorneys, asking what issues stir their passions. Often, she receives unexpected answers—like skateboarding—that send her looking for pro bono opportunities. She actually found one case involving land use issues for a proposed skate park in Oakland, but ultimately the firm had to pass because, ironically, it conflicted with another pro bono case.
"You have to think creatively about where the pro bono work is," Williams says.
Tom Anderson, a junior associate and former Army colonel, had been doing pro bono work through the Lawyers' Committee for Civil Rights of the San Francisco Bay Area, teaching low-income entrepreneurs about legal and business issues related to starting a company. He approached Williams about undertaking a similar effort for military veterans. She found VetsInTech, a San Francisco-based national group that assists veterans interested in education, entrepreneurship and employment in the technology industry.
"We just had the first two-hour presentation in our office, and we got a tremendous response with 35 veterans attending," Anderson says. "This is a great passion of mine because I understand what it means to be a veteran, how it can be tough to adjust from active military service to the civilian workplace.
"Veterans have great leadership skills, but sometimes they lack the confidence to believe they have something worthwhile to sell. It's kind of the opposite situation of many entrepreneurs in tech and life sciences startups, who can have great technical skills but little leadership experience."
Anderson was surprised to find his passion contagious. When the firm posted a note about his seminar on its internal message board, he was inundated with calls from lawyers and staff who wanted to take part. As a result, similar programs were launched in the firm's offices in Los Angeles, New York and Washington, D.C.
"That's the thing with pro bono work," he says. "Often, you don't know who needs it, and they don't know you're available."
When Kruze conducted an annual survey of the firm's associates, the pro bono department was cited as one of the biggest contributors to workplace satisfaction. "A lot of legal firms give lip service to pro bono work; this firm devotes an entire department and billing minimum to it," she says. "The pro bono team here is very aggressive in finding important and interesting pro bono cases."
Those cases often wind up in the headlines.
In 2012, the firm spearheaded a case, on behalf of Karen Golinski, in which a federal district court ruled that the Defense of Marriage Act, which prohibited the federal government from recognizing same-sex marriages, was unconstitutional.
In 2013, the firm won an injunction against the U.S. Army on behalf of thousands of disabled veterans, who had been subjects in a research program that allegedly tested 400 chemical and biological substances—including LSD and biological weapon agents like tularemia and Q fever—on service members over five decades. The injunction required the Army to inform vets of the details and health effects of the experiments on an ongoing basis. 
In February 2014, Morrison & Foerster successfully advocated for reforms to curtail the widespread use of solitary confinement in the New York State prison system, including prohibiting its use to discipline prisoners under age 18.
One of the San Francisco office's largest pro bono efforts—volunteering with the Justice & Diversity Center of The Bar Association of San Francisco—has a personal connection. Morrison & Foerster senior trial counsel Jim Brosnahan led the formation of the organization that became the JDC in 1977 when he was president of the Bar, and he remains actively engaged in the organization.
The JDC provides legal services to homeless and low-income individuals—and also provides business law services to nonprofit organizations serving low-income communities in Northern California.
Last year, the firm contributed more than 3,600 pro bono hours to the JDC, with an estimated value of around $2 million. The firm coordinates a team of four to five attorneys who provide legal advice to tenants facing eviction at a monthly clinic.
It was also instrumental in the JDC's Right to Civil Counsel Pilot Program, which pairs pro bono counsel with low-income individuals in cases involving basic human needs, such as housing, child custody, sustenance, safety and health. San Francisco was the first city to establish this right to civil counsel—sometimes called "Civil Gideon"—after the idea that civil litigants deserve the same right to counsel as criminal defendants when fundamental human needs are at stake. (The Supreme Court case Gideon v. Wainwright established that right for criminal defendants.)
"We challenged medium and large law firms to commit to taking a certain number of housing cases over 12 months," says Mairi S. McKeever, a director and managing attorney of the JDC. "MoFo committed to taking 10 full-scope representation eviction defense cases in one year. They far exceeded that goal and provided over 1,500 hours of pro bono services to low-income people who were at risk of losing their housing and facing homelessness."
Morrison & Foerster's participation also spurred "double the number of large law firms providing full-scope representation in eviction defense cases," she says. "Firms definitely look to one another when it comes to their pro bono decisions."
How committed is Morrison & Foerster to pro bono service? As Anderson puts it, "When my pro bono work was starting to take up a lot of time, I got a little nervous and approached a senior partner and he said, 'Don't worry about it.' For this firm, pro bono isn't simply a box to check. It's a fundamental ethic."
The firm's range of pro bono efforts is broad as well. Take The Bay Lights, the monumental light sculpture, inspired by the 75th anniversary of the Bay Bridge, which was unveiled in March 2013. Morrison & Foerster was pro bono counsel for artist Leo Villareal's vision of 25,000 individually programmable, white LED lights that span the length of more than 26 football fields.
Williams says the arena of pro bono work is constantly changing. For example, over the past few years, the firm has seen a surge in for-profit social enterprises, organizations that want to make the world a better place while being financially self-sustainable. "This is such a new area, and the projects are so exciting that we've developed new criteria to determine which of these projects to take on," she says.
The firm's pro bono work also provides plenty of career benefits. "One patent attorney told me that volunteering at the Justice & Diversity Center improved his negotiation skills," Williams says, "because he had to learn different approaches with attorneys of landlords who wanted to evict low-income residents." Junior associates also have opportunities to take depositions and go to trial.
But, as Kruze can attest, it's the personal element that matters most.
In the case of Gertrude and Carine from Cameroon, as her team fought to find a way to get Carine and the couple's daughter, Eldine, into the United States, Kruze called politicians asking for help. She begged the head of the U.S. Immigration Control Center's mail service to move the couple's application from under the thick pile, and he sent someone to a Texas facility to take care of it.
Kruze eventually helped situate the family in the United States through an unusual legal means known as humanitarian parole, which allows someone who is otherwise inadmissible into the U.S. for a temporary period of time due to a compelling emergency. As of press time, Gertrude and Carine have been granted asylum; the baby's permanent asylum application is still pending.
"Our asylum advisers in the law firm here said they had never seen a case move with [such] lightning speed, but I can't tell you how excruciatingly slow it seemed to me," Kruze says. "I spent all day on their behalf calling people, and all night hugging my own baby and worrying about them. And when I finally saw Gertrude holding her baby, Eldine, for the first time in a few months, it made me grateful to be a lawyer … and to work for a firm that actively encourages its attorneys to give back to the community in a meaningful way."
Search attorney feature articles