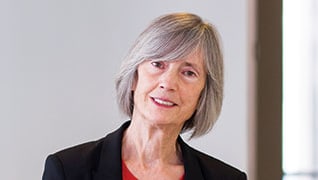 Photo by: Gregory Cowley
From the Top
Elizabeth Cabraser tackles Volkswagen, Takata and Exxon—and seldom misses a drumming gig
Published in 2017 Northern California Super Lawyers magazine
By Joe Mullich on July 7, 2017
On a Saturday morning in mid-September 2015, Elizabeth Cabraser was making her yearly pilgrimage to the Monterey Jazz Festival. Cabraser, who considered going into music as a career and still drums with bands on the weekend, was thrown off rhythm by a radio news flash: The Environmental Protection Agency had accused Volkswagen of programming 480,000 diesel-powered cars so that they seemed to perform better on emissions tests than they actually did.
A partner at Lieff Cabraser Heimann & Bernstein, Cabraser had developed a worldwide reputation for handling complex cases with huge stakes: from Takata air bags, big tobacco and the Exxon Valdez disaster to breast implants, fen-phen diet drug and Holocaust litigation. She called her office and told them to prepare for "a few" calls, which she would deal with on Monday. "I didn't get to wait 'til Monday," she says. "Northern California is the epicenter of the green-car movement, and people were angry." 
By Monday she was already interviewing clients for what would become one of the world's largest environmental class actions. Hundreds of suits were filed around the country and ultimately consolidated.
The judge in the case, Charles Breyer, appointed Cabraser to head what observers dubbed the "dream team" of 22 lawyers on the vehicle owners' steering committee. "The judge knew Elizabeth could marshal the talents of these people in each of the areas they excelled at," says firm partner Robert L. Lieff. "She has the personality of a law librarian—quiet, humble and modest. If anyone else was given the task, there probably would be a lot more battling."
In her methodical way, Cabraser commissioned surveys of VW owners, zeroing in on issues they cared about. "She sought out everyone's input, but ultimately made the decisions," says plaintiff's attorney Joseph Rice, who was on the committee and has worked with her on several class actions. "She knows how to manage a group of type A personalities."
VW settled in 2016 for $14.7 billion, with more than $10 billion for buybacks and owner compensation. It was another in a long series of billion-dollar judgments for Cabraser, who is adept at getting diverse groups of people to work together. 
What was particularly unusual was that civil lawyers worked in conjunction with the EPA, DOJ, FTC and California attorney general. "None of us were entirely comfortable with the interaction between public and private litigation, but the judge told us to 'get comfortable, because you are going to interact,'" she says. 
The key to orchestrating a complex case with so many players, Cabraser says, is to be sensitive to other people's concerns and agendas. "You can't call a state attorney general on Saturday night and expect them to drop everything and talk about the case," she says. "But I could call a fellow private attorney, because we're crazy that way."
Cabraser is renowned for both her encyclopedic knowledge of class action law and her unique strategies. Recently, a colleague was seeking her advice because his firm was representing 40 people involved in a lawsuit, which he was having trouble getting the court to certify as a class action. Cabraser suggested he tell the defendant that he didn't want a class action and that the 40 cases could proceed individually—a discombobulating tactic that made the defendant want a class action. "The defense is always trained to fight us, and Elizabeth turned it around on them," Lieff says. "Her creativity just bewildered the opposing counsel."
She's also dogged. During the Volkswagen case, Rice says Cabraser continually red-eyed it across the country to teach a law class or sit in on a drumming gig, only to turn right back around on the next flight.
A hectic schedule is the norm. At the end of each week, her law firm's word-processing department sends out a memo asking which lawyers will need its services over the weekend. "Elizabeth is always the first to sign up, because she's always working on Saturday and Sunday," Lieff says. 
Cabraser is more comfortable in front of a judge than a jury. 
"I'm not David Boies or Melvin Belli," she says. "When it comes to cross-examinations, I tend to be a little too open and inquisitive. You have to go into a cross-exam looking to box someone in, not find something out. But that's not instinctive or intuitive with me, and some lawyers get there on a visceral level and modulate their technique based on the person in front of them."
What she does like is taking cases apart and putting them together again. It's a trait that appeared early. Her father, who raced stockcars on weekends, insisted all his children learn basic mechanical skills. As a teen, Cabraser made money by fixing junk cars and selling them.  
Her dad was also a union organizer. Activism was almost her birthright: "I assume Democrat was listed on my birth certificate." In 1967, at age 14, she was stirred while accompanying her parents to a speech by Dr. Martin Luther King Jr.
She went to UC Berkeley on a National Merit Scholarship to study physics, but it seemed like the grants were for defense-related work to support the Vietnam War rather than her preferred pure science, which curtailed that aspiration.
While attending Berkeley, Cabraser was swept up by police while at a protest, and bused to Santa Rita Jail. After standing in line to use the phone, she called her mother, who declined to bail her out for the weekend. Her parents didn't mind that she had been arrested. "They wanted me to understand that civil disobedience wasn't a lark, and if I stood up for something, it should be something that mattered. That's part of the deal, and I've never forgotten it. There's a reason Dr. King's [missive] is called Letter from Birmingham Jail."
After graduating in 1975, she considered medical school, but was weak from dealing with medical issues of her own. By the time she was diagnosed with an easily treatable auto-immune syndrome, she was already at UC Berkeley School of Law. "I naively thought law school would be more relaxing than medical school," she says.
She got a work-study job at the Alameda County Law Library, and was certain her future was as a law librarian. "I had never been a big talker or writer, so I figured being a librarian would be perfect," she says. "I could just help people and be around a lot of books, which I thought would be seventh heaven."
Her plan was derailed when she put up an index card on the bulletin board at the library offering legal services for $5 an hour. Robert Lieff contacted her, asking her to prepare a brief that was due in the 9th U.S. Circuit Court of Appeals the next day. He hired her as a law clerk during her last semester, then she stayed on as a lawyer.
Lieff was winding up a few cases in preparation for retiring so that he could tend his wine vineyards. But people kept coming into the firm with interesting cases, Cabraser says, and she would ask him if they could do "just one more." That was 38 years ago, and Lieff hasn't managed to retire yet.
"Putting up that index card essentially started my legal career and ended my job search," she says. "I don't dislike change, but I was lucky to fall into a career and relationship that worked for me," she says. The 36-year-strong relationship is with Marguerite Longtin; they have two grown children.
At Lieff Cabraser Heimann & Bernstein, Cabraser became a name partner in three years. The firm embraced class actions. "In the 1970s, class actions were an obscure area of the law, but I was fascinated you could do something for people as a group and balance the scales," she says. "I went to college in Berkeley, so I believed in the slogan: 'The people united will never be defeated.'"
In 2000, Cabraser was among the class counsel for the $1.2 billion reparation settlement for Holocaust survivors and their heirs against banks, private manufacturers and other corporations who looted the assets of Jews and other minority groups persecuted by the Nazi Regime. 
"It was half political and half litigation," she says. "If it was just a litigation matter, we would have probably failed, because there were all kinds of problems with treaties and statutes of limitations." However, she says, it was the perfect timing and political climate, with governments and Swiss banks wanting to address the matter. 
In the end, the lawyers agreed that the class members should decide how the sum should be split, and 400,000 suggestions poured in. "We put our faith in the idea that the people who had been through this could come up with a more just resolution than well-meaning lawyers," she says.
As Holocaust survivors testified before the judge, bringing the courtroom to tears with their stories, the survivors would ultimately end by saying that they personally were doing fine, but knew some other survivor who could use help and the judgment should favor them. "No one asked for anything for themselves," Cabraser says.
With the $1.5 million in court-awarded fees, her firm endowed a human rights chair at Columbia Law School. She says, "The amazing thing about civil litigation is that every so often you have a chance to do a repair job, either preventing a harm or restoring health or lives, rather than just giving people money after the fact."
She points to fen-phen, an anti-obesity treatment shown to cause hypertension and heart valve issues. As part of the 2000 settlement, a medical-monitoring fund was set up for testing, since the defect showed no symptoms early on. That meant the cases would disappear, which was fine with Cabraser.
"The best thing we could do was put ourselves out of business in terms of this case," she says. "Corporate America would not suddenly become angelic. There would be plenty of personal injury cases in the future."
---
Hitting the Right Note
Beginning in her early teens, Elizabeth Cabraser drummed in rock bands, and even during law school she believed she would become a professional musician. "But then disco happened, and all the live-music venues died in the 1970s," she says. "I thought I would be a gigging musician, but I didn't have the talent or star quality to be a rock star."
While going to school, she got a job at a music repair shop. She is now a business partner in Steve Maxwell Vintage and Custom Drums, and hangs out at the Manhattan store when she finds herself in New York with a few hours to spare.
She still plays on weekends—from live music venues to weddings—and her approach to music is remarkably similar to her stance on law: "Drummers pull the music apart and put it back together," she says. "You've got to be a great listener to play in a band. Sometimes the best player is not the person you want in the band, because they are so accomplished, they don't want to dumb it down. The best bass player is not necessarily the best, but someone who will work with me."
Search attorney feature articles