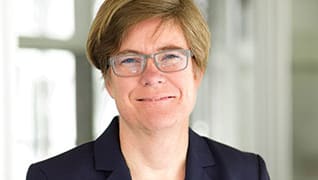 Photo by: Gregory Cowley
Game Changer
How Daralyn Durie and high-tech clients like Google are shaping the future of copyright law
Published in 2016 Northern California Super Lawyers magazine
By Rose Nisker on July 8, 2016
Six years ago, Daralyn Durie and her colleagues at their fledgling law firm were seated at low-slung, purple desks, left behind—along with a supply of Nerf guns—in the office building's basement by a tech-startup tenant. 
Not surprisingly, Durie often met her clients outside of the office.
Today, in a space that was featured in Interior Design magazine, they've lost the purple desks but kept the tech vibe. With exposed beam ceilings, a conference room floor lined with green rubber tiles, pod-like chairs and a wall made completely of whiteboard for brainstorming, nothing about the offices of Durie Tangri reads like a conventional law firm. Which seems appropriate for a firm whose client list reads like a who's who of innovation: Facebook, Google, Genentech, Twitter and LinkedIn. 
The co-founder of Durie Tangri is on the front line of cutting-edge legal battles. Since 2005, Durie was leading the charge for Google in a case that has bounced through the courts for more than a decade, raising fundamental questions about copyright law in the internet age. It involved a copyright-infringement suit filed by the Authors Guild in response to Google's project to scan millions of books from research libraries and make them searchable online. In late 2015, Durie and her team secured a critical win in the 2nd Circuit Court of Appeals, which ruled that the scanning provides a public benefit and stays on the right side of copyright law. Beyond being a win for Google, the decision is shaping the legal boundaries of fair use for the entire industry. The Authors Guild, which wants Google to pay copyright fees, asked the U.S. Supreme Court to review the case, but in April the high court declined to do so. 
"Daralyn is a rare combination of a hard-charging litigator who is also courteous, reasonable and practical," says Doug Lumish of Latham & Watkins. He recently opposed Durie at a trial involving Silicon Valley sister companies OptumSoft Inc. and Arista Networks Inc., who were involved in a dispute over the ownership of software stemming from a licensing agreement between the two companies. 
On a recent day at the office, Durie rests her red boots on the coffee table, revealing colorful striped socks with a skull-and-crossbones design. "I love working with clients who are in the business of innovation and are operating on the premise that what they are doing will change the world," she says. "It's endlessly engaging."
Near her desk is a photo of a family standing beside a mural. "It's from a pro bono case that I did years ago," she says, "involving a teenage boy who had been killed by his best friend in a gun accident" because of an undetected bullet in the firing chamber. "I don't think anyone thought you could win that case. Suing a gun manufacturer because a gun was used to kill someone?" She got close to a win: "It hung 8 to 4 for us, but we needed nine votes for state court." The victim was part of a mural program at Berkeley High, and the other students painted a mural of him after his death. To Durie, "It's a reminder that the work we do can be really important. But at the same time, it's a reminder that other things are really important, too."
In 2009, Durie and a handful of former Boalt Hall classmates left the security of venerable litigation boutique Keker & Van Nest to start their own firm. It was a bold move, particularly during a recession. Along with Michael Page, Ragesh Tangri and Stanford law professor Mark Lemley, Durie has found creative ways to make it work, including offering alternative billing arrangements like capped fees, and flat fees on appeals. The firm is now 18 lawyers strong with a growing list of high-profile clients. 
And it all started in the building with the purple desks. "We walked into the conference room on our first day, and none of us could get cell reception," Durie recalls with a laugh. "We were all trying to make client calls on our phones, talking really loudly because we had bad reception, and running around the room to try and find a better spot." 
Durie has always been wired to try new things. Born in Ottawa, the daughter of an engineer and a meteorologist, she decided while in high school in Victoria, British Columbia, to go to college in the States. "I wanted to do something different," she explains simply. At Stanford, she majored in human biology. That would serve her well in her future career, which has included representing biotechnology giants like Genentech in patent cases involving hundreds of millions in revenue. 
But Durie's interests went beyond science. In high school, she was the Canadian national independent school debate champion, and she continued to compete at Stanford. Her website bio notes playfully that Durie and partner Lemley had "the distinction of being demolished by the English National Champion Oxford debate team their freshman year." Durie recalls the incident with a laugh. "We were doomed from the beginning. We were accustomed to the very straightforward U.S. style of debate—analytical and point-based—whereas the Oxford team was just relentlessly clever and witty." 
After Stanford, Durie moved on to UC Berkeley for a master's degree in comparative literature; then, heading toward a Ph.D in that field with a professorship in mind, she enrolled in law school purely for academic research. "I never expected to become a lawyer. Even once I was in law school, I didn't expect to become a lawyer." 
But she was surprised to find that she enjoyed her classes at Boalt Hall far more than her graduate school seminars. "I found the discourse in graduate school to be very stilted. Everyone had a lot of fear about appropriation of ideas and anxiety around revealing themselves." At law school, she says, "everyone was so much nicer to each other and more open and transparent about their ideas." 
What's more, Lemley was also at Boalt, so she had an instant social network, and the early makings of the close-knit group that started Durie Tangri.
Aside from the camaraderie, Durie says another factor made her fall in love with the law: professor Mel Eisenberg's contracts class. "He was incredibly wise," she says. "He taught not only what the law is, but why it is the way that it is." Still, her transition to budding attorney didn't happen overnight. On her first day at law school, in a small section on civil procedure, the professor asked, "Does anyone know what a corporation is?" Durie recalls with a laugh, "I raised my hand and launched into this whole grad school-style discourse quoting [Jacques] Derrida. The professor was just looking at me, and eventually said, 'Does anyone else have an answer?"
After law school, Durie clerked for the Hon. Douglas Ginsburg on the U.S. Court of Appeals for the District of Columbia Circuit. She then began work at Keker & Van Nest as an associate, becoming a partner in January 1999. 
Though Durie wasn't initially focused on IP, she was hooked after her first patent case. "I like science," she explains. "I like learning how things work, and I'm the kind of person who's not satisfied until I really understand the technology involved in these cases." Turning that understanding into a case that a layperson could follow came naturally to Durie. 
"Daralyn is one of the three smartest people I know," says Lemley. "She sees to the heart of legal issues with unerring accuracy. And unlike many super-smart people, she is also fabulous in front of a jury. She has a rare combination: the ability to see things other people don't, and the ability to help others see the same thing." 
Durie also credits timing with her success. "I feel like my whole career was very serendipitous," she says. "I was a young, partner-level attorney just as many high-tech companies were getting started." At that time, she says, few lawyers were interested in those cases. After all, the firms themselves were hardly high-tech.
"When I was looking at law firms," she says, "a criteria was whether the associates got computers—it wasn't a given at that time. I even remember when I got my first email from a client." 
Durie isn't one for lucky charms or rituals, but she does have some strong thoughts on working smart over the course of a grueling trial. "I learned how to try cases from John Keker," she explains, "and we would always go out for dinner together at the end of the day." She specifies that this does not mean getting takeout delivered to the hotel and working until 3 in the morning. "You can work until 10 or 11, but then, at some point, you have to just call it and all sit down together. It's important to decompress, have a glass of wine, get some perspective on the day, and bond with your team. Sleep is important, too." 
Durie's career trajectory has mirrored the rise of companies like Google, with whom she worked on its very first patent case, when the company had just two in-house attorneys. 
"I feel fortunate to have started out when I did," she says, "and to be a part of all of this from early on." 
Search attorney feature articles