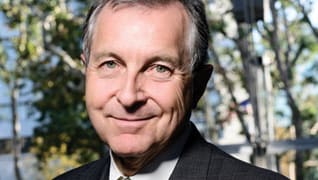 Photo by: Dustin Snipes
Here Comes the Boom
Paul S. Meyer may look like a kid in a candy store, but he has a lust for the jugular
Published in 2013 Southern California Super Lawyers magazine
By Judd Spicer on January 21, 2013
In 1994, former prosecutor and veteran criminal defense attorney Paul S. Meyer was lead attorney with Robert Morvillo in the criminal defense of Merrill Lynch & Co., which was being sued by bankrupt Orange County, Calif., for $2 billion in risky investment losses. It was a case involving more than a dozen law firms, millions of documents, thousands of interviews with hundreds of witnesses and nine months before the grand jury. It was the largest municipal bankruptcy case in the history of the United States.
"I leapt into it," Meyer recalls.
"The decision for a large, heretofore wealthy county to declare bankruptcy sent shockwaves through the entire state," he adds. "From the client's perspective, the possibility of being indicted by a county, in this case a well-known county, would just cause a feeding frenzy in the industry. Of course, Merrill was very concerned—as any brokerage, business or investment bank would be—that they would lose market share and maybe disappear entirely."
But if Meyer was worried, it wasn't apparent. Attorney Jennifer Keller, of Keller Rackauckas in Irvine, worked other facets of the case, representing a separate entity.
"The cases were extraordinarily complex and voluminous to the point that many of the lawyers involved in the litigation were feeling that it was overwhelming," says Keller, who has known Meyer since the late 1970s. "When I would speak with Paul during that time, I was expecting to find somebody that was feeling a little frantic. But Paul was like a kid in a candy store. I remember him saying to me, 'Jennifer, don't you think this is amazing? We get paid to learn in this profession.' He was not only not overwhelmed, but he plowed into it and was probably working 20-hour days and just full of enthusiasm. I was looking like a raccoon from lack of sleep but Paul was getting younger before my eyes."
In the end, Meyer was able to orchestrate a settlement of $30 million.
Meyer's friend, retired Orange County Superior Court Judge John J. "Jack" Ryan, has had a firsthand vantage of Meyer's career.
"I think I've met half-a-dozen geniuses in my life," says Ryan. "Paul's one of them. But he may be the only one with common sense. He's very quiet. He looks sweet, walks sweet, acts sweet. And then BOOM! That's how he gets them."
When he was a boy, California transplant Meyer would spend summers with family in his native New York.
"I'd take the bus down to the courthouse and watch cases tried," Meyer recalls of those Manhattan summers. "I just thought it was the greatest thing on Earth."
As an adolescent, he was riveted by Inherit the Wind. "I probably read that play a hundred times," he says from his Costa Mesa office, where a painting of Clarence Darrow hangs on the wall. He honors Darrow, he says, "not because he represented one side or another, but because he was a superb lawyer and great cross-examiner."
Two years after earning the Order of the Coif and serving as chief articles editor of the Law Review at UCLA School of Law, Meyer took a job with the Orange County District Attorney's Office in 1972. In four years, he would be senior trial attorney co-supervising the office's homicide panel. But first he had a lesson to learn.
"I learned how terrible I was," Meyer says with a smile. "When you first start trying cases, and your cross-examinations are disjointed and you can't get to the point—I realized I had a lot to learn. So having the courage to keep showing up and slowly getting better, step-by-step, is very important."
"You really have to develop your instinct in the courtroom," he continues. "There's a feel for what happens. A lawyer that I'd worked with, the late Al Ramsey, had a phrase: 'Lust for the jugular.' You have to know when to attack, and hold back, get your cross-examination prepared and then move at the right time. Timing is critical. You feel it. There's a certain electricity in the courtroom, and it can be on low ampage and then sometimes it spikes. And if you're able to control it and to use it, you can be very effective. It's the same as an electric shock. If you are shocking people time after time, and you're flamboyant, I think that's ineffective and blurs the message.
"That's the fascinating thing about cross-examining somebody, particularly an expert," Meyer continues. "The expert may have lived their entire life in that field, but for one tiny sliver that's the turning point in that case; If you've done your homework, you know more about that area, in that sliver, than he or she does."
He still calls his work in the homicide section the most wonderful job on earth. For five years on the homicide panel, he worked closely with Tony Rackauckas, now the district attorney, and Dave Carter, now a federal judge. "Together, the three of us did nothing but murder cases," he says. "That kind of work was from the ground floor up. I remember being in trial by day, then getting calls at two in the morning on a new case when the police contacted me from the scene. So I'd wake up, put my suit on, shave, work with the people at the scene, have some breakfast and then walk into the courthouse and continue a trial. You're getting right at the heart of human existence.
"A trial is the essence of life," he adds. "It's human conflict coming into a particular arena. The focus is on a resolution, the issues, the facts and how the law works. To me, that is a diamond-like, sharpened focus of what it is to be a human being."
In 1981, Meyer opened his own criminal defense practice, Law Offices of Paul S. Meyer, which he still runs as a solo shop.
Working on a referral basis—"When I first started I had a small Yellow Pages ad, which I think dissipated after a few months," he says—Meyer's work has ranged from the defense of judges and public officials to high-profile athletes such as Dennis Rodman. He's a fellow at the invitation-only American College of Trial Lawyers. His colleagues marvel at the volume of the cases he's handled but understand why he's remained a solo practitioner.
"He's a perfectionist," says Keller. "He likes to do everything himself because he's the only person he truly trusts. He knows he'll never miss anything. He knows the quality of his work will always be superb and always completely dedicated to his clients."
"He's established a stellar reputation," says Tom Malcolm, a retired partner with Jones Day in Orange County, who has known Meyer for three decades and referred the Merrill Lynch case his way. "You think of Meyer, and he's a brand name on his own. Why dilute it with a couple of other names in the firm? He doesn't need it."
Meyer explains it this way. "I like dealing with people one-on-one," he says. "When somebody comes in and sits across from me at the desk and retains me to work on something, they're basically putting their life in my hands. You don't win every case, but it's your hands. When you're working with a large team and you give control of that to somebody else, and they don't have the same passion, the results will often not be as satisfying. I want to make sure that I always live up to the responsibility that I accept.
"I worry a lot," he adds. "I worry about everything that could possibly go wrong in any case I'm handling. When I first look at a case, I look at it not from how we're going to win it, I look at it from the concern of, 'What could go wrong if we take this step? How could they attack on this end? What do I think I'll have to overcome?' Then I systematically build the defenses to withstand that and move in the direction I want to go."
Ryan, a veteran of more than 500 jury trials, who worked with Meyer in the D.A.'s office and served as officiant at Meyer's wedding, says, "What impressed me about Paul was his ability in trial to know where he had to go and how to get there. To be able to see an entire picture in your mind and figure out how to get there without giving it away—that is a talent that few attorneys have. Most know the goal, but they don't see the whole picture."
Of course, Meyer doesn't always win. In a child pornography possession case against former California Superior Court Judge Ronald C. Kline that spanned the 2000s,  in which the defendant was sentenced to 27 months in federal prison, Meyer issues a small lament.
"Paul learned and analyzed every fact and didn't give up," says Janet Levine, a partner with Crowell & Moring in Los Angeles, who worked the Kline case with Meyer. "He's meticulous in making sure he knows the facts and that he's never surprised about anything."
Meyer complements his workload with fly-fishing (but you won't see any trophies in his office), abstract painting (no, those aren't displayed either) and scrimshaw carving (ditto).
"Creating art takes your mind entirely away from the present," Meyer explains. "All your worries are gone, and for whatever period of time you're engaged in it, it's the most peaceful activity."
For the past 20 years, he and his wife have also practiced Iyengar yoga.
"It brings you back within yourself to a point of tranquility and being centered," Meyer says. "It's really helpful for trial work because it allows you to know that you have control of your body. Waves of emotions will come and go, but if you can keep your eye on the future and just keep moving forward, you're going to be more successful."
While Meyer's client list and body of work could place him in the spotlight, he opts for the wings of the legal stage. He's a name-holder rather than a name-dropper.
"When representing a person—whether it's no-profile or the highest possible profile—if you come first, there's a problem," Meyer says. "The client should always come first. Most of the time, promoting the interests in the press is not to the benefit of the client. If we can solve a problem and leave the pond without a ripple, I consider that successful."
Search attorney feature articles