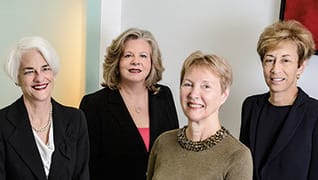 Photo by: Dustin Snipes
'Hey Chick, Want to Go to Court?'
An oral history of the good, the bad and the ugly experiences of the first wave of female attorneys
Published in 2015 Southern California Super Lawyers magazine
By Steve Knopper on January 21, 2015
The women who graduated from law school in the late 1960s and early 1970s were not as rare as Sandra Day O'Connor, who was one of only five women in her Stanford Law graduating class of 1952. They didn't have to fight to get into school, as O'Connor did; they didn't enter a world where it seemed impossible to become a partner at a major firm; and they didn't have to deal with judges who banned women from wearing pants in their courtrooms.
OK, scratch that last one—women in the '70s did have to contend with that. They also defused screaming judges, created maternity leave policies, and explained, always explained, that, no, they weren't the court reporter.
"There was no smooth sailing for a woman who wanted to be a lawyer," says Sherry E. Grant, who graduated from Loyola Law School in 1974. At the same time, it wasn't all bad. Some had strong female role models. Others had supportive male colleagues. But all of them had to be tough.
And they paved the way. The number of female lawyers nationwide jumped from 4 percent in 1970 to 12.4 percent in 1980. By 2014, according to the ABA, 34 percent of lawyers were women.
"I recall very clearly in the first week we had mass assembly with the class," says Janet I. Levine, a partner with Crowell & Moring in Los Angeles, who graduated from Loyola Law School in 1980. "And the dean got up and said, 'This is the first class we've had which is 40 percent women.' It meant you were not a rarity."
Here are the stories of the women who took the torch from O'Connor and passed it on to Levine.
It was unusual, even in the late '60s, for women to consider the law as a profession, but it helped if you had family support.
WENDY COLE LASCHER, University of Michigan Law School, 1973, partner at Ferguson Case Orr Paterson in Ventura: My mother went to Stanford Law School and graduated in 1949, and in her law school class there were only two women. It had never occurred to anyone in my family that it was unusual to have a woman go to law school.
EDITH R. MATTHAI, University of California Hastings College of Law, 1975, founding partner at Robie & Matthai in Los Angeles: My grandmother was a teacher. My mother was a teacher. My mother's assumption was that I would not be staying home with the kids.
PATTY GLASER, Rutgers University, 1973, partner and chair of litigation at Glaser Weil Fink Howard Avchen & Shapiro in Los Angeles: I was watching baseball with my father on TV. I'd had an epiphany in fifth grade—I was going to grow up and play Major League Baseball—and I looked at my dad and said, "Dad, I don't understand it, there aren't any girls on the field." Without blinking or hesitating, he said, "Don't worry. By the time you're old enough, there'll be plenty of women." That's how I was brought up.
PATRICIA PHILLIPS, Loyola Law School, 1967, partner at Phillips Jessner in Los Angeles: I wanted to have a job where I could hopefully be my own boss. I was a single mother with two children at the time I began law school. When I finished law school, I was a married mother with four children, and when I took the bar exam I was a married mother pregnant with my fifth child. I was doing it because I basically thought the law would provide me with more flexibility for all the other things I was trying to do.
TIMI ANYON HALLEM, UCLA School of Law, 1972, equity partner at Manatt, Phelps & Phillips in Los Angeles: I went to a women's college and grew up in a family where my parents made it clear I could do whatever I wanted to do. I didn't expect to find these stumbling blocks.
But there were stumbling blocks—even in law school.
PHILLIPS: There were very few women in our class. I'm not sure how many but I'd venture to say maybe 10.
CYNTHIA GITT, George Washington University Law School, 1971, member at Brown Gitt Law Group in Pasadena: Yeah, there were professors who made passes at the women students, and even had affairs with some of the women students.
VIRGINIA SPIEGEL CRISTE, George Washington University Law School, 1969, Virginia S. Criste, A Professional Law Corp. in Palm Desert: The guys thought the women would take much better notes than the men. They'd always want to borrow my notes and they couldn't read them. "How could you be a woman and take such indecipherable notes?"
GAIL MIGDAL TITLE, University of California-Berkeley School of Law, partner at Katten Muchin Rosenman in Century City: I didn't get called on for six months, and then in the spring of my first year I got called on in two classes in a row, on the same day. I always wondered if it was coincidence or if some professors had agreed it was  "time to call on a woman," and there were not many to choose from. The anxiety about being called on had been building up for months, and suddenly I'm called on and I'm standing for 10 minutes being asked question after question. Everybody's watching you. One hundred men. I did fine.
BETTY L. NORDWIND, University of Colorado Law School, 1971, executive director at Harriett Buhai Center for Family Law in Los Angeles: If I was discriminated against, I was too unsophisticated to be aware of it at the time, although I was acutely aware of the fact that there were almost no women lawyers to mentor me and very few women law students.
GITT: I think it varied a lot by professor. My torts professor … kept talking about President Johnson's "great erection." I forget what the context was, but he repeated it so often it seems like it was deliberate.
After graduation, depending on the firm, new female lawyers might encounter raving sexists who worried a woman's presence would affect the men, or progressive interviewers, male and female, who were pleased to help balance the gender scales.
HALLEM: It was difficult to get jobs. Interviewers were sometimes quite open about the fact that they were not willing to hire women. Men in my class were clear about the fact that I was depriving some worthy man of a job he would need to support his family. It was a time when it was not at all embarrassing to express your distaste for having women enter the profession. … Well, at least you knew where people stood.
GITT: My first job after law school was working as a legislative aide to Congresswoman Bella Abzug of New York. I was actually her legislative aide for women's issues. It was exciting because she would have Gloria Steinem and Betty Friedan and various people come to our office. I would drive them from the airport in my Volkswagen, where they could barely fit.
GLASER: I was a law clerk for a federal judge right after law school and then I joined the firm where Mariana Pfaelzer was a senior partner. It just made a world of difference [having] a very strong woman precede me.
GITT: In 1974, I worked for the EEOC litigation center. What we were doing, primarily, was looking around for cases to file on behalf of the government. I was tasked with finding and developing evidence on some of these cases, and I would take a male paralegal with me, and I had another male lawyer, and we would travel around. We went to Arizona and took a look at the copper mines. I would say they were very unreceptive to having me there. We met some of the miners and went to their homes. Most of the people there would not talk to me. They would talk to the male lawyer, even if I asked a direct question. It was pretty insulting and demeaning. It makes you feel invisible.
MATTHAI: I interviewed in San Francisco and Los Angeles. In San Francisco, no one ever said anything inappropriate to me in an interview, but it was also very clear I'd be put in a library, I'd be doing support work and maybe someday I'd be allowed to be doing something other than that. But when I came down to Los Angeles and interviewed, people said really inappropriate things to me:  "Hey, chick, want to go to court?" and they'd give me the files. My view was: You can call me chick—just give me the files.
Things weren't any better in the courtroom.
HALLEM: In general, people were not quite sure how to deal with women. The secretaries didn't know whether they should call us by our first names or "Mrs." Or did I want to be called  "Ms. Hallem"? Because they had one way of dealing with the men, who were all the lawyers, and another way of dealing with the women, who were support staff. And now we didn't fit into either category.
MATTHAI: In my first trial in Los Angeles, before an almost 90-year-old judge, he asked, during my questioning of some witness in the case,  "I have one question for you: Why don't you women wear hats and gloves?" I looked at him and said,  "They've just gone out of fashion."
TITLE: When I was clerking, one of my assignments was to tell women lawyers who showed up in the courtroom in pantsuits [that] the judge didn't allow women to wear pants. He wouldn't tell them himself. He had me do it.
SHERRY E. GRANT, Loyola Law School, 1974, a founding partner at Gordon, Edelstein, Krepack, Grant, Felton & Goldstein in Los Angeles: One of judges often drank before lunch, and in a room full of men he started screaming at me. I'd heard he'd done this to a lot of women. I said, "Your honor, nobody talks to me that way—not my husband, not any man I know—and if you want to cite me for contempt, I will wear it as a badge of honor."
SUSSAN H. SHORE, Loyola Law School, 1976, shareholder and managing director of Weinstock Manion in Los Angeles: I worked on estate and trust matters. I'd have a widow as a client who was accustomed to all of her husband's advisers being men, and they started with "Well, I don't know if this young woman is going to be as capable." It gave me great pleasure to go out of my way to not only prove to them that I was very capable as a lawyer, but I was also capable of making them feel they didn't need to feel intimidated by their male stockbroker or accountant or whoever was on the team. In some ways, my position helped educate women who were older, who came out of the previous generation, who did not have respect for women who were professionals.
GITT: I had a deposition one time with a couple of lawyers. The union lawyer pulled out a cigar and was smoking it and started treating me as if I were a child. So I pulled out a cigar and started smoking it myself. It completely changed the dynamic.
Then there was the whole pregnancy issue.
MATTHAI: I was the first person to have a child at my firm. There wasn't a maternity leave policy. … That was not uncommon—for women to be the first ones to have a kid and have to figure out what to do about it.
SHORE: We had an older gentleman judge at that time, and I walked into the courtroom seven months pregnant. And he literally embarrassed me in front of the entire courtroom. He knew my boss, who was a pretty well-known guy in the Los Angeles community. He looked at me and said, "I can't believe so-and-so"—the boss—"lets you go out looking like that." I looked at the judge and said, "I told my boss I'm feeling just fine and I'm happy to be here representing my client."
CRISTE: I just self-managed it. My kids were often the last ones picked up from day care—I'm tearing in there at 6 p.m. Or I had my son on the couch [in my office] while I finished up something. You set an example for your children, and my kids are both good workers, but it's always a battle not to be neglectful. Really a battle. Especially back then. Some of those issues I had to battle through and feel guilty about.
GRANT: My daughter was 2, so I went to these men who'd never had a woman in their firm and said, "Here's the deal, I will work as many if not more hours than everyone else. But I need to be able to do it in a flexible manner. I promise you I will produce as much income and bring in as many cases as any of the rest of you. I may leave in the middle of the day to go do something with my husband or daughter, and if that's not satisfactory, I will not work for you."
TITLE: I'd tell clients, "I'm unavailable 6:30 to 10, until my kids have gone to bed. But I'm free to talk to you after that." I was able to make it work for me.
By the early '80s, female lawyers started to see progress, and by the '90s, most of the archaic forms of discrimination were gone. That didn't mean every problem was solved. Women still faced salary gaps and glass ceilings for partnerships. But at least they no longer heard much about the travesty of pants.
JANET I. LEVINE, Loyola Law School, 1980, a partner with Crowell & Moring in Los Angeles: The idea of being a lawyer just became more common and there were a lot more women thinking it was a real possibility for them. I didn't have the experience of walking in the room and having someone say, "Get the coffee."
MATTHAI: Now there's just more of us, which is helpful, to say the least.
SHORE: My daughter is a lawyer. Females have found themselves, if not 50 percent of the law school, then in some cases almost 50 percent. When I got pregnant, you wanted to keep it a secret as long as you could, because your bonus and salary could be affected as soon as your bosses knew the news. The ladies in my firm now, they're totally comfortable with speaking up and letting us know they have a commitment with being a mother and a lawyer. Things have changed for the good.
LEVINE: When I was a lawyer for about a year, Sandra Day O'Connor was nominated to the Supreme Court; just a pretty astounding thing. And you read her story about not being able to get a job and being alone, one of the few women in her law school class. Things had changed so dramatically by the time I was admitted to the bar. I tried a case a few years ago—the judge was a woman, the counsel on my side were all women, most of the co-defendant's lawyers were women. It was really a fabulous atmosphere.
Search attorney feature articles