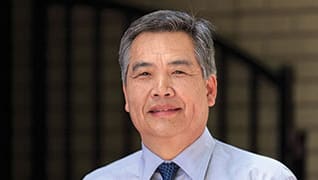 Photo by: Gregory Cowley
How Clement Kong Measures Success
The Sacramento attorney says it's all about the people you meet along the way
Published in 2017 Northern California Super Lawyers magazine
By Stan Sinberg on July 7, 2017
Clement Kong still regards one of his first cases—representing "crusty" cattle rancher George Neary against Kong's own alma mater—as his most significant.   
"I measure my success by all the people I've met along the way and admire," says the amiable Kong, seated in his airy ground-floor office at Korshak, Kracoff, Kong & Sugano, situated on a tranquil commercial street. "Neary was a lone individual standing up to a large corporation out of principle." 
When Neary's herd of 854 pregnant cows was suspected of being exposed to scabies mites in 1978, he was forced by the USDA and state agencies to spray-dip the herd with toxaphene, after which many died and most aborted. In Neary v. Smith, the rancher sued the pesticide company, as well as the federal and state governments. The defendants, Kong says, hired the UC Davis School of Veterinary Medicine to write a report, which blamed Neary for the herd's demise—prompting him to file a second suit, this time for libel, in Neary v. Regents of the University of California.
Kong, who had recently hung out his own shingle when he took on the rancher's case, knew something about the topic. He had spent about 1 ½ years working for Rose Bird, head of the state Agricultural Services Agency—and future state chief justice—"on her environmental assessment team, reviewing and analyzing pesticide laws and finding more protections for farmworkers," he says. 
"I met Neary and told him, 'Sir, I don't have trial experience, but we should look for a "non-blue-blood" lawyer who is not afraid to take on government agencies.'" The name that kept coming up, Kong says, was John Keker's—and the pair ended up working together on both cases.
The libel proceedings took years, then shortly before the trial was scheduled to begin, a state court judge granted a summary judgment to dismiss. "We broke the news to Neary, who obviously was none too pleased. I turned to John and asked, 'What do we do now?' and John responded, 'Let's go for a drive.'" 
They took off immediately—"I didn't even take any clothes," Kong recalls with a laugh—to the lowest point in California: Death Valley. "We went to the lowest point that we knew of in California," he explains, "because it was the lowest point in the case."
Trial lawyer Keker, with San Francisco's Keker, Van Nest & Peters, remembers it well: "We drove up to Dante's Point, where you can see the sun rise, in my Thunderbird stick shift with a booming sound system. We put in Wagner's 'Ride of the Valkyries.'" 
Kong continues the story: "We're yelling, 'We're gonna get 'em! We're gonna come back!' waiting for the sun to rise." Until, that is, a Hell's Angels member camping nearby came stumbling out of the dark, rubbing his eyes and suggesting they quiet down.
The trip had its intended effect. The duo came back renewed and with a fresh strategy, got the summary judgment overturned, and won a $7 million jury verdict in 1988 (later settled at $3 million). The other case, Neary v. Smith, was settled confidentially with the manufacturers. Kong acts as Neary's trustee pro bono to this day, and he and Keker have remained good friends and worked together on a number of cases over the years.
Cultivating long-term relationships is a big part of Kong's life and practice. When he launched his firm, Kong's fluency in Cantonese was a magnet to immigrants with limited English skills and grasp of the U.S. judicial system. Kong recalls another very early case, involving a woman working on a cannery assembly line whose arm was mangled when her glove got caught in the machinery, which had no "off" switch on the floor. The result, in Kam Yu v. Borden, Inc., was an $800,000 verdict. "Every year she sends me a birthday card," he says with a smile. "It doesn't get better than that."
Observes Keker, "In addition to being a very good lawyer, Clem's got soul and connects with his clients, and they put 100 percent trust in him and recognize that he's looking out for them more than for himself. His clients absolutely love him, trust him and listen to him. And he takes care of them."
Kong was born in San Jose, but his roots, as he says, are pure "immigrant success story." His grandfather emigrated from China and was working in a San Francisco laundry when the 1906 earthquake hit. The ensuing fire destroyed many government records, including documentation on who was a citizen. And because the Chinese Exclusion Act of 1882 was still on the books, many—including his grandfather—simply claimed to be citizens. 
His "citizenship" also enabled him to return to China several times over the years, each time returning to the U.S. claiming he had sired more sons—eventually totaling nine. In reality, they were mostly cousins and other relatives, and these "paper sons," as they were commonly called, could then come to the U.S. 
Kong's father, Dan, arrived at age 14 in 1938 from Guangzhou, China, and worked as a butcher until World War II erupted, when he joined the Army. "I think my dad was one of the most loyal Americans you can find," Kong says. In 1947, Dan returned to China to fetch his betrothed, Mee Kwan, returning with her stateside, where they wed in an arranged marriage.
"My father was a forward thinker," Kong says, noting that Dan chose to live in San Jose, believing his family would assimilate faster there than surrounded by Cantonese-speaking neighbors in San Francisco's Chinatown. Kong grew up in an Italian neighborhood. "I never felt out of place," he says.
While Kong attended UC Berkeley in the late 1960s, the Vietnam War protests, civil rights movement and the city's infamous People's Park seemed as much a part of his curriculum as his book studies. He even took a course in which the reading material, Soul on Ice, was taught by its author, guest lecturer Eldridge Cleaver. 
"One day, there's a note that the class that day has been canceled," Kong remembers. It turned out that Cleaver had been involved in a shootout with police in Oakland that day. He ended up jumping bail and fleeing to Cuba.
Although he graduated with a zoology degree, Kong emerged from Berkeley determined to become a lawyer: "Like most students entering college, I was searching for relevance in my education," he says. "You had the inspiration of Muhammad Ali, Martin Luther King Jr., Bobby Kennedy, the Black Panthers, the Third World Liberation Front bringing important issues to the forefront and, in some cases, effectuating meaningful change. I decided that I could best fulfill my purpose in life through the law."
He adds with a grin, "My parents hated lawyers. They said, 'They look down on you; you can't trust them.' They wanted me to be a doctor." 
But it was off to UC Davis School of Law, followed by the stint with the state, then opening his solo firm. When a client who owned a local Chinese restaurant told Kong he had a liquor license he didn't know what to do with, the longtime jazz aficionado couldn't resist: He suggested they open a club in 1983. "It was one of the first jazz clubs in Sacramento," Kong says. 
The club, On Broadway Bar and Café, booked jazz legends including Freddie Hubbard, Max Roach, Les McCann & Eddie Harris, Carmen McRae, Gil Scott-Heron, Junior Walker, Art Blakey, Buddy Rich and Wynton Marsalis. "Marsalis told me he was more nervous playing in a small club with everyone close than at Carnegie Hall," Kong recalls. Coordinating with Yoshi's, the premier Oakland jazz club, Kong booked their weekend headliners for mid-week gigs, "when they were a lot cheaper. They'd come here and complain about the piano and the lousy hotels." He hastens to add, "Sacramento's better now!" 
In 1991, Kong received a phone call from Stuart Korshak, asking if he wanted to merge law firms. The two had roomed together at law school and each served as best man at the other's wedding. In contrast to Kong's small general practice, Korshak had joined a large law firm, then decided to go small with his own two-attorney firm. Kong feared the partnership might affect their friendship, but Korshak was persuasive: The two would run different offices, Korshak in Los Angeles, Kong in Sacramento. Today the boutique firm has added two additional offices—in Chicago and Miami—and has a total of 12 attorneys. 
After the duo joined forces, they focused on labor employment law, Korshak's primary area of expertise, with Kong primarily representing and defending management. 
Asked if this is at odds with his Berkeley influences, Kong responds, "We tell clients straight out, 'We're not for everybody. If you're anti-union, believe in a scorched-earth policy, want to fight them, then maybe you want to look elsewhere.' We believe in a cooperative philosophy between employer and labor, and companies can choose whether to retain us."  
Kong counts his prior experience representing plaintiffs as an asset. "I'll tell my clients, 'You think the jurors will like you, but they won't,'" recommending that companies fire their CEOs and general counsels if they've done wrong.
"It's amazing what jurors base their decisions on," Kong says. "You learn that it wasn't your brilliant lawyering that won the case. For many jurors, 'the law' isn't nearly as important as deciding 'was the plaintiff treated fairly?'" 
After the law firm merger, owning a jazz club became too much, and Kong sold it in 1993. But he continued his community involvement in organizations such as the Asian/Pacific Bar Association of Sacramento, where he was a founding member and on the initial board of directors in 1981.  
"There were just over a dozen Asian and Pacific Islander lawyers in private practice back then, and now there are over a hundred new, enthusiastic young faces leading the organization. I don't even know half of the new members," Kong says with a smile. "And that's a good thing." 
Kong also serves on the leadership counsel of Asian-Americans Advancing Justice – Asian Law Caucus, which promotes civil and human rights. Dale Minami, a founding member of the organization, goes back decades with Kong, and has occasionally found himself opposing his friend on a case. 
"Clement has a remarkable ability few people do, which is—because of his character and personality and smarts—to resolve an issue by pressing his client's position while empathizing with the other side," says Minami, a plaintiff's personal injury lawyer at Minami Tamaki.
Minami says Kong's involvement in the AAAJ has been critical to the organization. Starting on President Trump's inauguration day, it launched a "100 Days of Justice" campaign, aimed at stopping his executive order banning immigrants from a number of predominantly Muslim countries. "Clement immediately posted a $15,000 challenge grant to resist the order," Minami says. "Because of his name and reputation, the challenge was met in a matter of hours."  
The organization provided legal assistance at San Francisco International Airport to immigrants being prevented from entering the country; held Know Your Rights sessions for Middle Eastern immigrants; lobbied the California Senate Judiciary Committee in favor of a bill to prevent the state from forming a Muslim registry, and sued ICE on behalf of incarcerated immigrants. 
Kong says, "You think the mistakes of the Japanese internment can never happen again, but just look at what we are doing to the Muslims, and we are not even at war with the countries. Crazy times, and we have to be vigilant and speak up. I think it is more effective if you speak through a recognized organization."
His commitment to helping these immigrants and refugees goes to the heart of how he views himself.
"I feel like I'm an ordinary guy who got lucky with the company you keep and the people you meet along the way." 
Search attorney feature articles