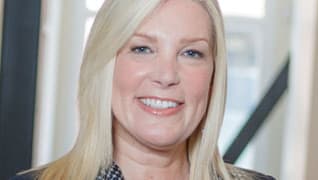 Photo by: Gregory Cowley
How Debra Bogaards Got Tough
The formidable personal injury attorney both goes for the jugular and encourages civility (through scotch and baseball)
Published in 2013 Northern California Super Lawyers magazine
By June D. Bell on July 8, 2013
The toughest courtroom battle of Debra Bogaards' career had nothing to do with the case itself. The multimillion-dollar brain-injury suit she was defending was not unusually challenging; the witnesses were not contentious.
The problem was the San Mateo judge presiding over the lengthy case: He interrupted Bogaards repeatedly and treated her with such disdain that she dreaded returning to court each day.
Bogaards, who was staying at a small Redwood City hotel during the trial about 20 years ago, called home every morning before court to talk to her husband and two little girls. "Mommy, Mommy, when are you coming home?'' her daughters would ask. After she said goodbye, she would dry her tears and carefully reapply her mascara.
When the judge threatened once to hold Bogaards and her expert witness in contempt of court, she had a revelation that continues to influence her today: She could crumble or she could toughen up.
She toughened up.
"I persevered and was strong and ultimately won," she says. The plaintiff, who sought $5 million, was awarded just $10,000. "Afterward, the entire jury came over and hugged me. Nobody, no judge, no bullying sociopathic attorney—and I've had those on the other side—can ever affect me to my core. It reinforced my inner strength."
That fortitude is well-known to Bogaards' clients and colleagues. She has won all but two of 35 trials in the past 32 years, and she's equally comfortable advocating for plaintiffs and defendants. Her practice is split pretty evenly, she says. "I represent good people when bad things happen. Period," says Bogaards, 55. She is seated in the new office of Bogaards Davis on Pacific Avenue in San Francisco's Jackson Square. "It's helpful to have experience on both sides," she says.
A recent victory in a personal injury defense case came this spring, when Marin County jurors deliberated for less than an hour before rejecting a request for nearly a million dollars from a plaintiff who claimed road rage had resulted in a brain injury. The plaintiff left court empty-handed.
Bogaards' courtroom successes are the result of a blend of meticulous preparation and storytelling designed to engage—and persuade—each juror. "I'm someone who has a keen attention for details and organization and figures out how to tell the story with those details," she says. "I spend tens of thousands of hours in the trenches taking depositions of co-workers, friends, family members and doctors." She scrutinizes depositions to craft tight cross-examinations designed to ensnare opposing counsel's expert witnesses.
To keep jurors engrossed, she punctuates testimony with a variety of media, from PowerPoint slides of vehicle damage to video reenactments to notes  on butcher paper. All become part of a narrative. "I just start right in with drawing you right into the story. I don't say, 'Hi, I'm Debra Bogaards and I'm proud to represent … '" she says. "I'm known for the unvarnished truth." She tells jurors up front everything they're going to see, what the experts will say, and even exactly how much she wants them to award.
Bogaards wears the same outfit—usually a navy Armani suit and 4-inch Christian Louboutin heels—for opening and closing. She may look demure, but she says, "I'll go for the jugular if you piss me off."
She smiles.
"In a nice way."
Mark E. Burton Jr. of Hersh & Hersh can vouch for Bogaards' skill. A trial attorney since 1995, he lost a Sonoma County negligence case to her in 2001. "She's tough," he says. "You've got to be on your toes. She'll pull one over on you and you won't know what hit you."
Bogaards' younger daughter, Danielle, 23, watched her mom in action this spring during the Marin County trial. Danielle, who will enter UC Hastings law school this fall (her other daughter, Jamie, works in marketing and public relations), played paralegal, managing more than 200 exhibits in the PowerPoint presentation during the personal injury trial. "She's the sweetest-looking pit bull you'll ever meet in court," Danielle says.
Pit bull aside, Bogaards advocates for more amiable relationships among attorneys, including adversaries, outside the courtroom. She is well connected, serving on the board of directors of Legal Aid of Marin and on the board of trustees of The UC Hastings Foundation. She likes to foster connections through business lunches, often over crab gnocchi at her favorite restaurant, Cotogna, conveniently located a half-block from her office. "I think there needs to be more civility in law," she says. "If we would dine more and have a glass of wine, there might be more civility."
Such courtesy translates, she says, into more congenial negotiations and quicker, more amiable settlements. Only about 5 percent of her cases go to trial.
Bogaards' diplomatic skills were critical in her biggest plaintiff's case: representing Jessica Morales' parents in their lawsuit against Pacific Gas and Electric Co. Morales, 20, was among eight killed in San Bruno when a natural gas pipeline exploded in 2010. Mediation resulted in a significant confidential settlement for Rene and Israel Morales in 2011.
Helping pave the way to a speedy settlement, Bogaards says, was the respectful relationship that she and her co-counsel—John M. Feder of Rouda Feder Tietjen & McGuinn of San Francisco—had with PG&E's lawyers. Feder and Bogaards have known each other for nearly 20 years; they met teaching trial advocacy at the University of California, Hastings College of the Law, their alma mater. They've also been opponents in several cases.
"She's one of those attorneys who takes the time to learn the medicine in every case," says Feder.
Despite her passion for litigation, Bogaards was not initially drawn to the courtroom. After graduating from UC Hastings in 1981, she studied in Salzburg and received a certificate in international legal studies from the University of the Pacific's McGeorge School of Law. While in Austria, she met and married fellow student Pieter Bogaards. The newlyweds spent their nine-day honeymoon pedaling a tandem bike through northern Holland. Pieter now has his own plaintiff's employment law practice in Mill Valley.
Earlier in her career, Bogaards worked for several law firms, where she handled defense work for insurance companies. She also began to receive referrals for plaintiff's cases headed to trial, and eventually struck out on her own. After practicing with Robert Pave as Pave & Bogaards for 16 years, she joined forces three years ago with Brian Davis, a San Francisco real estate, commercial and personal injury attorney. This spring, they moved into their new office space. The firm includes five lawyers; Bogaards expects to hire a fourth paralegal this summer.
Bogaards favors hiring law school-bound college graduates as paralegals and UC Hastings alumni as associates whenever she can. Aspiring lawyers are invited to sit in on mediations and trials and can attend legal events in the evenings. When they apply to law school, she encourages them to consider her alma mater.
An avid cyclist, Bogaards recently rode in her second Pacific Coast Century, a ride whose participants include more than 150 lawyers and judges. She's a member of the board of trustees of The UC Hastings Foundation and was recently named chair of its nominating committee. "I wish I had more grads like her," says Frank H. Wu, dean of UC Hastings. "She's an ideal alumna. She's supportive, engaged and committed to the institution." Wu praised Bogaards for taking an active role in fundraising by tapping her vast network of colleagues and former classmates. A scotch-tasting benefit she hosted last year raised an amount "in the five figures" for the law school, he says.
One of the first things Bogaards installed in her new office—in a place of honor—was her scotch collection. A dozen bottles and a set of glasses gleam on a bar cart, ready to mark a trial victory or enliven a gathering of judges, lawyers and friends. Bogaards began to cultivate an interest in the beverage a few years ago, partly because she realized it could be an effective icebreaker with judges and lawyers. Her current favorite: Macallan 18, a non-peaty flavored single-malt variety.
Once she set up her display of San Francisco Giants memorabilia, she felt completely at home in her new space. So, she hopes, will anyone who visits.
"If you ever want to get along with opposing counsel," says Bogaards, "just talk about scotch or the Giants."
Search attorney feature articles