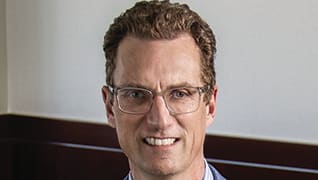 Photo by: Dustin Snipes
In the Style of E.B. White
Martin Buchanan enjoys a good fight; he just prefers it in writing
Published in 2019 San Diego Super Lawyers magazine
By Joe Mullich on April 5, 2019
On Feb. 23, 2011, Martin Buchanan received a phone call and wanted to shout for joy. He stifled the urge, however, when he looked around his new shared office; he felt he didn't know his colleagues well enough to disrupt their work. So he went back to his reading: "I don't think I even took the day off." 
The news he didn't share that day was something many attorneys spend their entire careers longing to hear: He'd just won a unanimous decision before the U.S. Supreme Court. 
With thin glasses and a soft-spoken manner, Buchanan, a solo practitioner, seems like he'd be at home in a dusty library, working with a quill pen over old tomes. Appellate work, a field known for intense study and persuasive writing, dovetails perfectly with his personality. 
"I dislike the daily conflict of being a trial lawyer because of all the petty disputes and frivolous objections and arguments," he says. "For a lawyer, I'm fairly averse to conflict. In appellate work, there is very little conflict in daily practice. You are litigating against someone else, but in a respectful, courteous and civilized way."
Buchanan has handled more than 300 appeals in state and federal appellate courts. His powerful briefs have overturned murder convictions, sustained multimillion-dollar verdicts over defective medical equipment, changed seat-belt laws and helped implement new concussion rules in the NFL.
Oh, you don't remember Buchanan's name connected to the NFL concussion case? There's a reason.
"Martin is the opposite of a lot of lawyers—he's very humble and modest," says David R. Lira, a products liability attorney with Girardi / Keese in Los Angeles, who has worked with him on more than 100 cases. "He did a lot of the heavy lifting on the concussion brief, which led to a massive settlement. But his name's not on it."
As a high school student in Portland, Oregon, Buchanan often took the bus downtown just to watch trials. "I was raised thinking about right and wrong," he says, citing the arrest of his father, a philosophy Ph.D. candidate at Duke, during a civil rights protest at a North Carolina lunch counter in the early 1960s. "I thought by becoming a lawyer I could change the world."
Before the Ph.D., his father, Rupert, had earned a J.D. but lasted only five months in the profession. "I don't recall him ever talking to me about why he didn't like being a lawyer," Buchanan says. Whatever it was, his father never tried to steer him in another direction. "I think he knew I wanted to do public interest law, and that wasn't really a thing when he graduated from law school." 
At Brown, Buchanan majored in law and society. In 1986, he graduated magna cum laude from Harvard Law School, where he was an editor of the Harvard Law Review immediately before Barack Obama. "I loved studying law," he says, before adding: "I didn't like Harvard as an institution. There was a lot of egotism, arrogance and self-satisfaction."
He spent several years at Remcho Johansen & Purcell in San Francisco, doing a mix of appellate law and political work for Democrats. In 1990, he followed a girlfriend to San Diego, where he handled criminal appeals as staff attorney at Appellate Defenders. He then became a solo practitioner, focusing on criminal appeals for 11 years before shifting to the civil side.
"Appeals perfectly suited me," he says. "Don't get me wrong, I love a good fight. I just like it to be in writing." 
"He's decisive and won't waste a judge's time taking him through arguments that aren't worthwhile," says Howard Wiener, a retired associate justice with the California Court of Appeal. "Most lawyers are nervous and they throw in everything they can think of." Wiener calls Buchanan's writing style "quintessential E.B. White," after the revered New Yorker editor and Elements of Style author whose dictum was "Omit. Omit. Omit." 
Early in his career, Buchanan won an appeal in a military court-martial for a soldier in Okinawa, Japan. After studying the case, Buchanan found an unusual element to focus on: whether the Uniform Code of Military Justice requires a three-fourths vote for mandatory life sentences. The court ruled it did; the decision was reversed.
"Sometimes I wish I was young and completely ignorant in all my cases because it gives you a bit of an edge," he says. "Young people with little experience come up with the best ideas, because they don't start with certain assumptions."
When asked for an example of an excellent brief, the foundation of appeals work, Buchanan doesn't mention anything he wrote. Instead, he reads a judge's ruling in one of his cases. It involved a gang member who was convicted of murdering a police officer largely because of what the appeals judge called an "obviously flawed witness" who was given money and other inducements to testify. Those inducements were, Buchanan says, "that the DA's office checked him out of the jail and brought him to meet and have sexual encounters with women they brought in for him."
Buchanan's usually calm voice turns into an excited sprint as he reads phrases like "to allow the law to be so ill used would be to invite an evil thing in our daily lives." His client's conviction was overturned. 
"That case encapsulates why I became a lawyer in the first place," he says. "That law could be used to achieve justice."
Appellate work is the long haul. For a recent case, Buchanan explains, he had to review 24 volumes of trial records, each of them 200 to 300 pages long. "I need to immerse myself in the trial record and read from page 1 to 3,000-whatever," he says. "I need to know everything in there, which I can only do by setting aside 10 days to review the trial transcript."
For all this work, Lira adds, "No lawyer turns around work product as quickly as him. I can email him a question, and within an hour he'll respond with a full paragraph or two about an issue." And unlike many appellate lawyers, Lira says, Buchanan often speaks to his clients to forge deeper connections and a better understanding of the case. "He likes to put a human face on the case because he understands what's at stake," Lira says.
Their biggest case together was Williamson v. Mazda Motor of America, Inc. Buchanan represented the family of a woman who died from injuries sustained from the lap-only seat belt she wore in a Mazda minivan. The plaintiffs' theory was that state common law required auto manufacturers to have shoulder belts, but court after court had ruled this was preempted by federal law, which had no such requirement.
Initially, Buchanan felt it was pointless to file a U.S. Supreme Court challenge because there was no conflict in the lower-court rulings; but he took a shot.
The lower courts had based much of their decision on Geier v. American Honda Motor Co., which held that car manufacturers did not need to follow state law regarding airbags because federal regulations did not require them. However, Buchanan argued that because seat belts and airbags are so fundamentally different, Geier was being misapplied. 
A rare process began; even Buchanan had not heard of it. The justices issued a "CVSG" order, which stands for "Call for the Views of the Solicitor General," on whether certiorari should be granted. Buchanan was summoned to Washington, D.C., where he met with officials from the Solicitor General's Office and the Department of Transportation, who grilled him about the case. They did the same, separately, with Mazda's attorneys.
Weeks later, driving his daughter to high school, Buchanan received a phone call from the Supreme Court clerk telling him cert had in fact been granted. Coincidentally, a few days before, he had been to a seminar at which he was advised that if he ever had a case before the U.S. Supreme Court, to immediately call Georgetown, which had a moot law court that included an exact duplicate of SCOTUS's august but cramped courtroom. In the mock arguments there, Buchanan was pilloried with questions he couldn't answer from the experts who had been assembled. "I had to say, let's take a break," he says. "You're not supposed to break character in a moot court, but I didn't have answers to many of their questions."
Before the big day, he watched U.S. Supreme Court proceedings from the gallery. "I was so nervous just sitting there," he says. "I didn't know how I could stand up the next day and accomplish this task." The night before, he didn't sleep well. "And I am someone who needs a lot of sleep," he says. His wife and children, and brother and uncle, all came to watch the argument, adding to the pressure. 
But as soon as Chief Justice Roberts called the case, his nervousness disappeared. The Georgetown moot court had actually been tougher than the Supreme Court, he says. He answered questions easily and sailed through the arguments.
"I'm at my best when I really believe in a case," he says. "I've become more selective and turned down cases because I don't really believe in the merits of the appeal or the justice of the case, and know someone else is better equipped to argue it eloquently. I'm not good at faking it."
With Justice Elena Kagan recusing herself (she'd been solicitor general during cert recommendation), the court held, 8-0, that the state tort lawsuit in this case was not preempted by federal auto safety standards. It agreed with Buchanan's contention that Geier had significant enough differences that its findings did not apply. The decision would change seat-belt laws around the country.
Buchanan thinks a lot about priorities. "He could have a bigger house and car," Justice Wiener notes, "but he chooses to live modestly. He has his feet on the ground."
He says the most rewarding thing he's ever done was shifting his schedule so he could become an afternoon stay-at-home dad while his wife, Miriam, went to work after the birth of their daughter, Kamala. His son, Jonah, is now majoring in history at Berkeley, while Kamala is a third-year law student at Harvard.
"Not to brag," Buchanan says, "but Kamala is the executive director of Harvard's student-run Legal Aid Bureau and just received a prestigious Skadden Foundation Fellowship to work at Georgia Legal Services on a project involving racially disparate treatment of students in public schools."
Buchanan met his wife when he was a staff attorney, and she a paralegal, at Appellate Defenders. Now he operates his solo practice, with his wife handling the bookkeeping and paralegal work. "I like being my own boss," he says. "I'm a little stubborn on how I like things to work. I'm an oldest child, and you know how they can be."
He adds: "I have an obsessive personality and I go through obsessive phases where I'll play the recorder or birdwatch," he says. "My obsession manifests itself trying to obtain perfection in the area of activity, though I've never actually achieved perfection in anything. It's a lifetime thing—trying to make myself better at something."
---
"It's in the Record"
Buchanan says an appeal has three key documents:
Opening brief, filed by the appellant
Response brief, filed by the other party
Reply brief, filed by the appellant to address arguments in the response brief
"Some judges will tell you they don't read the reply brief," Buchanan says. "The reply and oral arguments don't make that much difference."  
For his briefs, Buchanan says, he states the facts of the case as concisely and plainly as possible. "If I characterize the facts too much, it's counterproductive and makes them wonder what the real facts are," he says. 
It seems to work. "A lot of lawyers, in summarizing the record, will say three witnesses say such and such," says Howard Wiener, a retired appeals judge in San Diego. "But when you look into it, witness A might have said that, witness B says something like that, and witness C didn't say a damn thing. He doesn't tweak the record to fit his case. If he says something is in the record, it's in the record."
Search attorney feature articles
Helpful links
Other featured articles
Neel Chatterjee's offbeat recipe for Silicon Valley success
Seven perennial Texas Super Lawyers listees reflect on the last 20 years
How Steve Emmert found his niche
View more articles featuring lawyers
Find top lawyers with confidence
The Super Lawyers patented selection process is peer influenced and research driven, selecting the top 5% of attorneys to the Super Lawyers lists each year. We know lawyers and make it easy to connect with them.
Find a lawyer near you