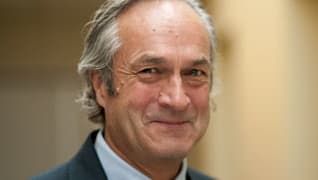 Photo by: Gregory Cowley
Keating's Lawyer
How Stephen C. Neal got the troubled financier (almost) off the hook
Published in 2012 Northern California Super Lawyers magazine
By Stan Sinberg on July 6, 2012
Stephen C. Neal was facing a hostile judge. He was arguing that his client, an asbestos company facing bankruptcy, shouldn't have to pay out money to "unimpaireds"—people with some evidence of asbestos exposure but without as-yet diagnosable medical conditions. 
"What about these people who say they get short of breath walking up stairs?" the judge asked. "How do we value that? They're worried about getting sick soon. How do we value that? How much do you think a finger is worth, Mr. Neal?"
At which point the business litigator stuck out his right hand, which happens to be missing its pinky, and replied, "I can tell you exactly what it's worth in Cook County, Illinois, your honor."
It's the kind of tale inveterate storyteller Neal—who lost the finger in 1986 when he was hit by a van and his hand got stuck against the sideview mirror—delights in relating. His quick wit has been known to leave judges, opposing counsel and cross-examined witnesses nonplussed. (He reports ending up with a "great settlement" in that 2003 case.)
Sporting gray hair that's not too closely cropped, along with casual work dress (most days he wears a pair of Levis), the lanky 6-foot-4 attorney more closely resembles a liberal arts professor than a corporate lawyer. That impression is heightened by his approachable demeanor, hearty laugh and innate curiosity, which prompts him to inquire about the interviewer in the midst of being interviewed himself.
The casual dress is the result of having shown up his first week at Cooley in a suit for a meeting with dot-com clients. He was the only person—attorney or client—so outfitted. A colleague told him, regarding his young, hip entrepreneurial clients, "They see someone show up in a suit, they think he's an FBI agent or an auditor." Neal dons more traditional attire when meeting with clients in the Midwest, East Coast—and, of course, in court.
Neal, 63, who handles a wide variety of cases including securities fraud, bankruptcy, take-overs, antitrust, trade secrets and patents, has tried more than 30 cases over the course of his career. It's his favorite part of the job.
Back in 1989, he was retained by Charles H. Keating Jr., whom he dubs "one of the most vilified men of the last quarter-century." Keating noticed that Neal was getting his clients' cases dismissed during the Lincoln Savings civil litigation—one of two lawyers to obtain that result out of 180 parties. Though Keating was fatalistic about his trial prospects, he figured Neal was an attorney who would build a good case for an appeal.
Over the next several years, Keating proved prescient: He lost his cases at trial, but Neal got them all overturned on appeal, including one that was ruled a violation of due process based on instructions given to the jury. After two years of negotiations, Keating pleaded guilty to much more limited bankruptcy charges, receiving no fine and only time served.
Still, it is an earlier case that Neal touts as his all-time favorite. Late one Friday afternoon, he received a call from Inland Steel management, whom he half-jokingly conjectures was "speed-dialing for lawyers," finding many gone for the weekend or busy. Having worked at Inland as a general laborer during college, Neal thought, "I've made a lot of progress!"
After some 80 years, Inland Steel was closing Sherwood Mine, located in Michigan's Upper Peninsula. The company also ran the surrounding water-pumping wells that kept the mines from flooding. Inland Steel offered to sell the pumps to the town for a dollar in lieu of shutting them down. But the town, concerned about operating costs and potential liability, obtained a court order preventing Inland from closing the pumps. Neal got the case moved from state to federal court, where a judge both granted Inland the right to turn off the pumps, and Iron River the right to sue Inland if flooding resulted. The pumps were turned off within 48 hours. Three months later, floods engulfed Iron River.
At the trial, most of which was held in the same Marquette, Mich., courthouse where Anatomy of a Murder was filmed, the plaintiffs' attorneys chided Inland for bringing in "a Chicago lawyer."  The plaintiffs then brought in David Todd from UC Berkeley, considered the world's foremost water hydrologist. He appeared on the witness stand with a globe and pointed out 80 countries for whom he'd consulted. On cross-examination Neal asked Todd dryly, "Were you here when they were giving me crap about coming from Chicago?"
During the cross, Neal's own local water expert handed him a note. "Ask him to describe for the jury the characteristics of [Michigan's] cedar swamps." Todd drew a blank, and Neal acted incredulous, serving to undermine Todd's local creds. Afterward, a reporter came up to Neal. "There were probably only two people in that courtroom who didn't have a clue about cedar swamps," the reporter said. "The witness and the lawyer asking the question."
Neal showed that the town had periodically suffered floods over its history, and argued that the recent flood just coincided with the wells' shutdown. The jury ruled in favor of Inland Steel.
More recently, Neal got a call from Kent Roberts, then-general counsel of McAfee security-software company. It was 2006, and Roberts was in a tough spot. The Department of Justice and the SEC were issuing a flurry of investigations and indictments of CEOs, CFOs and general counsels, accusing McAfee and many other companies of back-dating stock options. Roberts was next in their sights, charged by both agencies and summarily fired from his job. Roberts hired Neal to fight the charges, but the odds weren't good: The Justice Department's record was 10 prosecutions; 10 guilty pleas or convictions.
Discovery started in late 2007, taking place through the trial date, and about six months afterwards. With the findings from discovery, about a month before Roberts' trial, the Justice Department dropped four out of its seven criminal charges. On the eve of the trial in 2008, Neal says he finally got McAfee to turn over a number of potentially exculpatory emails. When U.S. District Judge Marilyn Patel saw the correspondence—crucial to helping exonerate Roberts—she declared, "Heads will have to roll." A  jury subsequently acquitted him, and shortly thereafter, the SEC voluntarily dropped its case as well.
"Steve and his team got us the documents that proved my innocence," Roberts says. Of 13 people ever indicted on charges of back-dating stock options, Roberts was the only one acquitted by a jury.
In another recent case, Neal represented Onyx Pharmaceuticals against Bayer in a dispute that was successfully settled eight days into trial, granting Onyx co-rights to a drug developed by Bayer under an ongoing joint-development deal. Neal says the drug has a number of potential applications including treating colon, kidney, liver and lung cancer.
Dr. N. Anthony Coles, Onyx's president and CEO, dubs Neal "a prince of a man. From the start, Steve had great presence, articulation and a dogged determinism that we could win this case. He has a clarity of thinking about the issues that others can't see, along with a great ability to execute … a rare combination."
Yet another major settlement came in 2011, when Neal represented Nvidia against chip-maker Intel, which claimed it had the rights to some of Nvidia's graphics-processing information. Neal relates telling Intel's counsel, "I'm thrilled you took action against us," adding that Nvidia hadn't planned to sue Intel, but since they "started it," Nvidia would "finish it." Nvidia prevailed, and Intel had to fork over $1.5 billion to continue licensing Nvidia's product.
Born in San Francisco, Neal grew up on the peninsula and relocated at age 12 to Chicago's South Side, an eclectic, upscale and racially diverse neighborhood. Elijah Muhammad, leader of the Nation of Islam, lived two doors down; Joe Louis' family lived across the street. The day after Cassius Clay defeated Sonny Liston (who lived around the corner) to become heavyweight champion, Clay—who would soon rename himself Muhammad Ali—knocked on the Neals' front door, offering to buy the house. Neal and his three brothers watched their parents' reaction in awe. "We were stunned that they wouldn't sell the house," Neal says with a laugh.
Ali, who wanted to live near his spiritual mentor, Elijah Muhammad, moved down the block, and Neal periodically ran into Ali at the local pizzeria. Elijah Muhammad's personal guards watched protectively over everyone on the block, which was rounded out by a house filled with basketball-playing Jesuit priests.
"For a 13-year-old moving from the 'WASP-y' Stanford campus to an integrated neighborhood with prize-fighters—and [hearing the conversations] the day Malcolm X was killed and Elijah Muhammad was being blamed by some—well, it was eye-popping," Neal recalls.
The family's moves were triggered by his father's career advancement. Phil Neal was a law professor at Stanford, then migrated to the University of Chicago Law School, where he eventually became dean.
Neal says he wasn't a particularly good student in high school, so his father devised a novel way to involve him in academia: He made Neal read virtually everything written on the cases of Sacco and Vanzetti and Alger Hiss. The elder Neal had worked for Hiss in the State Department. These books instilled in Stephen a deep sense of the importance of due process.
While in college, Neal worked in a steel mill and joined the union. "What I took away from that experience is that I didn't want to be a steelworker," he says with a laugh.
Upon graduating Stanford, he set his sights on becoming a litigator. After Cooley turned him down for a job, Neal returned to Chicago, deeming it a great environment for young lawyers, and specifically to Kirkland & Ellis, where he'd spent the summer before law school in a paralegal-type position.
After about two and a half years there, a partner's scheduling conflict led to Neal trying his first big jury case. "A good number of the jury were early middle-aged women who probably thought I was their son," he says. "Juries are very forgiving of young lawyers—they like to see them on their feet. Most judges [also] understand that the very lifeblood of our system is the continued influx and development of new talent."
One day while Neal was visiting in California, co-chairing a fundraising campaign at Stanford Law School with Jim Gaither—then at Cooley—Neal took him out for dinner. Gaither asked, "So when are you coming home?" Neal replied, "Damn, you're good. I'm paying for my own recruitment dinner." A year later, Neal jumped aboard.
After coming to Cooley in 1995, Neal found that the high-profile cases continued. He was named CEO and chairman of the firm in 2001. Two months later, the dot-com bubble burst, necessitating the layoff of more than 100 attorneys and an equal amount of staff. Neal was criticized in the media, but he says there was just no work for the attorneys. Some firms, he says, took the same actions but disguised them as "merit reviews" that both unfairly stigmatized the young attorneys and took longer, complicating their search for other employment.
During Neal's tenure as CEO, Cooley opened offices in New York, Boston and Washington, D.C. The firm also made a major commitment to becoming a leader in pro bono work, and now employs a partner full time to administer pro bono activities. As for Neal, mentoring the firm's up-and-coming attorneys is one of the best parts of the job.
"It's enormously gratifying to watch those younger lawyers keep emerging as superb, skillful, front-line lawyers," says Neal. "As a profession, we get better every year."
Search attorney feature articles