Madame President
How Karen Nobumoto survived a year of sleeplessness and reformed the State Bar
Published in 2006 Southern California Super Lawyers magazine on January 20, 2006
Updated on April 6, 2017
Karen Nobumoto has always done things her own way — and in her own colorful manner. At an IBM national convention, she once tap-danced and sang her way through a sample sales call. As a member of the State Bar of California's Board of Governors, she often brought her beloved cocker spaniel to meetings. And in 2001, she became the first minority female president of the State Bar of California, as well as the position's first public lawyer, first Asian American, second woman and third African American.
So how does she feel about all these milestones? "It was an enormous responsibility," she says, "because what comes with that is that others look at you in a different light." But with it also came enormous opportunity to usher in change. It was an opportunity that Nobumoto had worked toward for years.
The daughter of an African-American mother and an Asian-American father, Nobumoto grew up knowing that her mother had dreamed of being a lawyer but didn't have the opportunity. "I heard her tell me that as a child," says Nobumoto, "and it always made an impression on me, like 'I can finish what my mother wasn't able to start.'"
Still, it took more than 10 years and multiple careers after college until Nobumoto decided to become a lawyer. It was only after working as a manager of a retail jeans store, a marketing representative for mid-sized computers at IBM and a preschool teacher that Nobumoto experienced the revelation that would lead her into law. "A friend asked me if I never got married, never had kids, what would be a profession that I would enjoy doing for 30 to 40 years. And when asked in that vein, there was really only one answer: I wanted to be a lawyer."
Nobumoto enrolled at Southwestern University School of Law in Los Angeles in 1985, and quickly made up for lost time. She became the first student member of a California state bar standing committee — the Ethnic Minority Relations Committee — and developed its minority newsletter. After graduating in 1989 and becoming a Los Angeles County deputy district attorney, she remained active in the law community, including the board of the California Young Lawyers Association, the Commission on Judicial Nominees Evaluation, the John M. Langston Bar Association (of which she was president) and eventually the State Bar of California's Board of Governors.
But in 2001 she faced her biggest challenge yet: presidency of the state bar at a time when questions still lingered about the relevance of the organization, its governance structure and its affiliation with the often-controversial Conference of Delegates.
As she does with everything, Nobumoto jumped in with enthusiasm. During her one-year term, she did what others had talked about for years: She implemented a new governance structure for the organization and spun off the Conference of Delegates into a separate entity.
She also continued to work on issues that resonated with her personally, organizing a diversity conference and creating diversity awards that are still given out at the state bar annual meeting. Nobumoto zeroed in on the unauthorized practice of law, which preys on vulnerable immigrant communities. "At the time, the unauthorized practice of law for an ex-lawyer, who at least had training, was a felony, but the unauthorized practice of law for a nonlawyer was a misdemeanor," she says. With the help of Sen. Gloria Romero, Nobumoto successfully campaigned to toughen these penalties.
Her devotion to the state bar had its costs, though, including a year-long deprivation of sleep. During her presidency, Nobumoto typically operated on two to three hours of sleep a night. "I really personally felt the burdens and responsibilities of the office. I was not able to forget the issues of the day when I went to bed at night," she says. "The great news is that there is life after the presidency. I probably sleep about five hours a night now, and that's an enormous increase for me."
Life after the presidency also includes a new hobby for Nobumoto: competitive dog shows, an interest sparked by the movie Best in Show. Her first show dog, Gigi, has won a number of awards, including multiple Best in Sweepstakes. In April 2005, Gigi reached the 15 points necessary to become an American Kennel Club champion.
Nobumoto continues to work in the Los Angeles County District Attorney's Office, which is exactly where she wants to be. "I'm one of those people who love their job," she says. "I think it's such important work. We deal directly with victims of crime and, depending on how well I do my job, I can alleviate some of the ramifications of what has occurred to them and hopefully get some sense of justice. … I just have no idea what I'd do if I wasn't a D.A."
Other Featured Articles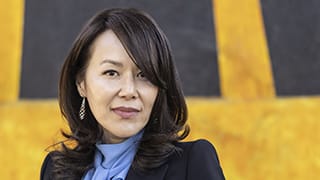 Serving the Underserved
Julia Yoo represents the female prisoners and others society has written off  Featuring Julia Yoo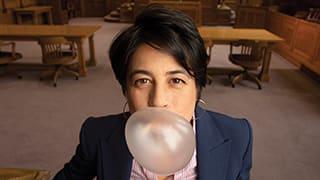 'The Legacy We Leave'
IP attorney Julia Markley on Portland creativity and the two affinity Bars she helped found Featuring Julia E. Markley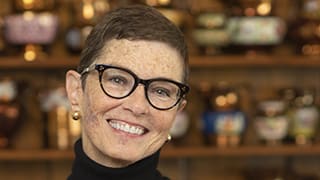 Taking Them Head On
From Goliath companies to establishment politicians, Marguerite Willis comes ready for battle Featuring Marguerite S. Willis