McNicholas & McNicholas & McNicholas
A father, two sons, and letting Rodman be Rodman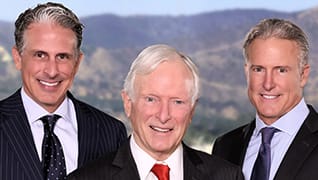 Published in 2023 Southern California Super Lawyers magazine
By Joe Mullich on January 11, 2023
At family dinners with John, Patrick and Matthew McNicholas, the conversation is less likely to be about the latest bingeworthy show than, say, the assumed risk someone takes when water skiing.
This is a family that lives and breathes law.
"Fun fact: We are the only family that has members in the American Board of Trial Lawyers, the American College of Trial Lawyers and the International Academy of Trial Lawyers," says Matthew. "The International Academy only has 500 members and is by invitation only. The American College is by invitation only
as well."
In one sense, John and his wife DeDe started what's now the multigenerational McNicholas & McNicholas firm in Los Angeles. They married young and began having children while he was an undergrad at UCLA. Patrick arrived when he was at Loyola Law School in the early '60s, and Courtney, now a senior lawyer at the firm, was born while he was studying for the Bar exam. Matthew, the youngest, came in 1972.
The children got used to seeing their dad at the kitchen table, surrounded by yellow legal pads and law books.
"None of us really knew anything different than the practice of law," says Patrick, the eldest son.
"If my dad were a doctor, I'd probably be a doctor," adds Matthew, younger by a decade.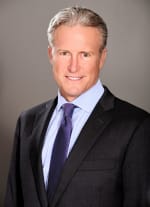 But the firm itself was really Patrick's idea. When he began his legal career, his father advised him to do plaintiff's work because he thought it was a practice area where he could do more for people. After several years at a firm that specialized in aircraft crashes, he was ready to hang a shingle. Except he wanted his father to join him. So he did what any kid would do: He asked Mom first.
"I knew I could get two bites at the apple that way," he says. "If she said yes, it was going to happen no matter what. If she said no, I figured I'd at least get another crack at it. She didn't hesitate."
John brought a large book of defense clients with him. "It worked pretty well synergistically because we had two separate areas of practice and there was no conflict," Patrick says. "The defense cases paid for cash flow, and it gave us more leeway on the plaintiff's cases."
After graduating from Loyola in 1997, Matthew worked for a year as a law clerk at the U.S. District Court, Central District for Judge William J. Rey. After a feint toward New York, he joined the family firm, which he calls "being thrown in the deep end." On the first day, there were three summary judgment motions waiting on his desk. He did nearly 100 depositions in his first year and second-chaired a case with his brother a year later.
In his first seven years of practice, Matthew didn't take a single vacation day. He was in the office most weekends, as were his father and brother.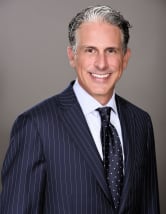 "We tell lawyers here there is no work-life balance if you're a trial lawyer," Matthew says. "There is only life as a trial lawyer when you enjoy what you do, enjoy the people you work with, and feel your life has purpose. Thinking you can be a successful trial lawyer and have work-life balance is a fairy tale. Like believing in unicorns."
As of August 1993, when he says he stopped counting, John had 150 jury verdicts and 20 reported appellate decisions, with a list of clients that includes member of Congress, famous athletes, and the Vatican. "John Paul II and the Vatican Library, or Biblioteca Apostólica Vaticana—which is fun to say—some people were trying to exploit the treasures of the library," John says. He helped resolve the licensing agreement dispute and protect its many historical documents.
Patrick's cases include an $85 million class action settlement for an auto safety defect against Mercedes; a $44 million settlement for air crash victims; and a $41 million class action settlement in a consumer fraud lawsuit—the largest ever in Orange County—that he and Matthew handled. Matthew has a $300 million settlement concerning printer ink cartridges.
Over his career, Patrick has recovered hundreds of millions in cases involving racial and sexual harassment, discrimination and retaliation, and wrongful termination. Matthew has a noted emphasis on representing police officers and firefighters in whistleblower-employment actions. "I know more about the police department than the police," he says.
Sitting around a conference table, the three men often nod in agreement when another is speaking. John, dressed in a dapper suit, adds sly jokes to the conversation, while his sons like to recount stories about him. In one, he noticed a drunk driver, chased him down in his own vehicle, and got him to pull over—only to be admonished by the police for driving with an expired license. In another, going back and forth with Judge John Woolley in Santa Ana, John cried in exasperation "For god's sake" and was immediately held in contempt and fined $100 for using the word "God." After he explained he was using the lower-case 'g' version of 'god,' the judge lowered the fine to $50.
Despite their resemblance, the brothers have different personalities. "Night and day," their father says. "Matt is very serious and gets worried. He got that from my mother's side of the family. Patrick's a little more like me. We are more contained. We just plow ahead and go faster."
Matthew will annotate 500 pages of exhibits, and spend six or seven hours on his first couple of cross-examinations. Patrick will focus on the five major points of a case. "They're both equally successful approaches," Patrick says. "They're just different ways to get there."
"I don't know if you watched that 10-part series on Michael Jordan," Matthew says. "There's that one section where Phil Jackson says, 'You just gotta let Rodman be Rodman, and he'll get you what you need.' Pat and I ascribe to that. I gotta let him be him, and he lets me be me."
Patrick calls his younger brother the better technical courtroom lawyer. "Matt hates when I say this, but I tell people I was glad when he came along because he was the older brother I never had."
Not surprisingly, Matthew is the systems guy of the trio. He's the one who installed the firm's original computer system and figures out how to organize information for massive tort cases. "My dad always hammered on preparation," Matthew says. "It's not just hard work, it's an art form. … If you're fully prepared, you're going to be better off than 95% of the lawyers out there. It's the other 5% who are preparing like you that you have to worry about."
Even with their different approaches, they struggle to think of a time when they had a major difference of opinion—though one emerges when they discuss whether the next generation of McNicholases will join the masthead.
"I would steer my children gingerly away from the law because the world is so different than when I was a kid," Matthew says. "If I had done anything different, I would have gotten a degree in economics and gone into finance."
"I'm glad you didn't," his father says, then begins bragging about one of his grandchildren, still in elementary school, already showing a bright legal mind. "She's sharp. And selfishly, it's just nice to have your family around." 
Search attorney feature articles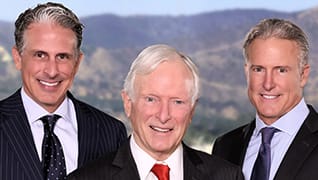 Featured lawyers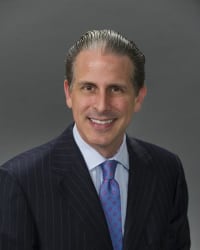 Top rated Employment & Labor lawyer
McNicholas & McNicholas LLP
Los Angeles, CA
Helpful links
Other featured articles
When democracy came under attack, Doug Poland heard the call
Lawsuits will increasingly be about the technology designed to prevent accidents
Like his attorney dad, Paul C. Perkins Jr. always finds time for doing good
View more articles featuring lawyers
Find top lawyers with confidence
The Super Lawyers patented selection process is peer influenced and research driven, selecting the top 5% of attorneys to the Super Lawyers lists each year. We know lawyers and make it easy to connect with them.
Find a lawyer near you