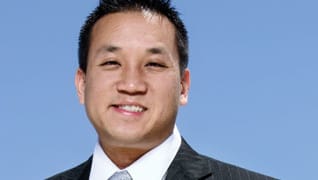 Photo by: Dustin Snipes
My Lawyer, the Doctor
A funny thing happened on the way to Bryan Wahl's J.D.; he got an M.D.
Published in 2013 Southern California Super Lawyers magazine
By Victoria Ellison on January 21, 2013
"It's kind of cool to do a different thing."
When most professionals say that, they're talking about a weekend activity, an annual trip, a sabbatical project.
When it's said by Bryan Wahl, an intellectual property lawyer at Knobbe Martens Olson & Bear in Orange County, he is talking about practicing medicine.
A few times a year at the Alta Bates Summit Medical Center in the Bay area, and more regularly on a per diem basis at Kaiser Permanente's Anaheim, Irvine and Baldwin Park medical centers, Wahl, 35, puts in evenings and weekends as a doctor.
"My longest days," he says, "are getting to the law office at 8 a.m., working on patent applications, conducting client meetings, fielding patent examiner calls, and directing associates until about 8:30 p.m., then driving to the hospital for a 9 p.m. to 7 a.m. shift, then going back to the law office the next day." A hospitalist physician, Wahl tends to see hospital patients that primary care physicians don't have time to see. "Plus we concentrate on acute things: heart attacks, strokes, pneumonia," he says. "I find that a bit more exciting."
Want exciting? One day in 2001, Wahl's pager got a code blue emergency call. "A patient had apparently jumped out of her fifth-floor window and landed in the courtyard below. I had to lead the team resuscitating the patient with CPR, cardiac shocks, IV fluids, etc. We were able to revive the patient long enough to get her to trauma surgery."
My son, the doctor? Meet my lawyer, the doctor.
How much time is involved in all this? "I hate to count," Wahl says, his expression a cross between a grin and a grimace, but he estimates he's working 80- to 90-hour weeks. 
With a kind, almost reticent manner, and a remarkably youthful appearance for a partner in a major law firm, Wahl doesn't look like someone burning the career candle at both ends. But he becomes positively voluble when you ask him about the next big thing in medical devices—his area of expertise in intellectual property.
Listen to him on percutaneous heart valve surgery. "Right now, the standard of care is: You have to crack the chest, open up the heart, and put in the pig valve or the prosthetic valve," he says. "So we've come up with this really cool thing where you put the valve on a stent and actually go up through your groin artery. It's a lot less invasive. It expands right up into the valve, and goes right over the old valve." CoreValve Inc., its manufacturer and his firm's client, found a ready market for it. "It was acquired by Medtronic a few years ago for around $800 million," Wahl says. "Now there's 30 or 40 other companies in that space, so that's one of the hot areas in medical research."
Knobbe Martens also represents Embrella Cardiovascular Inc., which makes devices that improve survival odds for heart patients. In cardiovascular surgery, Wahl explains, "there's a 5 percent risk of having a stroke, because of these little emboli—bits and pieces of blood clots that come off and can travel through the bloodstream and to your brain, where you can get this debilitating stroke or even die. So Embrella developed this really cool filter you stick right below your aortic arch. So instead of these clots going up into your brain, they go down into your foot and get dissolved."
Embrella, created by the husband-and-wife doctor and inventor team Jeffrey and Judith Carpenter, got advice on building up its patent portfolio from Wahl, whose firm has filed more than 5,000 device patent applications and works on a fee-for-service basis. Two years ago, Wahl says, "that company was bought by Edwards Lifesciences for $43 million."
Growing up, the lawyer-doctor wanted to be neither.
"When I was 5 or 6, I wanted to be a stockbroker," Wahl says, adding, "My stock picking isn't so great, so it's probably a good thing I didn't go into it."
Instead, he became Doogie Howser. At 16, he graduated from high school with so many Advanced Placement science classes that he streaked through college with the speed of a subatomic particle. After a year of college, he went to the John A. Burns School of Medicine at the University of Hawaii at Manoa. At 21, he graduated with Alpha Omega Alpha honors—one of the youngest graduates in the school's history—then did a residency at Cedars-Sinai Medical Center in Los Angeles, and became board-certified in internal medicine at 24.
For most people that would be enough. "I wasn't dissatisfied, but at the back of my mind I was always thinking about law school," Wahl says. "I always thought it would be cool to try to merge the two."
So while he was a doctor by night and on weekends, Wahl spent his days attending the University of California, Berkeley, School of Law.
At first, Wahl found himself out of his element. "In med school you're trained to follow algorithms, and you need to make quick decisions, especially with critically ill patients," he says. "There's a lot of memorization, because it helps if you don't have to look up every drug and dose in front of the patient—you've got to win their confidence. In law, a lot of times, things are not as well-defined. There are a lot more gray areas. You have to think and be more creative.
"My first semester I just tried to memorize everything but that didn't work so well, so I had to change my approach to studying. You can memorize the cases and the rules, but in law every fact scenario is so different that it doesn't matter as much." The insight apparently helped. Wahl won three American Jurisprudence Awards, two Prosser Prize awards and a Barbee Fellowship—researching conflicts-of-interest of hospital institutional review boards—before graduating in 2005.
During one of his law school summers, he clerked for Ronald Moon, the longest-serving chief justice in Hawaii Supreme Court history. "He was truly one of the most outstanding externs I've ever had, and I've had a lot of externs," Moon says. "Articulate, analytical, with a very, very high work ethic. When he was working as a physician in LA, he would take flights back and forth. And he kept up."
In 2005, Wahl found another mentor in Gerard von Hoffman, partner of the intellectual property firm Knobbe Martens, whom Wahl calls, "a medical-device guru."
Wahl proved to be a not-so-secret weapon for Knobbe Martens—many of whose clients are physician-inventors—in part because he understands the cultural gap between lawyers and doctors. "It's hard to stereotype people, but I think law people like to be a little bit more talkative," he says.
In 2011, at age 33, Wahl made partner. He got there fast and it pays to be fast in the intellectual property business. "The U.S. is changing from a first-to-invent to a first-to-file system on March 16," he explains. "So everyone's scrambling to file patent applications by then." Henceforth, he adds, "The first person to file an application has first dibs on it." Some fear this could favor applicants with deeper pockets over small-time inventors in their garages, who used to be able to perfect their innovations at leisure, file patents later, and use their lab notes to defend against rivals who beat them to the legal punch.
"Even under 'first-to-invent' we always advised clients to file patent applications as soon as practicable, but there's a heightened impetus to do so under 'first to file,'" Wahl says. "[It's] too early to tell, but the conventional wisdom is that large corporations, many having their own intellectual property departments in-house, are in an advantageous position to utilize their relatively greater resources to file patent applications early and often. However, individuals and small businesses can counteract this by being more nimble and [by] lacking the bureaucracy typically found in large companies."
Wahl says people should think about patent applications as a long game. "It's like you're playing Scrabble," he says. "If you don't have the letters in your grab bag, you can't make your word. It's important to think about all the different ways you can do it ahead of time for a particular invention, so that you can claim it later." One of his client's inventions is a replacement for Roux-en-Y gastric bypass surgery. "You chop out part of the stomach and reattach the intestine. That does two things: restricts how much you can eat, so you don't get so hungry and you eat less, and the food you do eat will not be absorbed as well." The surgery is risky. "The client has this medical sleeve that goes in through your esophagus and stomach, and it replicates that surgery while being completely reversible. So hopefully this company can bring it to market in the next five years."
At the same time, something that might look valuable now might not be in five years. "You have to merge the clinical goals with the business goals," says Wahl. "If your client has a last-generation product and they're trying to protect that, but the competition is already two steps ahead, you're not really doing them a service [by focusing on it]. They might be working on product A that has a 10 times greater market than product B, which they plan to launch next year, but all their patent claims are solely focused on product B. It's really important to check with the client and make sure if they think A is a big deal. Then most of your efforts are going into that."
He adds: "There's a lot of guesstimation involved."
Wahl appreciates the way his legal and medical careers complement each other. Obviously being a doctor adds credibility to his legal practice, but he's also anticipating a serendipitous full circle. "On the legal side," he says, "I have the opportunity to help start-up clients protect the medical innovations of the future, so they can help the patients I see some years down the road."
His office, as you might expect, includes a med-school skeleton, legal and medical books, and prototypes for patent applications. "It's not as tidy as it could be right now," he mentions.
His colleagues at Knobbe Martens don't mind. "I tend to get a lot of medical advice questions around the law office," he says.
Search attorney feature articles
Helpful links
Other featured articles
Elliott Buckner cooked up 850 pounds of barbecue last year alone to benefit brain injury survivors
Jill Smith is the hip, sardonic attorney making deals for Lego, Rube Goldberg and Godzilla
Three Black women attorneys on race, diversity and justice in Western New York
View more articles featuring lawyers
Find top lawyers with confidence
The Super Lawyers patented selection process is peer influenced and research driven, selecting the top 5% of attorneys to the Super Lawyers lists each year. We know lawyers and make it easy to connect with them.
Find a lawyer near you