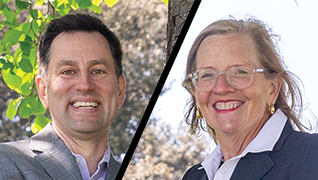 Photo by: Gregory Cowley
Opposing Forces
For Joan Fife and Jahan Sagafi, being on opposing sides doesn't mean yelling across the table
Published in 2021 Northern California Super Lawyers magazine
By Joe Mullich on July 7, 2021
Defense attorney Joan B. Tucker Fife was in the spectator area of a courtroom, waiting for another hearing to conclude. The two attorneys were squabbling back and forth on trivial matters, until the exasperated judge silenced them, pointing to the surprised Fife and telling them they should conduct themselves more like her.
"I want to be the most reasonable person in the courtroom," Fife says. "If a judge needs a fair and accurate answer to a question, I want him to look at me."
Plaintiff's attorney Jahan C. Sagafi has similarly gained praise from judges. "Jahan is so measured, objective and credible—almost like a law professor," says Judge Vince Chhabria of the Northern District of California.
That composed demeanor would set Fife and Sagafi apart in many areas of law, certainly including their rough-and-tumble practice area. "In employment law, the counsel are usually at each other's throats," Chhabria says. "The cases are so emotionally charged, it's rare to see counsels get along, let alone act as partners."
Fife and Sagafi faced off twice, both roughly 15 years ago, in class actions in which Fife defended Wells Fargo and Farmers Insurance, while Sagafi represented employees who alleged they were miscategorized as exempt workers. Both cases settled.
"Defense attorneys rarely work together in my field, but we work a lot with/against plaintiff's counsel," Fife says. "Jahan and I would travel to depositions out of town, and share cabs back to the airport, and chat walking through security. Even though we both represented our clients the best that we could, when the work event was over, we were able to have some great discussions about how to live a good life and be a good person."
For his part, Sagafi recalls, "Joan was pleasant and decent and calm and respectful and respectable. She has a Southern gentility."
Both Sagafi and Fife are known for their evenhandedness—and their success. Sagafi, partner-in-charge of the San Francisco office of Outten & Golden, has recovered more than $100 million for workers in claims against companies like Uber, IBM and Wells Fargo. Fife, managing partner of the San Francisco office of Winston & Strawn, has been the lead attorney in more than 75 class or collective action suits over employment issues. In one collective action, she secured more than $800,000 of her client's attorney's fees from the individual plaintiffs after prevailing on summary judgment on all counts.
For both attorneys, an interest in the workplace developed at an early age.
Fife was born in Knoxville, Tennessee, to a family of entrepreneurs. Both her parents and grandparents ran their own businesses, and many of their employees had worked for them for decades. At her father's funeral, one of his employees told Fife that her dad, after hearing that the man's daughter was a good student, helped put her through medical school. 
"My father never mentioned that," she says. "I grew up seeing the employer-employee relationship as the cornerstone of work, where each side treated the other with dignity and respect."
It wasn't until she went took an employment class at Vanderbilt University Law School in 1983 that she realized this was not always the case. 
Sagafi's father grew up in a village in Iran and became a professor of international business. His mother, whom he describes as a "WASP-y Texan," was a Quaker and a homemaker who later became a plaintiff's employment lawyer. His parents met when she came to Iran through the Peace Corps; they eventually settled in Philadelphia.
"Liberal social justice was our value system," he says. "Through my mom, I saw the world primarily through a moral lens. I had a desire to contribute to justice."
Growing up, he felt like an outsider—a kid without a home ethnically. "When I have to list my race on forms, I will fill it out differently on different days. Sometimes I put Asian American, sometimes I put white, sometimes I put Middle Eastern if that's an option; and sometimes I just put 'Other.' "
Sagafi went to Harvard College as a pre-med student majoring in social studies. After graduating magna cum laude, he taught for a couple of years, then went into management consulting. He then took the MCAT, but the desire to grapple with "the issue of social structure, and the allocation of privilege and power," prompted him to take the LSAT as well. That took him to Harvard Law School, where he graduated in 2001.
"I had exposure to many different areas of law, and was a generalist class action lawyer at the beginning," he says. "I was drawn to employment discrimination work because it felt like the most important fight to be having."
Sagafi's first employment discrimination case, in 2003, was against retailer Abercrombie and Fitch. Latino, Black, white female and Asian American employees sued for what he calls "a sad and outrageous series of practices." Many managers, he says, were hiring people who acted and looked like the white models whose photos adorned the walls; applicants of color were told they were best suited to work in the stockroom, out of customers' view.
"There was story after story of managers doing these things," he says. "It is an interesting illustration of how the people in power can hint at a certain direction, and their subordinates will enthusiastically run beyond what the scope of the text says."
The case was settled for $50 million—and an agreement by Abercrombie and Fitch that its executives would report, every six months for six years, on the steps they were taking to improve hiring of people of color. By the end of the six years, they had hired thousands more people of color, greatly reducing the racial disparity.
During the case, Sagafi received emails that ranged from praising his team members' efforts to calling them "dirty Jew lawyers." He reflects, "When you do social justice work, people come out of the woodwork, good, bad and ugly." 
Asked about her most memorable cases, Fife responds that she takes pride in the quickly settled major class actions with no discovery. "If you do your homework and make cases go away at the beginning, clients are very happy," she says. "I don't take glee in winning a case, even a close one, and I don't gloat after winning. If you are a defense attorney, the win is not getting sued."
She describes a typical interaction with a plaintiff: An employee got fired, doesn't understand why, and doesn't think it was fair. "I try to put myself in the shoes of the plaintiff when I take their deposition," she says. "What was it like for them to go to work every day? What miffed them about the company?"
When she prepares her clients for deposition, she keeps in mind that testifying is not their job. "I help people get through the legal process without being terrified," she says. "I love working with witnesses. I'm teaching them about the legal process, and what they can expect, and how to handle tough questions. And I tell them to always tell the truth."
Fife enjoys deposing people and learning what their jobs are like. "I may not agree with their interpretation of what happened," she says, "but I can often see why they felt that way. I have often finished a deposition and thought, 'I could have been great buddies with that person.'" 
The same empathy applies to her opposing counsel. "I have the luxury of dealing with a corporate client," she says. "If there is a big problem, they listen. Plaintiff's attorneys have the challenge of dealing with individuals. Some people are reasonable; some are quite unreasonable. That is a whole other skill set. Jahan is fielding calls, telling person after person he can't take their case. … And he can't procrastinate. He has to push cases forward, because if he doesn't, I won't."
Sagafi agrees there are some frustrations to being a plaintiff's attorney. "The deck is stacked against the little guy," he says. "That's part of what makes the work challenging, rewarding—and sometimes demoralizing." He adds that the stereotype of the rich plaintiff's lawyer is by and large a myth. "Plaintiff's lawyers tend to make much less than defense lawyers," he says. "So there's a systemic disincentive."
Fife adds, "I have a ton of respect for plaintiff's attorneys, and we are trying to do the same thing—make sure the law is applied by the court appropriately. We have the same issue of wanting to get the issue settled as quickly and painlessly as possible. I have lost motions and told the other side congratulations. We can disagree, but that doesn't mean we need to get into big fights."
Sagafi says it's all about being respectful and looking for agreement during negotiations. "There is no point in yelling across the table," he says. 
He believes his conduct as a lawyer should be no different than in any other part of his life. "I want to be myself in all situations," he says. "There is one Jahan, not different Jahans for different situations." But he notes his advantage over some: "I have an element of white male privilege. I can be casual with a judge. A young Black female attorney doesn't have that advantage."
For his profile on his firm's website, Sagafi was asked to use one word or phrase to describe himself. Since "social justice" was taken, he chose "honor." He explains: "I believe in acting with kindness, decency and integrity. Not in a narrow, legal sense, but acting with deep honor and being respectful of everyone, no matter what the conflict. We're all human beings and there is a larger significance to what we do."
Fife and Sagafi do have different views on companies' intentions in their treatment of employees. "Defense attorneys think there are a lot of good companies that want to do the right thing," Fife says. "The plaintiff's attorneys may not think that, but they don't see behind the curtain.
"If I get a case and the company screwed up, I like to figure out what happened early on and get it settled quickly," she continues. "I am dealing with in-house lawyers who are compliance-oriented. We want the company to treat people fairly; we want managers to be good people and give people another chance. Defense attorneys think employers should comply with the law."
Sagafi has a different take on employers. "It's hard to know what makes a defendant's mind tick," he says. "Often they seem emotionally disgusted by litigation and disgusted that some parasite like us washed up on their doorstep. In the end, they drag it out as long as possible."
Todd Jackson, a partner at Feinberg Jackson Worthman & Wasow who represents plaintiffs in employment cases, has praise for both Fife and Sagafi. He opposed the former in a class action case, and has served as co-counsel with the latter on several occasions.
Fife, he says, "gets to the heart of the legal issue very quickly. She understands talking to a judge is a conversation, rather than a speech. She recognizes that, in the real world, the impact comes from stating complicated things in a simple way."
As far as Sagafi, Jackson says: "There are people who do their work so their children do well, and there are people who do their work so everyone's children do well. Jahan's in the second camp, and that's a good camp to be in."
---
Agree to Disagree
Quality I most I admire in an opposing attorney: 
Fife: Honesty and a good sense of humor. We might disagree on almost everything, but at the end of the day, with all the millions of jobs we could have chosen, we each picked not only law, but a pretty narrow area. 
Sagafi: Humanity. I appreciate working with opposing counsel who have the strength to speak clearly, directly and honestly.
On weekends I …
Fife: Play golf, take long walks with our dogs, play board games with family, and try to have one day where I schedule nothing. 
Sagafi: Love to hike, bike, and explore the Bay Area with my wife, Kristen, and our 9-year-old son, Ben.
My fictional hero is …
Fife: All of my heroes are real people. 
Sagafi: Robin Hood always appealed to me because those dukes and earls had way too much wealth, and they didn't earn it as independently as they liked to tell themselves they did.
The SCOTUS justice I'd like to meet is …
Fife: RBG (if we could turn back time) or Justice Thomas. I have a lot of questions for both of them! And both were so unlikely to end up on the Supreme Court, though they seem quite opposite in views.
Sagafi: Justice Kavanaugh, to discuss our obligations as leaders in the legal profession in supporting gender equality; protecting girls and women from sexual harassment and assault.
I can't believe more people haven't read …
Fife: Thinking Fast and Slow. It changed how I practiced law. If neuroscience had been a thing when I was in college, I would have certainly pursued it.
Sagafi: Rebecca Solnit's magnificent essay compilations (e.g., Men Explain Things To Me). They're insightful, wise, direct, piercing, yet confidently optimistic.
Search attorney feature articles