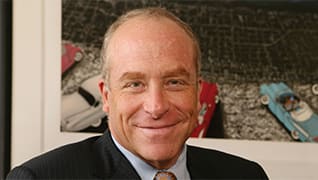 Photo by: Larry Marcus
Schmoozing His Way to Century City
Scott Edelman's cases have happy endings
Published in 2010 Southern California Super Lawyers magazine
By Scott Smith on January 26, 2010
The year 2008 helped polish the already shining reputation of Los Angeles commercial litigator Scott Edelman of Gibson, Dunn & Crutcher.
On behalf of Sony BMG, he helped dismiss 35 antitrust class action complaints, which alleged a conspiracy by the major record labels to fix the price of music downloads.
He successfully defended NBC in an arbitration regarding profit participation in the three Law & Order TV series and represented NBC West and Universal Network in court in a syndication dispute over the franchise. 
And he won a complete victory in a profit participation arbitration for CBS against a major studio.
Last year wasn't bad, either. In April 2009, the venerable William Morris Agency, with Edelman consulting for its board of directors, finalized its merger with hotshot Endeavor.
It's no wonder that The Hollywood Reporter put Edelman on its showbiz "Power Lawyers" list for the third year in a row and that the Century City Bar Association named him Litigator of the Year for 2009.
Pretty good for an unflashy guy who started his career knowing nothing about showbiz legal disputes.
"My dad was my role model," says Edelman, who grew up near his father's law office in Encino. "I saw the satisfaction he got from his work, how hard it was, the intellectual challenges, and his relationship with his clients."
After earning a B.S. at Stanford University in 1981 and graduating from law school at the University of California, Berkeley in 1984, Edelman returned to LA to be near his family. His first year was spent clerking for Federal District Judge Jesse Curtis Jr.
"As a clerk, you have way more responsibility than you deserve, making recommendations to the judge based on briefs submitted by lawyers who have been practicing for decades," he says. "It's more power than you can expect to have for the next 20 years of practice. When I think back to how little I knew then, I wonder why my judge listened to anything I said."
Initially attracted to smaller firms, he realized, after summer interning at one, he wanted to learn from veteran lawyers. Enter Gibson Dunn, always his first choice among the large practices. He started in its downtown office.
"I concentrated on the small cases initially because I wanted to get quick experience with trials, and with the big cases you aren't likely to be the person arguing motions, much less trying the case," Edelman recalls.
He had two jury trials in his first year. In his first, in 1986, someone had built a cement culvert that drained onto the property of a neighbor, who sued.
"I was given the task of cross-examining a witness and I had written down the answers I expected," he says. "When the witness gave me an unanticipated response, I didn't know what to do, so I just read the next question. Somehow we won that case."
He also gained valuable litigation experience trying misdemeanor DUIs during a four-month loan-out to the district attorney's office.
By 1991, at age 31, Edelman made partner. "It was terrifying because I didn't have a client for a year." Finally, a Gibson Dunn associate who had gone in-house at the University of Southern California recommended him to USC's general counsel. He quickly came up to speed on higher education law and, through litigation, sought to prohibit agents from persuading players to accept gifts—an act that violated the strict rules of the National Collegiate Athletic Association; he also defended USC against professors who claimed they had been unfairly terminated.
In the mid-'90s, coming off of a recession, Gibson Dunn was just about to close its Century City office when someone came up with the idea of expanding the firm's modest entertainment practice. Edelman became its co-chair.
Fortunately for him, Gibson lawyers had always been coveted by the studios, which regularly hired them away from the firm. With alumni scattered throughout Hollywood, Edelman began an ambitious program of courting them through lunches and dinners. 
His first big entertainment case came at the end of 1996. "I was retained by a studio general counsel I had done pro bono work with at Bet Tzedek legal services and he thought I should take a shot at it," he says.
Francis Ford Coppola had filed a lawsuit against the estate of Carl Sagan a few days after his widow buried the astronomer. It alleged that the movie Contact violated the terms of the development deal between Coppola's American Zoetrope studio and Sagan. Edelman obtained a summary judgment in his client Sagan's favor, and his reputation began to grow.
There were a variety of other entertainment cases: he represented clients from Salma Hayek to the family of James Dean. But Edelman struck gold when he represented the German film distributor Intertainment Licensing in a complicated suit against producer Elie Samaha's Franchise Pictures.
"Intertainment wanted to distribute major motion pictures in Europe, but it was impossible to break the relationships the big distributors had with American studios," explains Edelman. "Samaha was a colorful guy who had started as a nightclub bouncer, opened his own clubs, and had good relationships with a lot of celebrities, so he could put together movie deals. Intertainment signed a contract to distribute his pictures, picking up 47 percent of their budget for European rights and leaving Samaha the U.S."
Only later when Intertainment opened an office in Beverly Hills did it start getting calls from actors complaining about their low pay, which conflicted with the information it had about the budget. It quickly became apparent that Franchise Pictures was keeping two sets of books. A $30 million film was being billed to Intertainment for $50 million. This was done over multiple pictures.
Edelman was brought in in 2000; it took him six months to get answers. Eventually Franchise Pictures admitted to using two sets of books, but claimed that the CEO of Intertainment had come up with the idea.
"They argued that Samaha only had a high school education and the scheme was too complicated for him to have come up with, while our client had an MBA and it was his goal to get his stock price up by any means," explains Edelman. "But there was a flaw in their argument, because he never sold his stock and eventually its value shrank to practically nothing."
The case didn't go to trial until 2004. After four weeks battling the formidable Bill Price of Quinn Emanuel, during which the case was in the trades nearly every day, the jury found in favor of Edelman's client for $122 million.
"The frustrating thing is that Intertainment got some money in a settlement with Samaha and will get something out of Franchise Pictures' bankruptcy eventually, but nowhere near their loss," says Edelman. Intertainment also went bankrupt and has been reorganized, with a primary asset being its claim against the bank and the bond company that green-lighted the phony budgets.
Price thinks Edelman's secret weapon is his personality: "Scott is a very likable guy and that comes across to jurors. It really helps him sell his message."
Dick Kendall of Kendall Brill Klieger, who has found himself both opposite Edelman and as co-counsel representing co-defendants, agrees. "He maintains his sense of humor from the beginning to the end of the case," he says. "He's a resourceful and persistent advocate who unfailingly retains his integrity and perspective."
Glenn Pomerantz of Munger, Tolles & Olson worked with Edelman on a high-profile defense of Sony Corp. against an antitrust claim by an early entrant in video on demand. The case was settled. "What separates Scott from other smart lawyers is his sincerity and ease of conversation that are natural parts of his personality. He's extraordinarily persuasive because he makes you feel not only that he's right, but that you really want to be on his side."
Edelman was also lead counsel on important cases involving video cassette distribution. In one, for Columbia TriStar Home Entertainment, he defended against a class action by independent video stores, which charged that a revenue-sharing arrangement Blockbuster had with the major studios was price fixing. The chains paid little upfront for each cassette, but then shared rental revenue with the studios, while the independents claimed they paid a higher fixed cost to purchase the videos.
"We did a lot of diligence on the stores and found that they had different reasons why they failed that couldn't be blamed on the chain," Edelman said. "Some weren't within 50 miles of a Blockbuster and others only carried X-rated videos. We were able to get a denial of class certification, and then summary judgment on most of the claims. We ended with a very favorable settlement."
Interestingly, his most recent case isn't in entertainment. It involves a fraud claim in a lawsuit against Dole Food Co. over allegations that it damaged the health of workers in Nicaragua where it used the pesticide DBCP on its banana plantations from 1970 to 1980. There had been more than $2 billion in judgments against Dole in Nicaragua, but the company left Nicaragua in 1982 after the Sandinista revolution and has no assets there, so a claim had been filed in Superior Court in Los Angeles.
Edelman was asked to lead the trial team, and research confirmed what investigators in Nicaragua had been told: that the Nicaraguan judgments had been obtained by fabricating evidence at medical labs, faking employment records, and paying off judges. It was discovered that thousands of people who had never worked at Dole-contracted farms were trained to say they had been damaged, and many who had claimed they had been made sterile subsequently had children.
Anyone who spoke out to expose the fraud was threatened and no one was willing to testify. Edelman says a bounty of $20,000 was offered in Nicaragua for anyone who would provide information on potential witnesses, and Dole investigators were physically threatened by the plaintiffs' lawyers. His team was able to get Judge Victoria Chaney to allow witnesses to have their identities disguised from the public.
Eventually Chaney, calling the fraud on the court "outrageous" and "pervasive," dismissed the case and reported opposing lead counsel, Juan Dominguez, a personal injury lawyer whose face appears on bus ads and billboards in Spanish all over Los Angeles, to the state bar.
"The implications are enormous because it's going to be harder to bring cases to the U.S. to make claims," says Edelman, whose firm successfully defeated efforts to enforce a judgment for $98 million in a similar claim in Florida. "It's one of the most fascinating cases I've ever worked on and it's been a huge team effort."
Ronald Rotunda, a constitutional law scholar at Chapman University School of Law, has written: "What is hard to understand is why U.S. courts let foreigners sue here. … U.S. courts should not accommodate countries, like Nicaragua, that have adopted laws targeted against U.S. companies. In such cases, our court system is importing two things: foreign judgments and foreign plaintiffs."
A documentary about the case, Bananas!, which was completed before the exposure of fraud involved in the claims, was shown at the Los Angeles Film Festival in July 2009, despite Dole's objections that it needed to be revised to reflect the Superior Court's findings of fraud. Dole Foods sued the director and has since dismissed the cased.
So what doesn't Edelman like about the practice of law?
"The hardest thing is it tends to be overwhelming and all-consuming, and I've lost the battle not to take work home," he admits. "My wife, a former Gibson Dunn litigator herself, is very understanding, but my daughters hate my BlackBerry. E-mail has taken over our lives."
His greatest fear now is that recent cuts in the state budget will erode the state legal system further, with judges already underpaid and overworked, and courts in LA closed every other Wednesday already. "I'm worried about our continued ability to attract the quality of judges we need to handle society's problems," he says.
Still, he is thrilled to see more and more lawyers doing pro bono work. At Gibson Dunn, where Edelman is national chair of the firm's Pro Bono Committee, pro bono hours have skyrocketed to an average of 110 hours per lawyer per year. 
What advice would he give to young lawyers?
"Early in our careers there is a tendency to demonize our opponents," he laments. "What I've learned over the years is that you really need to treat everyone with respect. Often, there's really very little difference between you and the opposing counsel and sometimes not that much difference between the clients. You can fight very hard and still do so respectfully."
Search attorney feature articles