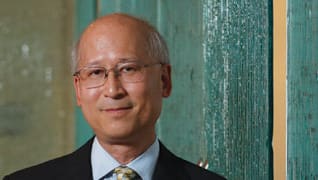 Photo by: Gregory Cowley
Simple Justice
Kevin M. Fong brings old-fashioned elegance to the appellate court
Published in 2011 Northern California Super Lawyers magazine
By June D. Bell on July 11, 2011
By the time a case makes its way to an appellate attorney, the record is closed. There are no more witnesses to grill; no provocative evidence to expose. And that's just the way Kevin M. Fong likes it.
Some might consider the penetrating analysis that appellate work demands to be a ho-hum endeavor, but for Fong, a few minutes before a panel of appellate judges is a delight.
"I like to bring some energy and enthusiasm [to appellate court] because I think it is a great opportunity," says Fong, who co-leads the national appellate practice at Pillsbury Winthrop Shaw Pittman in San Francisco. "There are a lot of other courts and systems where you don't get the opportunity for 15 minutes, let alone a half an hour, so if you've got that opportunity, make the most of it."
The soft-spoken Fong has been making the most of opportunities for 30 years with the firm. The intellectual challenge of finding a fresh angle in a civil matter—be it an environmental issue, tax case or construction dispute—continues to thrill him. He's a familiar sight in the 9th U.S. Circuit Court of Appeals, California's appellate courts and the state Supreme Court.
Fong's hallmarks are carefully analyzed oral arguments and legal briefs, presented in straightforward language. Among his favorite recent writings was an amicus brief for civil rights groups including the Asian American Justice Center. The brief challenged an Arizona statute requiring employers to use a federal electronic employment-verification system to prevent the hiring of illegal immigrants. Fong argued that the E-Verify system encourages federally prohibited discrimination.
His clients "clearly had a story they wanted to tell about how this was not just a business issue or a states'-rights issue but really was a civil rights issue," says Fong, who traveled to Washington, D.C., last December to hear the matter argued before the U.S. Supreme Court.
The facts vary from one case to another, but Fong, 56, says his aim never does:  "What I do is tell my client's story, put that story in context and give it a solid foundation in the law. Doing it all with elegant simplicity is my goal."
A third-generation San Franciscan, Fong works not far from the bustling Chinatown neighborhood where he spent his boyhood. The only child of a TV station employee and a homemaker, he had never been east of Lake Tahoe when he headed off to Harvard University in 1972.
Weighing just 110 pounds, he was promptly recruited for the college's crew team. He spent a year as a coxswain, steering, motivating and directing a team of powerful men who couldn't see where they were going. "Ultimately, that was the best training I ever had to run a litigation group," says Fong, who heads the 40-lawyer litigation group at Pillsbury's San Francisco office. "You learn strategy, coaching and leadership all in one."
He majored in social studies and didn't become interested in law until he interned with Carol Ruth Silver, counsel for the sheriff of San Francisco and a fellow at Harvard's John F. Kennedy School of Government.
Fong had barely settled in at law school at Harvard when his current firm, then called Pillsbury, Madison & Sutro, started trying to lure him back West. "They were looking for people who had ties to the Bay Area and were likely to come back, and it was probably an affirmative action program," Fong says humbly, noting that he was one of four Asian-American students in his first-year class of 550. "So I was in the right place at the right time."
He joined Pillsbury in 1980 as the first associate in the firm's four-attorney appellate practice. The firm had about 200 attorneys then, all in San Francisco. Pillsbury today has about 700 attorneys worldwide, with 115 in San Francisco. In the early days, Fong handled a mix of appellate and trial work, mostly for large institutional clients including Chevron Corp. and Pacific Telephone & Telegraph Co. (now AT&T Inc.).
He fondly remembers the expert mentoring he received from Noble K. Gregory, an esteemed Pillsbury appellate attorney. Gregory introduced Fong to partners and prospective clients "in a way," Fong says, "that would give me a head start in building credibility. It took me 30 years to figure out what he was doing."
Fong tries to continue that tradition of mentorship, bringing young associates with him to watch oral arguments or letting them watch his daily work. His leadership duties at the firm include coordinating assignments for younger attorneys, providing an insightful second opinion for his colleagues, and doing business strategizing for the San Francisco litigation section as well as the national appellate practice. For more than a decade, he's headed the firm's diversity committee and has led the Asian Pacific Bar of California and the Asian American Bar Association of the Greater Bay Area.
Younger attorneys—who settle themselves in front of a computer screen to research and write—might marvel to watch Fong at work in his laborious way. He enjoys visiting Pillsbury's hushed law library to pull a legal treatise off the shelf. There, he'll review the basic legal principles relevant to his case and key documents from the trial court record. Then he ponders and explores until he arrives at what he calls "the aha! moment … a theory, a twist, a spin that wasn't apparent to everyone before."
When he's ready to draft an appellate brief, Fong writes neatly in longhand on every other line of a pad of white legal paper. Pillsbury's word-processing department types and formats his work. "You get things firmly fixed in your mind before you start putting the words down, because it's not as easy to move things around as with a computer," he says. "If I do a good job, there isn't much editing. … A draft is my best effort."
When he appears in court, Fong typically doesn't refer to notes. He aims to use only half of his allotted 15 minutes before the 9th Circuit and 30 minutes before the California Supreme Court. He leaves the balance for judges' questions and the dialogue between himself and the panel that will illuminate his stance.
This fluid exchange of nuanced information is his favorite part of the court experience: "It reminds me of the Robert Redford movie, The Natural," he says. "There's this scene where the pitcher is pitching the ball to Robert Redford and he can see the seams of the ball as it's coming to him.
"That's sort of the way it is on a good day in oral argument. You can just almost suspend in time as the question is coming toward you, and know what the question is and you know what the answer is, and you know what the next question is going to be, and it's all appearing in slow motion."
Fong's colleagues say he is an ideal blend of keen intellect and genuine affability. They are also quick to praise his dedication to fellow appellate attorneys. In May, Fong concluded his term as president of the California Academy of Appellate Lawyers, a group of 90-plus members that meets three times a year.
Coordinating those meetings and organizing educational sessions falls squarely on the shoulders of the president, and Fong tackled the task with zeal and competence, says Rex S. Heinke, a Los Angeles-based attorney who heads Akin Gump Strauss Hauer & Feld's national appellate practice. "Kevin has done a good job of getting events organized," Heinke says. "That's a sign of his dedication to the profession and to appellate work."
Heinke, who has known Fong for about 15 years, describes him as "a clear and persuasive writer," a view echoed by Elliot Bien, an appellate attorney with Bien & Summers of Novato. Bien and Fong met decades ago squaring off in court. Fong prevailed. It was a hard-fought case, "which was a great boon to our friendship," Bien quips.
Bien was particularly impressed by Fong's 2007 amicus brief challenging California's gay marriage exclusion. The heavily sourced state Supreme Court brief, which Fong says is one of his favorites, draws parallels between marriage restrictions imposed on Chinese immigrants and the discrimination facing gays who want to marry. "It was a brilliant stroke to give the history of these groups and [show] how marriage is an important part of integrating minority groups into majority culture and American culture," Bien says.
In May 2008, the California Supreme Court struck down a statute excluding same-sex couples from marrying in In Re: Marriage Cases. A federal judge last summer reversed the ban on same-sex marriage in California. Fong presented his brief on the issue to his Pillsbury colleagues after the decision came out and was heartened by their response. "Some of the corporate lawyers who had probably not read a brief in years said they were fascinated by it and it was a page-turner," Fong says, a smile lighting up his face. "So I had accomplished my goal."
Search attorney feature articles
Helpful links
Other featured articles
Faith Li Pettis has helped fund major community projects and guide the city's quest for affordable housing
Why Natalie Weatherford only takes sex abuse cases
St. Louis attorneys tell their stories of immigrating to the U.S.
View more articles featuring lawyers
Find top lawyers with confidence
The Super Lawyers patented selection process is peer influenced and research driven, selecting the top 5% of attorneys to the Super Lawyers lists each year. We know lawyers and make it easy to connect with them.
Find a lawyer near you