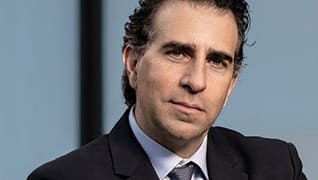 Photo by: Dustin Snipes
The Calm Man in the Arena
For Ron Makarem, it's about righting wrongs while enjoying the journey
Published in 2019 Southern California Super Lawyers magazine
By RJ Smith on January 30, 2019
In 2000, Mark Bethea came up with what he thought would be a surefire hit for reality TV. The program would feature novices competing with one another to become the titular head of a real company. He thought about calling it C.E.O. And he thought the perfect host—which he mentioned in a PowerPoint presentation to representatives of reality TV impresario Mark Burnett's production company—would be Donald Trump.
The rest is history—but not for Bethea. The Apprentice debuted in January 2004, but nowhere was his name mentioned. He claimed Burnett stole his idea. That's why Bethea hired attorney Ron Makarem; and that why, in 2005, Makarem flew to Manhattan to depose the future president.  
"Trump Tower was, I thought, just completely '80s décor, nothing at all impressive. The room we were in had carpet on the walls and a chandelier that was outdated," Makarem recalls.
As for Trump himself? Although he was an adversary in the copyright infringement suit because Trump was 50 percent owner of the show, Makarem says he seemed at ease. "He was pretty much his egotistical, charming self, probably taking more credit for the show than he deserved," says Makarem with a chuckle. 
While the copyright case was on appeal, Makarem also brought an idea theft case to trial. But there was a problem: He lacked funds. Having just launched his firm in August 2004, he was tapped out. So on the eve of trial, he cold-called Browne Greene, a plaintiff's attorney he knew by reputation, and invited him to join the case.
In the end, the matters were resolved collectively and helped boost Makarem's reputation in the legal community. Soon after, he was named to the Top 20 Under 40 Attorneys list by the Daily Journal, which cited his "nerves of steel." 
"The combination of the confidence I gained and the recognition," he says, "definitely jump-started my career."
There's all kinds of confidence and energy present during a fall morning at Makarem & Associates, housed in a Brentwood tower. One attorney walks on a treadmill equipped with a bank of computer screens. (Makarem provides a treadmill to anyone who wants one.) After a recent remodel, everybody has a sit-to-stand desk. And on occasion—though not as often as Makarem would like—the table in the conference room converts into a pingpong table. 
Makarem, meanwhile, is attentive and calm—almost chill. One of the firm's attorneys drops in several times with questions about a deposition he'll take later that day. Makarem's ruminative answer is invariably a variation of "I know you've got this."
Randi Ibrahim, who once worked at the firm and is now a plaintiff's attorney at AlderLaw, says Makarem often gives young attorneys unexpected opportunities—including big-case depositions, and chances to argue motions and work on mediations. "He's honest, he's encouraging, and he believes in his younger attorneys," says Ibrahim. "He would never say, 'No, you're not ready.' He would try to prepare us to do the best we can do."
On this morning, the 48-year-old attorney is fielding calls from what he calls "PNCs"—potential new clients—and planning to add a seventh attorney to his firm. "The operation is kind of finally a good fit," he says. "Everyone is in their place." 
Does he feel he's got things running smoothly?
Yes, he says, at least at the end of the day when the work gets done. He adds with bemusement, "Then the next day, it all comes back to you. You have got to enjoy the journey is my theory."
Makarem's father, Anis, and his mother, Omaima, were both born in Lebanon and met in Beirut. Anis came to the U.S. at the age of 20 with little more than $100 in his pocket. Thirteen years later, after getting a Ph.D., he returned to Beirut, met Omaima, married her and brought her to America. She earned her bachelor's and master's in the states, and taught elementary school for 25 years, while Anis worked as a biochemist. Both are now retired. 
The family settled first in Agoura Hills, then Westlake Village. His parents divorced, but the family—and the extended family, plus all of their friends—remain close.
"When you are a new immigrant from another country, you tend to attach to those like you," Makarem says. "To this day, I am still friends of their friends' children." He says he recently attended the 50th wedding anniversary of two of his parents' oldest acquaintances.
In high school, he was debating between a career in psychology or the law when a class assignment cemented his path. He knows it's a making-a-lawyer cliché, but To Kill a Mockingbird inspired him. "The way Gregory Peck played Atticus Finch completely moved me, and I felt like his beliefs were mine—or, at least, I wanted them to be. I admired everything about him," Makarem says. "From that point on, I knew I wanted to be a lawyer."
At USC, he studied political science, then crossed town to attend Pepperdine. Less than two years after getting his J.D. in 1995, Makarem was hired by Ruben & Jones. In 2001, at the age of 30, he made partner.
On the wall of his office, there's a framed photograph of Makarem with Mark Jones, a co-partner at the firm and one of Makarem's mentors. "I learned under him, but not for long enough," he says. Jones died of leukemia in 2001.
Then co-partner Steve Ruben took a medical leave, and tensions mounted over the amount of his share going forward. It got messy—suits and countersuits—before a clean break occurred.
At the same time, Makarem was coming out of a divorce, and realized that, despite all the family, friends and mentors in his life, he was suddenly standing alone. "2004 was a new beginning for me, in many ways—a new chapter," he says. "At that point I realized I have to start my own firm. I have no choice."
In his new firm, Makarem carved a niche representing plaintiffs in difficult and high-profile cases of attorney malpractice. "[Ruben] had done that for many years before I joined them, and I learned under him and decided to carry that practice on," he says. 
It's not just another practice area for him. 
"I don't think there's an organization out there that polices, protects and defends the public from corrupt lawyers," he says, adding that the state bar association lacks the resources necessary for the task. "So our job has become to do that job. … The integrity of our profession is at stake, and I enjoy protecting and defending it." 
In 2006, he was hired by a Beverly Hills ophthalmologist, who alleged that a powerhouse firm represented him in a criminal Medicare fraud probe, then defended a client testifying against him. The firm settled the conflict-of-interest suit for $2.6 million. 
"You wouldn't get this in another profession," he says. "Doctors don't understand the necessity of doing this in their system. They are offended by malpractice suits. I think lawyers are more understanding of the need for [malpractice lawsuits] to go on."
The week of the congressional hearings for U.S. Supreme Court nominee Brett Kavanaugh, Makarem bought lunch for those in the office who wanted to watch on television as events unfolded. He notes that sexual assault hotlines reported an increase in calls, and says his firm has also been getting more calls from plaintiffs alleging sexual harassment and assault. "I hope it becomes a big part of our practice," he says. "Our firm gets a lot of meaning out of helping those people. And those are the people who need it most."
He points to one case, which began in January 2018. The timing seemed like kismet. Makarem and his family attended the Women's March downtown for the second time and, a few days later, a woman contacted his firm. She'd met with other lawyers before; none had wanted to take her case. 
Due to how the case resolved, his client could not provide her name or any details. But she recalls a meeting with Makarem one Sunday morning in the pyramid of Las Vegas' Luxor Hotel. She says Makarem met her eyes and listened as she described her experience. When she was done, he said, "I have a plan for you. I know exactly what I am going to do."
"From the very first meeting, he really believed me," she says. "I don't think I've ever had anybody believe me just like that. And it made me weep. Just holding on to that for so long and now having that acknowledgment, it was so powerful." 
Now that it's resolved and over, she says she's able to heal. "I feel like it's behind me," she says.
Makarem is reminded of the phrase featured in the firm's branding. "It says 'empowering people,'" he says. "And I feel like with [her] and her family, that was our job and what we accomplished. It really empowered her to move forward in a strong way."
On Makarem's office wall hangs the iconic photograph of Muhammad Ali in the boxing ring, standing over the first-round wreckage of Sonny Liston. Alongside it is a quote from Theodore Roosevelt's famous "The Man in the Arena" speech, the end of which reads: "… who spends himself in a worthy cause; who at the best knows in the end the triumph of high achievement, and who at the worst, if he fails, at least fails while daring greatly, so that his place shall never be with those cold and timid souls who neither know victory nor defeat."
It's a motto he lives by, as his wife, Karla, and daughters, Sophia, 18, and Mila, 2, know well.
"I feel like we, in our profession, are those who are constantly daring greatly," he says. "We fail, but without failure we can never feel what it is to succeed. That's what it is to be a boxer, to be a lawyer, and that Teddy Roosevelt quote is one I've always appreciated and consistently share with my 18-year-old daughter, who I dare to be that person who doesn't fear failure and dares greatly."
"He's not ever in a rush or impatient," says Ibrahim. "He definitely has a very strong sense of what his priorities are and doesn't let anything disturb his state of mind or mission."
Makarem nods when this is brought up. "I actually like that about myself," he says. "It helps in the courtroom; it helps in the deposition room; it helps in all aspects of my profession." He looks out the 24th-floor window of his office. "It's about finding who you are and just being happy with your place. I'm happy with my place."
Search attorney feature articles