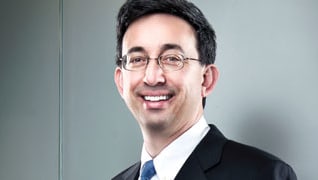 Photo by: Dustin Snipes
The Calming Force
Why Michael Tuchin calls bankruptcy 'the emergency medicine of law'
Published in 2012 Southern California Super Lawyers magazine
By Joe Mullich on January 23, 2012
From day one, bankruptcy attorney Michael Tuchin knew there were criminal overtones to the case.
It was 1993 and Tuchin was working on the out-of-court restructuring of the Los Angeles Kings. In a standard bankruptcy, creditors expect to receive the Chapter 11's financial statements, but it was clear to Tuchin that Kings' owner Bruce McNall had engaged in fraud, and his financial statements falsified, so Tuchin could hardly turn over this information to creditors. Tuchin's ability to negotiate with them was thus limited. He felt like he had one hand tied behind his back.
The full impact of the situation didn't hit him, however, until he was sitting in McNall's office and the calls started coming in. One of McNall's employees, then another, then more, phoned to tell him that FBI agents had served subpoenas for him.
"I was freaking out," McNall recalls, "but Michael was a very calming force. During a bankruptcy, rich guys like me do dumb things like hide our assets. I had tried to fix everything and just made it worse and worse. Lawyers by definition try to fix problems, but Michael gave me the best advice: 'Don't try to fix the problem: Own up to it, and protect your employees as best you can.' Right from the beginning, Michael was straight up. And he was 100 percent right."
Ultimately, in the criminal case, McNall admitted to bilking six banks out of $236 million, pleaded guilty to four counts of conspiracy and fraud, and spent just under five years in prison. Yet it would have been worse without Tuchin. "He was almost more of a friend than a lawyer," McNall says. "You might think he's a buttoned-up, nerdy academic, and he is that, but he also has a great sense and great instinct for the needs of people and what they should do."
McNall's words speak not only to the intense relationships that are forged during bankruptcy cases, but to the personal relationships Tuchin himself tends to forge.
Linda LoRe, former CEO of Frederick's of Hollywood, spent thousands of hours with Tuchin during her company's complicated, high-profile bankruptcy. "Mike was my third or fourth lawyer, and I was dubious to trust anyone," she says. "But we quickly became friends, and I would often call him to get his advice about things that weren't strictly related to the bankruptcy. I could call him at 2 or 3 in the morning, and he would always call back within a couple of hours."
One of Tuchin's former clients, Jim Johnson, CEO of the Lusk Company, even asked Tuchin to be—no joke—the maid of honor at his wedding, since his wife was close to multiple sisters and didn't know which one to pick. "I wore a pink cummerbund and tie that matched her dress," Tuchin says, "and my photo was in the Los Angeles Times on a story about untraditional weddings." The paper also reported that Tuchin held the bouquet during the couple's vows, straightened the bride's dress, and held her lipstick and eye drops in case she needed them.
When clients speak about Tuchin, now a partner with Klee, Tuchin, Bogdanoff & Stern, it's almost as if they're describing a doctor-patient relationship. That's apt for two reasons. One: Tuchin agrees with the analogy.
"I equate [bankruptcy] to the emergency room medicine of law," he says. "Companies come to us in some ill state of health, and more often than not it's very serious, and we have to figure out a triage plan. We have to staunch the bleeding and keep the company alive with sufficient cash flow, so we can figure out a long-term plan to restore it to good health."
The second reason is that before Tuchin thought of a career in law, he planned on becoming a doctor.
Tuchin says he "stumbled into law."
He grew up in south Beverly Hills, a few blocks from his current law office, and majored in psychology at Stanford University. One area of his research was in the overlap between psychology and the law—his honors thesis, published in the Journal of Experimental Psychology, explored how false memories could be implanted in witnesses. He wound up becoming more interested in the law than in psychology and enrolled at UC Berkeley Boalt Hall, where he got his J.D. in 1990.
He also stumbled into his specialty, bankruptcy, because of "pure, dumb luck," he says.
In 1988, between his first and second years of law school, Tuchin interned for eight weeks at what was then Buchalter Nemer Fields & Younger, where summer associates were required to spend a week in each of its 10 practice areas. At the start of the program, each participant was asked to rank the practice areas in order of preference. Tuchin put taxes last. He put bankruptcy second-to-last.
"I really liked litigation," he explains. "But when I was seated in the middle of the bankruptcy department, I loved it. The attorneys were constantly out of the office, on the phone, and doing things. They were active going to court. Litigation, in contrast, seemed very slow-paced, with a lot of time in the office and a lot of discovery, interrogatories, and other things that didn't seem exciting." Plus, while some junior partners in litigation never handle a major trial, the fast pace of bankruptcy, and large number of hearings, necessitate the hands-on involvement of even first-year associates.
That happened to Tuchin. In 1990, in his first case as an associate with Stutman Treister & Glatt, he ended up running the day-to-day Chapter 11 of Leisure Technology, one of the nation's largest developers of retirement communities.
"As a corporate lawyer, most CEOs and CFOs know more about corporate transactions than you do," Tuchin says. "However, CEOs are often at a loss when it comes to bankruptcy. So even as a first-year associate you have a level of expertise they lack."
In the Leisure Technology bankruptcy, Tuchin concedes he had to get over what he calls "the Doogie Howser effect" of clients not caring what a 26-year-old thought. He remembers an early meeting in which the client and lawyers debated payment for a piece of property.
"I took the most aggressive position, and everyone else in the room thought it was ridiculous to ask for that much money," Tuchin says. "But Mike Tenzer, Leisure Technology's CEO, was aggressive himself, and he liked the idea of a big ask. Everyone agreed I'd make the ask, because I think the others were embarrassed. But the lenders accepted, and I became his hero."
Scott Packman, general counsel for MGM, calls Tuchin's negotiation style polished. "He's focused on getting what he wants but he's respectful of the other side," Packman says. "He came up with creative solutions, often finding compromises and middle ground based on analyzing what everyone wanted."
Tuchin says his "middle-ground" approach is based partly on the fact that his practice is devoted half to debtors and half to creditors; many bankruptcy attorneys handle only one side.
"Doing both sides has made me a better lawyer," Tuchin says. "In my early years, I tended to take the debtor's view and had a hard time understanding why lenders would want certain things, like budgets. Now I can step in the other side's shoes."
It helps to be creative, too. Consider his representation of Frederick's of Hollywood, the iconic provider of racy fashion for women. At one point during its bankruptcy, the company needed to place orders with suppliers to have products to sell at Christmas, but the existing lender was unwilling to discuss an additional loan.
So Tuchin took what he describes as "a draconian step" that exists only in bankruptcy: priming the original lender, or securing a new loan from a new lender, which takes priority over the previous loans.
"To my knowledge, priming a loan had never happened in our district," he says. "Judges take this very seriously. … If things don't work out, the lender who got primed would not get its money back."
One reason priming is so rare is because the original lender usually makes the additional loan rather than take the subordinate position. In this case, the lender held firm. So "priming" was the only way Frederick's could get the money to survive.
But first Tuchin and LoRe had to make their case in court.
"We thought we had a good story," Tuchin says. "We were going to buy product and then sell it for more than we paid for it, which would leave the company in a better position." However, if the judge said no, the company would be forced to close its stores, fire employees, and its brand name would be sold off.
"There was standing room only in the courtroom," LoRe recalls. "We were attempting a Hail Mary pass, and a lot of bankruptcy lawyers showed up to see what happened."
The courtroom was also filled with Frederick's of Hollywood vendors, some of whom had flown in from across the country. As the judge began to make his ruling, LoRe grabbed Tuchin's hand, and the hand of her senior vice president of merchandising.
"When [the loan] was granted, I could see the three of us all let out a breath," she recalls.
For her, the most moving part of the procedure was the fact that 25 vendors gave the court letters saying they were prepared to extend credit if the company was allowed to take the new loan.
"The vendors are usually the enemy of the debtor," she says. "But Mike had a wonderful idea on the day we declared Chapter 11. He suggested I call every single vendor and keep a good relationship with them. And during the court case, we took the high road and explained why the loan was important for the vendors. Only a lawyer with integrity and a human side would allow a client to talk about the vendors."
The "human side" is very much part of Tuchin's style. Tuchin says he is friends with almost all his former debtor clients, given the intensity and closeness of the relationship they develop during the pressure-filled cases that can go on for months or even years.
"He always remembers my birthday and calls me," former Kings owner McNall says. "We get together for lunch or dinner. I find it remarkable that he remembers."
Tuchin's personal and professional lives keep getting intertwined in this way. When Tuchin moved into his new law office a few years ago, he turned to his very first client, Leisure Technology CEO Tenzer, who does photography on the side, to provide the artwork.
The Leisure case not only provided Tuchin with artwork but with a family. Leisure's corporate counsel, Marvin Shapiro, found out Tuchin went to Stanford and asked if he knew either of his daughters, both of whom attended the university. Tuchin vaguely remembered one of the daughters, Meryl, and Shapiro continually urged him to look her up. It took Tuchin a while to realize he was being set up.
Tuchin and Meryl, who is an ophthalmologist at UCLA, now have two children—Jordan, 12, and Jessica, 9.
"My son is on the baseball, basketball and football teams, and I think I may have missed only one game in the last three years because that's important to me," Tuchin says. "One of the benefits of being a partner in a small law firm is I can manage my time, so the question is where I squeeze my time."
It's a good question. He certainly doesn't squeeze it at his synagogue, where he is immediate past president, nor at The American Israel Public Affairs Committee, where he is a national board member. "A lot of my family died in the Holocaust," he says.
Long before World War II, his grandfather moved from Russia to Shanghai, where he established and ran a textile business, and where Tuchin's mother and uncle were born and grew up. "My grandfather used to joke that he, a Russian Jew, lived in the French quarter of Shanghai under Japanese occupation, worked in the English quarter of Shanghai with Chinese citizens, and spoke Yiddish," Tuchin says.
When a Japanese general was quartered with the family during World War II, Tuchin's grandparents, he says, "tried in vain to get the rest of their families out of Europe but to no avail. … Most of them were killed in the Holocaust. Moreover, during the Communist revolution, when my mother's family tried to get out of China, they had a hard time finding a place to go. They ultimately received a short-term visa to come to the United States but couldn't get a visa to stay; so they resettled in Canada.
"I grew up hearing stories of these experiences, which lead to my deep sense that there should be a Jewish homeland where Jews around the world can go if they want to and need to."
He also lobbies on behalf the U.S.-Israel relations. No surprise, he does it across the political spectrum and with an eye toward consensus. "I'm very bipartisan," he says. "I've had the chance to travel with Congresspeople to Israel, where we meet with Israelis and Palestinians on both the left and the right. They always come away looking at the situation in a different way."
Search attorney feature articles