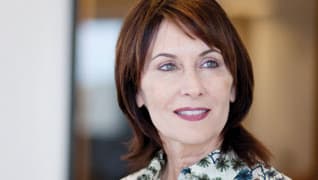 Photo by: Gregory Cowley
The Compassionate Approach to Divorce
Mindy Ross says the human issues are the same, even if the client is named Sean Penn
Published in 2012 Northern California Super Lawyers magazine
By Rose Nisker on July 6, 2012
In 1985, Mindy Lauren Ross faced a rookie attorney's nightmare. It was the fourth week of a contentious, high-stakes divorce trial, and the 29-year-old attorney's mentor, whom she was assisting on the case, didn't show up at court one morning.
"I had never even taken a deposition before, and suddenly I was about to cross-examine a forensic accountant regarding a bifurcated issue in the valuation of a client's business," Ross says.
The news turned out to be worse than she imagined. Her law partner, Walter Winter, had passed away suddenly. The judge gave Ross one day to decide whether she would take over in his place or opt for a mistrial.
"I was dealing with grief and shock, and I didn't have time to think about what to do," Ross says. There was no time to dwell on the fact that her opponent, Suzie Thorn, was one of the most formidable family law attorneys in California; or to worry about the commanding presence of Judge Isabella Horton Grant presiding over the case. The young attorney just forged ahead, and brought in a favorable decision for her client.
"It was just about getting the trial done," she says. "We all had jobs to do, and it wasn't about me."
Ross' straightforward, no-nonsense approach has served her—and her clients—well over the course of her 30-year career in family law at Winter & Ross. Those clients have included actor Sean Penn, Lars Ulrich of Metallica, and a number of heavy-hitting Silicon Valley venture capitalists. More than once, she has received referrals from people who watched her work from the opposing side, then sent friends seeking divorce attorneys her way.
"There are a lot of good lawyers out there, but many focus just on the issues," says family law specialist John McCall, now a private judge. "Mindy holds a much broader reach in mind that encompasses the well-being of all the people involved. She has an immense capacity for compassion that extends to all parties in the room."
Or, as Ross puts it: "I only fire up my broom when I have to."
It was Ross' grandmother who initially suggested the legal profession to her granddaughter, who was all of 11 at the time.
"Basically, she saw I had a mouth on me and figured I might as well put it to good use," the attorney says, laughing. Her grandmother, she adds, "was one of those elderly ladies who would sit at the back of the courtroom and watch the proceedings as a hobby."
Ross was committed to pursuing law from the moment her grandmother suggested it. She graduated from Pitzer College in 1978, went on to obtain her J.D. from the University of Santa Clara, then headed to San Francisco.
"Those 400 miles were a comfortable distance from my family to spread my wings," she explains, "but still close enough to get home."
Once in San Francisco, she says, a friend dragged Ross to a legal mixer ("I hated those things") where she met her future boss, the notoriously quirky Walter Winter. He ran a busy, high-end family law practice.
Winter exclusively hired female associates, but they didn't tend to stay. The year before Ross was hired, 16 other associates had come and gone. "He was a demanding kind of guy with extraordinarily high expectations," she says. Ross, a bit of a renegade herself, was undeterred by his approach, and the two clicked. "He didn't give me much guff because he knew I was a tough cookie."
She was also unfazed, for the most part, by the gender dynamics present in the legal profession at the time. Even in law school, where a scant 10 percent of her graduating class was female, Ross says she never felt out of place. "I was a girl who liked fast cars, knew about football, and could speak intelligently about baseball with just about anyone, so I had enough in common with guys to talk about superficial things that gave us some kind of connection."
Within two years after Ross started working for Winter, he made the young attorney a partner. "He taught me the right way to do things," Ross says. "He was a stickler for detail, intolerant of cutting corners, meticulous in his selection of words, and he was harsh only in the sense of wanting to impress on young attorneys the enormous sense of responsibility that comes with doing this work."
After Winter's sudden passing, Ross was left holding the entire practice, including a full case load and a daily stream of prospective clients. Her legal secretary, Janice Mansfield, who has now been with her for nearly three decades, fielded calls to inform clients of Winter's death. Ross says it was all a bit of a blur. "But people were kind to me, and other attorneys realized that it was every associate's nightmare to be propelled into that position," Ross says. "Over a period of time, the situation took on its own momentum, and there I was. And here I am."
Sitting in her office with an expansive view of the Bay, Ross says her job is as fascinating as ever.
"The notion of family law has changed so dramatically and quickly," she says. "I get to work on situations where there are no clear roadmaps: fights over frozen eggs; different psychological [non-biological] parents in the mix, as opposed to just biological and adoptive parents." She cites a controversial case involving a lesbian partnership in which one of the women was impregnated with sperm from her partner's brother. The couple had a child, but when they later parted ways, the biological mother wanted the remaining fertilized eggs to remain stored and available for her to use if she so desired. Ross' client, the other partner, wanted the embryos destroyed. Ultimately, an agreement was reached in which the eggs would be stored at the biological mother's expense and could not be used without a further hearing and court order.
"We're ten steps ahead of what the law books provide with respect to property," she notes with excitement. That means equitably divvying up sources such as interests in private-equity funds. "You're in this wonderful position to be incredibly creative, because none of these ideas of property fit into past templates, and the judges are relying on the picture you paint, because they have no real references for these developments, either."  
In addition to her law firm role, Ross serves as a commissioner pro tem for the San Francisco Superior Courts and as a settlement judge pro tem for San Francisco and Marin County superior courts.
She may be best known for representing Sean Penn in his divorce from Robin Wright Penn. The story of the couple's series of splits created a media blitz. Penn filed for legal separation in 2009, an action that was ultimately dismissed; then Wright Penn took her turn and filed for divorce in a case that was finalized in 2010. Ross won't divulge details except to say, "It's an incredible rush to have such an accomplished and talented individual ask you for your guidance."
Whether her client is a celebrity or not, the issues raised during a divorce are the same. "We really are all just human beings with a lot of feelings and fears," Ross says. "The way we care about our children, the way the stress of divorce interferes with other aspects of our lives: That's all universal."
There is one difference between representing stars and regular clients, Ross says: "When you aren't representing someone like Sean Penn, you don't get several inquiries a day from TMZ, Access Hollywood and Extra." While Ross never speaks about her own clients, she has been tapped by Access Hollywood several times to explain the intricacies of various celebrity divorce and custody proceedings, including the complexities of custody in the case of Michael Jackson's children.
Away from work, Ross still likes fast cars and baseball. She's an avid poetry reader, goes to the annual Burning Man festival, and is preparing for the opening of an exhibit of her photography from global travels. She's been to Antarctica, Myanmar, Bhutan, Laos and Cambodia, has participated in ceremonies with Amazonian shamans at Lake Titicaca in Peru, and sat with a witch doctor in Zululand, South Africa.
But her favorite adventure is in the courtroom. "I feel my work is an incredible perch," she says, "from which to view the world, humanity and our interconnectedness."
Search attorney feature articles