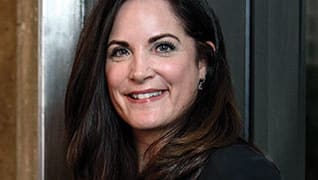 Photo by: Dustin Snipes
The Dignity Deposit
The personal harassment cases that made an employment attorney out of Genie Harrison
Published in 2016 Southern California Super Lawyers magazine
By Tim Appelo on January 20, 2016
For Genie Harrison, 47, a plaintiff's employment litigator in Los Angeles, the pain her clients go through is personal because she's felt it herself.
Shortly after she graduated high school at the age of 15, a mentor invited her into his office and said, "Come over here and sit in my lap." He was an eminent septuagenarian on the board of Radford High School in El Paso, Texas. "Since I was starting college so young, mother entrusted me to his care," she recalls. "There was an incredible power divide, and I feel, 'Oh my gosh, what's going to happen if I say no? Am I going to get kicked out of school? Is he going to call my mom and say bad things about me?'"
It wasn't an isolated incident. "In [Santa Clara] law school at the State Bar Court," she remembers, "another intern pushed me against a wall and was like, 'When are we going to f—?'" At Oxford, says Harrison, a professor "was very careful to sit right next to me on his couch and talk about the kind of sounds that women make when they're having sex. It made me want to vomit to have to go meet with him."
After the former incident, Harrison lodged a complaint and the student was released from the program. After the latter incident, she did some investigating. "I found out that there were prior incidents where other students had been subjected to sexual harassment by him. I said, 'Well, it's time that this stopped.'" Her complaint got the professor released from the law school's summer program.
"That's where things shifted into action for me," she says.
She took a law school course on sexual harassment and employment discrimination, and a light went on. "I learned that what these people had done to me, especially in the employment setting, those things were illegal," she says. "And when we go through these incidents where we feel exploited and betrayed and taken advantage of and physically battered, we have pain. We have anger. We have feelings of helplessness and hopelessness. When I learned that I could represent people to whom these things had happened, and I could go after people who were doing this to others, I thought, 'This has got to be the greatest job ever.'"
Since 1992, Harrison has won more than $66 million in judgments for her clients in employment and civil rights cases. She's represented people sacked by employers after maternity leave or breast cancer or too many birthdays. She won a jury award of $6.2 million in a discrimination case for lesbian firefighter Brenda Lee, and, with co-counsel Lisa Maki, a civil rights lawsuit against Real Housewives of Beverly Hills star Lisa Vanderpump. In the infamous case of Tennie Pierce, an African-American firefighter whose coworkers put dog food in his spaghetti dinner, she settled with the city for an estimated $1.5 million. In a lesser-known case, involving an African-American firefighter on an Air Force base who felt he didn't get the proper training, the case settled for $35,000 but included an apology. "He was thrilled to be done with it," says Harrison, "and thrilled to know that he had a specific person [at his job] who looked him in the eye and said, 'I'm sorry. It shouldn't have happened.'"
Harrison calls this the "Dignity Deposit." It's "a transfer of dignity," she says, "from the jury to the plaintiff when he or she wins. It's palpable. It means, 'You matter. No one should have treated you this way. We won't stand for it and we're standing up for you.' And it makes all the difference."
She adds, "Being respected in the workplace is truly an essential component of our dignity as individuals. Our self-worth is completely tied to that. It's the American way: Work hard, work harder, keep working extra hard, exponentially harder for the system, and you will be rewarded. Then when you can't get ahead because you're a woman, when you can't get ahead and you're being terminated … because of your age, these things are not fair. And it ruins lives."
Harrison is the new secretary of the Consumer Attorneys Association of Los Angeles, the nation's largest local association of plaintiffs' attorneys. "That means she'll be CAALA president in 2021," says past president Geoffrey Wells, who notes that Harrison isn't just a Texas tornado but a sensitive, skilled diplomat. "Sometimes it's harder to herd the kittens than attack the vultures," says Wells. "She has the ability to build consensus."
"She's thoughtful, thorough, tenacious," says attorney David Weiss, who has opposed Harrison in court. "She can pack a legal punch. I watched her manage a very difficult and emotion-ridden case in a calm, insightful manner."
Adds Maki, who shares office space with Harrison's eponymous firm overlooking LA's Pershing Square, "Genie is so bright, honest, sharp as a tack and quick on the draw." The office space resembles a hip art gallery. Instead of being surrounded by Harrison's many awards and plaques, which are in storage, visitors get to look at dozens of works of art, including a "Scales of Justice" sculpture with a pink rock that tips the scales.
"It's a feminist statement," says Harrison.
"Don't mess with Texas, baby!" says Maki.
Harrison grew up in Nacogdoches, Texas, population 25,000, near the Louisiana border, and mostly remembers wanting to get out. As a girl, she stood in fields thinking, "I'm going to go somewhere, and I'm going to make something out of myself."
Her father, an anesthesiologist, takes credit for her career, she says. From birth, he whispered in her ear, "Attorney, attorney, attorney," because ultimately he wanted her to practice med-mal defense law. As she grew up, he told her, "Anything a man can do, you can do just as well or better," and "Don't fall for anyone's B.S.," and "Only the masses are huddled at the bottom; the cream rises to the top." But he was hardly a traditional role model.
Sometimes he sent her to the backyard with a .22 to get dinner—squirrels mostly, but occasionally her family would serve armadillo or rattlesnakes. As a young child, she remembers being in her father's pickup truck when he had a disagreement with another vehicle. With the windows rolled down, they pulled up next to this vehicle, and she says he told her, "'Alright, darlin', lean back.' And he grabs the shotgun [from the gun rack] and puts it across me and out the window and starts looking at the people next to me in the car and says, 'You want to f— with me, motherf—er?'
"So I have a crazy, going-to-do-whatever-it-takes father. … He's had a very traditional life with regard to women and relationships with women, except he's an incredibly devout and committed feminist when it comes to me."
A more traditional role model for Harrison was her paternal grandfather, a surgeon at Baylor University Hospital in Dallas. In the scariest of times, she says, he changed people's lives for the better. "They adored him because he had this incredible capacity to be so connected as a human being, and he made people feel he was there to take care of them," she says.
Now Harrison brings that level of empathy to her own clients and beyond. "I try to put myself in the shoes of both the plaintiff—what he or she went through—and then also the mindset and the actions of the defendants. Why did they choose this? What could they have chosen to do differently that would have been positive? That would have respected the human being?"
In one case, a woman from East India, who was in the U.S. on a work visa, was raped by her boss. Harrison, who co-counseled, had her re-enact the attack in a conference room in front of the mediator. "You go into present tense," she says. "It's setting a scene so that we feel like we're there in the moment. Because we need to see it happen. Then we'll be able to judge for ourselves whether we believe that it happened.
"I had her show me exactly what the rapist did in terms of following her to the bus stop. Sitting next to her, sitting closely. How does that make you feel? Why not try to move away from him? Him insisting that she come to his house instead of letting her go home, then locking her in his house and taking her purse away and putting it in his bedroom. Because, of course, if you take a woman's purse away, that has her passport and everything in it, she doesn't feel she can leave. … In those moments you see that he's giving her no choice, and it's premeditated. There is no way that anybody on a jury is ever going to conclude that this is anything other than rape."
The client wound up on the floor sobbing, and the case settled, says Harrison, "once it became clear to the defense attorneys that this really happened."
Harrison sometimes has to overcome her clients' own instincts. About five years ago, she represented a 16-year-old fast-food worker who was sexually harassed and battered by her boss, but initially the girl left out a key element: She had been drinking beer on the job. You get what she was thinking: She feared she would get in trouble; she feared others, including Harrison, would lose respect for her, and that her credibility would be damaged. But it was the opposite. "When you re-enact the story," Harrison says, "you see what happened. The 45-year-old boss is going to get the beer and giving it to the 16-year-old. And after she's had a couple or three beers, you know, then he approaches her physically."
Harrison adds, "I do my best to thoroughly work the case so that when I go in front of a jury, or mediator, or opposing counsel, I am just radiating that I have absolutely 100 percent belief in my case. Because I do. And that is compelling. That is persuasive. That is the amazing human component and what makes all the difference in our society."
Of course, some defendants don't get it. In an early case, a man being sued for sexually harassing his assistant actually hit on Harrison. "We're sitting around the conference table signing documents and this guy, bleach-blond hair, serial sexual harasser, looks at me and he goes, 'How do you do it? How is it that you look just as beautiful now at 4 in the morning on Saturday as you did at 9 in the morning yesterday?' I was saying to myself, 'You just wrote a check for something—you might want to think about what you're saying!'"
Texas, Harrison likes to say, is a great place to be from but not in. She knows it's an advantage to have that Texas toughness. She still remembers the early hunting lessons with her dad. "We filled the freezer with meat and made clothes out of deerskin," she says. "Somebody asked me, 'Do you still hunt?' I consider myself a hunter. I'm a hunter of bad people. I hunt them down using trial and court process. I hold them accountable."
But she also carries the empathetic lessons she learned from her grandfather. One client, 11 years old, had been molested by her piano teacher. "And I told her," Harrison says, "'I'm going to give you something that is very powerful. What I'm going to give you is a voice, and the ability to listen to your gut. When it feels wrong, when it feels like you're being taken advantage of, you have the absolute right to get the hell out of there, to yell and to scream and to punch. I don't care if it's a cop, a professor, your uncle. You're right, and you get to stop him.'
"'And you can call your own personal lawyer, Genie Harrison in Los Angeles, if you don't want to tell your mom, and I will be there for you. Because you have the gift of your own power and your own strength now. Nobody can ever do this to you.'"
Search attorney feature articles