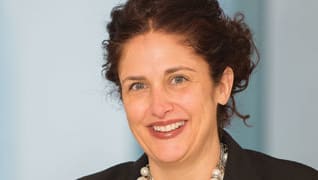 Photo by: Frank Rogozienski
The Ethicist and the Economist
Heather L. Rosing, professional liability lawyer and CFO, is both
Published in 2014 Southern California Super Lawyers magazine
By Nancy Rommelmann on January 17, 2014
She works, as she has worked for 17 years, in an office two blocks from San Diego Bay. Her desk is a jumble of water bottles, papers and the computer from which she answers emails instantaneously. On the wall are framed awards citing her career as a professional liability lawyer and her firm's chief financial officer. Her phones ring, a secretary buzzes. She also happens to be eight months pregnant with twin girls, and so tumescent one is tempted to assume baby-catching position. Some people might be rattled.
Yet Heather Rosing is beaming. Of her upcoming swearing in as treasurer of the California State Bar Association: "I'm very excited about it." Of her former presidency of the San Diego County Bar Association: "That was a lot of fun." Of the two hats she wears at Klinedinst: "[These roles] work well together for me—I'm very lucky!"
John Klinedinst, the firm's founder and CEO, knows some measure of luck is also his. "She is a great one," he says. "In addition to her professional success, she's found the time to manage the financial side of a statewide law firm, support the Bar and give back to the community at large."
Rosing estimates she's represented professionals in 500 to 600 malpractice, risk management, fraud and ethics-related matters. "My litigation practice, which consumes the vast majority of my time, is by far the most challenging aspect of what I do," she says.
"My clientele is very sophisticated, which I enjoy."
A sophisticated clientele, while enviable, comes with its own set of complications. People who know the terrain often have opinions—sometimes very strong ones—about how discovery plans, potential for resolution, trial strategy and other factors should come into play. "Some want to fight, some want to settle," Rosing says. "Some defer completely to us; some want to maintain strict control. At the end of the day, it is the client's matter, not ours, and we have to actively listen and work toward the client's objectives."
The only thing Rosing might not be grateful for, this day, is the weather: 90 degrees and muggy; the hot September winds thrashing the palm trees outside. But no. "I absolutely fell in love with this town," she says, pushing a damp auburn curl off her forehead. "I've been here over 17 years now and continue to love it."
Rosing was raised in Waukegan, Ill. on Lake Michigan, where her father is a family law attorney. In grade school, Rosing thought of becoming a lawyer herself—although, at age 10, she had a different ambition.
"I professed a desire to become a doctor specializing in scoliosis," she says. "I have no idea where I even got that idea!"
By high school, she'd switched to acting, becoming deeply involved in local theater, starring in Arthur Kopit plays and voted "Most Theatrical" by her graduating class. At the University of Illinois, she majored in broadcast journalism, but a law career continued to intrigue her. Her mind was made up after a summer internship helping victims of misdemeanor cases prepare to testify at trial.
"It was such a positive and rewarding experience," she says. And if she did not for many years know which field she'd specialize in, she did, upon graduating from Northwestern University School of Law in 1996, know one thing.
"After 24 years in Illinois, I have to admit I was very cold," she says.
It was a summer internship, before her third year at law school, with the U.S. attorney's office that brought her to San Diego. Afterwards, she says, "I sought and secured a full-time job here."
"Here" is Klinedinst, at the time a firm of about 12 attorneys, an ideal environment to range and stretch. She pursued a fascination with ethics and risk management, an interest that's led to her serving as chairperson of the professional liability department. She expressed an interest in becoming involved in the firm's management, and some years later she was elected CFO. "A very atypical title for someone in a law firm," she notes.
While working full time as a litigator, she engaged with numerous environmental and charitable organizations, including Junior Rotary Club, where she met Scott Carr, a marketing and web design executive, whom she married in Bellagio, Italy on Lake Como 10 years ago.
She laughs when it's suggested her workload might have others slumped on the desk right about now.
"Actually, now that I'm pregnant, I do go home, plop myself on my bed and watch movies on my computer," she says.
Rosing's civic involvement—with the Lawyers Club of San Diego, the State Bar of California, the San Diego Volunteer Lawyer Program—brings to mind the axiom, "If you want something done, ask a busy person."
In 2008, for example, San Diego County Superior Court Judge Kevin A. Enright asked Rosing, then-president of the San Diego County Bar Association, to tackle a problem. Under the Servicemembers Civil Relief Act, active-duty service members are appointed attorneys to secure stays of action for them. Unfortunately, he and his court didn't have attorneys to appoint.
"These defendants needed representation," says Enright. "Protocol did dictate that I, as presiding judge at the time, ask Heather, as president, to take this on. But I also knew Heather as a lawyer, and find her to be outstanding. It was a happy combination and I knew that she could, and would, get it done in a way that would make us proud, and as quickly as possible."
Rosing wound up co-founding the Servicemembers Civil Relief Act Pro Bono Program, made up of dozens of volunteer attorneys. "What we do—for free—is represent active duty service members for purposes of obtaining a stay in civil lawsuits pending against them. We've had over 400 cases," she says.
"We're really lucky as lawyers," she adds. "Lawyers tend to have everything in place to achieve traditional success. And I think the profession has the obligation to give back to the community. We're just so well-positioned to do it that everybody should do it in some way, shape or form, and they should do it for the right reasons."
The right reasons speak to Rosing's interest in ethics, which led her to co-chair the San Diego County Bar Association's Legal Ethics Committee.
"Once you delve into it, there are so many mesmerizing issues," she says.
Rosing appreciates that ethics and risk management can, to the layperson, sound both obvious (acting ethically = minimizing risk) and fraught with as many holes as (unethical) people want to worm into. The professionals she represents, mainly attorneys, judges and accountants, can find ethics equally convoluted.
"Ethics are different from morality," she says. "Ethics rules for the three professions [I represent] tend to be pretty technical. And where lawyers end up making mistakes is not in compromising their morals, most of the time, but in understanding the technical applications of the rules."
Rosing teaches legal ethics classes on a pro bono basis in California and across the country. She says she keeps her classes, "very practical and solution-oriented."
"Sometimes we phrase things like, 'The Top 10 Things You Can Do to Ethically Comply or Avoid Legal Malpractice,'" she says. "A critical example of a little thing you can do is make sure you don't let clients get behind in their financial obligations to you. Because if the client ends up owing you $100,000, and you're trying to collect on it—that's the point when accusations are going to fly. Taking the time to understand the conflict-of-interest rules, when you need waivers—I could sit here and bore you for an hour and give you a hundred things!" She takes a breath. "But seriously, some are as simple as staying in close communication with the client; so many ethics-related complaints in California rise out of poor communication between attorney and client."
While the jobs of litigator and accountant are not usually found in the same office, Rosing asked to assist the firm's then-CFO in accounts receivable several years ago.
"I found it to be interesting and was ultimately elected as the CFO," she says. "The way I look at it is: we have an obligation to prudently run this business, not only for our clients but for the 130 people we employ."
And how did things go during the global financial meltdown? "We remained stable," she says. "We've been doing really well. It's a lot of fun."
Search attorney feature articles