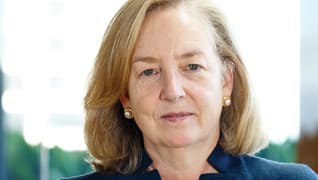 Photo by: Gregory Cowley
The First Filter
That's what Charles Schwab calls his general counsel Carrie Dwyer
Published in Business Edition Super Lawyers 2013 magazine
By Timothy Harper on November 12, 2013
During her last year of college at Santa Clara University, Carrie Dwyer was home for the weekend, preparing dinner with her mother, when the conversation turned to a familiar topic: What exactly was Carrie going to do?
It was 1973. Her parents had long suggested she would be a good administrative assistant—a secretary. (Dwyer hated clerical work.) Her folks said she could be a teacher. (Dwyer couldn't see herself working with young children.) For every suggestion, Dwyer had an ironclad argument.
Her mother finally turned to her: "You like to argue so much, why don't you go to law school?"
For once, Dwyer had no comeback.
She would go on to a remarkable career at government and stock exchange regulatory agencies, at a major law firm and, ultimately, arrive in the general counsel seat for Charles Schwab. The financial services behemoth, with nearly 14,000 employees and nearly $5 billion in annual net revenue, provides brokerage, banking and investment services to institutional clients and millions of individuals.
Dwyer, 62, grew up in a noisy Irish-American family that has lived in the Bay Area for four generations. Her father came out of the Marines in World War II, got a job writing the prices on the big blackboard at the Pacific Stock Exchange, and went on to become a broker and investment adviser. He eventually became mayor of their town of Saratoga.
The older sister to two towering brothers—she clocks in at 5 feet 7 inches; they're both 6-foot-5—Dwyer developed a range of strategies for controlling the rambunctious boys when her mother was not around. "I learned manipulation," Dwyer says. "I learned every trick in the book;" tools that she admits came in handy later.
Dwyer had a comfortable, outdoorsy upbringing. The family had horses, so she rode almost every day. At Saratoga High School, she played water polo, field hockey and tennis, and worked on the student newspaper and yearbook. At Santa Clara in the late '60s and early '70s, she adopted long blond hair in headbands, the requisite bell-bottoms and had a boyfriend who drove a Volkswagen van.
Working a series of retail jobs to help pay for college, Dwyer had vague notions of writing. She majored in English literature, but one small problem: "I didn't have anything to say."
Enter that life-changing gauntlet thrown by her mother.
At the time, Dwyer didn't understand what lawyers did. The handful of lawyers she knew were small-town civil litigators, and men. She had no role models, but she took the LSAT, did well and enrolled at Santa Clara University School of Law.
"It was really hard, and I had no idea whether I'd flunk out," she says. "The new vocabulary of the law was incredibly hard. It was like learning a foreign language."
She became fluent enough to land a job at the American Stock Exchange. "I wondered if the guy hired me because I was cute," Dwyer says, laughing. "I had no earthly qualifications for the job."
The most junior lawyer on a 15-attorney team, she handled whatever the general counsel threw at her, including basic regulatory work and dealings with exchange members. She created a scene every time she visited the trading floor: a slender, calm-voiced young woman explaining to aggressive, shouting traders when and how they were breaking the rules, and why they needed to change—ASAP. Some of the traders weren't so welcoming.
"Their vocabulary was spectacular," Dwyer remembers. "I knew most of the words they used, but I had never heard them used so frequently, or so creatively."
Dwyer rose through the ranks. By the time she departed the Exchange after 12 years, she was general counsel and senior vice president. "I had a 2-year-old, and I decided to take a few years off to be with her," Dwyer says. She and her husband added a son, and two years turned into five as the growing family moved from Manhattan to Brooklyn to the leafy Westchester suburbs.
"For a while, after you quit a job like that, you feel like you don't have an identity," she says. "But you can't really appreciate hard work and the need for flexibility until you've been home with two little kids."
Re-entry into the corporate world wasn't easy. "No one would give me a job," she says. "Many of the people who always told me how great I was wouldn't even take my phone calls." She finally landed a part-time assignment at Milbank, Tweed, Hadley & McCloy in New York. Soon after, Arthur Levitt, who had been her boss at AMEX, was appointed chairman of the U.S. Securities and Exchange Commission. He asked her to come to Washington as his chief counsel in 1993 to help move forward his ambitious agenda for the SEC.
"Arthur was really committed at the SEC to being an advocate for investors," Dwyer says. "It was something that resonated with me."
One of her biggest enforcement cases involved price fixing against NASDAQ and the National Association of Securities Dealers; several big-capital markets firms, including Charles Schwab & Co., were implicated for going along with the price fixing. The rest of those firms denied wrongdoing, or assured Dwyer that their conduct was standard for the industry. "Chuck Schwab kept coming in and talking to us," Dwyer says. "Schwab was advocating for reform." She was impressed with Schwab, and Schwab was impressed with her. When the case ended, Dwyer was invited out to the firm's San Francisco headquarters to talk about a job. In those pre-Web days, ordinary investors had little access to information. They read the latest prices in the newspaper and called their brokers. Brokerage houses and exchanges in effect sold access to customers. In contrast, Schwab offered its most active customers stock-price machines for their homes, so they would have the same up-to-the-minute information as Schwab's brokers and traders. "What a radical, investor-friendly thing to do," Dwyer thought at the time.
Schwab's history of a customer-first culture, along with a long-simmering desire to move back to the Bay Area, led Dwyer to leave the SEC after three and a half years. "And Schwab paid better than the government did," she adds.
In late 1996, Schwab created a top-tier position for her, combining all the firm's legal oversight into one role. Technically, her title was executive vice president for corporate oversight, but she soon took on the general counsel title, too.
If the classic financial-services lawyer tends to deny wrongdoing, avoid responsibility and resist consumer-protection regulations—all the while brimming with an overabundance of confidence—Dwyer breaks the mold. She even admits to bouts of misgivings and doubt.
"It's always really scary to take on something big that you've never done before," Dwyer says. "I kept telling myself, 'I think I can do this,' but you never really know."
Initially, she managed about 75 people. Now it's almost 500. She's in charge of all the firm's legal functions and the far-ranging compliance and regulatory oversight required of the firm. One group of her lawyers is in charge of contracts, employment, litigation, arbitration, mergers and acquisitions and other corporate transactions. Another group covers the core investment business, including retail, advisory, banking and retirement-planning services. She's also in charge of Schwab's lobbying effort, and oversees internal information security and internal audits, along with compliance units that ferret out fraud and money laundering, and a unit that monitors dealings with the Federal Reserve.
"It's a pretty tough job if you're doing it right," she says. "You have to think strategically all the time, about how day-to-day transactions can affect the long-term business of the company."
Dwyer talks to her seven direct reports daily and says they all have a good sense of when she needs to be involved. She says that while she delegates a great deal, her management style can still be characterized as "extremely involved," including in her dealings with outside counsel. "At any given time, we're using lawyers from a couple hundred law firms," she says. "But we do a tremendous amount of work in-house, and a lot of our litigation is handled directly."
"Carrie Dwyer is the GC that every CEO and outside counsel dreams of," says one of her outside counsel, Faith Gay, co-chair of the national trial practice group at Los Angeles-based Quinn Emanuel Urquhart & Sullivan. "She is perfectly attuned to Schwab's needs while being open to new approaches to thorny issues. She is unafraid of risk without being reckless. She goes deep on every issue without being inefficient. Above all, she knows how to make a decision without dithering. What more could a well-run business ask for?"
"Carrie's mastery of corporate and securities law is extraordinarily impressive, as is her deft handling of interpersonal relationships," says Stephen J. Senderowitz, partner at the Chicago-based firm Winston & Strawn, who has worked as an outside litigator on several major Schwab cases. "She creates a culture of encouragement among her staff and outside counsel."
One of the worst experiences of her career came during the fallout from the housing market crash, when a Schwab short-term bond fund did poorly and the firm was hit by an SEC case. State regulators and several class action lawsuits claimed that investors were not warned about risks in the fund's mortgage-backed securities. "I lost a lot of sleep over it," Dwyer says. "Occasionally during that [time], I wondered if I was the right person for this job. I'm sure other people wondered that, too." Ultimately, she helped guide Schwab to $350 million in settlements and a raft of new internal safeguards. "I'd be very uncomfortable working in a firm that was just about maximizing profits and didn't care about the business it was in," Dwyer says. "I really like working for a place that wants to do the right thing."
Neal E. Sullivan, now a partner at Sidley Austin in Washington, D.C., offers a telling example of Dwyer's M.O. when he worked with her for several years in a case involving the 50 state securities regulators in the North American Securities Administrators Association. A handful of small financial advisers had mismanaged clients' funds. They made recommendations to their clients for trades that were affected through Schwab—which acted solely as a custodian. Sullivan, then at Boston-based Bingham McCutchen, was hired to help represent Schwab.
"[That case] was a mess," he says. "But Carrie said, 'Let's make something good out of this.' The first thing she did was say that Schwab would step up and make restitution to the clients—even though Schwab had no legal responsibility for the losses or the wrongdoing. She just thought it was the right thing to do. Then she worked with regulators to enhance the oversight of money movements. It led to better compliance, and to more protection for investors. It was a real smart, practical, common-sense solution. There are not a lot of people in this business who would have done that."
Away from work, Dwyer spends a lot of time with her 26-year-old daughter and 21-year-old son. During the week she stays in a small place in San Francisco, but she retreats on weekends to her Napa Valley home, where she keeps two dressage horses and an ambitious garden. "No grapes," she says. "Just horses."
Pressed to reminisce, she tells stories about the time senior executives at AMEX fled to the men's room to escape her. Or the times when she couldn't enter certain clubs through the front door because she was a woman.
"I don't know if I'd call myself a feminist, but for every time something bad happened because I was a woman, there was someone saying, 'Don't worry,'" she says. "It might sound like it was intimidating to be the only woman in a sea of men at every meeting, but I didn't mind. I like men."
That includes Charles Schwab, who founded the firm more than 40 years ago. The feeling is mutual.
"Carrie has always been the first person I would go to with my crazy ideas about new services for investors," Schwab says. "She could tell me in a second whether I should pursue it as a business idea or if it wouldn't meet the regulatory tests. She's always been my first filter for anything of business importance."
Dwyer sees her parents, the former mayor/financial adviser and the former housewife/amateur career counselor, often. She occasionally raps with her dad about yield curves and with her mom about that eureka moment at the kitchen table.
"We've laughed about it," Dwyer says. "She was a stay-at-home mom, but she was incredibly intelligent, and so well read. She probably would have been a great businesswoman."
Search attorney feature articles
Helpful links
Other featured articles
Mark Prothero knows it's a label that will stick
The signs that guided Jennifer Salvatore to open her own employment and civil rights firm
Cincinnati litigator Carolyn Taggart takes the sting out of facts that might trip up a jury
View more articles featuring lawyers
Find top lawyers with confidence
The Super Lawyers patented selection process is peer influenced and research driven, selecting the top 5% of attorneys to the Super Lawyers lists each year. We know lawyers and make it easy to connect with them.
Find a lawyer near you