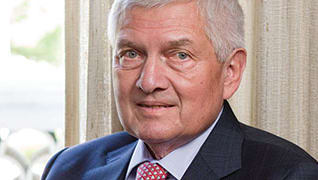 Photo by: Gregory Cowley
The Lawyer Judges Wish They Could Clone
Rick Watters keeps his focus on the client—and his ego in check
Published in 2016 Northern California Super Lawyers magazine
By Joe Mullich on July 8, 2016
A $5 million settlement offer was on the table. Some attorneys would have scooped it up, but Rick Watters, president of Miles, Sears & Eanni in Fresno, let it sit. 
His client had suffered severe back and pelvis injuries after his van was rear-ended by a Southern California Edison truck during a snowstorm, and Watters was irritated that Edison had "offered nothing" until the jury was out in the 2011 trial. "I was bothered a gigantic corporation like this can push people around," he says. "They made us go through a complete jury trial before they made an offer in the ballpark." 
Plus, his thorough risk-benefit analysis determined more could be had, since Edison had admitted fault and had unlimited insurance. So he took it to the jury, which came back with $5.8 million. Watters quickly adds, "I could have been wrong. It's very unpredictable work."
That's his style—"aggressive but grounded," says attorney Robert M. Dowd, with Griswold, LaSalle, Cobb, Dowd & Gin, who has handled cases with and against Watters. 
"Everyone has an ego, but he keeps his in check," Dowd says. "When you say the firm Miles, Sears & Eanni, everyone thinks Rick Watters—but his ego doesn't require him to have his name on the door."
Despite being at one law firm his entire 40-plus-year career—and now being the president and majority owner of that firm—Watters has never felt a need to put his name on the masthead. Instead, he's simply brought 93 civil jury trials to verdict, with 72 awards or settlements exceeding $1 million. Ten were over $10 million. 
Fresno County Superior Court Judge Mark W. Snauffer has adjudicated a half-dozen Watters cases and, as a defense lawyer, faced off against him in one that went to the California Supreme Court—the only case Snauffer lost before that court in his career. He has also been judge in a half-dozen of Watters' cases. Snauffer calls him "the gold standard for plaintiff lawyers in the San Joaquin Valley—in terms of competence, legal experience and demeanor. He's a really old-school lawyer, who exudes quiet confidence and doesn't seek publicity." 
Watters has also tried cases before Judge Lawrence J. O'Neill in Fresno Superior Court and U.S. District Court, and against him before O'Neill was a judge. "He is the quintessential superlative litigator in every way," says O'Neill. "He respects the law, the court, his clients, the jury and his opponents. Judges everywhere wish they could clone him. Opponents are glad they can't."
With piercing eyes and immaculate suits, Watters looks the part of a trial lawyer. But he started off with his sights on tax law. After earning his bachelor's degree from Fresno State in 1969 and his MBA from the same school a year later, he spent two summers as an insurance adjuster at Farmers, then received his J.D. from the University of Santa Clara in 1973. 
He clerked at a San Jose firm that handled insurance defense. "But they didn't offer me a job," he says. "I tried to interview with all the big firms in San Francisco, but none of them wanted me. The biggest firm in Fresno didn't hire me; this one did, thank God. Doing jury trials for personal injury cases is my best use."
At Miles, Sears, he handled hundreds of smaller personal injury cases, and then the large, catastrophic ones began to come in. In 1979, he represented two women who were badly burned while trapped in a camper owned by a large farming conglomerate. 
In this case, too, Watters says the conglomerate "offered me nothing" and claimed to have no insurance, since it considered the camper a separate structure that would not be covered by its Fireman's Fund policy.
Watters won a $769,000 judgment. "It was a big amount back then, even by LA standards," he recalls. A lawyer friend told him it was a paper verdict that he'd never collect, given the lack of insurance. Watters thought differently and kept pushing through the appeal, eventually getting an $800,000 check from the insurer after arguing its policy should cover the camper. He photocopied the check and sent it to his lawyer friend.
"When he believes a client has been wronged, he'll do whatever he can ethically to address it," Dowd says. "He's extremely hardworking and doesn't take any short cuts."
Watters concedes that his cases "require a lot of work." Take the 2008 case of Brian Hall of Fresno, who was badly burned in an industrial accident at AES Mendota, a plant that burned agricultural waste to produce electric power.
The plant's biomass boiler had been shut down for two days because it was clogged with molten slag. A subcontractor, North American Industrial Services (NAIS), was hired to clear the blockage with dynamite. Because of a series of miscues, a huge fireball blew out of the boiler, engulfing Hall.
While Hall lay in the hospital in a coma, his wife came to see Watters, her young children in tow. "She looked totally fearful, like an Afghanistan War victim," he says. "I'll never forget that, and she won't, either."
Watters decided to depose the safety officer and blaster for NAIS. "It took three planes to get out there from Albany," he says. "Neither of the two defense trial attorneys went themselves [they sent subordinates]—that was an error."
The video deposition—which he later played in court—did not show the NAIS employees in a good light. The blaster had a black eye from his night job as a bartender. The safety officer was missing three fingers. 
"If the trial attorneys from the other side had shown up, I guarantee they would have made sure the one man didn't have a black eye and the other was wearing gloves," Watters notes.
The jury awarded $27.5 million, the largest award in the history of the Eastern District of California at the time. After the trial, one juror remarked on the black eye to Watters, reiterating the importance of little details in winning complex cases.
In rural and mountain counties, Watters says, he often has to overcome the mindset of jurors who make small salaries and blanch at awarding multimillion-dollar settlements. "You have people working at fast food who can't pay their rent," he says. "It's a different juror pool." 
As a result, jury selection is make-or-break for many of his cases. He lobbies judges to let him use juror questionnaires, arguing that they will save time in the questioning. That proved invaluable in 2013, when he handled an accident case involving a Hmong man.
"When we got the questionnaires back, half of the jury pool made denigrating comments about the Hmong population," he says. "Other minority groups were talking them down and making racial objections to the Hmong. I knew I wasn't going to get a fair settlement, so I settled during jury selection, which I normally never do."
Watters describes his courtroom style as well-prepared, economical and fair. Judge Snauffer says, "He's not flamboyant. He's straightforward, very factual, and not particularly emotional. He doesn't pull at the heartstrings of jurors, which appeals to jurors in a working-class area like Fresno." 
And that down-to-earth quality isn't an act. Watters takes pride in being with "his original law firm and original wife" (Diane, whom he married 46 years ago). They go on vacation every summer to Maui with their son, Christopher, who recently became a partner at the firm; daughter-in-law, Stacy, and three grandchildren. 
"He attends the same church today that he attended in the beginning of his career, even though he no longer lives anywhere near the old downtown church," Dowd notes. 
Watters keeps an even keel in victory and defeat. A few years ago, he handled a case in which a corner iron that held down boxes in a truck came loose on Highway 99 near Bakersfield and went through the windshield of a Honda behind it, embedding in the brain of a schoolteacher named Susan Reyes. She was left with severe brain damage, unable to function.
Typically, the defense disagreed. "I have never had a case where the defense didn't think the plaintiff was making a remarkable recovery," Watters says.
During the trial, the defense videotaped Reyes driving to a supermarket, showing that as proof she was functioning all right. Watters immediately said, "The defense is making my case for me. Her judgment is so bad—getting into the car, even though she has no license and is brain-injured—that shows she needs a custodian." 
The jury returned an $11.8 million verdict. Watters' son Christopher reported seeing the Travelers Insurance representative turn almost "chalk-white" as he called his company.
Even with this impressive win, Watters had a characteristically low-key celebration. He walked back to his office for a cold Heineken, then took his wife to dinner. 
"But I do the same thing when I get defeated," he adds. "When I lost the second trial I ever had, I lay on the couch for an hour and told myself, 'If you're going to be in this field, you have to be a fair loser and a fair sport.' So I always shake my opponent's hand." 
Search attorney feature articles