The Man Who Wrote the Bible
David Nimmer knows copyright law … and Winnie the Pooh
Published in 2005 Southern California Super Lawyers magazine on January 26, 2005
Updated on March 3, 2017
Between making a court appearance in a long-running lawsuit over royalties for Winnie the Pooh and filing a brief in a copyright case in federal court in New York, David Nimmer, of counsel in the Century City office of Irell & Manella, recently found a few minutes to work on the "family business."
It is a business that has made Nimmer a household name among copyright lawyers and the judges called to rule on these issues. For the definitive word on the state of the law in the field, they often turn first to the treatise called Nimmer on Copyright, first published in 1963 by David Nimmer's father, Melville B. Nimmer, and carried on since his death in 1985 by his son.
"It's the bible for every copyright lawyer," says Wendy Seltzer, a staff attorney at the Electronic Frontier Foundation in San Francisco, a group that is in the thick of the legal battles that are shaping copyright law in the digital era. It is the copyright treatise most frequently cited in court rulings.
Given its heft — the 10-volume set of looseleaf binders stretches across 3 feet of shelf space — and the rapidly evolving nature of copyright law, you might think it would take a small team of legal scholars to keep it up-to-date. But Nimmer single-handedly produces three updates a year working around the edges of his law practice, while also generating a prolific output of other scholarly writing on topics as varied as Napster and the Dead Sea Scrolls.
"It's very big," says Nimmer of the treatise. "But I can't imagine using anyone else's services because I don't want another darned fool working on it when I can do it myself. Ultimately, I'm responsible for reading deeply every case to understand all its implications. By the time I do that, I want to write it."
Nimmer didn't set out in his legal career intent on taking over the family business some day. After picking up his law degree in 1980 from Yale Law School, where he was editor of the Yale Law Journal, he spent a year clerking for a judge on the U.S. Court of Appeals for the Ninth Circuit. Then he joined the U.S. attorney's office in Los Angeles, where in his biggest case he succeeded in expelling a Nazi war criminal to Yugoslavia. He was working as a federal prosecutor when his father became ill in 1985. He took a leave of absence to help his father put out an update of the treatise. His father died later that year, and Nimmer only returned to the U.S. attorney's office for less than a year. He has been maintaining Nimmer on Copyright ever since.
Nimmer has been working on, among other things, a section for the next update on what happens when copyrights are owned or licensed by a company that goes bankrupt. In the meantime, he has been back in court recently on behalf of his client Clare Milne, the granddaughter of A.A. Milne, the creator of Winnie the Pooh, who is trying to assert her prerogative to terminate an assignment of American copyrights to the character, which her grandfather transferred to a literary agent for $1,000 plus royalties in the 1930s. And his latest law review article has just hit the streets, a 154-page riff on the incomprehensibility of copyright law generated by Congress in such statutes as the Digital Millennium Copyright Act and by judges seeking to apply that law in rulings such as the one that shut down Napster.
If he hadn't become a copyright lawyer, Nimmer says, he would have become a classicist, parsing the ancient texts that he studied as an undergraduate at Stanford, majoring in classical Hebrew and Greek. That interest still works its way into his law practice. He has published several scholarly articles, including one on the origins of copyright law in the Old Testament and another asserting that a "reconstruction" of the Dead Sea Scrolls is not the same thing as a subjective translation and therefore should not be covered by a copyright. That latter article is one that did not sway any of the judges who considered the issue. "The district court and the Supreme Court in Israel went the other way without a dissent," Nimmer says.
Other Featured Articles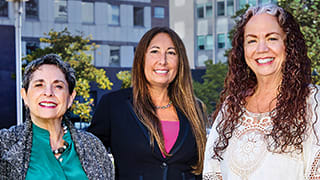 Innovation & Collaboration
Three Maryland family law attorneys reflect on 112 combined years of practice Featuring Linda J. Ravdin, Marni B. Schwartz, Darcy A. Shoop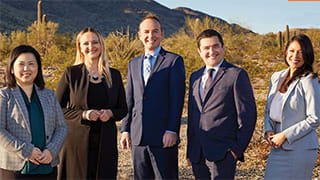 My Land, Your Land
Five attorneys tell their stories of immigrating to the U.S. Featuring , Oksana Holder, Olsi Vrapi, Li-Jen Shen, Michael Moldoveanu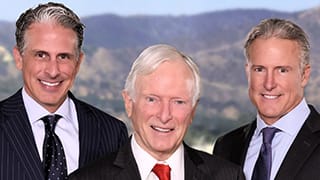 McNicholas & McNicholas & McNicholas
A father, two sons, and letting Rodman be Rodman Featuring Matthew S. McNicholas, Patrick McNicholas, John P. McNicholas