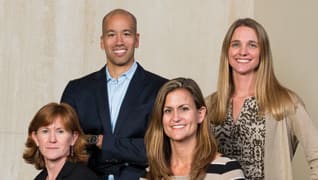 Photo by: Frank Rogozienski
The Ownership Society
What makes Andrews Lagasse Branch & Bell work?
Published in 2013 San Diego Super Lawyers magazine
By Joe Mullich on June 7, 2013
"A lot of people asked us if we took the fire as a sign."
That's Jennifer Branch, the only partner who managed to make it into the office on the day that Andrews Lagasse Branch & Bell—a female- and minority-owned firm specializing in employment law and professional liability—was scheduled to open its doors in Scripps Ranch. Unfortunately, that same day, Oct. 22, 2007, six wildfires swept through the southland. So instead of a celebratory opening, the four founding members watched the largest evacuation in San Diego history.
"We were on the phone with each other asking, 'Did anybody get insurance?'" Branch recalls.
The firm also launched at the height of the economic downturn. If that was another sign, it was a positive one. Boutique firms, with less overhead and lower cost structures, became more attractive to businesses as the Dow Jones industrial average plunged. And as companies began laying off workers, the need for employment lawyers increased.
"We have a recession-proof practice," says Margaret C. "Margi" Bell, the eldest partner. "When people were being laid off, there was an increase in employment lawsuits."
It was the worst of times, it was the best of times. It was also the perfect time for four lawyers who, for very different reasons, wanted to take greater control over how they practiced law.
By early 2007, Bell—who had been a shareholder at Littler Mendelson before joining Gordon & Rees—was pondering her career options after 16 years as a lawyer. "I knew I needed a change," she says.
Options included teaching at a law school or going in-house.
"At that moment," she says, "Traci came by and said, 'Let me plant a seed.'"
Traci Lagasse, who was also at Gordon & Rees, focuses on professional liability, toxic tort and general litigation. The others also regard her as the biggest risk-taker among the four partners.
"I can be impulsive," Lagasse says, "and I was impulsive in this moment. Margi was in Jen's office, and I went in and closed the door. They asked if I was pregnant. Because when you close the door in a law firm it means you're either pregnant or leaving."
She wasn't pregnant. She told the other two it was time to start exploring the idea of opening their own firm. Branch was then eight months pregnant and set to go on maternity leave. "She put her hands on her pregnant belly and looked at me like I was the craziest person in the world," Lagasse says.
Branch is the most cautious of the group. She's the one who pulls on the reins when Lagasse and Jonathan D. Andrews, the fourth partner—whose soft-spoken manner has an inherently calming effect even though he, too, is a risk-taker—are in go-go-go mode. During an interview, Branch ponders for a long time before answering even innocuous questions. Told not to worry about editing herself, she responds, "I have a hard time doing that."
In the end, of course, Branch agreed to launch the firm, largely because she says she would have been miserable practicing law without the others to bounce ideas off of. She also suggested bringing Andrews into the group, and Andrews says he was persuaded in part by the confidence of such a risk-adverse personality as Branch.
"I said, 'I'm in if everybody else is,'" Bell remembers. "I wanted it to be the four of us. Something about the four of us clicked. It was a leap of faith because we couldn't tell the clients until we gave notice and didn't know if they would come with us. Nearly every single one did."
The four partners agree they were driven by a desire to take charge of their practices and lives.
"Bureaucracy comes with any big firm," Lagasse says. "A nonequity partner in a firm is not in control of their own compensation, nor the compensation of the people working under you, who you care about. We wanted to regain control of some of those things."
Archstone, a Colorado-based real estate investment trust with about 55,000 properties nationwide, has used the Andrews Lagasse partners for many years. Steve Abeyta, director of risk management claims at Archstone, has relied on Lagasse in particular.
"Traci was good when she was with Gordon & Rees, but she always had to report to a partner so she wasn't able to call all the shots," Abeyta says. "She takes pride in being the owner of her own firm, and she knows what it takes to keep her clients happy. I've never had to chase them down for a status, and I've never been surprised on a case."
Abetya says he appreciates the trust he has built up with Andrews Lagasse Branch & Bell. "They're not chasing a dollar all the time but looking to build a long-lasting relationship," he says. "They'll tell me if they think they can settle a case for a minimal amount. Other firms will bring a case to trial at a cost of $85,000, and I'll realize it could have been settled at the start for $3,000."
Andrews says economics is a key competitive advantage for the firm—its nimbleness and lower infrastructure costs helped when times got tough.
"Some clients couldn't make regular payments, and we were able to be more flexible in how we carried people," he says. "Many clients and insurance carriers were under a lot of pressure in 2008 and 2009, and we were flexible enough to be able to work with them because we didn't carry so much cost. That strengthened and deepened our relationship."
"A key to our success is we are a smaller boutique firm, and a lot of companies are moving toward using boutiques because of the rates," Bell says. "They can get the same attorney quality and work product. Our technology is the same, if not better, than most big firms."
Everyone in the firm has Voice over Internet Protocol, direct fax lines, dual monitors, laptops and iPhones. The firm also provides remote access to help partners and other employees maintain the work-life balance that was part of the reason for starting the firm. "We can work from home or from our kid's wrestling meets," Bell says.
In separate interviews, all four partners describe their relationship similarly. The core values are the same; the personalities are different.
"I'm opinionated and decision-oriented," Lagasse says. "John is a softer personality but strong. Jen is extremely contemplative. She'll turn over issues multiple times before making decisions. John can make huge decisions on the fly."
When the partners talk about some of their most interesting cases, their diverse personalities are evident in the types of cases they embrace.
Bell, who served on the board for the San Diego Chapter of the Society for Human Resource Management, brings up the unpredictability of how people interact with one other in the workforce. She recently won a defense verdict for a company where an employee claimed he was discriminated against because people thought he was gay.
Branch talks about a nonprofit school that was sued on an employment issue. "In my opinion, it was a bogus claim, though some people might say I'm jaded because I'm a defense attorney," she says. "I represent a lot of nonprofits. They don't have big budgets, so if their livelihood is on the line—if they lost they might not have been able to stay in business." The case was thrown out on summary judgment.
Andrews mentions a contentious trade-secret case that his firm joined long into the negotiations, and on which it reached conciliation. "It's fantastic when the lawyers remove their egos about winning and losing so they can reach the best interests of both parties," he says. "Instead of a distributed bargaining approach, where you are dividing up pieces of a pie, I look for an integrated bargaining approach, where I can maximize my client's position without necessarily minimizing the other. That's hard in employment cases. But I try to allow the other side to save face if I can. I don't think in terms of beating the other side anymore."
Andrews tells a story about Lagasse's dealings with opposing counsel. "She was giving a deposition in the office and the opposing attorney was being a jerk," he says. "From outside the conference room, you could hear her yell, 'You're in my house now—don't act like that.' Traci doesn't fight to fight but to protect her people. Clients love that about her."
Abeyta of Archstone was in pre-litigation for a case in which a resident died in a fire, and he immediately called Lagasse. "She, and maybe only one other lawyer we work with, is who I would trust with a case like that," he says. "The adjustment handlers are very glad when we bring her in. They always say, 'Oh, yeah, have Traci take a look at it. That's a good idea.'"
Equality is a guiding principle at the firm, which doesn't have a managing partner. Attorney meetings are held once a month with input from everyone, including associates and staff members. "If somebody comes up with an idea, we can implement it," Branch says. "If we think of a change in January, we can make it in January. We don't have to wait until the end of the year."
Andrews notes that he was raised by a single mother and that working with female lawyers is common in employment law. Still, he had to adjust to being the only male partner in a group of four.
"Men and women communicate differently, and we joke about that," he says. "There are times I think a decision has been made, and then I realize it's only the initial part of the discussion. Then we have another discussion to talk about how you feel about the decision."
When the partners talk, separately or individually, they often bring up the concept of family. "Margi has four children, Jen three, and Traci two," Andrews says. "Sometimes firms marginalize women lawyers. I think folks missed the boat on the three of them in how dynamic they are as lawyers and marketers, and how they can balance their careers with their children."
Bell recalls when they were moving into their office. "We were in the conference room trying to figure it out," she says. "I stepped out and found my oldest son teaching [all of the other kids] karate. They were all being good, even the younger ones. It was neat to see them interacting like this when mom and dad were in the other room starting a business."
This sense of community is how the firm operates. It provides catered lunches and frequently sponsors events for employees, including happy hours, wine tastings, a day at the races, Padres games and "Beer Fridays." It brings in a masseuse for the employees once every quarter, and regularly hands out "spot bonuses" when workers go beyond the call of duty. No surprise the firm was selected one of San Diego's "Best Places to Work" in the 2011 small business category by the San Diego Business Journal.
Unlike most firms, the four founders at Andrews Lagasse go to many business pitches together. Their first pitch was to a large California institution that was bringing in firms to compete to become its panel counsel. Ten people sat across from the four partners, throwing out prepared questions.
"It was very solemn," Branch says. "Then at one point in the conversation, Traci busted out a funny story about a long trial, after which a juror confessed to being more focused on [Traci's] shoes than the evidence. That changed the entire tone of the interview. The whole room was more jovial and the interview more lighthearted." They landed the client.
Bell talks about the four of them going into a sales meeting, when someone passing by, who had worked with Andrews, stopped and made an impromptu speech about his integrity.
"Hearing that was impressive," Bell says. "It's the reason we started this. We respect each other as lawyers, but we support each other beyond law."
Search attorney feature articles