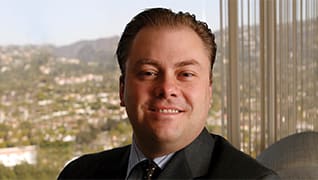 Photo by: Larry Marcus
The Professor of Defamation
When the Queen of Soul—yes, Aretha—felt she was libeled, she called Michael Niborski
Published in 2010 Southern California Rising Stars magazine
By Joe Mullich on June 9, 2010
SPECIAL NEWS BREAK!
"Aretha Franklin's friends fear she is drinking herself into the grave."
"Martha Stewart is a mentally ill, self-mutilator who threatened suicide."
"Courtney Love is on an obsessive and delusional Twitter campaign to destroy a fashion designer."
By the time you've seen it on TMZ or gossiped about it with office colleagues, Michael Niborski is likely to have already heard an earful about it from the celebrity in question. One of the top libel and defamation lawyers in the country, Niborski represented Franklin, Stewart and Love in cases springing from the aforementioned news reports, as well as Mimi Rogers, Frank and Kathie Lee Gifford, Johnnie L. Cochran and casino magnate Steve Wynn.
Niborski's low-key, thoughtful demeanor contrasts with the flamboyance of his cases. He espouses the philosophy of his first boss, libel attorney pioneer Barry Langberg, who was called "an intelligent, courteous whippet of a man" by The Atlantic. Niborski quotes Langberg as telling him: "Particularly as a plaintiff attorney, you don't want to present yourself as a wealthy, slick, high-priced person."
Niborski, who arrives sans jacket and tie for an interview, calls his own style "one part Columbo, one part L.A. Law—polished but confused." Niborski, a youthful 38, notes, "When you're youngish, you need to be very respectful and don't want to be seen as badgering the witness."
Niborski is a self-described news junkie with subscriptions to The New Yorker, The Atlantic, Newsweek, Rolling Stone, Motor Trend and The Wolverine, "the definitive magazine of my beloved University of Michigan football program." He was launched on his career by another kind of journalism, a book called The Senator Must Die. The tome contended that Robert F. Kennedy was assassinated not by Sirhan Sirhan but by a young Pakistani named Ali Ahmand as part of a plot by the Shah of Iran's secret police and the Mafia. According to the book, the real murder weapon was a gun hidden in a camera. "Even more so than any JFK assassination theory, this one was bunk," Niborski says.
The book received little attention until the Globe, a tabloid newspaper, misidentified Khalid Khawar, a freelance photojournalist for a Pakistani periodical, in a photo as the alleged assassin Ahmand. In 1996, the libel case made it to Justice Arnold Gold at the California 2nd Appellate District Court of Appeals. Gold's clerk Niborski co-wrote the landmark opinion, Khawar v. Globe International, Inc. The case was featured in a 60 Minutes report and later upheld by the California Supreme Court.
By then, Niborski was working at Stroock & Stroock & Lavan. In the firm's library, he bumped into Langberg, who had won headline-making libel cases for Carol Burnett against the National Inquirer, and for Wynn against a book author who called him a member of the Genovese crime family. Langberg "had heard through the grapevine I worked on the Khawar case," Niborski says. Quickly, Niborski found himself a key member of Langberg's team.
Niborski developed an expertise in California's Anti-SLAPP (Strategic Lawsuits Against Public Participation) and he later became noted for his knowledge of the statutes involving hidden camera and audio devices.
And then he was flying off to Las Vegas to work with gambling mogul Wynn in his several suits against Donald Trump. Niborski would wake up in his room in the Bellagio, walk down the hall past the slot machines, and into the suite of offices that were buried behind the walls. "My job was to learn everything about the case—the players, documents, recordings," Niborski says.
Niborski brings the same thoughtfulness to law that he did to his studies of government and theology at Georgetown University. "He was the guy the other attorneys would go to for anything about media law," says S.V. Stuart Johnson, a partner at Carico Johnson Toomey, who practiced with Niborski for 10 years at Stroock. "He is a meticulous attorney. If he gave you an answer or thought, you knew it was thoroughly developed."
That suited the style of Langberg's group. Langberg wouldn't flood opponents with discovery requests just to make their lives difficult, but he made it clear he was happy to go to trial rather than settle for nuisance value. "We weren't mudslingers," Niborski says. "We presented them with a more reasonable plaintiff's case than they were used to."
In the Loyola Law School classes he teaches, Niborski likes to analyze the Aretha Franklin case. "It's an example of how the media can be accused of printing a defamatory story, but you have to dig deeper and figure out if they were justified in relying on the sources that they did," he says.
The case was a doozy. It started when the supermarket tabloid Star declared she had missed several concerts because of her problems with alcohol. Franklin sued for $50 million. Early in the case, the publisher's Florida building was contaminated with anthrax and permanently closed, preventing either side from getting access to most of the reporters' notes and documents.
The case was moved to New Mexico because of statute of limitation reasons, making it difficult to meet with the celebrity witnesses and Franklin herself, who doesn't fly. On top of that, the case was further delayed when the defendant's local counsel died, and Niborski's local counsel was appointed to the New Mexico Supreme Court.
The truth was uncorked at the last minute when a private detective found the key witness, a newspaper stringer, in a run-down shack on the outskirts of Las Vegas, and subpoenaed him by posing as a FedEx delivery man. The case settled not long after that. Niborski's most lasting memory was the courthouse personnel who lined up during lunch breaks to get Franklin's autograph.
The dollar amounts thrown around in these types of cases are often mind-boggling. Franklin, for instance, sued for $50 million. In some ways, it's easier to represent celebrities in such cases, Niborski says, because even if an average person is terribly aggrieved by a libelous news report, "the jurors don't want to make you a millionaire so you can sail off to the Caribbean while they have to go back to their workaday jobs."
In a celebrity case, he continues, "we empower the jury to feel this person already has fame and wealth—what they don't have is the power to reclaim their reputation. We can make the case about punishing the defendant, rather than rewarding the plaintiff."
In his decade at Stroock, Niborski also helped win a complete defense verdict in a defamation case in Japan for a global organization of lay Buddhists. At Stroock, Niborski also met his future wife, Pam Kunath, who is now executive vice president and general manager of the Screen Gems division of Sony Pictures Entertainment. They were at Loyola Law School for two years at the same time but didn't know each other there.
"She and I share many of the same friends and professional colleagues who work in the film industry and in the entertainment law community," he says. "We understand each other's work, pressures, demands, and, most importantly, know how to work as a team to help each other's careers while still putting our family first."
They have two children, 3-year-old Joe and 5-year-old Abby. Abby shares her father's love of U2 and can recognize any song sung by Bono. "I think more than any writer, poet or other artist, their music best captures the themes, energy and spirit that I admire," Niborski says. "I am amazed that someone can write and sing about the smallest, most intimate moments in life and, at the same time, have an impact on literally millions of people worldwide through efforts in debt relief and disease prevention. Regardless of whether it was junior high school, high school, college, law school or the growth of a young family, his lyrics continue to stay relevant to the various phases of my life."
A year ago, Niborski moved to Pryor Cashman, both because it had a booming entertainment practice and because he was given no billable-hour requirement, allowing him to devote half his time to teaching at his alma mater, Loyola Law School.
One of his students, David Jonelis, now an attorney at Akin Gump Strauss Hauer & Feld, appreciates Niborski's practical teaching style. The class was divided into plaintiff and defendant teams, retrying actual cases all the way from drafting briefs to oral arguments.
"It gave us the skills to go out and practice in the real world," Jonelis says. He also remarks on his professor's passion, saying Niborski encouraged students to give him multiple drafts of papers and met with them around the clock according to their schedules.
Johnson, Niborski's former colleague, says Niborski always enjoyed mentoring young lawyers and believes the intellectual rigor of being half-professor and half-practicing-lawyer suits him. "Everyone talks about being outside the box, but he really does come up with novel ideas and is constantly analyzing new areas, which really lends itself to being a professor," Johnson says.
"The Professor" is still on the cutting edge. Right now, Niborski is defending Courtney Love in one of the first defamation cases arising out of a Twitter comment. In Los Angeles Superior Court, clothes designer Dawn Simorangkir, also known as Boudoir Queen, filed suit against Love for defamation, invasion of privacy and infliction of emotional distress for Love's "extensive rant" on Twitter about how she was billed for custom clothing. Love tweeted (the spelling is all hers): "oi vey don't f— with my wardrobe or you will end up in a circle of corched eaeth hunted til your dead."
"Some interesting legal issues will be spawned from the Internet and Twitter," Niborski says. "A news outlet, even a tabloid, is a professional operation and has a newsgathering infrastructure, but Twitter is someone's thoughts as they're thinking them so it creates real issues you haven't thought of before."
Search attorney feature articles