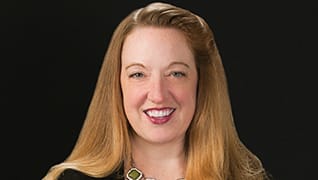 Photo by: Submission
The Science Teacher
How Heidi Keefe used a tin recipe box and a pink stuffed animal to explain tech to juries
Published in 2020 Northern California Super Lawyers magazine
By Joe Mullich on July 8, 2020
 In 2014, a fast-growing technology company called ServiceNow faced a lawsuit from Hewlitt-Packard, which claimed it had violated eight of HP's patents. HP wanted unspecified damages, plus royalties going forward. One patent was for technology that stored information alphabetically in a computer system. It involved complicated issues that the smartest layperson might struggle to understand.
But when Heidi Keefe, a partner at Cooley LLP, went to court, she didn't talk about bits or bytes or lug a PC along and pry open the motherboard. Instead, she pulled out an old tin box where her mother stored her recipe cards.
Keefe shuffled through the cards, which were kept crisp and in alphabetical order. She remarked that HP had hardly invented the idea of storing information in one place in alphabetical order; her mother had been doing it for years. The judge nodded her head—one of the most welcome sights for an attorney. She quickly ruled that four of HP's patents were too abstract to deserve legal protection and invalidated them, dealing a blow to HP's case. Shortly afterward, ServiceNow and HP privately settled the suit.
For two decades, some of the hottest tech companies in the world have looked to Keefe to represent them in complex patent litigation. 
Elon Musk's company, SpaceX, retained her in 2014 to eliminate a rocket-landing patent held by competitor Blue Origin, so the company could confidently re-land its ship on a custom-built platform on the ocean. The same year she defended Facebook's "like" button against an infringement claim—one of numerous times she has represented the company.
Keefe won both cases using her typical approach of wrapping complex technology in compelling metaphors. 
"In patent law, there are two kinds of lawyers," says Sam O'Rourke, former deputy general counsel and lead IP attorney for Facebook. "There are lawyers who can stand up in court and talk to a jury, and there are lawyers who can get into the technical weeds. Heidi is one of the few lawyers that bridges the gap and can do both roles. That's a rare combination. She has a down-home personality and has an innate ability to explain technology to laypeople in a way that they get it."
As Keefe tells it, being a patent attorney is in her DNA. Her mother was a high school Spanish teacher, her father a pharmacist. "I got my love of science from my dad, and my love of teaching from my mom," she says. "That's what a patent litigator is—a teacher of science. You have to teach a judge or jury something they thought they didn't want to know."
Growing up in Ukiah, where the wine country meets the redwoods, Keefe would watch reruns of Star Trek with her dad. She imagined doing something involved with space—or maybe becoming a sci-fi writer.  
When the Challenger space shuttle blew up in 1986, Keefe was in high school and had the distinct fear that the space program would be shut down. Preventing that, she realized, would require people who could speak about science to politicians. She saw her path instantly: 1) get a college degree in science; 2) go to law school; 3) become a lobbyist for the space program.
Two out of three ain't bad. At Wellesley College, Keefe studied astrophysics and wrote a thesis on star-forming regions in outer space. "My grants were funded by the National Science Foundation," she says. "I tried to figure out a way to write grants that captured the imagination of congresspeople so they would give more money to the NSF, which solidified my thinking that a voice who can translate science was important."
Then she attended Santa Clara University School of Law, one of the few that offered a space law program. Between 1L and 2L, Keefe did some work for the California Office of Legislative Counsel, a nonpartisan public agency that drafts legislative proposals, prepares legal opinions, and provides other confidential legal services to the state Legislature.
And that's where she got off the path.
"I realized I sucked at politics and it wasn't for me," she says. "I'm too honest for my own good. I'm good at explaining technology and advocating for the things I believe, but I'm not good at taking positions I'm told to take."
Scratch one lobbyist. A professor suggested she channel her enthusiasm into patent law. There was only one problem. At the time, in the mid-'90s, lawyers needed a degree in hard science—engineering, physics, biology or chemistry—to sit for the patent bar. "Astrophysics and astronomy weren't considered hard science enough, because they thought all you did was observational and look through a telescope," she says. 
Keefe successfully appealed that decision, complete with a letter secured by a friend from Carl Sagan, explaining that astrophysics was indeed science. In 1995 she entered the world of patent law, which in those embryonic internet days was handled primarily by boutique firms. One of her first cases was representing a body builder who invented a weight-loss supplement based on the ingredients in the skin of red grapes.
"Our client swore by this stuff," she says. "I had thought patient litigation removed the technology from the humanity, but people care passionately about the science they've created or think they've created. It's someone's baby. Emotionally, it's closer to family law, which is ironic, because I wanted nothing to do with family law. I didn't want people to be personally affected by what I did."
She found that she got very close to clients, since she was called in by tech companies at a critical stage in their development—when they had grown enough, or their technology had become important enough, to make them worth suing.
Keefe represented Facebook in its first patent trial in 2011. She won. When she met Mark Zuckerberg in 2007, the company had a couple of floors at 156 University Ave. She had never heard of Facebook or its founder. Zuckerberg's first question was how old she was. "I said I was 36 and would be 37 in October," she recalls. "He said that would make me one of the oldest people working [on behalf of] the company."
Tech clients, she says, like to have a patent lawyer who projects an air of maturity, though her style is anything but drab. In the courtroom, she says, "Men are stuck wearing black, beige and gray. I like to wear bright colors and stand out from the sea of other lawyers."
Such theatricality stops there, though. Keefe describes her cross-examination style as that of soft-spoken teacher. Her team has lawyers who, she says, are better at making people cry. "Jurors love drama and want to see some of it," she says, "having watched shows like Law & Order their whole lives."
Keefe's role is helping judges and juries understand technology. "People are interested in things like Facebook or rocket ships, but not many people care about the layout of a silicon chip," she says. "You have to drag it back to something in their lives." 
In another case, Keefe defended Facebook's recommendation engine, which provides a suggestion based on the opinion of a friend, or a friend of a friend. Wanting to illustrate that people rely on such opinions commonly, even when not on the computer, she stopped at Walgreen's and bought a few stuffed animals to help explain how her mother figured out what to buy Keefe's niece for her birthday.
Keefe told the judge that her mother had called her son—Keefe's brother—asking for ideas for a gift for his daughter. He told her that his other daughter had recommended not getting something pink, because the daughter with the upcoming birthday thought pink was for babies. Keefe held up a pink stuffed animal—sort of a reverse metaphor for a recommendation engine. The judge nodded.
David Silbert, a partner with Keker, Van Nest & Peters, has been co-counsel with Keefe on many technology cases. He sees the science-teacher aspect of her personality, noting that she even carries colored pens and spiral notebooks, and organizes her material into color-coded tabs—which, he adds, the judges love. It shows she's done her homework.  
"She has a lot of presence and takes up a lot of space, but it's not by being loud or pounding the podium," he says. "She's laser-focused and cuts right to the heart of a matter. The image of her that I have is coming into a room of lawyers who are debating strategy, and saying, 'No, no, no—here is the way we should do it,' and everyone knows she's right." He adds, "She has a great instinct for what judges will or will not do, which is as much psychological and an understanding of human nature as legal analysis."
It's not a coincidence that Keefe's mom has provided courtroom metaphors. She is also a crucial sounding board. When struggling with an opening argument, Keefe sometimes calls her mother and reads it aloud: "My mom is a brilliant woman, but she doesn't care about science and technology—as long as it works. I don't talk down to her, but explain it until she gets it."
Given how the space program propelled her into law, one of her biggest thrills was representing SpaceX and talking to its scientists. At first, wanting them to respect her, she would try to talk with them scientist-to-scientist. Over time, she realized it was smarter not to pretend to know things but to ask for explanations. "You have to let them teach you, because you have to teach someone else," she says. "Teaching is the hardest thing, because you have to know the subject so well you can answer people's questions."
When Keefe briefly taught law school as an adjunct at Santa Clara in the early '00s, she would go around the classroom, closing laptop lids, and tell students they had to take notes with pen and pencil. She wanted to make sure they were listening, and not playing solitaire or doing homework for another class. "I wanted to make sure I was connecting with them," she says.
Keefe stopped teaching law because her hectic travel schedule—pre-COVID-19 restrictions—prevented her from committing to being in one place at one specific day and time. With her whirlwind schedule, she barely manages to squeeze in time for a 90-minute interview while darting between Palo Alto and San Diego for a recent pre-trial involving Snap Inc., followed by a summary judgment hearing defending Facebook against BlackBerry. (The Snap case settled right before the March trial date, and the judge stayed the Facebook case for all but one patent, for which Facebook has since filed for summary judgment.)
"I don't have enough hobbies outside the law," she acknowledges. "When you're a litigator and on all the time, there is a serious need for decompression. Sometimes that's a hike where I can put music on, or watch really bad reality TV with a glass of wine."
Though she is just exiting her 40s this year, Keefe has been considering her post-law career for the past decade. She has talked to some private high schools about teaching history or physics—or Spanish, like her mother. Until then, her teaching skills are relegated to the courtroom.
"My philosophy of litigation is to never tell a judge or jury what to do," she says. "If you tell me what to do, I'll look for ways to do the opposite, and I think 90% of people are like that.  Instead, I teach people enough about the technology so they understand naturally that the answer is X, and then I have my own advocate in the judge or jury."
---
Practicing in the Time of COVID-19
Keefe was busy shuttling between Palo Alto and San Diego for Facebook litigation when the pandemic began to spread in the U.S. As for most attorneys, life has become much more complicated.
"We're still very busy, because deadlines don't go away," says Keefe. "It's just changing how we do everything. We have to do more video conferences, teleconferences, and a lot of good old-fashioned get-your-work-done, even though you'd rather be watching TV."
Search attorney feature articles