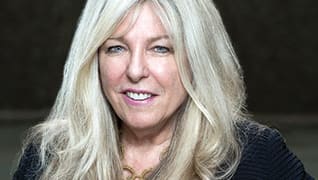 Photo by: Dustin Snipes
The Talent Behind the Talent
Candace Carlo is like Teri Garr in a Game of Thrones town
Published in 2015 Southern California Super Lawyers magazine
By Tim Appelo on January 21, 2015
Candace Carlo's abundant blond bangs almost cover her eyes, and that's how she likes it.
"Some people in Hollywood are like, 'Me, me, me!' But I like to be in the background," she says. "Just quietly let me do my thing."
She does that while seated behind a big desk in West LA, with art on the walls autographed by John Lennon and clients like Mick Jagger and composer Hans Zimmer, and with stunning views of the Santa Monica Mountains as a backdrop. A partner at Kleinberg Lange Cuddy & Carlo, she does music work in motion pictures, television and video games, after having handled multimillion-dollar financing deals when she worked for Columbia and TriStar Pictures.
She's hardly the shy, retiring type. "Our firm represents J.K. Rowling, and we just did the new three-picture deal and a theme park deal with Universal," she says at one point. A few minutes later, she adds, "I have eight people from around the world calling in 15 minutes."
Even so, those bangs. She's reminiscent of certain actresses who burn with ambition but don't seem to yearn for the red-carpet spotlight. Teri Garr, say.
"I'm tenacious," she says, "but I'm not someone who's gonna take my shoe and beat the table. I'm not a person who needs to screw the other side down to the last nanobit. It's OK to leave them a little bit of pride, to be a little bit humane. On rare occasions, you have to start yelling back. You can be a polite and kind person, not nasty and abusive, and still vigorously represent your clients."
Carlo sees power in fair-mindedness, which is why she says women—famously absent from directors' chairs in Hollywood—more often reach the upper realm of the legal community. She cites her colleague, Christine Cuddy, who negotiated a lucrative contract for client George R.R. Martin when Cuddy noticed that Martin's words from his book were used for a song in the famously gory Red Wedding episode of HBO's Game of Thrones.
"We go across a spectrum," says Carlo, "but women tend to be a little more understanding, conciliatory. For my personality, I like to find the deal that works for everybody and is a great deal for my client."
It's a trait she also saw in her famously strong-willed former client Warren Beatty. "I like Warren so much because he's a combination of really smart—you'd better be on your toes, he will cross-examine you—but incredibly polite. He intimidates people I think, through the combination of his intellect and politeness."
So how did Carlo wind up intimidating people by being nice in a town where negotiations more often resemble the Red Wedding massacre?
"Actually, I either wanted to do a Ph.D./M.D. to do brain research, or law school. So I applied to that [former] program at UCLA, and the head of it told me, 'I just want to warn you that you're probably not going to get a job, because all the funding has dried up.' So I thought law school's probably a good idea."
 After clerking as an intern for federal Judge Robert Takasugi, Carlo later took an in-house job at Columbia/TriStar. "It was when people did films that had more message or meaning," she says. "That was when we made Jerry Maguire, As Good As It Gets, Warren's movie about Vegas, Bugsy, and Philadelphia, the Tom Hanks movie about AIDS—a very early and politically risky film for that era. It was a wonderful environment where people worked together in synergy very well: the legal, creative and business groups."
For the Oscar-nominated Donnie Brasco, in which Al Pacino played a real-life mobster who kept a lion in his Brooklyn basement, Carlo handled invasion-of-privacy issues; for Black Hawk Down, it was defamation issues. "That time could never be replicated today," she says, "because heads of studios spent money like crazy people. It was a time when the country was very successful under Clinton; all the stars' salaries kept going up. There was more freedom then, certainly."
When times changed, Carlo's practice and tactics did, too. She became adept at effecting synergies in the new, rapidly changing system—doing innovative work with video game and digital players like Assassin's Creed publisher Ubisoft Entertainment, the Z+ mobile app, and Hans Zimmer's The Bleeding Fingers Custom Music Shop—a partnership between RCI Global and Extreme Music, a division of Sony/ATV Music—which provides the music for American Idol, Survivor and other reality TV shows.
Carlo is fascinated by areas of overlapping interest—what she calls "the shaded part of the Venn diagram."
"I like doing music in the context of motion pictures and TV rather than doing record deals," she says. "Music was much more a stepchild part of a motion picture or TV show, and it's not so much anymore. It has become a recognized, important component of the success of a motion picture."
And that means more big paydays for clients like Zimmer, who has composed the scores for dozens of movies—from international tentpole films such as Sherlock Holmes and The Dark Knight trilogy, to smaller, critically acclaimed films such as 12 Years a Slave.
Her conciliatory bargaining style can also be a big asset in the new Hollywood sweet spot: the international market. 
"The Weinsteins picked up some South Korean titles from my clients," says Carlo. "Like Snowpiercer. So they want to confirm chain of title." She gets rhetorical. "What's a contract? It's very different in Korea, China or Japan, very different from here. In Korea, a film financier takes part of the copyright—here, not necessarily so. It's a Gordian knot that you get to unwind," she says, winding a finger absent-mindedly in her hair. "Also, they're not such litigious countries. People aren't making sure they're protected by dotting every I and crossing every T. It's a society where there are unwritten rules built into the social structure. They're not such an immediate sense of, 'You disagree with me, I'll sue you.' There's a sense of gaining consensus and trying to work and collectively achieve a goal."
To bridge the gap between the cultures, Carlo often hooks up Hollywood clients with an Asian firm experienced at conducting, say, chain-of-title research. "It's a polite and careful society," she says. "Our aggressiveness doesn't work so well. If some producer says, 'Oh, there are six problems? Fix them this way and get it to me overnight,' well, that's not going to happen."
Such dealings make her aware of the cultural rules encoded in our movies. "[Americans] are the rebels; we want to be the rogue. The most appealing character in Star Wars [for us] is Harrison Ford, the one who doesn't get along, who doesn't comply." To someone from Japan, though, Han Solo might be less appealing than Han Part-of-the-Team. In Asia, Carlo warns, "There has to be some respect for the process to get the deal done."
Her background inside the belly of the studio beast is also an asset. She knows what the studios need. She knows the internal makeup of the studio, what the financial models are. But being aware doesn't mean buying into. "The studios are very constrained because they've got multinational corporations that own them," she says. "It's very driven by the model, 'Where's the break-even?' Guys! The model is only as good as the assumptions you plug into the model.
"I did a very difficult deal with a studio, and one of the senior executives called me afterwards and said, 'Just tell your client that he wouldn't have gotten this deal but for you,'" she adds. "They were suspicious of him on whether this financing was really packaged properly, because it was a multi-movie deal, but they [felt] they could rely on me. If you give your word, you live up to it, even if you promise something and find out later maybe that wasn't the best thing to do. You have to show some character. You play the long game."
She says the three things you always have to keep in mind are money, credits and control, and if one is lacking another can be expanded. Some clients trade money for more control, or vice-versa. Some clients loathe doing publicity for a film, so, for them, Carlo says, "Maybe we'll do three appearances, or do a radio or telephonic interview, or make sure the A person is available just in case the big A+ star isn't."
She always tries to think innovatively. "Outside the big studio films, [Zimmer] will find a film that he's fascinated with or there's a great director [attached] and he wants to partner on that film," she says. "And if it's not something in the ballpark of what he ordinarily would get as a fee, what we would do is we explore 'What are the creative ways to make that deal?' Perhaps we own the music. We'll give an exclusivity window for that particular film, but then after that Hans can exploit that music because he owns it so it can go into a movie trailer for a different movie or it can go into a television show or it can go into a video game as part of a licensing process. But what we try to do is remain creative and keep our minds open … so that permits Hans to have creative freedom about where he can go and explore as an artist."
Her own firm barters with clients, too. "I received very special artwork in lieu of fees in a recent deal with a major studio," she says.
Right now, Carlo is working with one of the stars of the forthcoming Kenny Ortega Disney movie, Descendants, about the children of characters like Maleficent, Cruella de Vil and Jafar. "It's a fun idea," Carlo says. "She's actually been offered a record deal from Hollywood Records, so what I do is partner with a record lawyer." She also looks for opportunities that cross over from film to TV to video games.
Carlo keeps her mind and her eyes open. "You look at the international configurations, what the Chinese companies are doing, what the Japanese and South Korean companies are doing." Then, spotting a new opportunity, she laughs. "Just think of how the North Koreans provided Sony with a new marketing approach for The Interview!"
Search attorney feature articles