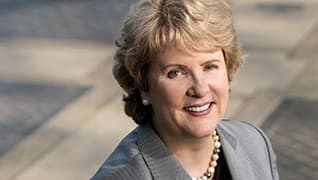 Photo by: Dustin Snipes
The Trial Specialist
Jennifer L. Keller's path to success came via odd jobs and public defense
Published in 2018 Southern California Super Lawyers magazine
By Joe Mullich on January 30, 2018
Jennifer L. Keller was preparing to cross-examine Mattel CEO Robert Eckert in a bet-the-company IP case whose media nickname sounded more like a toy-chest brawl: Barbie v. Bratz. She was representing the maker of the Bratz doll, which Mattel claimed was its intellectual property. 
"He left Mattel, made some drawings of it while he was living with his parents in Minnesota, then came back to Mattel," says Keller of her client. "They took the position that, when he came back, everything he had created before belonged to Mattel. Which led me to ask the CEO, 'You know, I have a bunch of drawings in my parents' drawer that I made as a teenager, decades ago. Are you telling me if I go work at Mattel they would instantly belong to you?' He said, 'Yes.'"
Keller came aboard as lead attorney on the long-and-winding case for its 2011 retrial, just two weeks before jury selection, and against the advice of friends. Career suicide was a phrase several used. But she liked the challenge, and she emphasized its David-and-Goliath theme. While cross-examining Eckert, she asked about a group of long-time, low-paid Mattel employees who sewed clothing for the dolls. These women had recently been fired. "Do you care about them at all?" Keller asked. 
"To the extent I care about people, yes," Eckert replied.
When Keller received a $309 million judgment in her client's favor, reporters remarked on the "surprise defeat" and "astonishing loss" for the world's largest toymaker. News reports said that Mattel's lawyers "looked shocked." But the jurors were with Keller. One, speaking to The LA Times, said companies shouldn't be allowed to bully people.
The case attracted so much attention that Keller became, as she puts it with a throaty laugh, "a 37-year overnight sensation." 
Despite that perception, Keller, a founding partner of Keller/Anderle, had already tried more than 150 cases to jury verdict. Her calm, direct oratory style is so acclaimed that two years before the Mattel case, a judge invited colleagues to watch her give a closing statement in one trial that led to a $350 million verdict for her client.
James Rogan, a judge at the Superior Court of California in Orange County, calls Keller one of the best attorneys to appear in his courtroom. "When you are a trial judge, the jury is directly in your field of vision," he says. "When Jennifer is speaking, I saw a lot of jurors nodding their head in agreement."
That happened in the Mattel case, too. The case was so complex that the special verdict form took 2 ½ hours to read. During that reading, jurors were smiling and nodding. Later some of those jurors joined Keller and the defendants at dinner to celebrate. One of the jurors friended her on LinkedIn. Other jurors seek out advice from her on personal matters years after trials. "You create a bond with the jury," she says. "If you connect with people, they feel they connect with you." 
"She's spellbinding," says Tom Malcolm, former president of the Orange County Bar Association. "Her mind is so fast and covers so many topics. If you give her a glass of chardonnay at a party, she is so compelling and captivating that you look up and two or three hours have gone by."
This facile mind shows in the diversity of books piled high in her office, and in the diversity of cases she handles: from business lit to white-collar criminal defense to IP lit. Her caseload has ranged from defense of accused murders to representation of The McGraw-Hill Companies against a government suit accusing their rating agency of improperly rating certain mortgage-backed securities.
But it's her style others remark on. 
While some attorneys use jury selection to try to precondition jurors to their point of view, she says she prefers to listen to the jurors' responses. "I am known for my jury selection and cross-examination, which are your stock-in-trade as a criminal defense lawyer," she says. "If you pick the wrong jury, you're done." She says too many lawyers approach their cases clinically, while she tries to break down the barriers.
Judge Rogan agrees. "It takes about five years for the average lawyer to learn to be themselves and not imitate the lawyers they see on TV," he says. "I don't think it took her five years because it's inherent in her DNA. She's genuine, honest and honorable, and jurors see her as a lawyer in search of the truth." He adds, "If I were in trouble, she'd be one of the first lawyers I'd call. The only trouble is, I don't think I could afford her."
Keller's path to success as an attorney began with a fight with her parents. 
When she was 20, and studying at Berkeley, they had a falling out because she continued to protest the Vietnam War, then announced she was marrying her penniless history T.A.—adding he "was 32, non-Catholic and Texan to boot." (In fact, she did marry him. They divorced and she married a judge with whom she had a son. He's now a lawyer as well.)
So she paid for undergrad through a series of jobs. She ran a one-person Xerox shop, where stressed-out students watched nervously as she fed the only copy of their dissertation into the copier. She also umpired men's recreational softball leagues, did door-to-door marketing surveys, was the only woman worker on a loading dock, and was the only white employee taking inventory at a department store in downtown Oakland.
"The other women [at the store] were hostile at first because they thought I was a rich college kid who didn't need the job and was taking it from someone who did," she recalls. "When they found out I had no money, and was scrimping and saving, they were relaxed and incredibly nice to me."
The endless odd jobs exposed her to people of varied backgrounds, which eventually helped her with jury selection. "I really got to understand how white, blue-collar men think," she says. One of the women in the department store had her house broken into so many times she slept with a shotgun. "I learned it might not be the best to select jurors from gang-ridden neighborhoods just because they're African-American," she adds, "because they've been the victims of gangs."
Out of law school, she received various job offers, including deputy DA and public defender; she went with the latter. "It was better for me," she says. "A 25-year-old Jennifer with the power of a deputy district attorney would have been bad for my character development. Not too many 25-year-olds should have that power. I would have taken advantage of that power, and abused it, and become impossible to deal with."
As a public defender, by contrast, she constantly had the stuffing knocked out of her, and learned humility. As she puts it, the opposing district attorneys thought of public defenders as the enemy; judges regarded them as a nuisance; and the public saw them as shoveling sand in the wheels of justice. 
Defense attorneys in criminal trials feel they start every case crawling out of a hole. This is especially true for public defenders, whose clients often are mentally ill, lack communication skills, and often don't trust the public defenders themselves because they are paid by the government.
"Many times, a public defender can do a far better job than a prosecutor and still lose," Keller says. "Prosecutors need a limited tool kit; public defenders have to be nimble." 
Part of her kit involved going to Cal State Fullerton to persuade a professor, who had never before appeared as an expert witness, to do that for a client—for free. In every case, she would personally examine the crime scene and often find details that would help in court—such as, in one instance, how a state witness's sight line was blocked by trees. "Few of the deputy DAs would visit the crime scene on misdemeanors or less serious felonies, but I'd do it on everything," she says. "I'd always learn something."
In 1983, Keller went into private practice. Almost immediately, she handled her first death penalty case. It was a horrific one. Her client was a former Marine who worked as a security guard at an apartment building and had developed an obsession with a resident. He hid in her apartment on Mother's Day, eavesdropping on a phone conversation she had with her mother about her recent engagement. Then he killed the woman and later had sex with her body. 
The police originally misread his fingerprint, and did not identify him until seven years later, after he had married and had a child. While doing research, Keller discovered her client had been severely abused as a child and was addicted to drugs at the time of the killing, leading to her defense based on amphetamine psychosis. During her summation in the penalty phase, she broke into tears, and so did many of the jurors. The case was the first rape-homicide in Orange County in which the jury did not give the death penalty; her client got life without parole. 
"I was tremendously relieved," she says. "I saw the goodness in my client and the humanity in him, even though he had done horrible, unspeakable things." She also says the case removed her fear as a lawyer—being responsible for another person's life made future $100 million, bet-the-company cases feel far less stressful. 
Malcolm reiterates that sentiment. "She cannot be intimidated," he says. "It would terrify me to face her in court."
In 1996, Keller started her own firm, and partnered with Kay Anderle, a former deputy district attorney, in 2007. Both were surprised that so many major law firms have litigation partners with little or no trial experience. They seek the opposite. Their 14-lawyer firm prefers to hire people with significant courtroom experience. Keller says most boutiques are mini-big-firms that compete on price, while her firm's edge is having four attorneys who have taken hundreds of cases to jury trial. She talks about her excitement in "unleashing" two young, accomplished federal public defenders recently added by the firm. 
"You have to bring a measure of ingenuity and fierceness that you don't need as a prosecutor," she says. "The best defense attorneys are fearless. And they're so comfortable in a courtroom, it might as well be their living room." 
That description fits Keller, too. In 2009, she won California's largest business jury verdict of the year: $350 million for a venture capitalist who was defrauded of the opportunity to buy a credit card processing company that later grew into a billion-dollar venture. Then came the Bratz case. Between these two, she defended a man accused of murder in a shaken baby case. "If I had lost, my client would have spent 25 to life in prison, and an innocent man would have been convicted on my watch." He was acquitted.
On the docket are more headline-making cases, including defending super-agent Michael Ovitz, founder of Creative Artists Agency and former chair of the Walt Disney Company, against allegations made by a reporter that Ovitz hired Anthony Pellicano to intimidate her.
Keller no longer handles murder cases. "It's just a chapter of my career that's closed," she says. As for when people ask her what she specializes in? "I tell them I specialize in simplifying complex concepts for a jury and helping them understand my client's point of view. I specialize in trials."
Search attorney feature articles