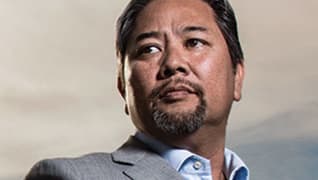 Photo by: Dustin Snipes
The Two Sides of Koji Fukumura
The securities lawyer is a mix of laid-back Hawaiian and Philly street fighter
Published in 2016 San Diego Super Lawyers magazine
By Joe Mullich on January 20, 2016
"I was getting my butt kicked."
That's Koji Fukumura talking about his first deposition. It was 1994, he was fresh out of Temple Law School, and he was facing a trio of lawyers from prestigious firms in New York, Washington and Philadelphia in a big RICO case. One of those lawyers, who had a background with the Securities and Exchange Commission, kept interrupting him with "speaking objections," in which he basically provided the answer he wanted his client to give.
"This went on all day," Fukumura says. "I knew something was wrong, and kept objecting, but it was painful and embarrassing." That pain was matched by the pain in his back, which he had strained after lugging a trio of banker boxes from the train terminal to the deposition room.
The next day started the same way. The same attorney began with another speaking objection, and Fukumura waited through the oratory before calmly asking, "Are you done?" Then he pulled out a judicial opinion, Hall v. Clifton Precision, about the conduct of depositions that decried such speaking objections, which he'd remembered reading about and had pulled up the previous evening on the computer in the business center of his hotel. Magic bullet? No. The other attorney's bad behavior stopped only when Fukumura picked up the phone and started dialing the magistrate judge.
Ultimately, the case settled to the benefit of Fukumura's client.
Fukumura, now a partner at Cooley LLP, who has defended approximately 40 M&A class actions and in excess of 50 securities class actions and derivative suits, typically speaks of his adversaries with great respect, and this case is no different. "I was in awe of these people. My opponents are great lawyers and they're also great teachers—I think of myself as a sponge that takes everyone in and uses what works. It was such great training to get my butt kicked but then to also have a plan to stop this disaster from going on."
The story demonstrates a lot about Fukumura. "He's a good balance between a laid-back Hawaiian and a street fighter from Philadelphia," says Brian Robbins, co-founder and the managing partner of Robbins Arroyo, who has faced off against Fukumura in complex security litigation cases. "And he always shows good judgment on how to balance those two sides."
He was born in Japan, raised in Hawaii, and describes himself as an "Oahu boy at heart," who, for large swaths of his life, surfed five days a week. Just as the sport is the ultimate exercise in balance, the Hawaiian culture was countered by Fukumura's intense father, a Japanese-born physician.
"My father was a super achiever who made me spend at least one day every weekend doing chores at home," Fukumura says. "He was pushing me. … And he was inspiring to me."
From an early age, Fukumura seemed destined to follow in his father's footsteps. He earned a degree in molecular, cellular and developmental biology from the University of Colorado Boulder in 1989, then spent a year as a medical researcher.
It wasn't meant to be. "At this time, there was something bordering hysteria about managed care," Fukumura remembers. "Practically everyone I talked to was negative about what this transition would mean to doctors—that they'd have to work twice as long while providing less care. … I also came to the opinion that my feisty nature was better suited to being a trial lawyer."
After law school, Fukumura was hired by Bochetto & Lentz, a small Philadelphia law firm that handled both criminal and civil cases, which lured him in part by telling him he'd take 30 depositions in his first year. He exceeded that number. He was given DUI cases, aggravated assaults and an attempted murder, but mostly he did commercial work, including large SEC enforcement action and RICO cases. "That's what really formed the foundation of my [current] practice," he says.
On the face of it, Fukumura's first big securities case, the one with the speaking objections, was a loser. The bank charged that his client had borrowed half a million dollars and never paid it back. "There aren't many defenses to that," he says, but he remained undaunted and taught himself federal securities law. After hours, he read the Securities Exchange Act of 1934 beginning to end; and it was there that he came across a section that made an interesting point: any contract whose purpose is to violate federal securities law is voidable.
Since it was alleged that Fukumura's client was using the money the bank loaned him to make illegal trades, Fukumura filed a motion contending the bank knew it was lending money that might allegedly violate federal securities law; and this, he argued, voided the contract.
It was an original defense. "There wasn't a single case found in any court talking about this statute in this way," he says.
And it worked. When the judge denied the bank's request for summary judgment, the bank agreed to settle for less than the loan principle, as well as to waive the substantial interest that was due—a clear victory for his client.
This experience helped forge two parts of the basic foundation Fukumura operates under as a lawyer, and which he constantly preaches to young associates.
First, every lawyer is responsible for his or her own development.
"Most lawyers get a case and research all the related cases, looking at the problem as a self-contained world," he says. "I tell young lawyers if I hand them a case: They can take that approach, or they can learn about that [larger] area of law on their own—gaining a bigger understanding of security or corporate governance to get the big picture."
And this leads to Fukumura's second core principle: "You can't just look where everyone else is looking," he says. "You need to think outside the box, and to do that you need to be rounded in your knowledge."
As co-chair of the securities litigation practice group at Cooley, which he joined in 2002, Fukumura has helped build the department into one of the strongest in the country. According to Monitor Suite, Cooley is one of two firms most often retained by companies in securities litigation over the past two years. His life is a whirlwind of plane flights across the country.
In one case, Fukumura is representing Peregrine Pharmaceuticals, which is developing therapeutics to stimulate the body's immune system to fight cancer, against a shareholder suit.
"He was always in control of the situation," says Mark Ziebell, general counsel for Peregrine. "I don't want to be guessing what's going on or constantly having to check with my lawyer to know what's going on, because I have a board of directors looking to me to tell them what's going on."
That brings up another of Fukumura's core principles: There are no small matters.
One of his cases underlines that concept in the negative. Fukumura represented a company against a former executive who, upon leaving, hadn't exercised his stock options in the proscribed period. He said he had relied upon advice from a company representative that he alleged to be incorrect. Fukumura filed a strong motion for summary judgment, but the judge denied the motion because of a seemingly insignificant error: a rule at the time required the separate statement to be underlined, and it was not.
"It wasn't fair, but it's like a boxing match," Fukumura says. "If you don't knock someone out and leave it to the judges, unfair decisions happen all the time."
Fukumura, who will chair the litigation section of the American Bar Association beginning in August 2017, remembers a case he handled early in his career. It involved three doctors dissolving their medical practice. The arbitration went on for months, two to three days per week. "In a deposition in that case, when there was about 10 lawyers in the room, many of whom were bickering, a lawyer I didn't know walked into the room and everyone sat up straight and behaved," Fukumura says. "I wondered: What kind of person do you have to be to walk into a room and other lawyers behave because they don't want to disappoint you?"
He adds, "There are times in your career when you meet certain people that have an effect on others. Because of their reputation, because of their command of a situation, they can just take control of a situation. My old mentor Chuck Dick, my partners Steve Neal and Mike Rhodes and Mike Attanasio, are those kinds of guys. They have that gravitas. And certainly I aspire to have that, too."
Some colleagues feel he has succeeded.
"He doesn't become distracted and doesn't lose his cool," Robbins says. "Some attorneys will be adversarial from beginning to end and try to crush their opponent. …  He'll be firm in his position, but honest and straightforward in his dealings."
Fukumura still surfs occasionally, mostly when he returns to Hawaii for an annual visit. He and his wife have three kids and none have expressed an interest in following in his footsteps until recently. "In the nick of time," he writes, "my youngest, 9, told me yesterday that he wants to be a lawyer because he wants to be a person people call when they're in trouble. Completely unprompted statement on the way home from basketball practice."
While Fukumura never followed his own father's footsteps into medicine, he does find himself working with life sciences companies who are seeking compounds or therapies to combat diseases. "My clients are the most respected scientists and medical professionals in the world," he says. "Most of the time, a clinical trial fails or drugs are not approved, but 100 percent of the time investors know that risk when they bought a stock. And 98 percent of the time, my client hasn't done anything wrong.
"I am a shield for my client."
Search attorney feature articles