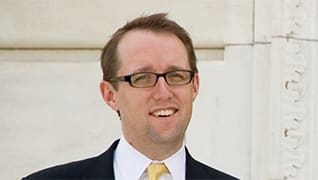 Photo by: submission
The Very Busy World of Matt Kline
A young lawyer is tapped to help rewrite America's war powers legislation
Published in 2010 Southern California Rising Stars magazine
By Brian Voerding on June 9, 2010
Matt Kline was home for Christmas in 2006 when he got the note from his friend Chris.
Chris—as in former Secretary of State Warren Christopher, a fellow O'Melveny & Myers partner—was working on a new project and needed Kline's help.
That project turned out to be the National War Powers Commission, a high-profile bipartisan group comprised of former American political leaders and would design policy to replace the country's vexing, aging war powers legislation. Pro bono work. A once-in-a-lifetime opportunity.
"On one level I thought, 'Gosh, I'm busy, and this will be a lot more work,'" Kline says. "Then I thought, 'How could I not do this?'"
Kline worked behind the scenes as personal counsel to Christopher, writing briefs and collaborating with other members, putting in around 800 hours during the next year-and-a-half. "It's just been one of the great experiences of my career," he says.
Of course, Kline had to keep up with his day job in O'Melveny's business trial and litigation department, work that included defending Enron's Jeffrey Skilling beside his occasional teaching and speaking engagements at some of the country's top law schools. Not to mention the other pro bono hours he puts in, including helping the Mexican American Legal Defense and Educational Fund with an oral argument, and serving as amicus counsel for the 9th Circuit on an immigration appeal.
So yeah, the 36-year-old is a little busy.  But hard work—and this work—is in his blood. He wrote his first legal brief with his brother at age 10, detailing his childhood household rights to his father and the ways in which his father's enumeration of rights was wrong.
With the bit of free time he has left, he finds balance and peace with his wife, a floral designer ("I purposefully didn't marry a lawyer," he says), and their son and daughter. When the Skilling case (which he called "24/7 for six months") ended, for instance, he and his family took a much-needed European vacation.
"I just don't think you're a good lawyer or interesting person if you don't take those opportunities to have some fun and live in the outside world," Kline says.
Search attorney feature articles