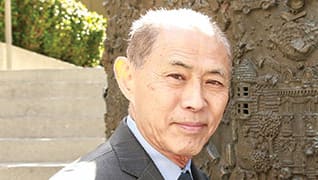 Photo by: Gregory Cowley
Trying History
How Dale Minami took on the U.S. government and rewrote an internment survivor's story
Published in 2018 Northern California Super Lawyers magazine
By Joe Mullich on July 10, 2018
Growing up just south of LA, Dale Minami rarely heard his parents speak about the three years they endured at Rohwer, one of 10 locations where the U.S. government incarcerated 120,000 Japanese-Americans during World War II. 
"They were embarrassed that their patriotism was questioned," says Minami. Despite that reticence, he sensed a "subtle bitterness" in his father. 
Years later, Minami would become a voice for the internees, leading a landmark civil rights lawsuit that overturned a 40-year-old conviction for Fred Korematsu, an Oakland resident who refused to report for internment. 
When he took on the case in 1981, Minami had a mane of wavy black hair with a Tom Selleck-like moustache. The moustache is gone, the hair has receded a bit and grayed, but the welcoming smile remains, and the crinkles around his eyes make him seem prepared to say—or hear —something delightful at any moment. 
"He has tremendous magnetism," says U.S. District Judge Edward Chen. "He can walk into a room where he doesn't know anybody, and his personality will engage and charm people."
In 2009, Minami was serving on the state Bar's Commission on Judicial Nominees Evaluation. "He talked me into throwing my hat into the ring," says Chen, who counts himself among the many people whose careers were influenced by Minami. "You could talk to any Asian-American judge in California, and eight out of 10 talked to Dale, received advice from him, did a mock interview with him or had him make a call on their behalf." 
Justice Martin Jenkins, on the 1st District Court of Appeal, recalls as a young lawyer being in awe of Minami. "He's that rare combination of someone who is super-intelligent but also secure in himself," he says. "He understands toughness isn't yelling or gesticulating, but making a commitment to a concept or legal issue, and seeing it through with your head and your heart." 
That toughness shows both in the courtroom and on the basketball court, adds Jenkins, a former defensive back for the Seattle Seahawks. He's watched Minami play a few pickup games and describes him as "a demon on the basketball court and super-competitive." He adds, "He's completely self-effacing—until you get into the ring with him. He's completely strategic about his approach, and spotting your weakness. Then he's off and running, leaving you in the dust."
As a youngster in Gardena, Minami hardly seemed the type to buck authority. He was student-body president at his high school, where he played varsity basketball and baseball. 
"Our folks were so scarred from being incarcerated because of their ethnicity that they didn't want us to be too Japanese and risk other humiliating and devastating deprivations of our rights," he says. "So we tried to fit in, assimilate, become well-spoken, wear button-down shirts. We were encouraged to participate in school activities, make sure we got good grades, obey rules and the law, not bring shame on the family." He read lots of books, digested Funk & Wagnalls Standard Encyclopedia and watched The Mickey Mouse Club. 
But the times they were a-changing. Minami went to USC as a political science major and graduated magna cum laude in 1968. "USC was dominated by frats—it was elitist, racist and sexist. It was a microcosm of society," he says. "It's a much better place now." He moved on to UC Berkeley's law school, which he found to be the opposite. The social and political activity swirling around the Berkeley campus provided a new world for Minami. "You were able to experience who you really were and what you really believed," he says.
After getting his J.D. in 1971, Minami and a group of Asian-American law students started the Asian Law Caucus, the nation's first nonprofit to help poor Asian-Americans with legal problems. 
Not many Asian-American attorneys could be found at the time in courtrooms. Minami recalls walking into the chambers of a judge who was using the N-word in a conversation with the district attorney. Seeing Minami staring at him, he added—in an attempt to make the comment sound like a joke—"The same is true of chinks."
Another time, when Minami asked for a translator for a Chinese-American client, a judge replied, "Why don't you just translate yourself?" Minami had to explain that he was of Japanese descent and didn't speak Chinese. 
In 1975, Minami and two other Asian Law Caucus founders formed their own firm, which Donald Tamaki joined in 1985. Minami took on the first class action employment suit brought by Asian-Pacific Americans on their own behalf, against Blue Shield of California. The suit alleged many Filipino workers were being passed over for promotions, while they were asked to train those who would become supervisors. The resolution included back pay, attorney's fees, a schedule for promotions and a monitoring plan.  
As he pressed the case, Minami lobbied employers to cancel contracts with Blue Shield, and asked the Department of Health, Education, and Welfare to cut off funds to the company. "In public-interest cases, the educational value of each case is as important as the case itself," he says. "If you win in court but no one knows about it, you're not teaching, inspiring or mobilizing anyone."
Minami, now 71, waves away his success in such cases. "We had the wisdom of fools," he says. "The bigger firms hadn't caught onto class action suits yet, and they could have easily buried me under a foot of paperwork in 15 minutes."
Though Minami was making headlines, he had trouble making a living. For all his work on the Blue Shield case, he received $30,000. His parents were happy when he became an attorney, but cringed when they found out he was practicing nonprofit law. 
That all changed one day, during the first year at his firm, when a man who had been involved in an automobile accident came into his office. Another driver had rear-ended him and broken both his legs. Minami took the case, then hustled off to the law library to figure out how to handle it. He won a good settlement and found he liked personal injury law. "You had to turn the injury into a narrative that the jury could understand so they could turn their pain and suffering into compensation," he says.
While his civil rights work has received most of the attention, Minami has recovered multimillion-dollar settlements and large verdicts in his personal injury cases. These have provided a financial underpinning, allowing him to help the community. 
Minami has always tried to boost the image of Asian-Americans—and not always in the legal arena. In his mid-40s, he posed for a calendar by a San Francisco State Asian-American Studies professor who wanted to counteract stereotypes of Asian-American men as subservient and sexless. The calendar included on-the-job photos as well as a shirtless photo of each subject. Minami was Mr. June.
"The reaction was overall quite positive, and humorous, with fake threats from the DA to prosecute me for pornographic acts, to which a random public defender offered to represent me," he says. 
A decade later, when Minami was 54, People magazine named him one of America's Top 50 Bachelors. "It was just another chance to elevate the abysmal image of Asian-American men," he says. "The reaction was a lesson in the power of the media. I gained instant respect from folks who had ignored me before. TV segments were aired, some folks now wanted to be my friend, and a ton of very funny emails were circulated."
Between handling cases, he produced two films, Drinking Tea and Life Tastes Good, both screened at Sundance. His clients include Olympic skating champion Kristi Yamaguchi, whose grandmother was friends with his mother. Since the family was committed to community service, he suggested she start her Always Dream Foundation, focused on children's issues. Minami served on the initial board. 
It was Korematsu who put Minami's name in the history books. After his conviction for defying Executive Order 9066, the Oakland man was incarcerated and put on probation for five years. His case made it to the U.S. Supreme Court, which on Dec. 18, 1944, upheld the order, saying it was necessary in a time of "emergency and peril."
In 1981, UC San Diego political science professor Peter Irons came across documents indicating that government lawyers had suppressed evidence in Korematsu's case. Irons reached out to Minami about handling an appeal, but the attorney was dubious at first. However, Minami agreed to meet Korematsu, whom he describes as "quiet and reserved, but skeptical, because people had told him over the years they could reopen the case."
In the middle of the case, the government offered Korematsu a pardon if he would drop the suit. He declined, since it would require him to admit guilt. The government came back with a new offer—"a pardon of innocence." Minami asked the government lawyer about the legal basis of this unusual pardon. He admitted he'd made it up.
"Fred wouldn't accept any pardon from the government," Minami says. "He said he should pardon the government." 
Chen, who worked on the Korematsu case with Minami, said the latter's skills included not only addressing difficult legal concepts, but handling a charged political environment. The case occurred at a time when reparations for internees were being discussed, and some felt the Korematsu case distracted from that movement. 
In 1983, the conviction was formally vacated at a hearing before Judge Marilyn Hall Patel. Minami had retried history and won.
Two moments stand out for Minami. The first: "Judge Patel did not take the case 'under submission' but offered her oral opinion directly from the bench," Minami recalls. "She validated all of our allegations, stating decisively that the justification of 'military necessity' for the executive and military orders were based on 'unsubstantiated facts, distortions and representations of at least one military commander, whose views were seriously infected by racism.' She held that the government had committed willful misconduct." Saying the conviction was set aside, she left the bench.
Minami remembers everyone "hugging and jumping around unceremoniously." Except for Korematsu. "I turned to Fred and said, 'Fred, this is great!' Fred was dazed, staring somewhere about two feet above my head, and asked quietly, 'What happened?' I said, a bit more excitedly, 'You won! Your conviction is overturned!' To which he said in a soft voice, now looking at me, 'That's good. That's good.'
"This courageous man, who had lived for 40 years with the burden of losing the case that approved the imprisonment of his community … could not immediately embrace his victory." When it finally sank in, two weeks later, Korematsu celebrated along with his attorneys.
The outcome also opened up a conversation within Minami's own family, as his parents began talking about their own experiences at Rohwer, in southeastern Arkansas. His mother told him how she, his dad and older brother were taken first to the assembly center at Santa Anita Racetrack, where she had to scrub out manure in the horse stalls where they were to sleep. 
It was the only time Minami saw his mother cry. "It felt like a stab in the heart," he recalls. "She said it in such an understated way: 'Yeah, I guess it was pretty bad.' Those are the words she said. She tried not to remember it all." 
To him, the tears spoke for an entire generation that had held its emotions in check.
---
The Bachelor Settles Down
Overturning a 40-year verdict is impressive, but Minami is fine with taking things on a little later than usual—including fatherhood. The former most-eligible bachelor married Ai Mori, a staff attorney at the 1st District Court of Appeal in San Francisco, in 2005 and had his first child at age 63, his second at 66.
"My life has become very different than I expected it to be at this point," he says. "I didn't expect to be crawling on the floor and playing hide-and-seek. I've always been impatient, but [my daughter] has caused me not to be." 
A local elementary school stages a play about the Korematsu case every year. Minami's children now go to that school and have joined him in the audience to watch. "That doesn't impress them all that much,"
he says. "They're much more impressed that the school set aside a reserved parking spot for me.
That convinced them I was a real celebrity."
Search attorney feature articles