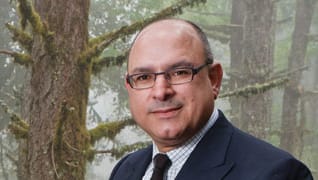 Photo by: Gregory Cowley
Voice of Calm
Once a child soldier in Lebanon, Haitham E. Ballout rebuilt his life in the U.S. Now he helps others do the same
Published in 2011 Northern California Super Lawyers magazine
By G. Patrick Pawling on July 11, 2011
In 1976, Haitham E. Ballout, barely a teenager, carried a Kalashnikov assault rifle into the hills of Lebanon. As a soldier defending his town, he witnessed many things no child should have to see.
Now, at age 49, there is a smile in Ballout's eyes, optimism in his voice and a calmness in his demeanor. These are the rewards of perspective. For Ballout, life is a gift to be unwrapped daily. He has a family, including his wife and their four children; a house on the peninsula south of San Francisco; a mountain bike on which he loves to explore the natural beauty of his surroundings; and a thriving law practice focused on a hot issue: immigration.
He doesn't talk much about his time as a child soldier. He is neither ashamed nor proud; as the family's oldest son still living in the country, it was something he felt compelled to do.
"They said, 'Here is your rifle and your ammunition,' and off I went," he says.
He would go to the front for two weeks, come home for a few days, then go back again to try to stop the outside forces, who were advancing with tanks.
 "We were doing whatever we could to stop them," says Ballout. "Firefights, seeing the horror of war, smelling the burned dead bodies and having friends die next to me—it was not good."
Ballout and his six siblings lived in the mountains with their parents, who were teachers. There wasn't much money, but there was enough to live on. Ballout's U.S. connection started with a twist of fate. One of his brothers, Hisham, wanted the family to host an exchange student. Their parents agreed, though they wondered how they could feed another person. An agency connected them with a Swedish family, but the student canceled because of the frequent fighting in Lebanon. The agency replaced her with an American girl from California—with whom Hisham fell in love. They married and lived in Lebanon for a time; when the fighting got worse, they left for California.
Soon afterward, the soldiers came for Ballout. He wrote to his family about his experiences at the front; one of his letters made its way to Hisham. Appalled, Hisham came up with enough money to get his brother to California on a student visa.
At age 14, Ballout found himself thousands of miles away from his parents. It wasn't easy, but it was better than being shot at in the hills of Lebanon.
"It's funny, the little things you remember," he says. "If my kids complain about sweaty feet, I remember I had the same boots and socks on for two weeks without ever taking them off. I will never forget—I saw somebody's head blown off. And later his mother came to me and begged, 'Please tell me, how did he die? What happened?' I helped take him to the hospital. It was not an easy thing."
Making a life in the U.S. wasn't easy, either. With no ability to speak or read English, he was put in a special education class in high school in Hayward. Eventually he transferred to a high school in San Mateo, where he attended regular classes. He worked very hard on his English, which improved quickly. But he had little in common with the other kids.
"It was almost like the rest of them were infants," he says.
When Ballout was just 16, he tested his way into San José State University, where he earned a Bachelor of Science degree in engineering. Even when his English skills were still limited, he excelled at two universal languages—math and science.
He lived with Hisham and his family, but rarely saw his brother, who was working very hard to support them. There was very little money. At one point, the phone was disconnected. "We had nothing—really, nothing," Ballout says. "It was not fun at all."
One thing he definitely had was determination.
"It wasn't about being smart, it was about being dedicated to doing what is necessary to get what you want," he says. "I remember day after day, spending hours after school in the library looking at the dictionary. I had to look up almost every other word because I knew nothing. It was a sad time—missing family, people making fun of you. The only thing they knew about Lebanon was Lebanese hash. The funny thing is that, to me, in Lebanon drugs were not something you even knew about."
After he graduated from college, he used his engineering skills to work for his brother, who had paid for Ballout's education and by then was running a company that sold and repaired commercial refrigeration units. One Sunday morning as Ballout sat reading The New York Times, a small display ad caught his attention. It said: "Thinking of law school?"
"I realized, my God, that is what I want to do," Ballout says. "Law had never crossed my mind before, but it hit me that morning."
Hisham wasn't shocked to hear that his brother wanted to become a lawyer.
"He was a leader even when he was a kid," says Hisham, who eventually moved back to Lebanon. "[He] always had an answer for everything. … And he always had a dream—to be somebody."
On Monday, Ballout talked to a law school adviser. Two weeks later, he was enrolled in an LSAT class. He took the next-scheduled LSAT and shortly thereafter was sitting in his first class at Golden Gate University, the only law school in the area that accepted students midyear. This, he thought, is where I belong. While his brother paid for engineering school, Ballout managed to cover law school himself—he worked during the first year and took out loans for the last two.
"I loved reading those constitutional cases written by those justices," he says. "It touched my heart. … I was coming from a country of chaos. It was an amazing feeling."
Today, Ballout has offices in San Francisco, Burlingame and Lake Tahoe. He has been successful with personal injury work, representing plaintiffs against organizations including United Airlines, Swissair and Shell Oil. He has also handled big employment discrimination cases against defendants including Home Depot, Starbucks and the State of California.
His focus, however, is on immigration. And in his spare time, he likes to write children's stories. In one of his first, a raindrop is afraid to jump from its cloud, so Mother Nature gently lifts it to the ground. Reassured, and happy it can do its job, the raindrop slides out of her hand and trickles to the earth, helping to heal the parched ground.
The story ends: "Mother Nature understood that each child has a distinct season to thrive in and be free."
Freedom is important to Ballout. When someone's freedom to live in America is on the line, he wants to be the lawyer they call. His own attempts to stay in the U.S. after coming on his student visa were nearly sunk by poor legal advice, he says.
"There is something wrong with that picture," he says. "Somebody has to do better than that. Now, working with clients, a lot of times I have to gain their trust because, in their mind, their last attorney may not have treated them right. I just tell them, 'Not long ago I was in your shoes.'"
In one case, Ballout represented a foreign citizen facing deportation. The man said he was brought to the United States by a U.S. government agent who escorted him around security at the airport. When the man came to Ballout, the government was trying to deport him for allegedly trying to buy illegal green cards. They had the tapes to prove it. He claimed that he had tried to buy green cards with cash in a hotel room because the U.S. government wanted him to help make a bust. He said the government had given him the cash and set it up. He even provided the first name of his mysterious government handler. Ballout persuaded the judge to ignore the tapes because there was no criminal conviction against his client, and immigration judges don't decide criminal cases. The judge, says Ballout, returned a response to the government to the effect of: "Don't show me tapes; show me a conviction, then I'll decide whether to deport him." In the end, Ballout's client got his green card and now lives with his wife, a U.S. citizen.
Ballout has returned to Lebanon a few times to visit family. In July 2006, he brought his own family—his wife, Linda, and their children. War broke out again just as they arrived. With the airport closed, they were evacuated to Cyprus a week later via boat by the U.S. Department of State, escorted by U.S. Navy ships for protection. A more recent visit was two years ago, again with his family, and this time less eventful.
Sacramento lawyer Andrew Bohan, who attended Golden Gate with Ballout, says of his longtime friend, "He has always brought a calm to situations. I remember, during law school, a number of us were out hiking in the backcountry and we got disoriented. People were getting really anxious. Haitham was like, 'It's all good—we have to get over that ridge and we'll be fine.' That's how he was, and is."
Ballout acknowledges, "My wife sometimes says how steady I am. I think what happened before, it does help me keep things in perspective. I feel like I am lucky to be alive and lucky to be able to enjoy my family and my work and put my kids to bed at night."
Search attorney feature articles