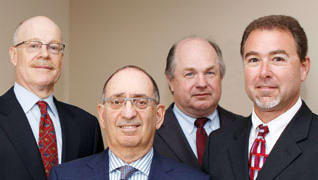 Photo by: Gregory Cowley
"Who Are Those Guys?"
Bankruptcy boutique Felderstein Fitzgerald Willoughby & Pascuzzi plays well—and fights well—with others
Published in 2013 Northern California Super Lawyers magazine
By Stan Sinberg on July 8, 2013
At Sacramento bankruptcy firm Felderstein Fitzgerald Willoughby & Pascuzzi, the daily grist is made up of insolvency, business failures, lost fortunes and broken dreams.
So why do the four name partners seem to be having such a good time? Seated in the firm's 17th floor conference room, with its expansive view overlooking Capitol Mall, they try to explain.
"It's fun to help employees keep their jobs," Thomas Willoughby says. He relates the story of a deal last February in which Zacky Farms, a large California turkey-processing plant with 1,000 employees, underwent Chapter 11 bankruptcy. There were four bidders, three of whom planned to liquidate Zacky's assets. The successful buyer was the one who wanted to keep Zacky's viable, and its employees on the job.
"That was very satisfying," Willoughby recalls.
"We've made a very successful practice," says managing partner Steve Felderstein, "out of being underestimated and leaving the other side asking, 'Who are those guys?'"
Don Fitzgerald says he left a larger firm in 2001 to join the Felderstein firm, then two years old, partly because he saw "how much fun they were having." Paul Pascuzzi describes the gratification of presenting clients with surprisingly low bills, and of having time to volunteer for the Debt Collection Defense Clinic run by the Voluntary Legal Services Program of Northern California.
For the past 15 years, this boutique firm has allowed its owners the luxury of selecting their clients, nimbly assembling optimal teams of outside experts to prepare cases, and being able to charge substantially lower rates than their larger-sized counterparts in bigger cities.
The firm may be small—there's a fifth partner, Jason Rios, along with two associates and a legal assistant—but it's regularly involved in headline-grabbing cases, including serving as co-counsel with the California Office of the Attorney General in cases involving Enron, Pacific Gas & Electric Co., WorldCom, Pacific Lumber Co.; and representing the California Public Employees' Retirement System (CalPERS), a large creditor in the City of Vallejo Chapter 9 case. It was lead firm for the Official Committee of Unsecured Creditors in the Tri Valley Growers Chapter 11 case, and represented a Chapter 11 Trustee in the operation and disposition of 26 Taco Bell restaurants.
The partners relish facing long odds against firms many times their size.
In a recent email announcing a decision against one such firm, Willoughby expressed the firm's ninja-like M.O.: "Small, smart law firms can demolish major law firm talent and can do so at a fraction of the cost. We must always remember that. Big law is slow but often not wise." 
"We like to do things that people say can't be done," says Felderstein.
Fitzgerald chimes in: "That's why other firms refer cases to us. It shows they've exhibited good judgment." The other firms appreciate that the boutique "gives the client back" after the case is over.
"We play well with others," Felderstein says.
"We fight well with others too," Willoughby notes.
Martin Zohn, with Proskauer Rose, has been on the opposing side of some of those battles. But he has only praise for the FFWP team, calling them "among the most effective and practical bankruptcy lawyers in the country."  In one case, Zohn represented the NBA against Fitzgerald's client, a bankruptcy trustee for a part-owner in the Sacramento Kings who was going through bankruptcy.
"Fitzgerald displayed a remarkable degree of calm and a steady hand in maneuvering through a case filled with lots of emotion," Zohn recalls. "He was a consummate manager and dealmaker, and got the various parties together … without it becoming a donnybrook of litigation."
At Steptoe & Johnson, Robbin Itkin has also faced off against FFWP. "The lender wanted to put the debtor [her client] into bankruptcy, which would have been an unnecessary cost, and potentially devastating to the business. Despite our adversarial roles, Steve Felderstein and I worked together to accomplish a successful out-of-court workout," she says.
Pascuzzi says his firm is "particularly strong on devising innovative strategies to structure bankruptcies, and creating effective ways of implementing them."
Value goes in hand-in-hand with being small, says Willoughby. "We can serve the client efficiently," he says. "We don't have to over-staff. This is just better."
Felderstein concurs: "We don't have to pressure each other to bill a certain number of hours. We can focus on assembling the best team."
Although the partners regularly handle their own cases, they also team up in pairs. There's a great deal of overlap when it comes to skill sets, but to the degree that each of the four can be said to have a niche, it divvies up something like this: As managing partner, Felderstein comes across as the most politic, and the firm's voice.
The sardonic Willoughby contrasts himself with Felderstein by joking, "He's the light side; I'm the dark." The partners credit Willoughby with being the one to think outside the box in devising strategy. And the serious Pascuzzi figures out how best to put that strategy into effect. He emphasizes the firm's commitment to aiding the community. Fitzgerald is the most gregarious, and does a lot of the firm's outreach to round up a team for a case.
Back in the '90s, Felderstein, Pascuzzi and Willoughby were colleagues at Diepenbrock Wulff, Plant & Hannegan. The three talked together about wanting to focus on bankruptcy law in a smaller boutique setting. When Diepenbrock dissolved, the three attorneys seized the opportunity and opened their own firm on Jan. 1, 1999. In December 2012, the firm moved from its original location to a roomier space three stories higher in the same building. Each Thursday the four are joined by Rios, the associates and paralegal, for a box lunch meeting in the conference room, which is as much about maintaining close ties as it is about sharing case information.
This, of course, presumes all the partners are in town, which is not always the case. They fly all over the country to handle bankruptcy matters. Some CalPERS matters have been held in New York; Heller Ehrman's bankruptcy (the firm represented the Official Committee of Unsecured Creditors) was in San Francisco; Pacific Lumber took them to Corpus Christi. As is frequently the case in bankruptcy cases, the locales and states where they are filed often bear little resemblance to the true corporate headquarters.
"Pacific Lumber filed in Corpus Christi, where they had a telephone-booth-sized office. Literally. It was 300 feet big, with no staff," Felderstein says.
Corporations do this, of course, to take advantage of state laws that are favorable to businesses, and to save on taxes.
Pascuzzi says that when corporations file for bankruptcy thousands of miles from where their business takes place, it is extremely difficult for creditors and other affected constituencies to participate in the case, in effect disenfranchising some parties.
Pacific Lumber carried out its operations in northern California, where it was heavily regulated by an agreement with the state to comply with environmental standards. A Texas man bought the company and ended up going through bankruptcy, which the new owner filed in Corpus Christi, Texas, where he thought he would have a better chance to get rid of the environmental restrictions. But the judge there told the man's counsel, "If you filed in Corpus Christi because you think it's more lax than California, you've got another think coming." The eventual outcome was the sale of Pacific Lumber to an environmentally friendly California company, and the state regulations were preserved.
One state the attorneys have returned to more than a few times over the years is Delaware, which 60 percent of Fortune 500 corporations call "home" due to favorable taxation laws, a court system regarded as favorable to large corporations, and one in which it is not even necessary to maintain that phone-booth sized office to incorporate.
California bankruptcy lawyers are not the only ones irked that companies primarily based in the state often file bankruptcy proceedings in Delaware and a few other faraway states. California bankruptcy judges also are annoyed. "They would all like to have interesting and challenging cases," Pascuzzi explains.
It's no surprise that a bankruptcy firm's workload tends to be inversely proportional to the state of the economy. When the economy busts, business booms. Which means that, for the past few years, business at FFWP has been flush.
"We'd finish one case and immediately get involved in another," Felderstein says.
But in a sign that the economy is on the road back, things have slowed down the past six months. Once again, size matters. Being small with a low overhead lets the firm weather any situation without much worry.
"When it's slow, nobody cares," Willoughby says with a shrug. "Because when it's busy, we know each of us will work double-time. We don't have to complain about each other's work ethic."
"Also, [the economic recovery] is good news for our investment portfolios," Felderstein says with a smile. Besides, new business startups are also good for business.
"Statistically, newer companies have higher failure rates," says Fitzgerald, "so the fact that the economy is doing better doesn't necessarily equate with a fall-off in business."
Bankruptcies also resolve differently when the economy is bouncing back, Fitzgerald continues. "One thing I've noticed in the last year or so is other companies wanting to take over weakened companies, where in 2009 everything ended up in liquidation." He adds, "Now there are more avenues to a successful resolution."
He defines "successful resolutions" as those in which viable companies restructure and continue in business, but also—when companies can't be saved—as those in which creditors get as much back as possible. 
Of course, company owners are often strong-willed individuals, used to having their way, and they can be resistant to news that their company requires drastic action or isn't salvageable.
"There's a saying that you don't want to be the first bankruptcy lawyer to deliver the bad news in an insolvency case, because the owner won't believe you and you won't get hired. You want to be the second lawyer to deliver this news," Fitzgerald says.
The latest coup for the firm is its involvement in the city of Stockton's Chapter 9 bankruptcy case. The Official Committee of Retirees hired FFWP to represent its interests as it negotiates with the city over health benefits the retirees had been promised.
Felderstein believes bankruptcy is essential to the functioning of capitalism because "there has to be a way to allow companies to start up and fail." And hopefully, regroup and go forward. When Fitzgerald follows up with a disparaging remark about takeovers that result in a company being dismantled in order to nominally increase shareholder value, the others nod in agreement.
One of the biggest misconceptions the public has about both bankruptcy law firms and the companies that declare bankruptcy, Fitzgerald says, is this: "Folks think we represent people with poor business judgment, and that they failed because of that. Oftentimes it's due to circumstances beyond their control." One example is unanticipated upheaval in a particular industry.
Felderstein nods. "Who could have told Kodak that they were in the ['horse-and-] buggy' business?" he says, referring to the company that controlled 90 percent of the U.S. film market as late as 1976 and filed for Chapter 11 bankruptcy in 2012. "They invented digital photography. I grew up in Rochester, where Kodak was situated, and they were a huge presence."
When bad judgment is involved, it's sometimes a matter of a successful business trying to grow too quickly. "Then," Felderstein says, "when there's a hiccup in the industry or the economy, they don't have the staying power to weather the bump."
Still, the attorneys have been around long enough that they can sometimes sniff out tell-tale signs of impending doom even before a company's financial ledger goes south.
While much of their practice centers on large institutions, problems surrounding debt and credit inevitably haunt many lower-class and indigent people, which is why Pascuzzi volunteers at a local legal services clinic, advising low income folks on these matters.
Both on account of the changing (and improving) nature of the economy, and because many of their clients come from referrals from other firms, the attorneys say that sometimes they don't know where their next case is coming from.
"It's a riskier business model," Felderstein says calmly.
Adds Willoughby, "And that's fun!"
Search attorney feature articles