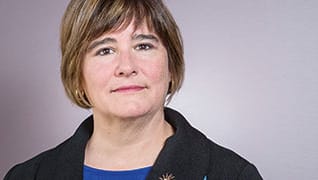 Photo by: Gregory Cowley
Who Would Rosie Hire?
Jean K. Hyams is all about making sure her clients get a fair shake in the workplace
Published in 2014 Northern California Super Lawyers magazine
By Joe Mullich on July 3, 2014
Even as Jean K. Hyams began her closing argument, she was looking forward to showing the picture. This was a case in which an African-American worker had been harassed and fired, and it included a nasty workplace incident involving a white co-worker who prevented him from getting a drink of water. 
Hyams' presentation unspooled—lots of pictures, few words—until she reached the indelible image of a water fountain, bringing to mind the "separate but equal" doctrine that, in the Jim Crow era in the Deep South, relegated black citizens to different schools, bathrooms and water fountains than whites.
"In civil rights cases, the wider you can pull the camera back—so people can see the case as part of a major societal issue—the deeper people's understanding will be," says Hyams, a founding partner at Levy Vinick Burrell Hyams in Oakland. "Afterward, I talked to the jurors, and one told me that image really reached her. She said serving on that jury was the most significant experience in her life as a citizen."
Her client was awarded $1.2 million in the case, which Hyams tried in 2007 along with firm partner Darci E. Burrell.
Hyams' approach to law is highly visual. She videotapes almost all her depositions so she can play them for the jury. She uses focus groups to see how tidbits of her images and storyline play. "You have to see the story arc of the case," she says. "You have to deeply listen to the client and the witnesses to bring the story of their lives."
Law partner and longtime friend Leslie F. Levy says, "She always knows how the whole case will play, like a movie in her head. In fact, we'll ask, 'Do you have the movie in your head?' And if she says no, the case always settles or we won't get a courtroom."
Hyams represents people with disabilities, older workers, women, gays and lesbians, whistleblowers, injured workers, and people of color in lawsuits seeking vindication for civil rights violations. So it's appropriate that Levy Vinick Burrell Hyams—a firm with all female partners—features Rosie the Riveter on its website, along with the question: "Who would Rosie hire?" The idea for the image came from Sharon Vinick, another of the firm's founding partners. Hyams' mother was a Rosie welder herself.
Born in 1960, Hyams took to civil rights and politics at an early age. Before she turned 10, she participated in an anti-Vietnam War protest and went with her mother to bring food to Martin Luther King Jr.'s Resurrection City, camped on the National Mall. She helped the George McGovern presidential campaign by making calls and by babysitting for older volunteers, freeing them to help out. At age 12, Hyams spent the summer glued to the TV watching the Watergate hearings.
"I thought [civil rights leaders] Barbara Jordan and Shirley Chisholm were the most amazing people I'd ever seen," she recalls.
After graduating from Wellesley College in 1983, Hyams took the LSAT but decided it "felt strange to go from college to law school with no life experience." She got a job as Larry Ellison's assistant, becoming the 42nd employee of the company now called Oracle. Within a year, she was promoted to marketing communications manager. "If you were smart, ambitious and engaged, it didn't matter if you had never done it before," she says.
While the startup was exciting, she felt decision-making seemed capricious at times. "I really believe in the integrity of process. If you have a shared understanding of how you arrive at decisions, people are comfortable there is a basic fairness, even if they disagree with the decision. That's what I like about law—it's a process."
She left behind millions of dollars' worth of stock options to go to the more established Hewlett-Packard. The work, while interesting, didn't stir her passion. So off she went to Boalt Hall School of Law at UC Berkeley. She graduated in 1989, during a mini-recession, and was rebuffed when she applied to public-interest organizations.
"They saw me as a corporate person," she says. "They were interviewing other young lawyers who had proven their commitment through their college and post-college work. All I had to show my commitment was my word."
So Hyams opened her own firm—first working out of her bedroom, later occupying a place at a personal injury office. She did some work for them in exchange for a desk, access to the copier and legal books. Hyams handled whatever cases she could find, including sexual-harassment-in-housing cases and civil rights cases, many of them brought by graduate students seeking disability accommodations.
 But she couldn't make a living. She was pregnant at the time and decided to take a government job, serving as a civil rights attorney with the U.S. Department of Education. "At Oracle, I left because there was too little process, and in the government it went the other way," she says. "People weren't pulling together and things moved too slowly."
At a government workshop, Hyams took the Myers-Briggs personality-type test.  The woman who gave her the test asked, "What are you doing here?" As Hyams puts it, "My personality type was anti-bureaucratic." She had already been thinking of moving on, but the test results indicated she shouldn't continue to "bang my head against the very glacial pace of bureaucratic change."
Instead, Hyams joined the employment practice group of Boxer & Gerson, where she worked with two of her current partners, Levy and Burrell. In 2006, she and Burrell took a case in which an employee at a Caltrans' 24-hour transportation management center in Oakland was subjected, Hyams said in the filing, to "violent and foul language demeaning to women." The woman worked the night shift—or what Hyams calls the "nightmare shift." She says her client's co-workers watched pornographic movies in open workspaces and when she complained to supervisors, her co-workers turned on her.
The situation was threatening to derail her dream of becoming a transportation engineer. At trial, Hyams got the second-highest-ranking official at Caltrans on the stand and asked if he was concerned that a Caltrans worker was being harassed. "I didn't care what he said," Hyams recalls. "If the answer was no, that was great for my case. If the answer was yes, my response was: Why didn't you do anything about it?"
Then as now, she saw her charge as addressing toxic environments. "You have to hold the management accountable for the culture they create," she says. "If the people at the top won't tolerate it, it will stop."
Caltrans was found liable by a jury for creating a hostile work environment and required to pay $345,300. Hyams says the sum was relatively small but the principle was enormous.
Retired Judge Bonnie Sabraw, who presided over the case while serving on the Alameda County Superior Court, remembers Hyams' knack for thinking on her feet and conveying to the jury the impact of the situation on her client. "It's hard to put something new in front of someone who's been a judge for 20 years," Sabraw says. "She handled it in a unique way and really touched the emotions of the jury."
Another case involved an Albertsons supermarket clerk whose treatment for throat cancer affected her salivary glands. She needed to frequently drink water, which meant frequent bathroom trips. Individual managers found solutions to accommodate her needs, but one day, the clerk was working the store alone with a new manager. He had not been alerted to her condition and didn't understand she needed him to replace her at the register promptly.
"She wetted herself in front of a line of customers," Hyams says. "She was so humiliated, she almost killed herself on the way home and virtually did not leave the house for three months."
The law firm struggled with whether to take the case. After all, her managers had accommodated her for years, and Hyams knew the supermarket chain would position the embarrassing incident as a simple mistake. "A trial is a battle where you are trying to pull the jury to one frame of reference or another," she says. "The battle is won or lost on that."
Hyams and Levy  prepared a chart showing this incident was the result of a series of deliberate choices by the company, because the supermarket had no accommodation plan in place to alert the new manager about her condition. "We presented it as a graphic, with a road with a lot of turnoff points," Hyams says. "Albertsons made it her job to tell every single manager about her situation, and made it her job to get the accommodations she was entitled to." The case ended with a verdict of more than $1 million for the clerk.
Hyams credits Levy with coming up with the road image. "The way we make decisions is a lot more collaborative process than what I understand [is the case] in a more top-down traditional hierarchy," she says. "We see ourselves as co-lead counsels, which confuses the hell out of other attorneys and judges."
In 2010, Hyams joined with four attorneys to start their own firm, branded as "accomplished advocates for employees." It's also a good place for employees. The firm's collaborative work environment goes to how it divvies up responsibilities. "The firm is supportive of playing to people's strengths," says Vinick.
Hyams will sometimes jump onto a partner's case in the lead-up to a trial—"the fun part," she says—and immerse herself. She sequesters herself in a room, Post-it notes everywhere. Attorneys outside the firm also invite her to join their trial teams when they're on the way to court. "I'm a kind of trial strike force of one," she says with a laugh.
"Jean functions extremely well on the spot, under pressure," Levy says. "She is phenomenal at figuring out themes and sees the big picture and what pieces will pluck at the heartstrings of people."
Jeffrey D. Polsky, at Fox Rothschild in San Francisco, has faced off against Hyams in the courtroom. He once represented a hospital that had discharged a labor and delivery nurse whose rapidly deteriorating eyesight left her legally blind. "At first blush, you would never think this woman could handle the duties of a nurse," he says. "But somehow Jean found other nurses, doctors, co-workers and even patients who were able to substantiate that she remained an excellent nurse. It shocked me she was able to do that, but it speaks to how dogged and persistent she is." The hospital settled the case.
Polsky was so impressed that he referred a friend, who had been beaten by a police officer during a protest, to Hyams' firm. "I gave my friend the name of a couple of lawyers, and she remarked that before Jean and her partner Leslie started talking about the legal aspects of the case, they expressed concern for her on a personal level. And that's Jean. I know few lawyers who are more aggressive, but she's caring and never rude."
Hyams' non-working hours are spent mostly with her partner, Cindy Maxim, and 16-year-old son, whom she calls "a totally logic, math and video game guy—he completely wins every argument with me." Hyams also devotes a great deal of time to the California Employment Lawyers Association, where she is a board member.
Her father, who was a Washington, D.C., economist, comes to watch all of her trials. "My mom always votes for me, because she's always for the underdog," says Hyams. "That's not necessarily true with my dad—he's more personally conservative. On breaks during a trial, I'll ask if he has questions. He's a good barometer of how the jury is reacting. I think of him as the 13th juror."
Search attorney feature articles