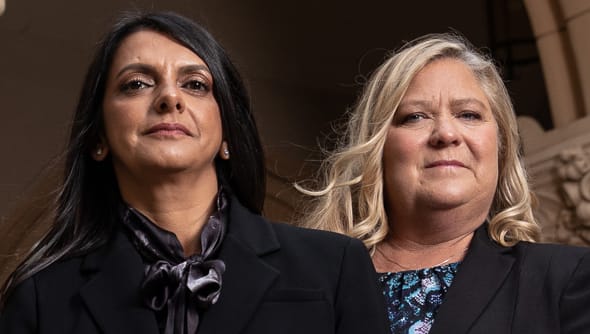 Photo by: Dustin Snipes
Won't Back Down
Alreen Haeggquist and Amber Eck have taken on the Salk Institute, Fairmont Grand, and Donald Trump
Published in 2020 San Diego Super Lawyers magazine
By RJ Smith on March 30, 2020
On a rainy day in early December, on the 20th floor of a glass tower overlooking downtown San Diego, Alreen Haeggquist and Amber Eck are showing off the offices of their eponymous firm. Handmade wood furniture built by Haeggquist's husband fills meeting rooms, offices and common areas, where several people are checking in on the U.S. House hearings regarding the impeachment of President Donald Trump. Nearby, at the end of a long hallway, above the fax machine, hangs framed lithographs by artist Shepard Fairey depicting three women—African American, Muslim and Latina—above the words "We the People."
Haeggquist saw the lithographs during the Women's March that took place the day after Trump was inaugurated in January 2017. "I wanted them up in our office as a reminder of what we do each and every day: stand up and protect our community, regardless of race, religion or gender, with rights afforded by our Constitution," she says.
The lithographs connect not only with the firm's mission—an employment and securities fraud firm, Haeggquist & Eck represents only consumers and employees—but also with the firm's founder, whose roots are as diverse as the women depicted.
Haeggquist's father, Allaudin, was from Burma (now Myanmar), while her mother, Shirin, hailed from Bombay, India. They met, married and settled in Rangoon, where they had seven kids. In the 1960s, amid political upheaval, the family fled to India, then to Pakistan, where Allaudin saw better opportunities. There, they had three more children. Alreen was the last, her name a combination of both parents' names. In 1979, the family moved to the San Fernando Valley, where her parents established a dry-cleaning business and then a catering business. 
Haeggquist may have been the last child born, but she was the first to go to college. "I am just grateful that I had the opportunity to grow up here," she says. "It was that whole familiar immigrant story."
Meaning both positive and negative. The kids at school called her "camel jockey," "dot head" and other epithets. "They would literally follow me around and torment me about the way I looked [and because] I practiced a different religion." Haeggquist was brought up in the Ismaili sect of Islam; she no longer practices.
Home offered little respite. "My father … let's just say he wasn't the kindest man with his words or actions," she says. But Haeggquist had an ally in her oldest sister. "[She] stood up for herself and others at home, and for me at school. I admired her for it—for not being scared to say something when she knew things weren't right, regardless of who the person was on the other side."
Haeggquist draws a direct line from her sister's inspiring example to the work she does today. "People aren't better than you," she says, "because they have more power than you."
On this day in the impeachment hearings, a panel of law professors wrangle over the actions of Donald Trump. You could forgive people at the firm for thinking, "Been there, done that."
In 2010, firm attorney Aaron Olsen got a call from a woman named Tarla Makaeff, who had been a student at Trump University. What she told him, he says, was alarming.
"She seemed to have a genuine story to tell," says Olsen, "but she wasn't getting traction from other attorneys."
Makaeff talked about how the for-profit educational institute, founded by the then-reality TV star and real estate tycoon, had promised to reveal the secrets of "elite" real estate salesmanship. She spent $35,000 on that promise but found nothing elite about the education she received. "It sounded like there was some nefarious stuff going on," Olsen explains. "What she was telling us about the tactics they were using and how she felt deceived led us to want to investigate further." 
Working with Eck and others, Olsen interviewed Makaeff and other former Trump U students and built a group of plaintiffs to form a class action lawsuit.
"I personally spoke to hundreds of people, and kept a log of all our discussions," Eck says, sitting in a conference room with Haeggquist.
"It was heartbreaking," Haeggquist adds. "These were not people with a lot of money; they had put up all their savings and were often elderly."
Makaeff's call came within a year of the firm's launch; they had four attorneys. So they brought in Rachel Jensen from Robbins Geller Rudman & Dowd to assist in the case. And they gathered information about the school's methods. 
Trump University touted itself as an opportunity for students to learn how to become real estate dealmakers from instructors handpicked by the reality TV star. What the attorneys uncovered was how the instructors were upselling more classes and urging students to get out their plastic and sign on for another level of insider knowledge.
"Not in our wildest dreams did we think he would run for president," recalls Haeggquist. "We just knew he would be fighting hard." He did. Trump countersued Makaeff for defamation, a case he lost in the 9th Circuit in 2014. 
Trump was deposed on several occasions. And while he touted his personal involvement, his own testimony, according to Eck, "was kind of typical Donald Trump. … There were a lot of things he didn't remember." He claimed, she says, that he had handpicked all the experts, but "he couldn't remember their names or any of their faces. In that way it was essentially a false advertising case."
Then Trump threw his hat in the presidential ring and the case blew up. A lawyer at the firm was at the gym on the elliptical trainer when she was asked by the person next to her, "Hey, did you hear about Trump University?" Apparently, Sen. Marco Rubio had brought it up to criticize Trump's fitness for office; suddenly the whole country was talking about it.
"And right as we were preparing for trial," says Eck. "Now we had to factor that into our case. Is [a juror] going to say to himself, 'Is he going to be our president? I can't find him guilty.'"
Talking about the case in public, Trump said U.S. District Judge Gonzalo Curiel would never give him a fair trial. 
"He said that [Curiel] was biased in part because he's Mexican," remembers Haeggquist.
"When, of course, he was born in Indiana," adds Eck.
Trump also vowed never to settle out of court. But days after he won the presidency in November 2016, Judge Curiel, concerned about the logistics of putting a sitting president on trial, urged the parties to negotiate a settlement. They did: $25 million for the two cases.
It was a hard-fought victory. But after years of work, Haeggquist & Eck and the firm with which it tried the case, Robbins Geller, did something unusual: They waived their contingency fees so the payout for the plaintiffs would be bigger. Given the huge amounts the plaintiffs had lost, and the ways many of their lives had been damaged, Eck says it felt necessary.
Was it easy? "No!" Haeggquist laughs. "We didn't go into this thinking we were doing a pro bono case. … But the dynamic of the case, and the fact that the fees were so high by the end, made it just the right thing to do."
"We did get calls from some people after that," says Eck, "asking if we wanted to work free for them."
"We believe if you do the right thing, it will all work out fine," says Haeggquist, pausing for a beat. "Heck, we hadn't gotten paid for seven years, so we were able to let it all go." 
Eck was born in Missoula, Montana, with law and politics in her background. Her grandmother, Dorothy Eck, was a state senator, while her father was a civil litigator. A career in law was way in the future, but she eventually became sure of one thing: She wanted to live in California.
"I first visited California in high school, when my youth group took a road trip to Los Angeles, and we spent a week tent camping on Catalina," says Eck. "I thought I had discovered paradise. I loved everything about Southern California—the sunshine, the beaches, the people, the palm trees, the laid-back vibe, the culture of the cities and the quirkiness of the beach communities—and I still do."
She enrolled in Pepperdine University, studying communications and business marketing. After two years working as a photo editor at a legal publication, she took the plunge into law school, graduating from Boston University School of Law in 1995.
Her first job was at Chapin, Fleming & Winet, where she learned a lot—including what she didn't want to do. "I spent a lot of time looking at a home insurance policy that excluded dry rot and then telling a homeowner, 'Your house was ruined by dry rot and the policy does not include dry rot, and so therefore you are not covered,'" she says. "At the end of the day, that did not feel like making the world a better place."
The next firm, Milberg Weiss (now Robbins Geller Rudman & Dowd), is where she met Haeggquist. Eck was working in securities, Haeggquist in the consumer fraud department. They worked on only one case together but knew each other socially. Says Eck: "I got the impression, and have always thought, she was smart and ambitious and I had a lot of respect for her." 
In 2007, Haeggquist left to found her own firm. She knew it was risky. "The mindset you need, and I have, is you have got to believe in yourself and what you're doing," Haeggquist says. Of course, it helps to have others in your corner. "I have a supportive husband who is my cheerleader."
In an unusual mid-career move, Eck left Robbins Geller to clerk for one of her former colleagues, Judge Jan Adler. "I had always regretted not doing it after law school," she says, "and it's exactly what I needed to reinvigorate me and help me move on to the next thing." 
After a year, she adds, "I knew I wanted to do something new, but I didn't know what, and a good friend said, 'You should really call Alreen.' So I did and we teamed up." 
She joined in February 2010. Her experience with securities brought a valuable new skill set to the firm. Today, says Eck, "I am extremely proud of the clients and cases we have taken on, the quality of work we have done, the results we have obtained, and the work culture and environment we have created. Before this, I never would have considered myself an entrepreneur or business owner, but I am incredibly proud of what we have accomplished."
Those early years were an eye-opener. At previous firms, they took large corporations to court, often with unlimited resources. Now they had to do it with a small budget.
At Robbins Geller, says Eck, "I'd just tell my secretary, 'We'd like to take a deposition.' And they'd order the court reporter, arrange for food services people who would bring something in. Here, I had to contact our court reporter, make the coffee and bring in all my own copies myself, and then clear the dishes." She looks out the window, with a glimpse of the ocean in the distance. "But now I realize I can also do this myself."
Beyond the Trump U case, the firm has taken on a number of high-profile targets in its San Diego backyard. The Salk Institute is a world-famous private biological research facility based in La Jolla, which works to discover the causes of cancer, diabetes and AIDS in a facility designed by Louis Kahn. There is money, there are geniuses, and people from around the world visit. 
And Haeggquist took them to court. 
Beverly Emerson was a cancer biologist who worked at the Salk Institute for 31 years until her contract wasn't renewed in 2017. Months earlier, with Haeggquist & Eck, she'd filed a lawsuit accusing the facility of long-term gender discrimination and "systematically undermining and marginalizing" its senior female researchers. In November 2018, shortly before trial, the institute and Emerson reached an out-of-court settlement.
"I'm very proud of [representing Emerson] because, one, she is a wonderful woman, and, two, I am proud to be able to stand up to this high-profile institution in San Diego," says Haeggquist.
More recently, the firm has taken on the Fairmont Grand Del Mar hotel, the only five-star resort in San Diego. Two former massage therapists say they reported a client's sexual harassment to management but hotel staff ignored the complaints. The case is set for trial in August.
Haeggquist and Eck's lives intersect out of work too. They live within blocks of each other, and they're both moms—Haeggquist has a 7-year-old daughter, Maya, and Eck has two daughters on the cross-country team, Jordyn and Kathryn Duby, ages 16 and 14. There's some talk of Jordyn babysitting Maya in the near future.
"Being a mom and one of 10 kids, I do a lot of family things outside of work," Haeggquist says. "We do a lot of firm events, too—most not involving kids, but some do, like our annual family fun day every July."
Trump University got Haeggquist & Eck a wave of attention, but has it brought an increase in business?
"We can't say we took the case and as a result these 10 high-profile cases reached out to us," says Eck. "But it's bolstered our reputation." 
"Now they know we can handle the work," Haeggquist says, "and not back down from it." 
Search attorney feature articles