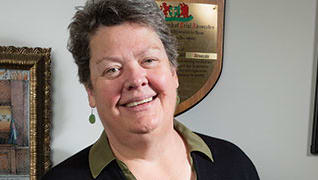 Photo by: Paul Wedlake
Justice Is Coming
Tina Habas is civil defense's worst nightmare: a former defense attorney, now plaintiff's attorney, who "speaks Judge"
Published in 2018 Colorado Super Lawyers magazine
By Jessica Glynn on March 26, 2018
Christina Habas rummages through the desk of her small office for a newspaper clipping. 
Her space at Keating Wagner Polidori Free in Denver is overflowing with memorabilia, including: a case of gavels from nearly 10 years on the bench; an artist's rendering of her presiding over Denver Bronco Darrent Williams' murder trial; and a host of awards she humbly plays down, such as the American Board of Trial Advocates' Judicial Excellence Award ("they should have never given me") and the 2015 Colorado Defense Lawyers Association Professionalism Award. Habas shares her desk with the taxidermied squirrel she has long used as a prop to teach jury selection. Stella the squirrel, who gets a new outfit depending on the season, represents those few odd "squirrel" jurors who are not quite right.
What looms largest in Habas' office are two movie posters directly behind her: Unforgiven and Tombstone. The "Justice is Coming" tagline and 10-foot bullwhip she used to keep in her criminal court chambers may have been a bit disconcerting, she chuckles, though that effect was likely countered by the baking she regularly did for juries and colleagues at Denver District Court. She even had mugs made for everyone that declared, "Justice is Sweet in Courtroom 5B." 
But the newspaper clipping Habas most loves to show people isn't about her early success as a civil defense attorney, her time on the bench presiding over 200 trials, nor the $9 million jury verdict she helped win after accepting William Keating's offer to return to private practice, this time on the plaintiff side. 
"She's been on the defense side, the judicial side and then on plaintiff's side, and that's a pretty remarkable thing to do," says law partner Mike Keating. "You have to have a belief in the institution of law, a respect for the entire system, to want to be on every side."
Thomas S. Rice of Senter Goldfarb & Rice, who has known Habas as co-counsel, adversary, judge and friend, adds, "She's much loved because she's such a tremendous human being. She's tireless, earnest, plainspoken but direct. She's a very good example of what the legal profession should be."
"Her real strength is knowing people and knowing jurors," says Keating, a life-size photograph of whom holds out both hands in a goof "stop" pose on Habas' glass office door. "It's her ability to interact with and evaluate tons of different personalities and translate that into understanding how to present a case. She just really knows people. I think it's a skill she's always had. Her emotional intelligence is off the charts."
J. Andrew Nathan of Nathan Dumm & Mayer can vouch for that. When Habas was his law clerk while still in law school, she could predict not only who the jury foreman would be, but the exact result the jury would reach. "She had an uncanny ability to tell us which jurors, just by looking at them, were favorable to us," he recalls.
Perhaps she knows jurors so well because she grew up hearing the stories of one. That yellowed news clipping Habas has been looking for? It's from 1960, and it names her father, then 27, and his 11 fellow jurors in the Calhoun murder trial. Habas was 6 at the time; her only memory was waiting outside in the evenings for a powder blue bus full of sequestered jurors to drive by, the riders hoping to catch a glimpse of their families. But she grew up hearing her dad, who'd barely managed to graduate high school, talk about how proud he was to serve on that jury, how respected he felt as he and a young nurse held out for acquittal and persuaded the others to see their side.
A few years later, Habas' mother, a teacher, took her and her sisters to Denver District Court one summer day as a family field trip. The courtroom they entered was that of Zita Weinshienk, Denver's first female judge. "I could not take my eyes off of her," Habas recalls. "My sisters thought it was the stupidest waste of time, but from that moment on I said I was going to be a judge."
Habas didn't know any lawyers. Her mom was the first in her family to go to college, and Habas would be the first to attend law school. "I was really scared and blown away by all these other students who were brilliant," she says of her first year at the University of Denver College of Law. "I felt so out of my element and began to question, 'Do I really want to do this?' I'd go home every day with a headache. It was like people were speaking a foreign language. I felt like I was completely behind and somehow made it through my first year, just barely."
Her second year she worked as a secretary at Nathan's insurance defense firm (then called Watson, Nathan & Bremer) and eventually landed there as an associate. At her first jury trial, Habas won, but then found two female jurors waiting for her in the hallway. The judge had told them this was Habas' first jury trial, and they thought she could use some feedback.  
"'We hated you,'" Habas remembers them saying. "'We hated your guts.' I hadn't found my personality. I was fake." Habas—who had been trying to mimic the style of one of her senior partners—almost threw up, but now she wishes she had gotten their names because she would still be sending them thank-yous: "They did so much to help me understand that when you try cases you have to be who you are."
At the time, Habas knew of only three other female trial lawyers in Colorado. "There were a lot of years of walking into a deposition and having everyone assume I was the court reporter," she says. She still remembers the first time she wore pants in a courtroom after forgetting to pick up her dry cleaning. "I walked in and thought the judge would throw me in jail immediately, but he didn't say a word. After that, all I did was wear pants."
Habas says her early trial work featured plenty of failures, but Nathan remembers things a bit differently. "I learned a lot from her," he says. "I took a different approach to voir dire because I thought she did it better. I took a more involved, emotional approach in closing arguments."
Within two years, Habas made partner. Her niche was employment law and civil rights. In one case, her client was a Cherry Creek Schools teacher accused of assaulting a middle school student.
A week before trial, there was a meeting to consider a settlement offer. Habas watched her client agonize, knowing that if he settled his career would be over. Habas turned to him and said, "I guarantee you we're going to win this trial." Nathan kicked her under the table, but she continued. "I believe you. The jury is going to believe you. I believe in the system. You've got to try this case."
Nathan was angry. "I almost killed her," he says. 
They won. "Before that trial I had not really come into my own. But at that point I was now Tina Habas."
The other milestone that helped Tina become Tina was being recommended as a teacher for the National Institute for Trial Advocacy in 1991. "It completely changed my life," she says. "Having to break down those skills and teach other people made me such a better lawyer."
Habas is still teaching today and in 2016 received the Robert Keeton Award for Outstanding Service as a NITA Faculty Member. "Tina is one of the very best teachers I have ever had the joy of working with," says NITA Manager of Program Development Mark Caldwell. "She is somebody who always sees the bigger picture. She's adored by both students and colleagues."
"Her eyes light up and she brings so much energy and presence to her desire to mentor," says fellow NITA faculty member Qusair Mohamedbhai of Rathod Mohamedbhai. "She has an ability to relate to almost any person no matter their background or walk in life or beliefs or socioeconomic status or religion."
Caldwell says Habas is often the first person to clear her calendar to teach programs for legal services or to train lawyers representing immigrants and children. She is committed to making sure lawyers of all stripes get help in improving their practice.
"She's always recognized the importance of integrity," says Natalie Brown of Franklin D. Azar and Associates. "Her word is her bond."
In 1998, Habas moved to Bruno, Bruno and Colin, where she represented police officers and the University of Colorado, before beginning a nearly 10-year stint on the Denver District Court bench in January 2004. After a year in the domestic division, she moved to criminal court. 
Two weeks later, she learned that the 42 defendants in the 211 Crew prison gang were heading to her courtroom. The charges ranged from drug trafficking to murder. Sheriff's deputy bodyguards were posted at her home when threats surfaced—a not-uncommon sight throughout her judicial career, especially after the 2013 murder of Colorado prisons chief Tom Clements at his home. Habas, who had always been anti-firearm, got a concealed weapons permit and started carrying a .45. She was also careful to tip over her name plate when any 211 Crew defendants entered her courtroom, since the threats against her tended to have her name misspelled. They were some of the scariest guys she had seen, but she kept all their cases, even after moving divisions.
"She was fearless in terms of applying the law," says Denver District Court Judge Edward D. Bronfin, "and applying that equally for everybody, even when that could have affected her safety."
At first, Habas tried to keep tabs on how many years she was handing out sentencings, but she had to stop after about a month. "Taking away that kind of time from a human being, even if they deserve it, is so challenging and it ought to be very difficult," she says. "I think about those people that I sent away for a very long time. I think about a lot of them every day. It's still not easy to live with some of them."
One case in particular haunts Habas, because she knew things about a witness that were inadmissible to the jury. "I just remember thinking when I sentenced him, 'I'm sending an innocent man to prison for the rest of his life.' But I felt in the end, am I so arrogant to believe that I'm smarter than 12 good people? Either I believe in the jury system or I don't."
After seven years in the criminal division, Habas was reassigned to civil court, where she found a new set of challenges—primarily unprepared lawyers. She was leaving one such hearing when her phone started blowing up. Bill Keating had heard Habas might be thinking about leaving the bench. He wanted to make her an offer.
Scott Landry faced Habas in court in 2013 immediately after she came off the bench. He was defending a client who owns a street-sweeping company against a wrongful death claim. A driver had died after slamming into a sweeper at 70 miles per hour. Landry felt the evidence was on his client's side: the sweeper was well lit; the driver had been distracted. 
"It was not only bad enough," Landry says, "that I'm trying this case against arguably the best plaintiffs' attorney in the state, Bill Keating, but then Tina turns up, and she was one of the best insurance defense attorneys and then one of the best district court judges. So all of a sudden I'm dealing with both of these people, and I went from taking a case that everyone believed was pretty much a lock to absolutely and thoroughly getting my ass kicked."
Habas, Keating and partner Deirdre Ostrowski won $9 million for their client's wife and five young children. 
It also ultimately caused Landry, the former president of the Colorado Defense Lawyers, to switch to plaintiff work. "What they were doing for their client and how it impacted that family and how they treated and cared for their family had a great impact on me," he says.
That was Keating's last trial; he died on New Year's Day in 2015. 
"Trying a case with Bill Keating was a crowning achievement for me," Habas says. "What I did was watch the jury and I did a couple of cross examinations, and the rebuttal closing. I thought I was probably really rusty, but I wasn't. After watching that many trials and presiding, I think I was as sharp as ever, and now I knew what it felt like to be a judge and so I knew how to speak judge."
Landry recently attended a seminar just to hear Habas speak. "After she got done all I could think was, 'Where in the hell were you the year before I tried this case against you?' The knowledge she has and that she now very freely passes on to anybody who will listen is unbelievably valuable.
"Her skills really are unmatched."
Search attorney feature articles
Helpful links
Other featured articles
Four attorneys on how they blazed their solo paths
Evan Levow has a serious case of wanderlust—and the pictures to prove it
Demetria Graves wrote the book; now she's recording the podcast
View more articles featuring lawyers
Find top lawyers with confidence
The Super Lawyers patented selection process is peer influenced and research driven, selecting the top 5% of attorneys to the Super Lawyers lists each year. We know lawyers and make it easy to connect with them.
Find a lawyer near you