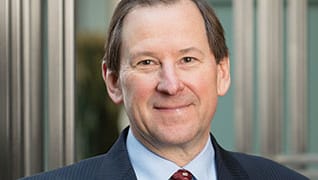 Photo by: Paul Wedlake
Master of the Midfield
Want a stadium built? Craig Umbaugh is your man
Published in 2016 Colorado Super Lawyers magazine
By Ron S. Doyle on March 14, 2016
At the end of the 1980s, Denver was in distress. Its population had declined since 1970, with residents relocating to other cities or fleeing to the suburbs, while the city was facing one of its worst economic downturns. Attempting to transform the city and shock it out of its malaise, Mayor Federico Peña convinced the city council and metro-area taxpayers to approve enormous infrastructure projects like a downtown convention center and the Denver International Airport.
After several years, the city was deep in the red and its citizens were strapped for cash. But Peña and his supporters wanted more. They wanted to bring a Major League Baseball team to Denver—which meant the city would need millions to build a new stadium.
"The National League said they were going to have two expansion teams, but one of the requirements was that the city have a baseball-only stadium—or plans to build a baseball-only stadium," says Craig Umbaugh, partner at Hogan Lovells and general counsel for the Denver Metropolitan Major League Baseball Stadium District.
It was a crucial moment in Denver's history—and Umbaugh's first foray into the colossal world of professional sports and facilities law.
He grew up in Ohio, following legendary sports teams like the Cincinnati Reds in its "Big Red Machine" incarnation, and the Ohio State Buckeyes. "He has this devotion to Ohio State football that borders on the fanatical," says longtime colleague Cole Finegan, office-managing partner at Hogan Lovells.
And like a lot of boys, he had dreams of playing professionally. "I was hoping to be a point guard on a basketball team or play baseball," Umbaugh says with a smile, adding, "I peaked pretty early." So he followed his other big passions—politics and public policy—while majoring in economics at Northwestern University. After college, he worked in Washington, D.C., as an assistant staffer to Sen. Howard Metzenbaum.
"I had an inkling that I wanted to do graduate work, and I think it was in Washington that I determined getting a law degree really would be helpful within that realm."
At the University of Virginia School of Law, planning to work as counsel for a Senate or House committee, he decided, after his second year, to take a summer associate position with Fairfield and Woods in Denver—just to see what it was like.
"I fell in love with Denver," he says, "both the city and the mountains."
After getting his J.D. in 1985, Umbaugh accepted a full-time position at the firm. "Like a lot of people coming out of law school, I thought I was going to be a litigator." The firm soon paired him with the Colorado Bankers' Association, however, where he was given an opportunity to focus on legislation, working at the state capitol on banking laws and the interpretation of federal law. One of the firm's partners, Jac Sperling, noticed his aptitude for public policy matters and soon asked him to team up on the baseball stadium project. Umbaugh found himself working with both of his early passions: sports and politics.
His first challenge was helping his client secure funding.
"Legislation was passed in 1989 to create the Denver Metropolitan Major League Baseball Stadium District, a governmental entity," he says. "They had to come up with the plan to get a baseball stadium built—but the stadium district didn't have any funding." Denver alone could not generate enough tax revenue; so when Sperling and Umbaugh helped draft a proposal for a 20-year sales tax increase that would publicly fund the ballpark, it included the six surrounding counties that make up the Denver metropolitan area. Then Umbaugh drove county to county, hand-delivering the ballot question and required fees to all seven county clerks. On Aug. 14, 1990, taxpayers narrowly approved the ballot measure.
As Umbaugh and his colleagues began drafting architectural contracts and dealing with the site selection process, the governor's office courted Major League Baseball for an expansion slot while business groups sought potential owners. "There were, like, six cities vying for a Major League Baseball team," says Umbaugh, "so there was a lot going on."
In the end, all of these different elements came through, and the Colorado Rockies were born.
"It was very complicated in terms of how we were going to set up the commission, how it was going to be structured, how the authority would work, building the stadium and operating the stadium," says Finegan, who, at the time, was chief legal counsel for the governor. "Craig was very much in the middle of it."
Acting upon the advice of the Urban Land Institute, the baseball stadium district chose a lot on an old railyard in lower downtown, known as LoDo, as the site of the new 76-acre ballpark. LoDo was a boarded-up skid row in the 1980s, riddled with crime and suffering from frequent foreclosures and a 40 percent vacancy rate. Construction began in October 1992.
"Coors Field was one of the earliest stadium projects [where people realized] that constructing a ballpark for a Major League Baseball team is not like a typical real estate development project—you have a unique tenant," says Umbaugh. "In a real estate development deal, a tenant can move out and pay monetary damages for breaching the lease. In a professional sports setting, the tenant cannot simply be replaced."
Recognizing the irreparable harm that could be done if the Rockies moved out, Umbaugh helped draft a lease that requires the team to play their home games at Coors Field and allows the district to seek injunctions if the terms of the lease are breached. Umbaugh says this kind of clause is now commonplace in stadium leases with professional teams.
"He's very intelligent and he's very practical," says Hal Roth, general counsel for the Rockies. "He works to reach a solution."
The baseball district's board also decided to shift all of Coors Field's management and operating risk onto the team. In exchange, they offered the team most of the stadium's revenue as well as other privileges such as naming rights.
"This approach to operation and management of professional sports facilities is typical everywhere now, but at the time a lot of stadium leases were much more like a typical real estate deal," says Umbaugh, "where the landlord, a public entity, operated and maintained the venue, and the team was a 'tenant' that paid an annual amount of rent, usually receiving its ticket sales and a portion of revenues from the game days."
Local historians debate whether Coors Field was a product of or the reason for Denver's downtown revival, but no one questions the influence of the stadium today. The Ballpark neighborhood is a keystone attraction to the city, surrounded by flocks of industrial cranes busily erecting new structures to house the influx of young urban dwellers, startup businesses and venture firms, craft breweries, cannabis dispensaries, nightclubs and restaurants. What was once an epicenter of decay is now a hub of new wealth and prosperity.
Moreover, thanks to the economic boom of the 1990s, the Baseball Stadium District paid off the construction of Coors Field more than a decade ahead of schedule. "I really think we took some risks, and I was lucky it was the first [stadium] that I worked on and learned from. I still represent the Baseball Stadium District. I think it transformed downtown," he says.
Umbaugh's reward was to do it all again. In 1997, the city's newly created Metropolitan Football Stadium District asked Umbaugh to serve as its lead counsel in helping create a new football stadium for the Broncos. 
"The old Mile High Stadium was in significant disrepair at the time—it needed a substantial renovation," says John O'Dorisio of Robinson Waters & O'Dorisio, counsel to the Broncos. The city conducted a study to determine the costs of repairing the old Mile High versus building a new stadium and went with the latter.
So once again, Umbaugh drafted a ballot proposal, asking voters to fund the new Mile High by creating a tax that took effect when the Coors Field tax expired. When voters overwhelmingly approved the measure, a new lease was needed before design and construction could begin.
"We had a one-month window to finalize and draft five or six agreements with the city of Denver, to build out the infrastructure for the stadium, and also the 30-year stadium lease," says O'Dorisio. "Craig was the primary drafter for at least 50 percent of that lease. We ended up with a 70-page lease agreement which is not overbearing on either side. It's really stood the test of time. We've played 15 seasons at the stadium and this lease has worked. All the city agreements have worked. He was able to accomplish that in 30 days. He didn't have significant help. He didn't have an army of lawyers with him. That's what's great [about Umbaugh]—he's the point person but he's able to negotiate. He's able to draft."
Umbaugh has since worked with sports teams and venues across the country—including the Chicago Fire, Minnesota Wild, Phoenix Coyotes and Seattle Sounders. Today, in addition to the banker's association and both stadium districts, Umbaugh serves as general counsel to Denver Urban Renewal Authority, which oversees many redevelopment projects across the city.
"His clients trust the hell out of him," says Tyler Harvey, partner at Hogan Lovells, who met Umbaugh as opposing counsel during the sale of the Colorado Rapids (Umbaugh represented the new owner). "He understands what the deal is and how to get from point A to point B, understands where the thresholds are for his clients, where he has to say no. He also understands how to get a deal done instead of—for lack of a better term—over-lawyering."
Umbaugh sees a comparison between the work of creating the stadium and the play on the field once the stadium is created. "You're trying to coordinate how you move down the field," he says. "It's a lot of passing and it's a lot of attempts to move forward. My kids are going to laugh if they ever hear this, because they're both way into soccer, but I'd like to believe I'm kind of the center midfielder in all of this."
Many of his colleagues would agree. Center midfielders touch and pass the ball more often than most positions. They often control the flow of a match, playing both offense and defense, slowing down movement when needed and always passing to the teammate in the best position to move the ball forward. They don't score a lot of goals but are essential playmakers on the field.
"He is almost in a class by himself when it comes to being a person who listens and to whom people want to talk. He can synthesize what he hears and put it together in a way that makes sense," says Niki Tuttle, a partner at Hogan Lovells who joined the firm in 1995, the same year as Umbaugh, when the firm had only 10 lawyers. "He has been incredibly successful in his career without sacrificing who he is as a person."
It's beyond sports now. Umbaugh has also served as legal counsel for entities like the Denver 2008 Host Committee for the Democratic National Convention, and he continues to serve the Colorado Music Hall of Fame.
One of his proudest civic projects is the Clyfford Still Museum. When the abstract expressionist pioneer died in 1980, he left behind a one-page will that bequeathed the bulk of his work to "an American city that will agree to build or assign and maintain permanent quarters exclusively for these works of art and assure their physical survival." Due to those strict terms, Still's collection lay sealed off from public view for more than 20 years, until Denver Mayor John Hickenlooper caught wind of the opportunity. In 2004, Still's wife selected Denver as the permanent home for the collection.
"The mayor wanted to make this happen, so I got involved," says Umbaugh. "I led a number of attorneys here who worked on that effort. It's unique—the building is gorgeous and the art collection is amazing."
At the time of our interview, Hogan Lovells was in the process of moving from the Tabor Center in downtown Denver to a building under construction near Denver's recently renovated Union Station. And guess who got charged with the task of relocation?
"Working on stadium and sports projects, the public usually has a lot of passionately held views, oftentimes conflicting. Working with everyone in the office is much the same. There are a lot of viewpoints that often conflict, and people are passionate about them. Trying to consider as many of those views before making a decision is important in both cases but also part of what makes it really interesting."
When asked about the importance of his work and its legacy, he explains, "I don't think your city necessarily goes away or disappears because you do or don't have a pro sports team, or an opera, or a symphony, or a performing arts center, or anything else. I think it's part of a collective decision for a community. I think that's what's exciting—to be a part of that."
Search attorney feature articles