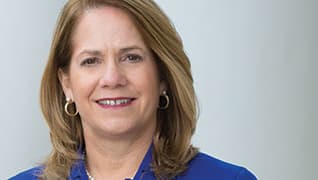 Photo by: Paul Wedlake
She Could Do Without the Death Threats
Pamela Robillard Mackey talks prosecutors, system failure and Kobe
Published in 2014 Colorado Super Lawyers magazine
By Jessica Glynn on March 14, 2014
With a full-body shot of the murder suspect projected on the wall behind him, prosecutor Matthew Durkin repeated the word "impossible" again and again. It was the state's second closing argument against Fred Mueller—the first trial ended in a mistrial—and Durkin was recounting expert testimony that Mueller's story about the day his wife died could not have happened the way he said it did. Leslie Mueller did not accidentally fall into a creek. Her husband, Durkin said, had drowned her.
The prosecution had extensive testimony to back up this claim, but the defendant's attorney was Pamela Robillard Mackey, the high-profile Colorado criminal defense lawyer best known for her representation of LA Lakers superstar Kobe Bryant on sexual assault charges. When it was her turn to address the jury, she asked, softly, "Where is the proof?"
Mackey's volume and intensity increased with each word. She accused the prosecution of little evidence of a murder, let alone a motive. She pointed to Leslie Mueller's family, who had come in support of the defendant, before asking the jury to lift the pain and anguish of "false accusation and innuendo from vilification and slander" off Fred Mueller and his family.
The plea hit home with at least four jurors, and the October 2013 case ended in another mistrial, leaving the district attorney's office in the difficult position of deciding whether to invest further resources in a third trial. (They ultimately decided against it.) Boulder County Assistant District Attorney Ryan Brackley, who tried the case with Durkin, and was recently named the Colorado District Attorneys' Council prosecutor of the year, admits Mackey makes their jobs harder.
"Prosecutors should appreciate a defense attorney who fights hard and works hard and puts us to our burden," he says. "We really want the most skilled attorney on the other side because it's important that the jury has every fact and inference they need to reach the right verdict. Pam Mackey is that defense attorney."
Mackey's reputation was earned thanks to a long list of high-profile "not guilty on all counts" verdicts on cases ranging from homicide and sexual assault to environmental crimes, fraud and antitrust violations. Colleagues, clients and judges alike tout her thorough investigation and clear presentation of the facts in a case, fierce commitment to her clients, and unwavering belief in the importance of the part she plays in keeping law enforcement in check and her clients, as Mackey would say, "out of small cages."
"She has an extraordinary ability to drill down on facts and master them and make it understandable," says her law partner and mentor of 30 years, Hal Haddon of Haddon, Morgan and Foreman.
Former Denver District Court Judge Christina Habas, now an attorney at Keating Wagner Polidori Free, says Mackey is flawless and respectful in trial. "As a woman, I am proud that she is out there handling the difficult cases because she represents us very well," Habas says.
Defense attorney Pat Burke says Mackey works harder than any lawyer he has known; he marvels she was able to do it while also raising two kids. Mackey all but shrugs. "I only saw one way to do it," she says, "which was to work as much as you could at the two most important things in life, raising kids and practicing law, and not do much else."
She knows she's lucky.
As a college undergrad, she took an Outward Bound trip to the Idaho Sawtooth Mountains that inspired her to pack everything she owned into a Ford Pinto and move from Minneapolis—where her earrings would freeze to her ears in wintertime—to Aspen. At the University of Colorado Boulder, she randomly chose journalism because it was a major that didn't require the foreign language credits she lacked. But after graduation, she was stuck. She thought the law sounded "interesting" but she'd never even met a lawyer. When she mentioned this to her then-boyfriend Craig Mackey, he told her he knew one. As an unpaid press intern for Gary Hart's 1980 Senate campaign, he'd met attorney Hal Haddon. Craig arranged a meeting.
"I had no idea that he was the dean of criminal defense law in the Rocky Mountain region if not the whole Western United States," Mackey says. "He's a really big deal. I was just like, 'Hi, my boyfriend knows you.'"
Haddon saw a young woman who seemed bright and inquisitive, and offered her a job as an investigator so she could find out if the law was for her.
"I never looked back after that," Mackey says. "I ended up working for incredible lawyers in an area of law that really suited me."
Criminal defense fits Mackey's anti-authoritarian instincts. She is puzzled by prosecutors—characterizing their worldview as judgmental, with "less understanding of the human condition and how fallible and frail we all are."
She attended law school at George Washington University, where she edited the law review, then became an associate at Davis Graham & Stubbs for two years, then returned to Haddon, Morgan and Foreman. She left the firm a second time in 1989 to gain trial experience as a public defender. "If I didn't get out of there I was never going to be my own lawyer," Mackey says. "I was always going to live in the shadow of those three guys. Although it's not a bad shadow to be in, I didn't want to be second fiddle forever."
At the time, the Office of the Colorado State Public Defender required new hires to work 18 months in a rural county. Mackey went to the 5th Judicial District where she and supervisor Mark Johnson were the only two lawyers covering five courthouses. That meant Mackey, with virtually no courtroom experience, was handling serious felony cases by herself, often in Eagle, while Johnson was back in Breckenridge. Johnson thought her choice to leave a boutique firm to work in such a demanding and difficult situation showed character.
"Some of her finest work was in the public defender's office," he says.
That was when Judge Terry Ruckriegle—who presided over Kobe Bryant's case in district court—noticed Mackey as a well-prepared attorney who seemed interested in helping people. "She had a genuine care for people and humanity," he says.
After 18 months, Mackey returned to Denver, where she continued to work as a public defender through two pregnancies; but after five years she couldn't do the homicides and violent felonies anymore. "It was so sad," she says. "I had two beautiful babies and it was hard to come home. It didn't fit with who I wanted to be when I walked in the door to be a mom. I needed to get out of there."
She put out feelers but heard back from two lawyers she hadn't even contacted—Haddon and Bryan Morgan—who wanted to know why she hadn't come to them. "I don't want you to treat me like a baby lawyer," she said. They didn't. She returned in 1994 and made partner by '96.
Over the next few years, she represented high-profile clients in increasingly complicated cases, including Jeane Newmaker, whose adopted daughter suffocated during a rebirthing therapy session (Newmaker served out her deferred judgment and sentence), and former Colorado Avalanche goalie Patrick Roy on domestic violence charges (which were dismissed). Both cases attracted national attention, but nothing like the frenzy that ensued when Kobe Bryant was charged with sexually assaulting a 19-year-old hotel employee in Eagle County in 2003.
As a young lawyer, Mackey sometimes felt passed over by clients because of her gender; now she thinks it was more about experience. "You just have to be of a certain age before anyone is going to entrust you with the most important thing in their life: their liberty," she says.
"I was 47 when Kobe walked into my life," she adds. "I was far enough along in my career that I had been working at it for 20 years. I knew the jurisdiction, the judges, the court staff. I got tickled by the national publications when they would call me an overnight success. I'm thinking, '20 years? I wouldn't call that overnight.'"
The case did change her life—mostly for the good. "The death threats I could live without," she says.
Mackey received those threats, along with intense media scrutiny and Saturday Night Live jokes at her expense, after a preliminary hearing in which she accidentally said the accuser's name six times in open court, a violation of the judge's request. Not widely reported was the fact that Mackey had filed two motions and made a third oral request for that hearing to be closed, all of which were denied.
"At that point in my career, I had probably done 500 preliminary hearings in sex assault cases and never once had a judge ever asked me not to use the accuser's name," Mackey says. "I'm not going to call them victim because that's what you're there to decide: whether they're a victim."
Moments before going into the courtroom, though, Judge Frederick Gannett asked if she would refer to the alleged victim by initials. Mackey agreed, but every time she looked down at her notes there was the woman's name. After the sixth mistake, Haddon walked over and placed a large piece of paper on the podium in front of Mackey. "Call her the accuser," it said.
Eventually, with Judge Ruckriegle presiding, the prosecution asked to drop the charges because the accuser was "unable to continue," according to news reports.
Ruckriegle says Mackey and Haddon not only did an incredible amount of research, but contrary to criticism he felt Mackey did an excellent job resisting the temptation to give into the constant media pressure. As with her other clients, he says she acted as a zealous advocate for Bryant without being confrontational with the court or opposing counsel.
Johnson agrees. "Pamela Mackey is a really tough person," he says. "Her real character comes out in those real high-pressure situations. I've seen many lawyers unravel. They become so fearful of failure and fearful of not looking good. Pamela is at her best when faced with that kind of pressure." A few years after the Bryant case, Johnson, Mackey and Burke represented co-defendants in the lengthy B&H Maintenance & Construction Inc. case accusing the natural gas contractor of bid rigging on pipeline construction projects. "I was stunned at how quickly she can do things on her feet," Johnson says of Mackey's performance during their two-week trial in federal court, which ended in an acquittal for all three defendants. "She can grasp facts and issues in a courtroom on her feet faster than anyone I've ever litigated with."
Mackey says uncovering the facts is what makes her job interesting. Five years ago, a housekeeper accused Mackey's client of enslaving her. Before charges were even filed, Mackey's investigators discovered the woman had wired payments to family in the Pacific Islands, and a former clerk at the store could corroborate that fact, all of which made the woman a paid employee rather than a slave. Mackey then convinced the D.A. not to file charges. There was also the homicide trial against client Brandon Craig. Mackey was able to find witnesses and documents proving that one of the alleged eyewitnesses, Craig's girlfriend, didn't even know Craig on the night of the murder; nor did she have the truck she said they were driving in.
Or take the case of developer Ray Marshall, who was charged in 2009 with securities fraud and theft. The chairman of LandCo Equity Partners was accused of bilking $3.1 million from investors; he faced up to 12 years in prison and more than $750,000 in fines. After a significant amount of investigation before they would even agree to represent Marshall, Mackey and Jeff Pagliuca were convinced they had the facts on their side, and never once considered backing down or settling. Marshall was acquitted on all charges in 2012.
"She's absolutely tenacious and the most polite person in the room," Marshall says. "The judge and jury absolutely believed what she was saying over the D.A. because she knew the facts and was the best prepared and best presenter. I love her to death."
Mackey, of course, is often asked the question that criminal defense lawyers always get asked: How could you represent such a person? How could you represent someone who is guilty?
"My response, always, is: If the system is working correctly, all of my clients are guilty of something," she says. "That's the way the system should be working. But it doesn't always work that way. We get innocent people charged with crimes, and I find it incredibly stressful to represent people that have done nothing wrong."
She adds, "The innocent clients are the ones that are terrifying. Because it means the system has failed."
Search attorney feature articles
Helpful links
Other featured articles
Kevin Napper finds folk art irresistible
Brenda Doroteo's immigration experience helps her connect to clients
Ty Cobb, a distant relative of the famous ballplayer, is a big gun on whom powerful people rely
View more articles featuring lawyers
Find top lawyers with confidence
The Super Lawyers patented selection process is peer influenced and research driven, selecting the top 5% of attorneys to the Super Lawyers lists each year. We know lawyers and make it easy to connect with them.
Find a lawyer near you